Attitude One Tunguska 7.1 USB Gaming Headset Review
---
---
---
Peter Donnell / 9 years ago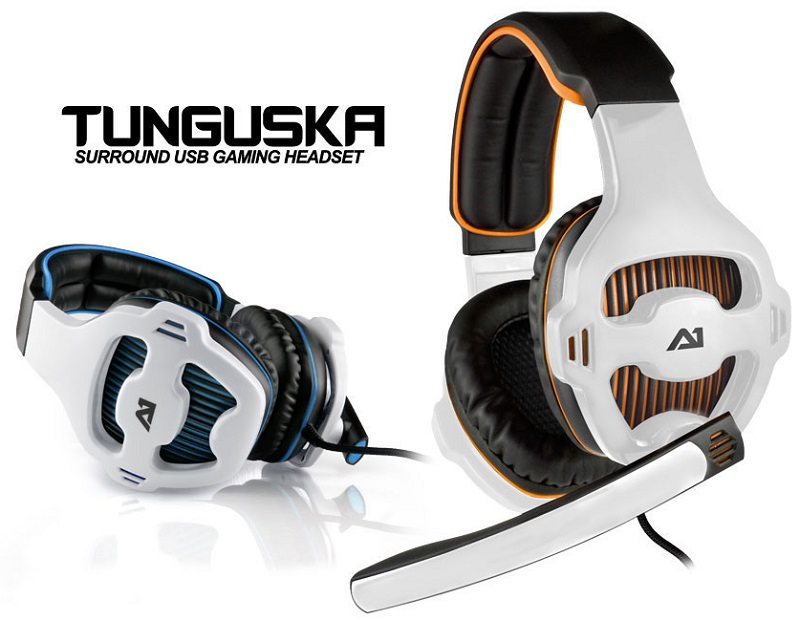 Today we take a look at a brand that is somewhat new to us here at eTeknix. While yes we have heard of Attitude One, we've even seen their products at various trade shows and online, but we've never had the chance to get hands on with their products and try them for our selves and the Tunguska Virtual 7.1 Surround Sound Headset is hopefully just the first product of their range that we will be taking a look at.
I've heard good things about A1 from industry types and general consumers too, this got our attention and it's great to see a new name in the office. While I can't say I'm bored with the offerings from the other big names in the industry, it certainly never hurts to have more options available to you, especially from a consumer perspective.
As always, we will be looking for a good level of design, build quality, performance and value from this headset and with a price tag of around £60 the Tunguska are certainly set to be competitive and if the performance matches the feature list, then we could in for a real treat here, so let's get straight to the good stuff and see just what this headset has to offer.
As you can see, the A1 Tunguska come in a brightly designed box, you can't miss a bright orange box among the crowd and this would definitely stand out at retail. There are a few features labeled on the box such as the noise cancelling microphone, 3 meter cable, USB connectivity and the virtual 7.1 drivers (stereo speakers with software produced surround effects).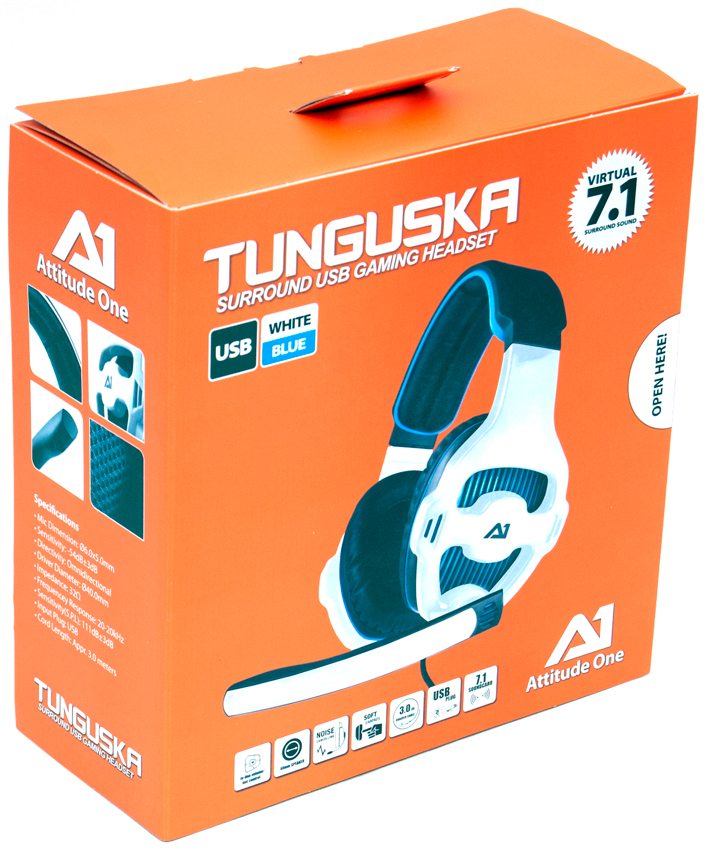 The box folds out to give us a proper look at the headset and first impressions are good, although I think the white and blue clashes with the orange a little (actually, that orange clashes with everything).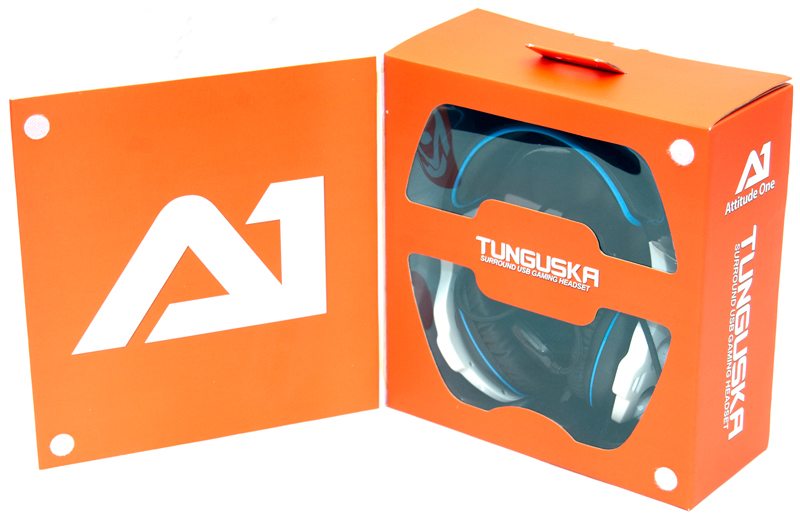 Around the back we have more feature details such as the "unique 4 piece padded headset and comfortable ear cushions", "high-sensitivity mic and mic mute" and the "high-quality 40mm drivers with neodymium magnets and membranes". Overall a fairly standard but well equipped feature set, so let's get them out of the box and take a closer look.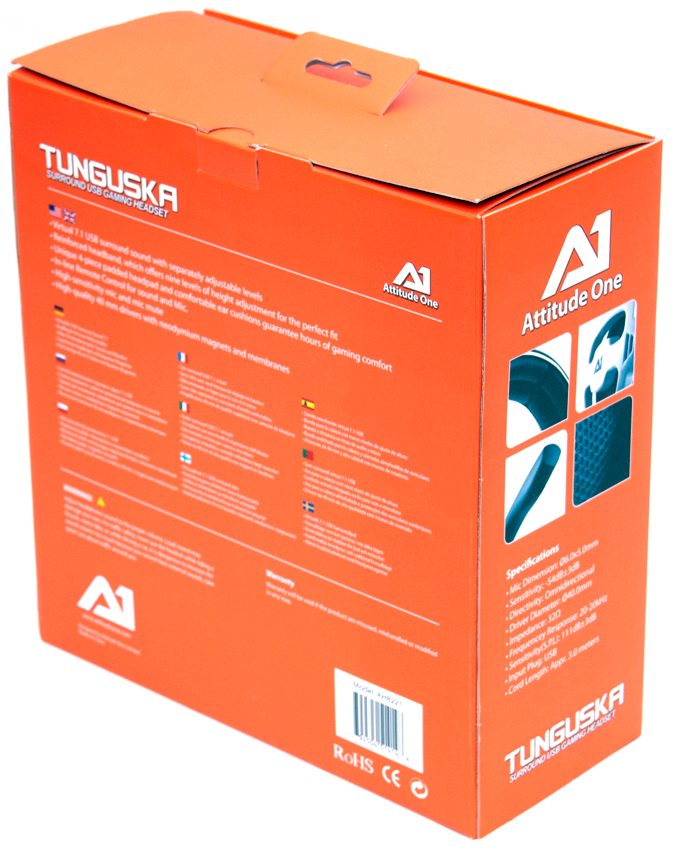 First thing out of the box was an easy to read user manual that guides you through general setup, as well as a mini CD-Rom with the standard driver software, although with included drivers I would always recommend you check the manufacturer's website for the latest drivers first, it's still nice to see some included as most companies no longer include any drivers at all.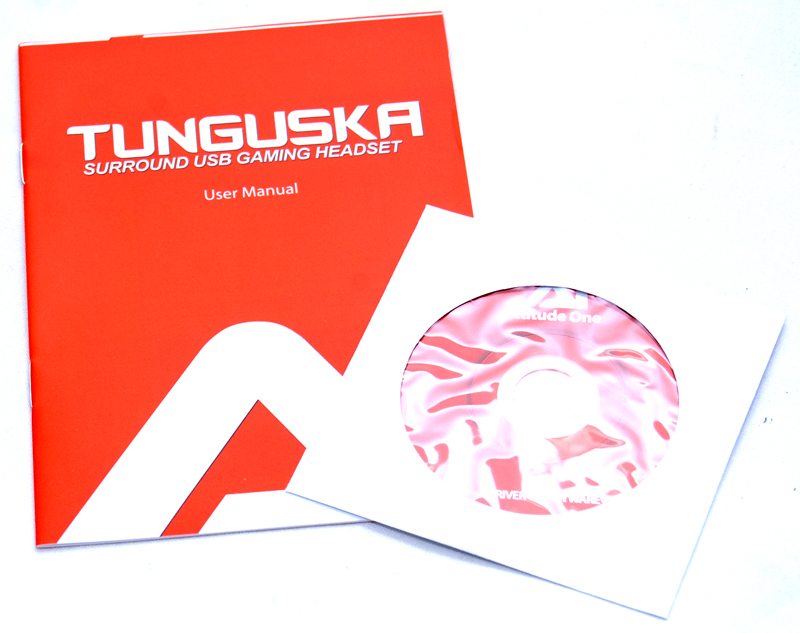 The headset we have today is finished in matt black, gloss white and neon blue, a very stylish colour scheme that makes me think of the film Tron, I like that movie, so I'll take that as a good thing.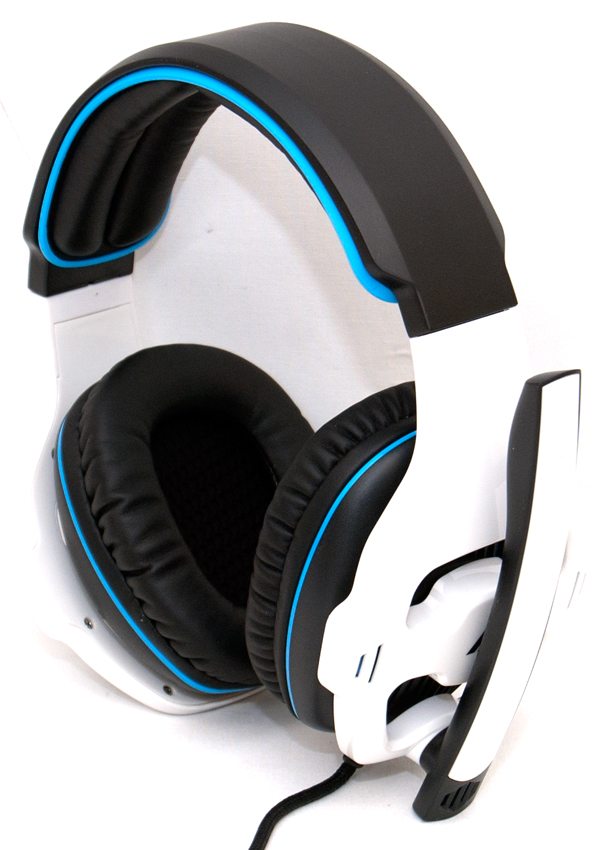 The headset features a really bold, durable design that really stands out thanks to a mixture of chunky panels and soft edges that seem to blend retro and futuristic styles into one, it's not going to be to everyone's taste but I think they look great.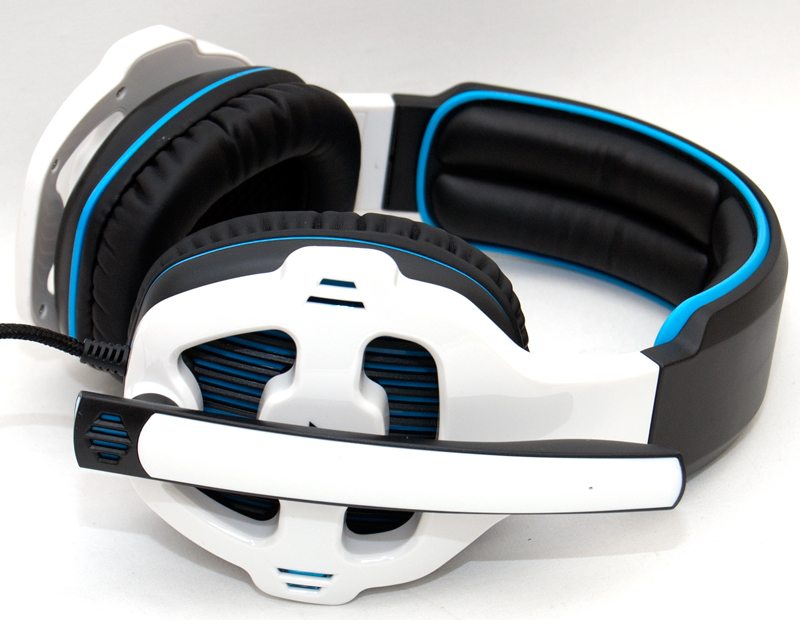 The headband features plenty of soft padding that provides good fit and long term comfort.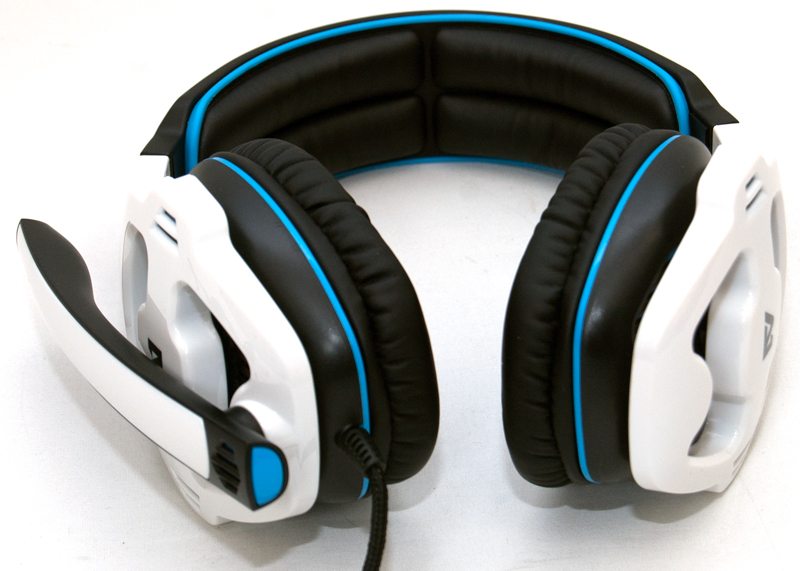 The ear cups are covered in a soft leather-like material with a soft cloth backing, enough to keep a firm fitting over your ears but not so much that you cut off all air flow.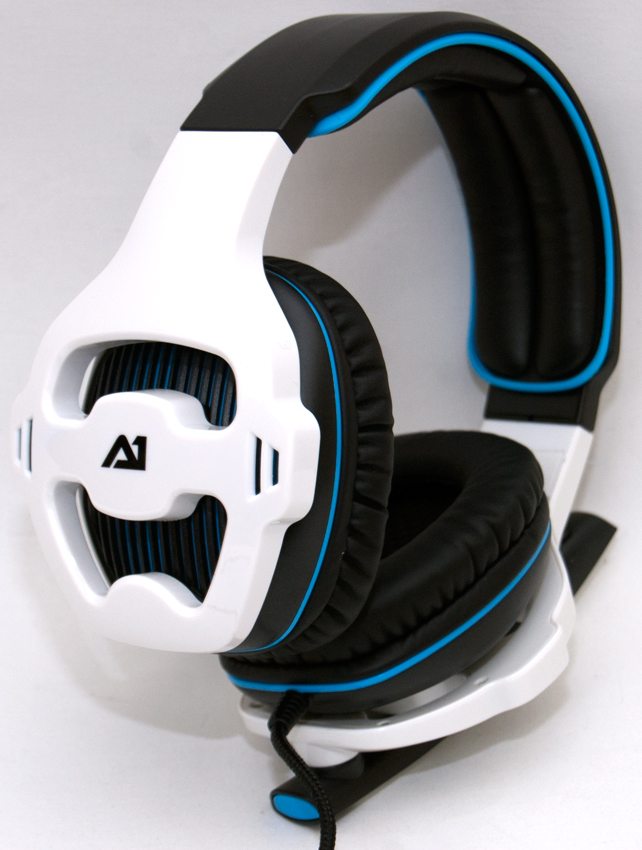 The chunky microphone is surprisingly light weight but it isn't removable, however it can be folded upwards out of the way or adjusted up and down to find the best speaking position.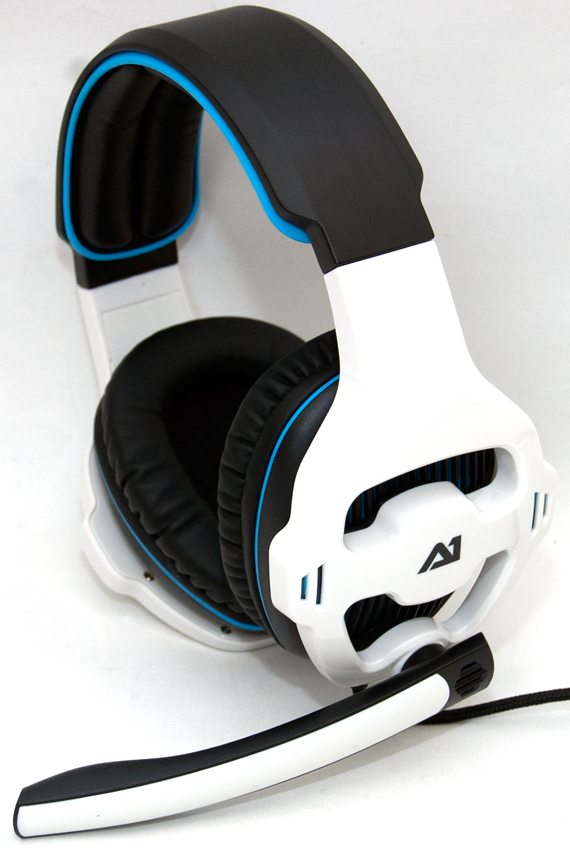 Moving away from the main headset we have a small inline controller which features 7 small LED lights in the center, volume control button and master mutes for the microphone and headphones. It's fairly small but it feels well made, although I fear the cable joins could be better reinforced here as this is a common point for wear and tear damage on headsets.

The cable is braided and this should aid with its life span, plus it also looks good and is generally harder to snag or tangle than grippy rubber cables.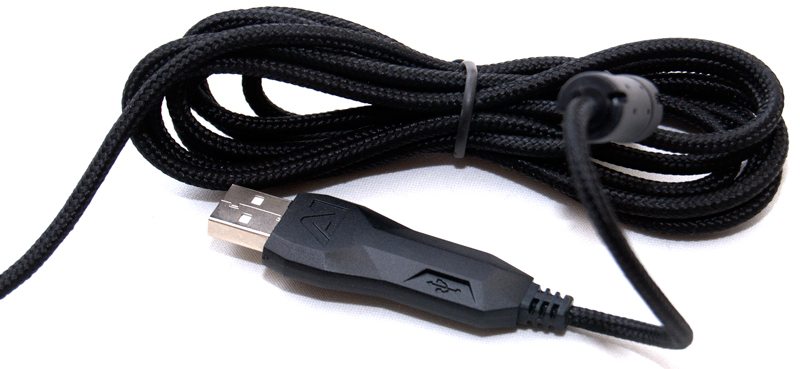 Hook up the headset to your computer and the two pairs of lines one each ear cup light up in an electric blue that compliments the blue trim, it's a fairly subtle lighting effect but an effectively cool looking one.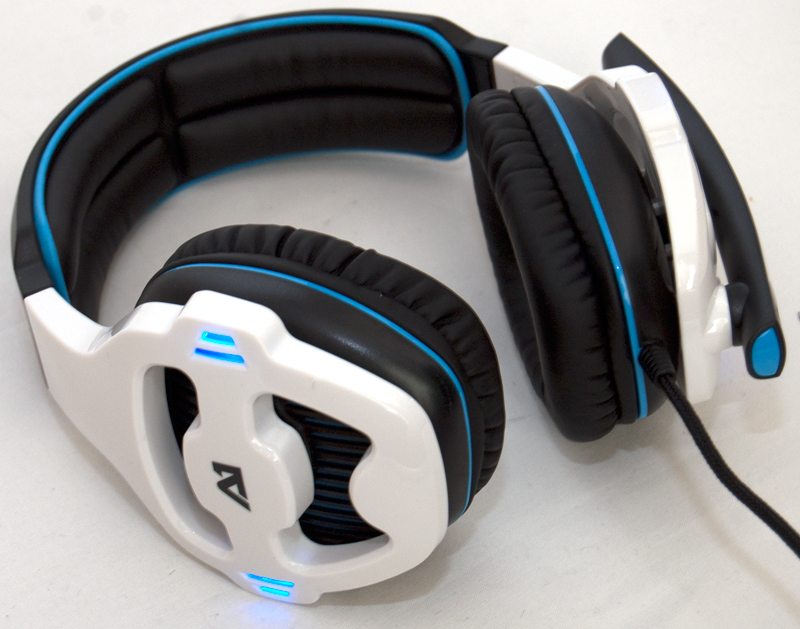 Setup & Installation
Setup was as easy as plug and play, windows detected the audio device straight away as the headset has its own internal sound card. Installation of the driver CD took a few minutes and a restart but nothing more than a couple of simple clicks to get through. The software was really comprehensive and offers plenty of features to tweak and tune the audio to your liking.
Since this is a virtual surround headset there is only one driver in each ear cup, so software steps in to do the processing magic and create the effect of multiple speakers. You can choose from stereo, quadraphonic, 5.1 and 7.1 surround sound (shown as 2, 4, 6 & 8 channel). Then below that we have the Virtual 7.1 mix enable, output modes (system) and on the right you have the ability to adjust distance, volume and rotation of any of the channel speakers, this is a feature I wasn't expecting and being able to tweak this was fantastic for fine tuning the sound scape.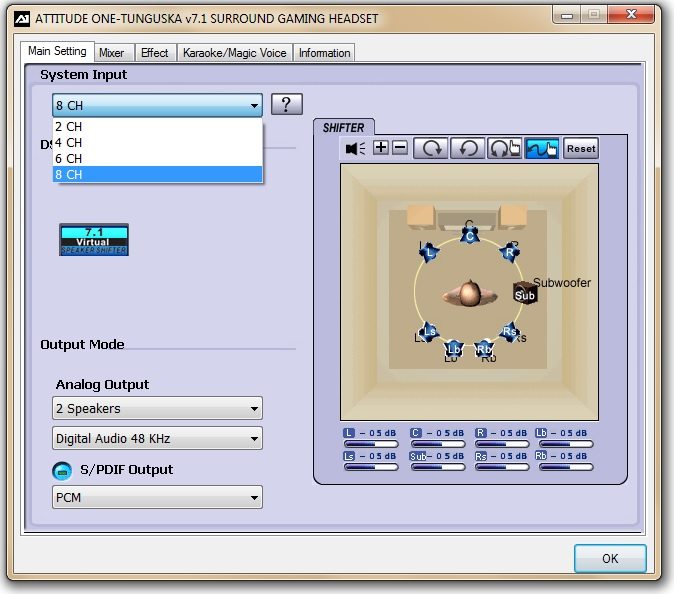 There are a few more tabs that cover general system volume levels and voice effects, but the most interesting is the EQ page which allows for full customisation of DSP effects and EQ. There are multiple presets and each can be tweaked and saved to a profile. Unfortunately though you cannot save master profiles for the software for each job so between movies, gaming and day to day tasks you would need to come into the software and adjust things manually to your liking for each application.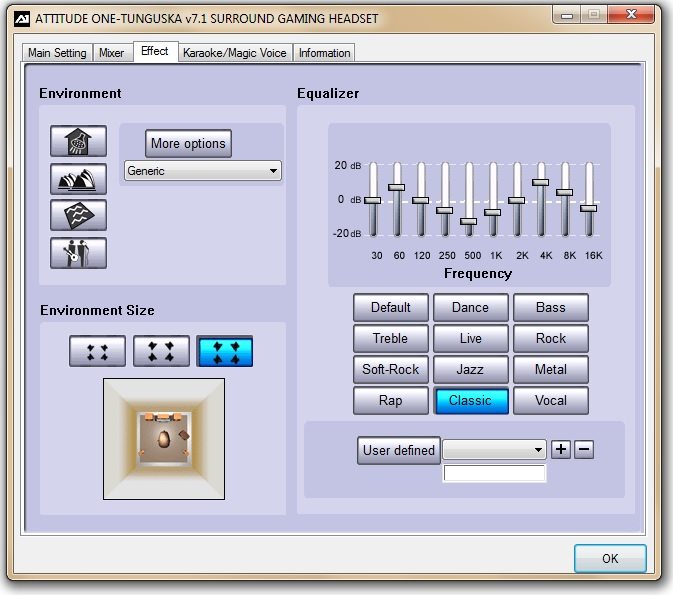 Performance
I was eager to test out the multi channel sound on this headset so rather than jump straight into a gaming environment I started with a few movies. I chose the blu-rays of The Hobbit and Transformers 2 since I know one has a rich musical score and some interesting soundscapes while the other has some thumping low end bass noises that can often distort weak drivers. First impressions were pretty good with the stereo mode enabled, the drivers are loud and powerful, but there was a definite slope in the EQ that left the mids feeling fuzzy and the bass feeling a little low, but by no means disappointing.
Enabling the 7.1 (8 channel mode) with the virtual surround made a big impact, but it came at the cost of overall max volume. I tweaked in the speaker distances to increase their volume, applied the large room DSP and decided that the Classic EQ was the best pre-set. Suddenly the headset went from being a "good" headset, to an absolutely fantastic one. Bass was thick, deep and distortion free with a room filling distance that you rarely get on a headset, the mid tones warmed up nicely and had lost their rough edge and the high tones became clearer and more pleasant. I think that the drivers are not very well balanced out of the box but my EQ tinkering knocked some sense into them and the sound became fantastic for watching movies after I had made my adjustments.
Of course you may like different settings, but that's the joy of this headset, it's very customisable, at least to a certain extent. Push the high tones more than a little and they sound awful, same goes for the mid tones, you will benefit better from reducing the frequencies around the one you want to raise and increasing your volume, either way, great results can be found, it just takes some tinkering.
Gaming performance was on par with movies and while the effects have little to offer to games like League of Legends, fans of Skyrim and Battlefield will love the wide soundscapes, thick bass notes and clear dialogue. The noise canceling microphone is good too and while it's nothing incredible I rarely find anything remarkable about microphone testing these days, it's on par with the competition and sounds loud and clear, which is pretty much all you could want from a microphone.
Music playback was the real winner for me and while this benefitted from switching to stereo mode, you could still have fun with the EQ and there are a few tracks in my collection that few headphones get right, So You Die by Bloodbath is a real bone shaker that often sounds wobbly in weaker drivers, the acoustic warmth of All About Eve by Steve Vai is easily lost on many sets also but that really wasn't the case here (although it's worth pointing out the YouTube links I've provided here will not do them justice either, they're just to give you an impression of the sound I was testing), so long as I kept the Classic EQ mode enabled, most of the other presets made powerful changes but often with negative effects to the range.
Final Thoughts
Overall I think it's safe to say that I really like this headset, It's full of little imperfections but it makes up for them in some really big ways and the overall sound quality is more than enough to make me part with my hard earned cash to buy a pair.
The overall appearance of this headset is of a cheaper product trying to look like a more expensive product, the design is chunky, features a lot of shiny plastics and some flashy lights, but I think A1 got the balance right and while there is a slightly cheaper look and feel to the headset, it does maintain a coolness that is often lost in this price range. They're pretty well made too and while I fear they may smash with a few hard knocks and bumps, there are few headsets out there that wouldn't.
Sound quality is impressive although you should really get stuck into the EQ and get things in line first. While I would argue that this is mostly personal preference, there really is a lot of extra performance and quality to be found through some simple EQ and DSP tweaks that benefit all listening scenarios. I did complain that you can't set different profiles to tab between for music, movies, gaming etc but I found that once I had the optimum dialed in, I didn't want to change anything other than between stereo and virtual 7.1 anyway.
It's not all perfect though and as I said, build quality isn't as heavy duty as the looks, the in-line controller leaves a lot to be desired although it does provide the basics and the stock audio performance is a little hollow at times.
eTeknix says: "The Tunguska is a reasonably priced mid-range headset and it packs an impressive feature set that makes it competitive in a crowded market. It's a little unrefined in some areas but its an impressive product overall. I think this shows great promise for Attitude One and the Tunguska 7.1 is a great product for this price range."
Pros
Great sound
Powerful EQ and DSP settings
Virtual Surround actually works
Good quality microphone
Braided cable
Cons
Cheap in-line controller
Some freqencies sound rough without EQ adjustments
Some cheaper feeling plastics