AVerMedia Live Gamer Portable Capture Card Review
---
---
---
Chris Hadley / 10 years ago

A few months ago I took a look at a product that entered a new line on to the list of different products that I've looked at over time. This is namely AVerMedia's RECentral Live Gamer HD – a PCI Express based hardware encoder that takes the effort out of video capture with a simple plug and play installation and a instant record button that connects via USB.
Following on from this bit of kit that ticked all the boxes for me, AVerMedia's R&D teams have been busy working away, thinking a little outside of the box and this brings us forward to what I've got to look at today.
Whilst the PCI-e based capture card is a great bit of kit, there is one slight downfall (if you was to see it as one) in that if you're capturing footage from say a games console such as the Xbox 360 or PS3, you need to have your PC nearby in order to capture the footage. If you're at a LAN event such as Multiplay's Insomnia series or you're popping round to your mates house for a gaming session, the prospect of having to lumbar an extra system around isn't exactly going to rate well and the thought of having a compact portable alternative is music to the ears for many gamers. Fear not as this is exactly what AVerMedia have done.
Gearing the LGP for a whole heap of different sources, AVerMedia include quite an extensive set of cables with the device. These include (from left to right) component A/V, a short HDMI to HDMI, USB, 2.5mm to 3.5mm audio and a PS3 to A/V cable. On top of all this, there is a carry case for the recorder, which I have to say feels really nice with its suede texture and also a 3-month subscription to XSplit for live broadcasting. Drivers and software can be downloaded from the AVerMedia product page, meaning you will always have the latest set of drivers when you come to install.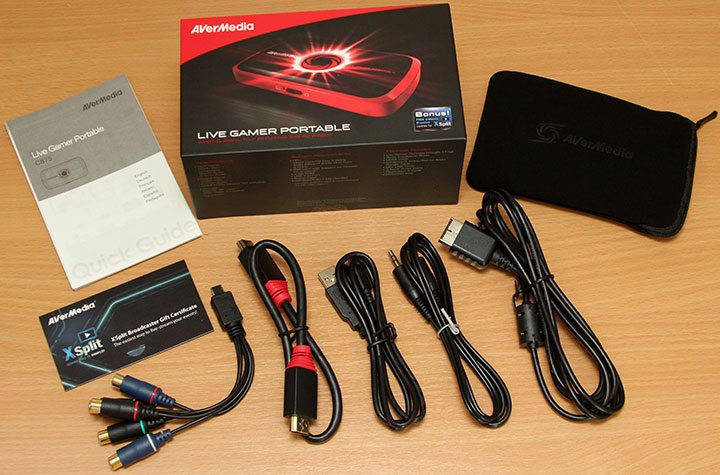 ———————–
Getting all the accessories aside and taking a closer look at the capture device itself, first impressions are wow!  Measuring in at 70 x 131 x 22mm, the palm sized unit is very light, weighing in at only 117g which, as we all know, is essential for any portable device. The all plastic design aids in the feather weight build and AVerMedia have topped off the red unit with a brushed metal effect plastic top that surrounds the instant record button. This button has a LED right surrounding it that lights up and flashes according to the devices status and the actuation on the button is nice and light, much like that of a mouse click (with a similar noise)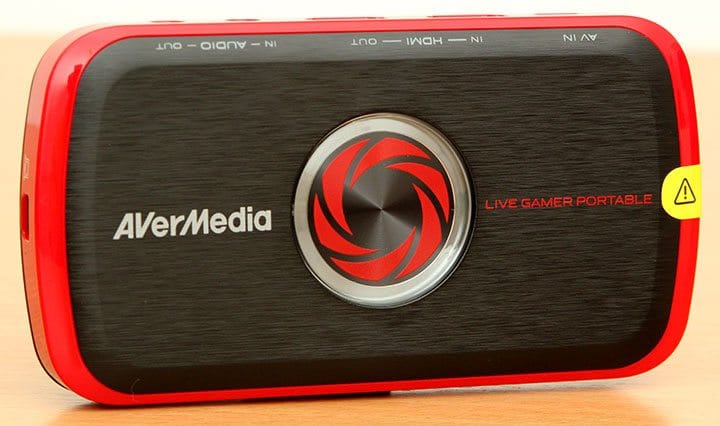 Even though the unit is compact, there is no short fall on connectivity options. Using the included cables as see in the introduction, the scope of what can be connected is virtually limitless with the included component adaptor and PlayStation 3 display cable. Whilst up scaling is not supported, the LGP can still record in full 1080p at 30fps direct to a PC or in 720p at 60fps in standalone mode, all whilst being able to pass though video at a rate of 60fps and encoding with the hardware H.264 codec. AAC audio is captured wither through HDMI or component, but analogue audio can also be recorded through the 3.5mm pass though.

On the opposite side of the unit is a switch that changes the recording mode from the inserted SDHC card to a directly connected PC, allowing for live broadcasting through the XSplit software or recording straight to the PC instead.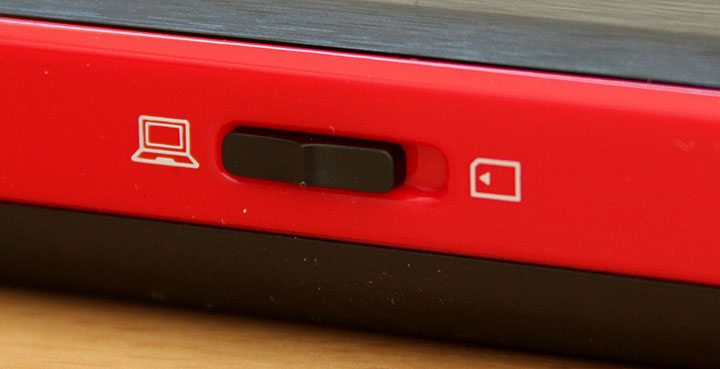 Mentioning a PC, to one end can be found a mini-USB 2.0 port for the aforementioned live broadcasting, but also for transferring video from the installed card. The USB port also provides power, even when in stand-along mode, so a USB port will need to be close by to supply power irrespective of what mode the unit is in.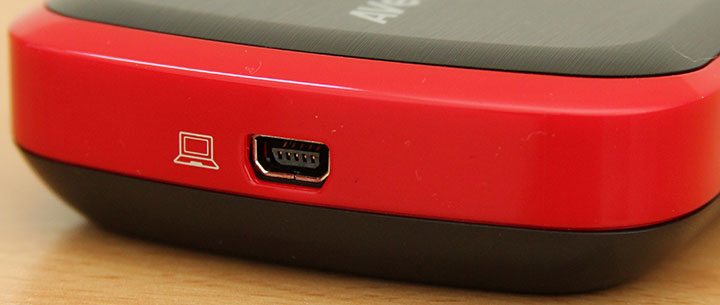 The main feature of this unit is the ability to record video without the need for a PC to be connected and on the opposite end of the Live Gamer Portable is a SD card slot. As shown below AVerMedia place a notice sticker over the slot informing you that a minimum of a Class 10 SDHC card is required for recording as lower class cards will not work due to their slower write speeds.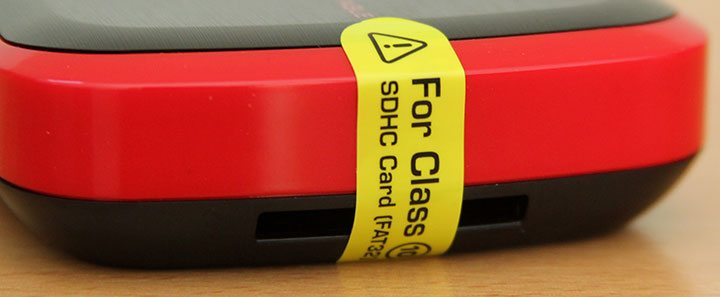 On the underside of the LGP, there is a smooth rubber pad that covers the whole of the bottom, protecting a console, for example, from scratches when the unit is placed on top. Its also stops the unit from slipping and sliding around when connected.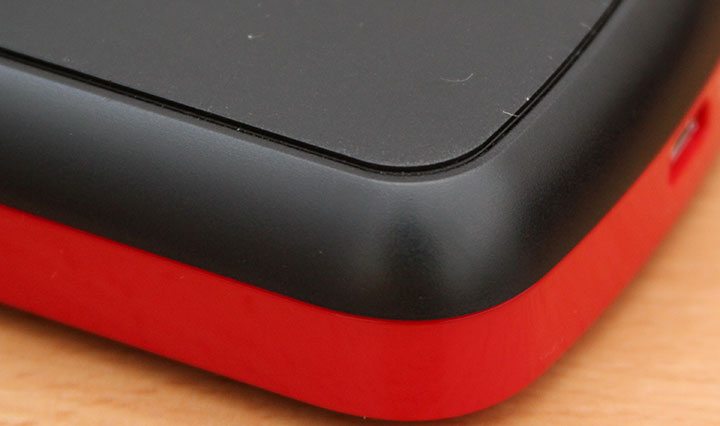 ———————–
As seen by the variety of cables that come with the LGP, there are endless options of what you can connect to the unit, but if you're a little unsure of what cables to use for a particular device, fear not as AVerMedia have got an extensive set of videos such as the one just below that show you what you need and how to connect up you portable recorder. All the videos can be found within the tutorial section of the LGP product page here >> http://gamerzone.avermedia.com/products/live_gamer_series/live_gamer_portable/
[youtube]http://youtu.be/LLHcSfyED3Y[/youtube]
Like the Live Gamer HD, PC recording is all sorted through the RECentral software which as we saw before is very easy to use and comes with three levels of operation based on the users skill level.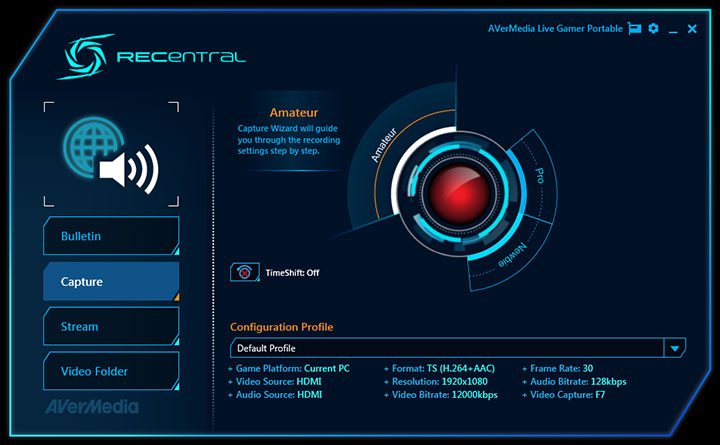 When set to the 'Pro' profile, we are able to get an in depth grasp on the recording settings, including resolution, bit-rate, format and also on the recording source such as the current pc, games console or other pc.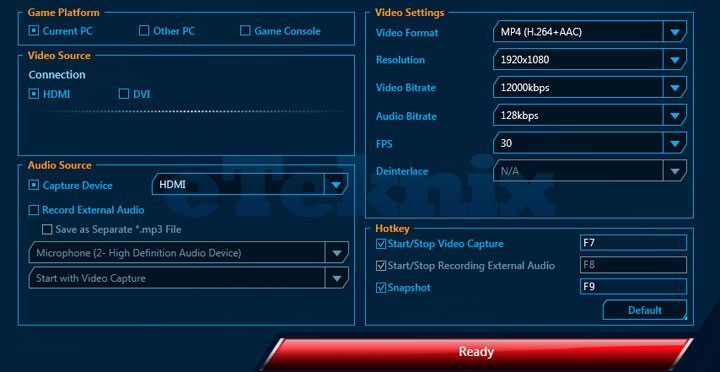 As we've seen before the recording software on the PC is very easy to use and the hot-switch on the top of the Live Gamer Portable gives a quick, one touch access to instant recording. The video below contains two clips recorded on the unit, the first using the direct-to-PC mode and the second is recorded to an SDHC card then imported to the PC later on.
As can be seen the H.264 codec does a very good job at capturing the game detail and the transition from capture to exporting a video for upload to YouTube takes no time at all – the longest portion of this time is taken up by the encoding process, but even still the process is very quick and easy to manage.
[youtube]http://youtu.be/GV1JIbtUG8A[/youtube]
———————–
Following on in the footsteps of the Live Gamer HD, AVerMedia's Live Gamer Portable – simply put – is one fantastic bit of kit. For any gamer out there, having the facility to easily and quickly capture in-game footage is a great way to replay the action from a competition to analyse their performance or even to purely show of a skill or trick that they have found in game. Aside gamers, there is still a number of user bases that can be covered by a product like this – what is to say that you're limited just to recording in-game footage? On the likes of YouTube, there are countless tutorial videos, but many of these are captured using software solutions, resulting in a poorer video quality. Yet again this is where a device like the Live Gamer Portable comes into play and its external solution also means that it can be connected to a laptop for on-the-go recording solutions and live broadcasting.
Using the RECentral and XSplit software is dead simple and there are countless tutorials about the guide users through the different aspects of the unit, both on the software front and for connecting different types of console and media device. As I highlighted when I looked at the Live Gamer HD, high quality videos don't require expert knowledge in video production these days and its thanks to products like this that make the process that much easier in quicker.
If I was to put down one thing that I would like to see in the box, then that would be a USB mains adaptor, they're dead cheap these days and if using the unit in standalone mode, it cannot always be guaranteed that the source device will also have a USB port to supply power. Additional to what I've seen here, an idea for a v2 release could be to include a USB port on the side of the unit to connect in a portable hard drive or high capacity flash drive for extended recording time and / or include 1080p recording support when in standalone mode.
As you can probably guess, I think this is one fantastic bit of kit and within the unit itself I can't really fault it, whilst it would be nice to have full 1080p recording in standalone mode, for around €179 / £150 you are getting a whole lot for your money. Whilst it may seem expensive, you have to consider that there is whole heap of tech in that pocket sized box and it saves the need for trawling about a whole separate rig just to be able to record some footage. There's not concrete date set for release in the UK and EU however AVerMedia have hinted that it is to be very soon.
Bottom line, the Live Gamer Portable is one innovative kit and a must buy for any avid gamer that wants to capture and rekindle that game winning kill or overtake – its the right choice for any gamer.