Avexir MPower Series DDR3 2400MHz 8GB Review
---
---
---
Chris Hadley / 10 years ago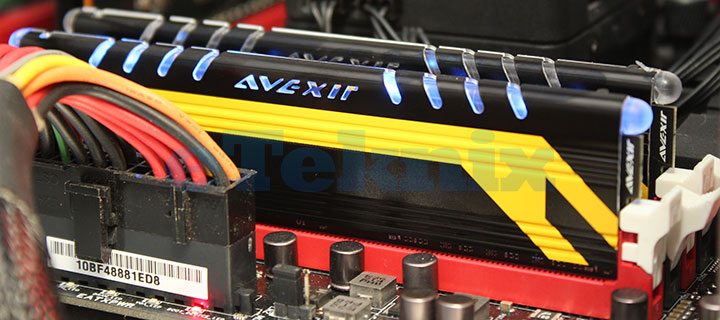 When building any system from the ground up, the vast majority of people like me try to keep components to a particular theme and this is why we commonly see red, blue and white components to name but a few. When it comes to styles that match identically, this typically will be found within the confines of the manufacturer themselves, who will style parts to match. Well now is time to break the mould.
Avexir's Core series memory has been making quite an appearance over the last few months as we have seen numerous world records broken and attempted in systems that use this new line of modules. One of the notable parts of its design is without a doubt the pulsing LEDs that run along the top of the modules and light up in relation to activity on each individual stick. They're not fast paced or as active as the likes of Crucial's Tracer kits, but instead they give off a gentle glow.
Going back to system styling, those with a keen eye will recognise the yellow bar that runs along the heat spreader, splitting into to smaller bars. Some might say that it looks vaguely similar to a style that we have seen on MSI's MPower motherboards. Well to put a fact straight, it is exactly identical and that is where this kit breaks the mould. MSI are no memory manufacturer and on the same lines Avexir are nowhere near opening their motherboard division any time soon so it is a great sight to see two companies work together to produce components that are specifically styled to go together with each other.
Granted this kit is set to be paired with an MPower motherboard or any other component with the same styling for that matter from MSI and even a couple from ASRock, but for the purposes of the review of the kit itself, it would be unfair to test it on that and mark it against other kits, so we will be sticking with our normal ASUS ROG motherboard as we go on and get tucked into some more memory goodness.