Ballistix Sport 32GB (2 x 16GB) 2666 MHz DDR4 Memory Kit Review
---
---
---
Peter Donnell / 4 years ago
Introduction
---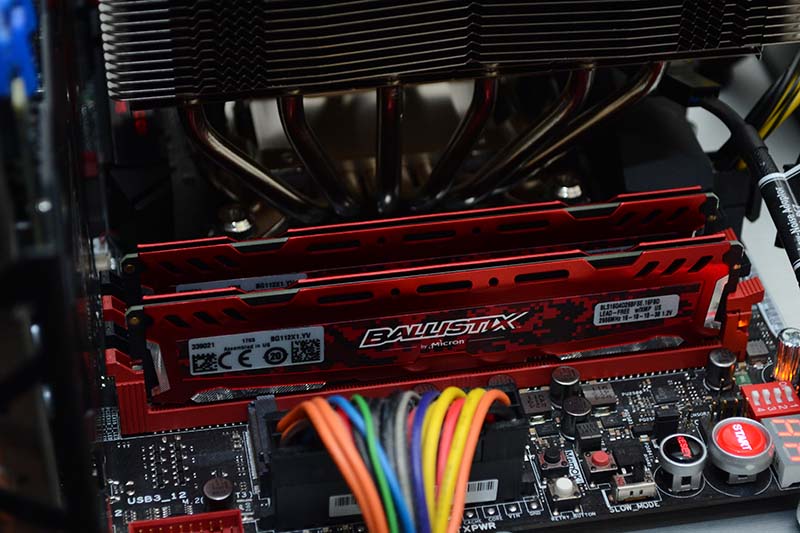 Getting the best performance out of your system often requires high-quality products and the latest memory kit from Ballistix promises extreme performance for those investing in DDR4. The 2666 MHz kit comes in 16 GB DIMMs, and we've got their dual-channel 32 GB set in for review today, promising us high-speeds and huge amounts of memory for even the most demanding desktop tasks.
Capable of running at 2666 MHz on its default XMP, but with scope for some overclocking headroom too, the kit delivers 16-18-18 timings and we're expecting it to score pretty well in our benchmarks. From gaming PCs to powerful workstations, the Ballistix Sport should be able to meet the most demanding tasks with ease. Of course, huge amounts of storage and high-end specifications do come with one downside, as these modules are around £130 each, and we've got two of them.
Speed. Style. Sport. Get more out of your memory.
"Designed for performance enthusiasts, gamers, and anyone who simply wants to get more out of their system, Ballistix Sport LT DDR4 memory helps you do just that. Give your processor the resources it needs to perform and make your computer faster and more responsive."
Features
Form Factor: UDIMM
Total Capacity: 16GB
Warranty: Limited Lifetime
Specs: DDR4 PC4-21300 • 16-18-18 • Unbuffered • NON-ECC • DDR4-2666 • 1.2V •
Series: Ballistix Sport
Product Highlights
Speeds start at 2400 MT/s
Faster speeds and responsiveness than standard DDR4 memory
Ideal for gamers and performance enthusiasts
Multi-channel memory architecture maximizes data rates
Digital camo heat spreader available in white, gray and red
Easy plug-and-play installation
Intel® XMP 2.0 profiles for easy configuration
Optimized for the latest Intel platforms
Limited lifetime warranty
As you can see, the kit comes with a lifetime warranty, which is always a great for giving you peace of mind, especially on a product that will leave a big dent in your wallet, so at least you know your investment is protected.
Specifications (per module)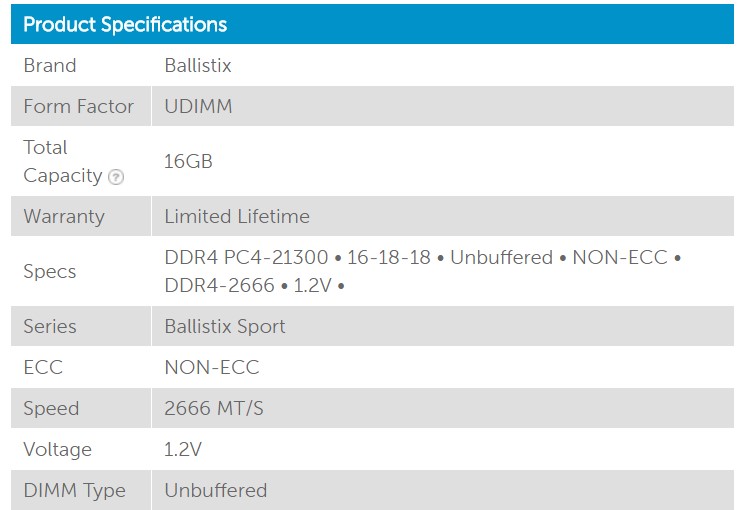 A Closer Look
This is a pretty slick-looking memory kit, but a fairly simple one too. It uses a two-piece heat spreader design on a black PCB, giving it a cool and professional look. Of course, to keep things interesting, they've covered it with a lick of red paint and some funky digital camo, giving it a bit more gaming pedigree that's sure to blend in well with most gaming system builds. There's not LED lighting though, but that's just how I like it.
Once installed, you can see that the modules are low profile, so no chance of them getting in the way of your CPU cooler any time soon. They work really well on this ASUS board too, with a colour scheme that is only complimented by the Ballistix theme.