Battlefield 2042 Refund Petition Hits Over 70,000 Signatures!
---
---
---
Mike Sanders / 2 years ago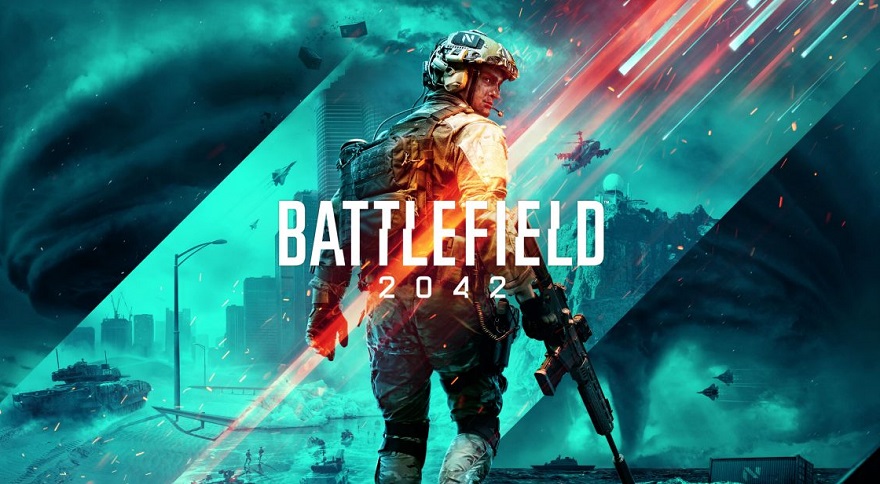 I've said it once, and unfortunately, it seems that I need to say it again. Battlefield 2042 is a grotesquely shoddy game and simply the latest example of EA delivering the market with yet another half-baked potato. As you might expect, therefore, a lot of people who did purchase it in the hope of actually having some fun, and who knows, maybe the chance that EA may have learned from their mistakes of the past, have been very bitterly disappointed.
So disappointed, in fact, that a petition calling for an all-platform refund of the game has just hit over 72,000 signatures, and I daresay that figure may be even more substantially higher by the time you read this!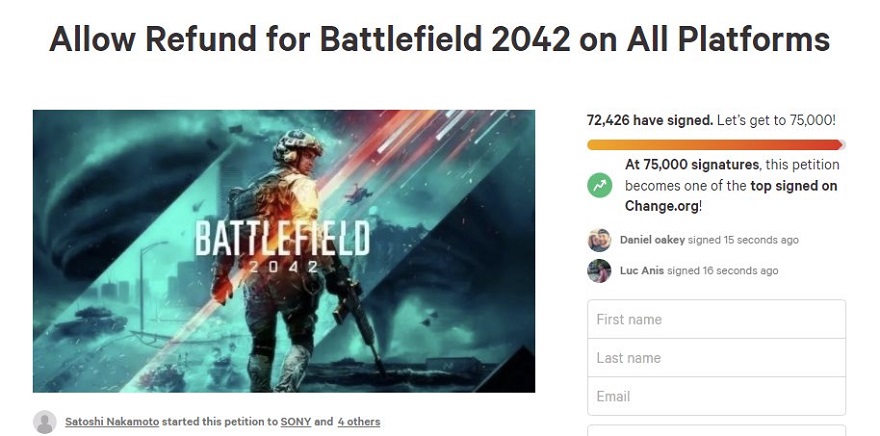 Battlefield 2042 – Refund Petition Booms! Owners Are NOT Happy!
So, why are owners of Battlefield 2042 not happy? Well, given that over 72,000 people have seemingly agreed with the sentiments of the petition, I'll let its description speak for itself:
"EA's release of Battlefield 2042 was a mockery of every customer who purchased this video game for $70 (USD) due to EA's false advertising. – Battlefield 2042 has cost consumers millions of dollars in damages and upset thousands of customers worldwide.

According to many consumer reports, Electronic Arts and DICE did not keep many promises made at launch, and Battlefield 2042 was launched as unplayable. Even today, Battlefield 2042 has bugs that drastically change the in-game experience so much that it's deemed an unfinished release by many community members."
And just to back this up, here are some of the articles we've had to write about the title since its release just last November:
What Do We Think?
Will the petition have any effect? Well, based on the number of similar ones we've seen in the past, and the fact that they've all pretty much achieved nothing despite garnering a lot of signatures, the short version is that we (unfortunately) doubt it. – You could argue that it might embarrass EA into some kind of action, but let's face it, do you think it's even possible to embarrass EA anymore? They release the same FIFA game every year like a broken record and somehow manage to keep a straight face about it!
No, the bottom line is, we, as gaming consumers are to blame here. We've allowed unpolished turds like this to become a fair standard for AAA-titles. To have any real effect, we need to start hitting EA where it hurts. Namely, in their pockets. – How do we do that? Simple, we just stop buying their games. It really honestly is as straightforward as that. If we refuse to buy games until EA actually starts putting some legitimate work back into QA, they'll eventually have to do it!
Will we consumers do that though? Well, sales figures sadly seem to indicate no. We know EA is crap, we know they release crap, and yet people still seem to keep buying their games. C'est la vie…
If you do, however, want to add your own virtual signature to the petition, you can check it out via the link here!
What do you think? – Let us know in the comments!