Battlefield V RTX On Vs RTX Off Performance Tested
---
---
---
Peter Donnell / 3 years ago
Final Thoughts
---
How Much Does it Cost?
Battlefield V is launching today for those who ordered the Deluxe Edition. However, the full commercial release is on the 19th of November. You can play it on Origin for PC, as well as PlayStation 4 and Xbox One for around £49.99 for the standard edition. Keep in mind, Ray Tracing is only available on Nvidia RTX graphics cards at this time, and only on PC not the console releases.
Overview
I'm very impressed with how ray tracing technology works, I can't stress that enough. I've been familiar with the tech for most of my tech-loving life. It's a powerful tool for CGI, professional rendering and more. However, for real-time graphics, it's long been a pipe dream. While Nvidia may get the stick from gamers this time around, at least they're brave enough to take the first step for commercial gaming in this area. Keep in mind, that Ray Tracing isn't an Nvidia invention for gaming. This is a feature of Direct X from Microsoft! The RTX cards are just the first to market to be able to process the new techniques. AMD will follow in kind in the future, and Ray Tracing isn't just a flash in the pan, it's certainly the next step in our gaming futures.
Battlefield V Problems?
Well, this doesn't look great in regards to performance, does it? However, Nvidia never made any claims to frame rates (that I'm aware of), and it's obvious why now I guess. However, Battlefield V already is a visually impressive game with RTX off, and I wouldn't use it as an excuse to write off RTX cards and ray tracing just yet. It's the first real-world introduction of ray tracing in a AAA commercial game. It's not even the only way RT can be used. I'm eager to see how Shadow of the Tomb Raider uses it to create realistic shadow effects rather than how it creates reflections in Battlefield.
Gotta Go Fast!
There's still time to see some improvements and optimisations, although how much, I cannot say. As the dust settles, and people compile benchmarks from the likes of myself and others, we'll get a better idea of this feature. We'll find out what features should be on ultra, which should be dialled back. Driver updates, game updates, Windows update. Remember, this is ground zero for RT, and it should improve. Maybe not today, maybe not tomorrow, but someday.
Ray Tracing
The effects of Ray Tracing are incredible, or at least that's my personal opinion of them. However, if I can get to 60 FPS at 4K with some mid-to-high settings, I'm good. Although with the RTX 2080 Ti being rather expensive, the demons of diminishing returns are lurking over my shoulder. Compared to Screen Space Reflections, it's really a world apart to have full scene realistically rendered lighting and reflections. Does it make the game better? No, but Nvidia isn't in the gaming business, they're in the graphics business, and they're going to do what they can to ensure their future with RTX On, not RTX Off. Come on other developers, show us how it's done because this isn't going to start and end with Battlefield V and its shredded RT frame rates!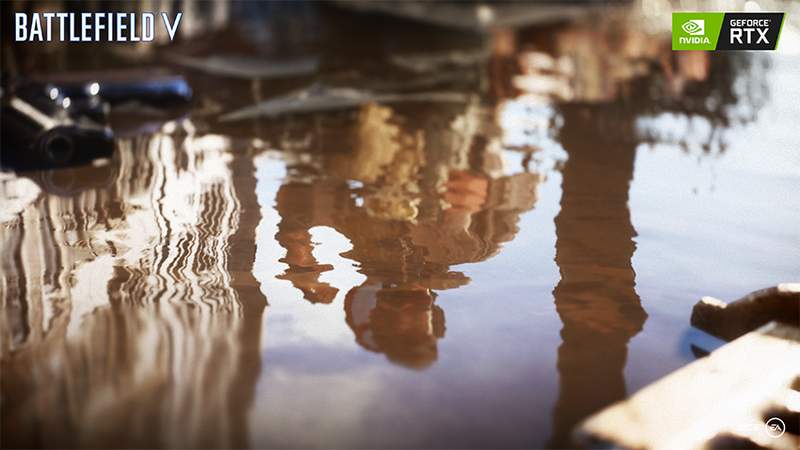 4K Video Testing
Andy set up a system that's very similar to mine, so while his results will be close, they won't be the same. However, it never hurts to see another run through the game. Check out his video below to see the game in action and, of course, let us know what you think below!