be quiet! Pure Power 10 600W Power Supply Review
---
---
---
Peter Donnell / 6 years ago
Final Thoughts
---
Pricing
The be quiet! Pure Power 10 600W launches today and should be available at major retailers pretty quickly. be quiet! forwarded us the following MSRP information, but expect a little fluctuation and competition in prices from retailer to retailer.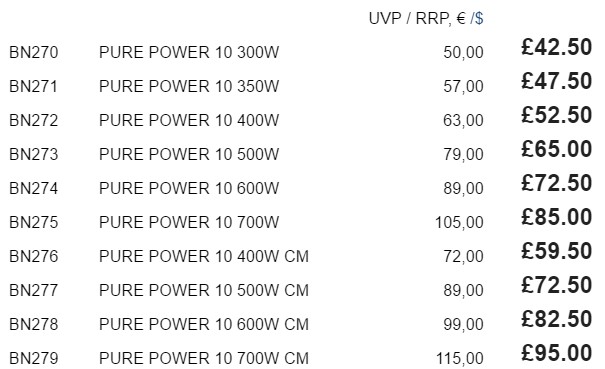 Conclusion
be quiet! is one of the most trusted names in the business when it comes to desktop power supplies, and we're happy to see they're holding onto that reputation with the Pure Power 10. This isn't their best unit, that's an honour still held by their fantastic Dark Power Pro series, but they're much more expensive than Dark Power units.
The build quality is fantastic on this unit, and it has a clean interior design, good quality capacitors, durable cables, and best of all that lovely be quiet! fan. They may be pushing for a more affordable price here, but it doesn't look like they cut back on attention to details. Speaking of that fan, the fact it barely got close to 600RPM is impressive, and you'll never hear the fan spin at those speeds, it practically silent.
The modular cables are a nice bonus, and while I would have liked flat cables on the semi-modular wires, it's hardly a deal breaker at these prices. The cables are easy to use and come with durable connectors, so adjusting them to suit your build is pretty straight forward.
The power delivery on this unit is pretty good, with only a few very minor falters, but still as good or better than most in this price and wattage range. There's a little voltage droop at 100%, but if you're planning on maxing out a 600W unit for a long time, perhaps it would be wise to invest in a bigger output unit anyway.
Overall, the Pure Power 10 is a blend of great build quality, stylish design, whisper quiet performance, and competitive prices, making it a fantastic choice for any system builder.
Pros
Stylish aesthetics
Durable build quality
Extremely quiet fan
Semi-modular design
Flat modular cables
Excellent efficiency
Trusted brand
Great price
Cons
Neutral
Slight voltage droop at 100% load
"If you're looking for a reliable power supply for a mid-to-high-end system, the be quiet! Pure Power 10 is a fantastic balance of quality and price."