Big Weights are No Problem for Homemade Exoskeleton
---
---
---
Chris Smith / 9 years ago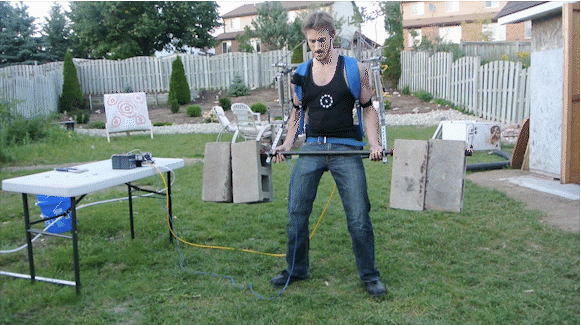 Who's going to be the first to develop our next supersoldier? We're not talking Captain America genetics or Robocop structure here, just strapping your average joe G.I into an exoskeleton and putting him to work – Call of Duty: Advanced Warfare style. America are often rumored to have things like this in the planning, we know China has the funding and the brains to carry it out.
Or maybe James Hobson, aka The Hacksmith, it the man we both need and deserve. Thie backyard bandit has developed his own personal exoskeleton by using simple household items like paper clips and rubber bands.
Ok we might be overstating it here, he's not quite MacGyver, but either way we're certainly impressed with his efforts.
Hobson's exoskeleton has been filmed helping him lift 171.5 pounds (78kg) of cinder blocks without raising a sweat. Apparently a compressor upgrade could see him lifting much more as the current setup is running at half pressure.
If you're interested to see exactly how it was designed, Hobson provides a work log guide to his upper-body creation. In saying this, there's nothing strapped to his legs as of yet, so we're hoping he gets some extra support before trying to lift something double the weight or more.
For all the fun, look no further than the video below.
[youtube width="640″ height="480″]https://www.youtube.com/watch?v=aQsAHhRxwvw[/youtube]
Image courtesy of The Hacksmith