Bigscreen Beyond The World's Smallest VR Headset
---
---
---
Jakob Aylesbury / 4 months ago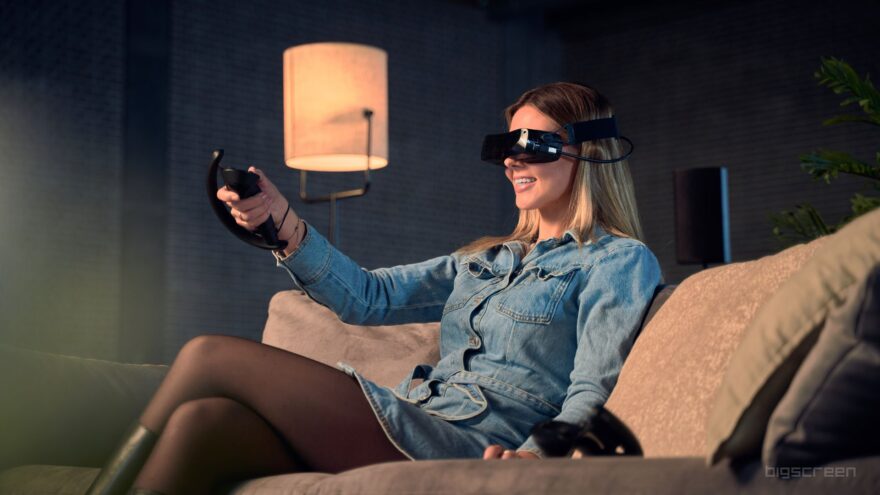 Bigscreen, behind the VR app of the same name, today unveiled Bigscreen Beyond, the world's smallest VR headset. Weighing just 127 grams and measuring less than 1 inch at its thinnest point, Beyond has an unprecedented form factor that is 6X lighter than competing VR devices. Beyond features ultra-high resolution OLED displays, custom pancake optics, and tethers to a PC for ultimate VR immersion. Each device is custom-built to the shape of a customer's face, providing unparalleled comfort for long-duration VR experiences.
Next-Generation Displays and Optics
Inside Bigscreen Beyond are two OLED displays, each with a resolution of 2560×2560 pixels. The combined 5120 x 2560 pixel resolution is 2-3X higher resolution than leading VR headsets. Tiny 7.2-μm wide pixels, RGB stripe subpixel, and an incredible fill factor solves a distracting problem in VR known as the Screen Door Effect. With Beyond, pixels are no longer visible to the eye. OLED displays provide an unparalleled experience in VR, with vibrant colours and deep blacks. It enables seeing details in shadows that are impossible with LCD and LED displays, greatly enhancing realism and immersion in VR. Beyond pairs the OLED displays with custom pancake optics to create a wide field of view and a groundbreaking 28 pixels-per-degree (PPD) image. Beyond features a 3-element optical design composed of glass, plastic polymers, films, and coatings that results in a smaller, lighter form factor and a huge improvement in optical clarity compared to older-generation single-element Fresnel lenses.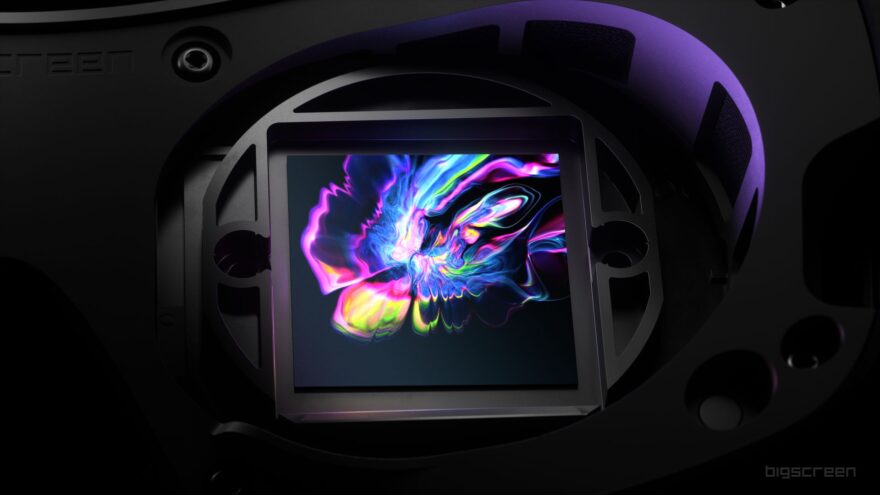 Personalized For Optimal Comfort
Typical VR headsets require large amounts of weight and complex electro-mechanical adjustment mechanisms to make a one-size-fits-all headset fit the enormous diversity of eyes and face across billions of human beings. It's also a frustrating user experience, as each person must adjust interpupillary distance(IPD), eye relief, diopter settings, and various tilting mechanisms in order to see virtual reality with clarity."Instead of one-size-fits-all consumer electronics, we believe VR headsets should be a custom-fit wearable device more like prescription eyewear," said Philip Krejov, Bigscreen's Head of Hardware.
After ordering a Beyond, each customer will receive an email to scan themselves using Bigscreen's iPhone application. Each Beyond is custom-made based on the 3D face scan, which measures the shape of the customer's face and the position of their eyes. An iPhone XR or newer is required for the one-time 3D face scan and is not required to use the Beyond. With each customer having a headset built to their face shape and their IPD, significant weight can be saved while also improving comfort and clarity in VR.
The moment a customer wears a Beyond with their own custom face cushion, the Beyond rests at the correct angle. The custom face cushion provides even weight distribution, zero light leakage, and aligns the eyes and optics correctly. The custom face cushion can be hand-washed with soap for improved hygiene. Customers that need corrective vision can purchase custom prescription lenses that magnetically fit into Beyond, as glasses do not fit inside the small form factor. To further enhance comfort and customize their experience, customers can choose from the included Soft Strap or upgrade to the Audio Strap.
The SoftStrap is ultra-lightweight, weighing just 28 grams, and is especially comfortable to wear while laying down or while wearing headphones. The Audio Strap improves ergonomics further by cupping the top and back of the head, enabling theBeyond to float on the face. The Audio Strap also provides Beyond with built-in high-end audio and powerful bass from on-ear headphones.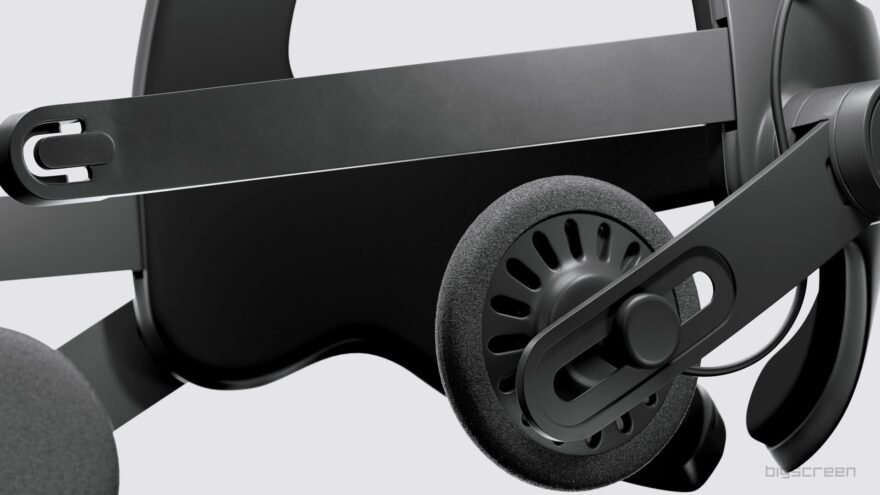 SteamVR Tracking
Beyond determines its position and orientation in 3D space with built-inSteamVR™ tracking. 6-DoF tracking requires at least one SteamVR Base Station(not included). Beyond supports SteamVR Tracking V1.0 and V2.0 Base Stations. Seated and room-scale experiences are supported. Beyond is SteamVR™ compatible and supports hundreds of VR games and applications on Steam. To use Beyond and play games, customers must download the free Steam client and SteamVR on a compatible Windows PC.Beyond works with the SteamVR ecosystem of controllers and accessories, such as the Valve Index controllers and HTC Vive controllers (not included). Customers can achieve Full-Body Tracking (FBT) using trackers such as HTCVive Trackers or Tundra Trackers.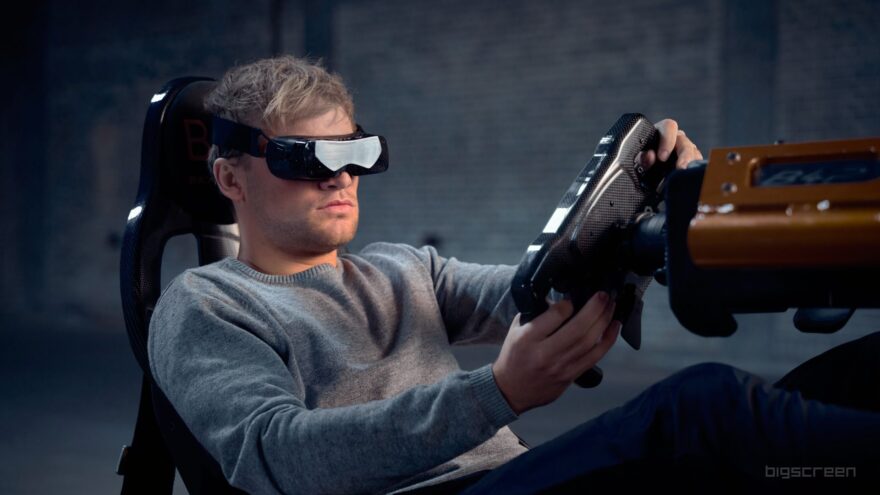 Pricing and Availability
Beyond is available for pre-order today, February 13, starting at$999.
The Beyond will initially be available in the United States from Q3 2023
Canada and Europe including the United Kingdom, Germany, France, Spain, Netherlands, Italy, Belgium, and more are available in Q4 2023
Japan, Australia, NewZealand In late 2023
Beyond will be available in more countries and regions in 2024. Beyond is custom-built for each customer, leading to longer manufacturing and fulfillment times.
A headset that isn't an uncomfortable lumbering mass on your head, sign me up!
Would you buy this headset? Let us know in the comments.