Biostar Launches Cryptocurrency Motherboard Plug and Mine Solution
---
---
---
Ashley Allen / 5 years ago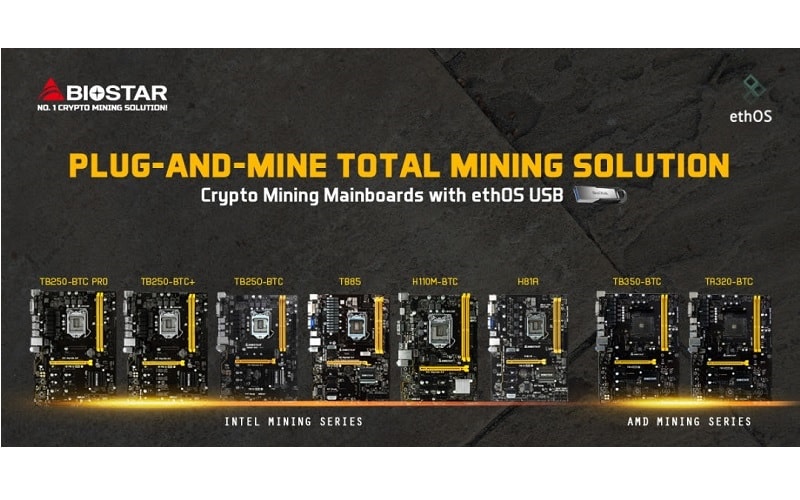 Biostar is riding that cryptocurrency mining trend all the way to the bank. Indeed, the Taiwanese company is launching a new crypto 'Plug and Mine' solution. To that end, Biostar is partnering with ethOS, the OS which mines Ethereum out-of-the-box. The ethOS operating system can also mine ZCash and Monero, plus other GPU-minable coins. So, what makes this Plug and Mine? Specifically, Biostar is putting ethOS on a USB flash drive.
BIOSTAR's Price-Performance Mining Setup with ethOS
The ethOS Mining System is one of the most straight-forward operating systems for mining ZCash, Monero, Ethereum and other GPU-minable coins. The setup is simple Plug-and-Mine, without needing a SSD. When paired with BIOSTAR mining boards, building a heavy yet stable mining rig of up to 12 GPUs can be done with ease. These have been tried and tested by both BIOSTAR and ethOS. Watch the video installation guide for easy setup:
BIOSTAR Crypto Mining Motherboards
BIOSTAR offers a wide array of crypto mining-oriented motherboards powered by the Intel B250, B85, H81, H110, as well as AMD B350 and A320 chipsets offering great stability, ease of use and high return on investment. These motherboards all support heavy mining setups using 6 to 12 GPUs. BIOSTAR's current crypto mining line-up includes Intel based BIOSTAR TB250-BTC PRO, BIOSTAR TB250-BTC+, BIOSTAR TB250-BTC, BIOSTAR TB85, BIOSTAR H81A and BIOSTAR H110M-BTC and AMD based TB350-BTC and TA320-BTC.
BIOSTAR Blockchain Technology Lab
BIOSTAR is an expert in crypto mining and runs its own 'Blockchain Technology Lab' to ensure the best stability and performance from its crypto-mining series motherboards.  All BIOSTAR crypto mining motherboards have been tested and verified in this lab, along with the ethOS plug-and-mine solution.  BIOSTAR's Blockchain Technology Lab has the ultimate crypto mining setup with its un-manned operating configuration (UOC), excellent cooling design, and automated reboot system. Watch the video BIOSTAR Blockchain Technology Lab:
https://www.youtube.com/watch?v=vPDwwhHLKBo&feature=youtu.be
Biostar Plug and Mine Availability
Biostar's 'Plug and Mine' crypto solution is out at the end of September. However, price is not yet available. Judging by the provided image (top), new Biostar crypto boards will include the ethOS USB. A host of Biostar crypto boards are already available. The boards support up to 12 GPUs at once.