Bitcoin Now Surpasses $10,000—Heading to $100K in 10 Years?
---
---
---
Ron Perillo / 3 years ago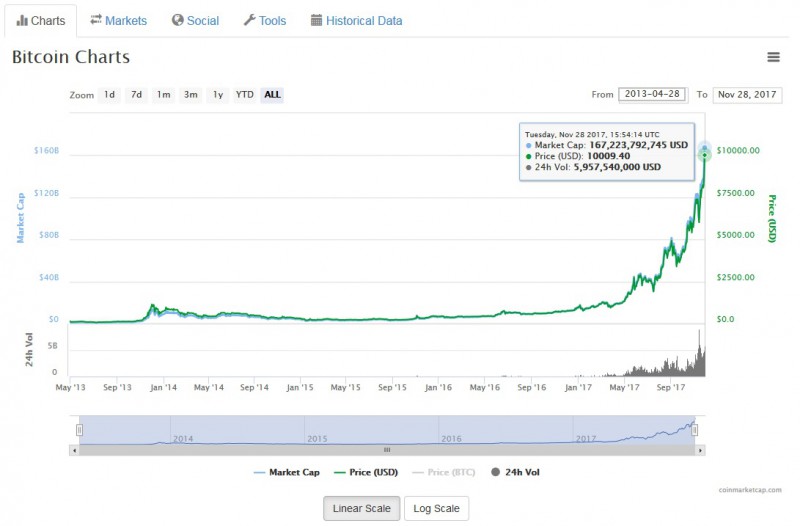 Bitcoin has no officially reached the $10,000 mark after only breaking the $9,000 level two days ago. For context, the cryptocurrency is only worth $1,000 ten months ago. It is not the only cryptocurrency that is powering forward. Although some still remain skeptical, such as those that equate it only something criminals use. It is growing in popularity among many tech-savvy investors. While there are those who are more traditional expecting a bubble to burst, there are equally as many who consider $10,000 a conservative valuation.
Bitcoin's Future: Up to $100,000 in 10 Years?
Back in 2013, headlines all over the world wrote about James Howells and his missing harddrive containing 7,500 bitcoin. At that time, it was a big loss considering it had a value of $7.5 million USD. With the current value of Bitcoin however, that price is actually now closer to $75 million USD. Some experts think it will push even further.
Billionaire Mike Novogratz for example, believes that it will actually reach $40,000 in just one more year. He expects Ethereum to triple in price within the same time frame. According to Novogratz, a wave of institutional investors will begin flocking cryptocurrency starting now. What makes cryptocurrency different from other commodities is that there is no supply response. "So it's a speculator's dream in that as buying happens there's no new supply response that comes up. So every price move gets exaggerated. It's going to get exaggerated on the way up. There will be 50 percent corrections, " he adds.
He is not alone in thinking Bitcoin is still on the climb. Kay Van-Peterson correctly predicted that Bitcoin would hit $2,000. He further predicts that it will actually hit $100,000 within just 10 years.