Bitfenix Introduces The AEGIS Micro-ATX Chassis
---
---
---
Bohs Hansen / 6 years ago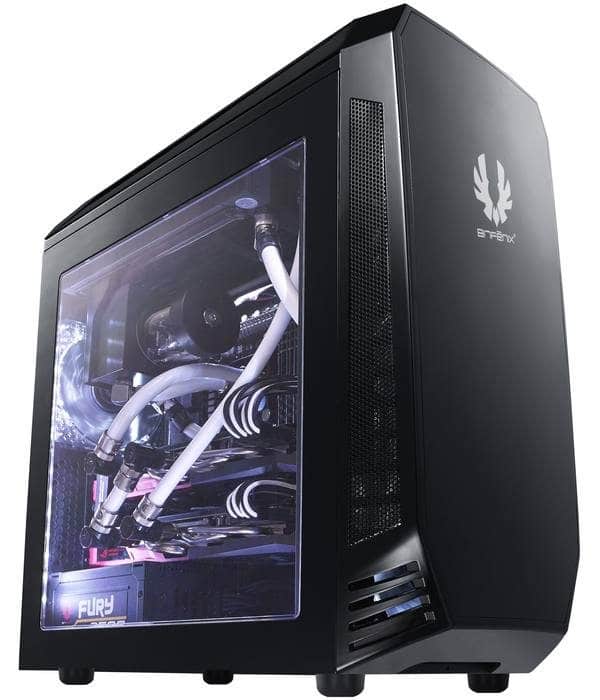 BitFenix is ready with the new AEGIS Micro-ATX chassis that they first showed us during Computex, and the final version looks great. Overclockers UK thinks the same and has the full colour-range available for you.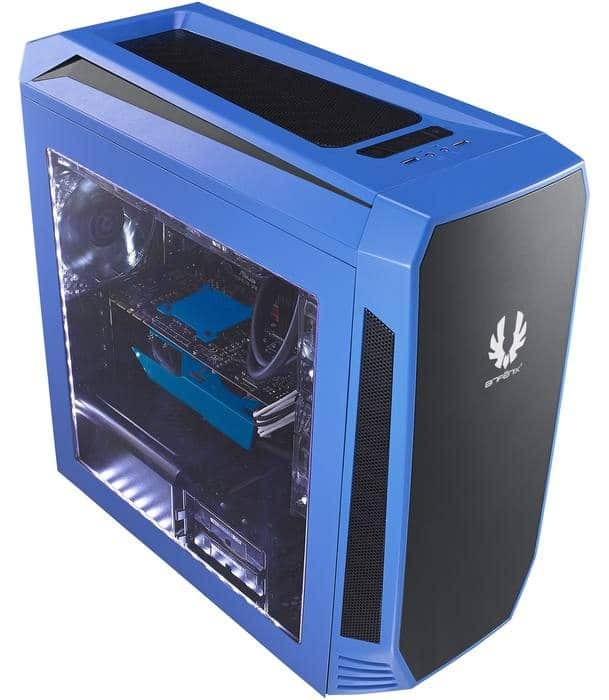 The beautiful new case comes in black, white, and three coloured versions: blue, yellow and red. The AEGIS chassis also features the same type ICON logo display previously seen on the Pandora, but this time it is 2.8-inch big. But the chassis isn't just about looks, it also packs plenty of features.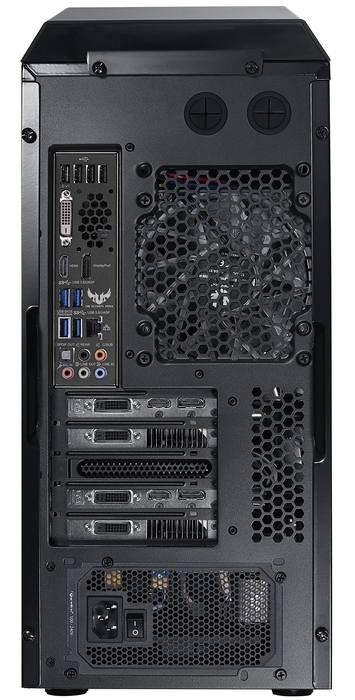 There is room for a total of eight 120mm fans or five 140mm fans and there is also room for both custom liquid cooling loops as well as closed-loop AIO coolers. The chassis can hold dual 360 loops with slim radiators as well as dual 280mm loops. To control all these coolers, the AEGIS has a built-in fan controller.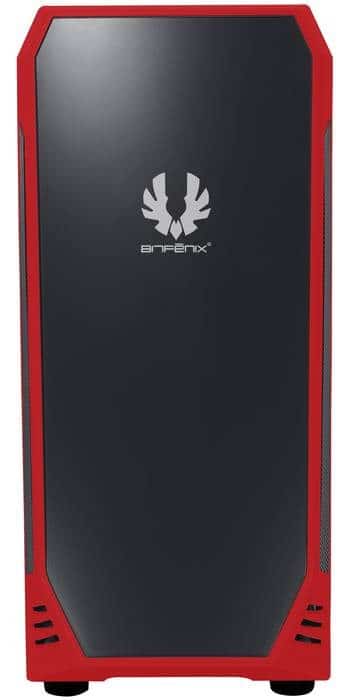 Storage won't be an issue either with 3 tool-less storage cages that can be moved around or taken out all together. But even if you should want to remove them all, you still have a hidden 2.5-inch slot behind the PSU and show-off slot next to the motherboard tray.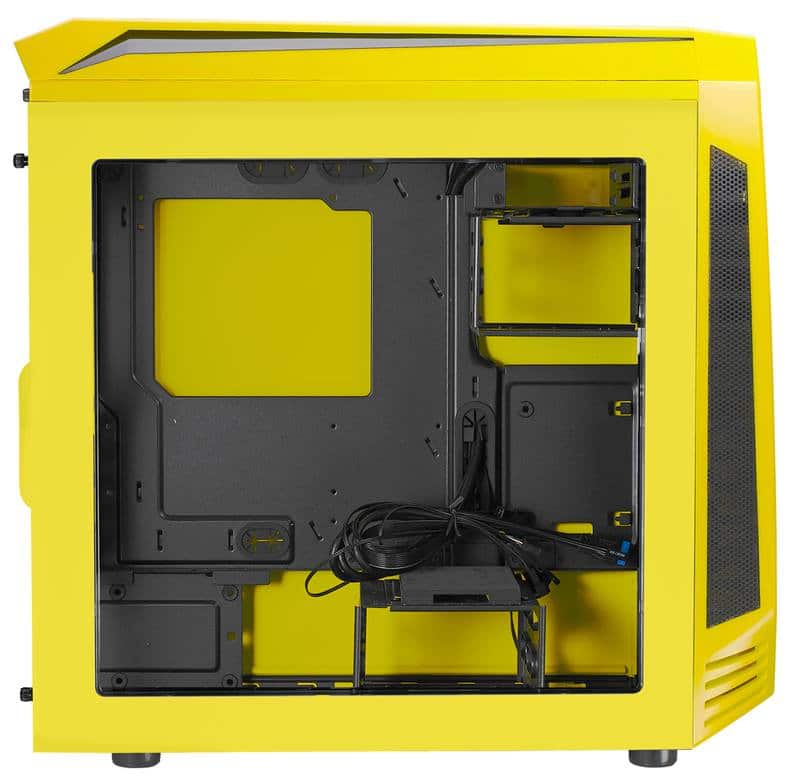 BitFenix thought of it all and made sure that there are dust filters on all sides and the PSU cover can hide away that ugly PSU you might have. But it can also be removed if you want to show your fancy and shiny new PSU. The choice is yours. The chassis even comes with reservoir and pump brackets.
Best of all, the chassis doesn't cost as much as you might expect with a feature list like this. The case can be found at Overclockers for £79.99.

Specifications
Motherboard: Micro-ATX, Mini-ITX
Dimensions: 205 x 470 x 480 mm
Weight: 6.7 kg
Clearance:
– Heatsink height: 170 mm
– VGA length: 380 mm
– PSU: ATX up to 220mm
Max AIO support (push/push pull): 360 / 360
Max radiator support (push/push pull): 360 (85mm) + 240 (60mm) / 360 (60mm) + 240 (60mm)
Drive slots:
– 3.5" Drive slots: 4 (two removable cages with 2 tool-less slots each)
– 2.5" Drive slots: 4 (one removable cage with 2 tool-less slots each, one slot next to the Mainboard, one slot behind the PSU)
Fan Controller: 4 fan headers, 3 speeds (12v, 7v, 5v) with 3 indicator LEDs (white)
Cooling
– Top: 3x 120mm or 2x 140mm – click on dust filter
– Front: 3x 120mm or 2x 140mm – magnetic dust filter
– Bottom: 1x 120mm – magnetic dust filter
– Rear: 1x 120mm (included)
PCI Slots: 5
I/O: USB 3.0 x 2, Audio, Mic, Power, Reset, Power LED (white), HDD LED (white)
ICON™ Display: 2.8″ TFT, 240 x 320
Special Features: PSU cover, Magnetic Dust Filters, Pump bracket, Reservoir Bracket, 2 Removable HDD Cages, 1 removable SSD cage, Tool less HDD and SSD system, Hidden 2.5" slot, 2.5" Show Off slot, Window Sidepanel, Rubber Grommets.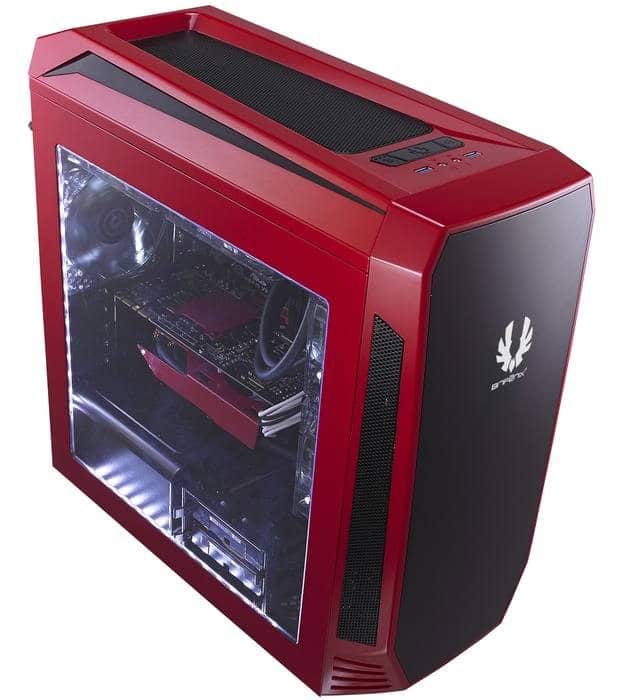 Thanks to Overclockers UK for providing us with this information