Boogie Bug Dub Style M (Zalman Z-Machine GT1000) Case Review
---
---
---
Andy Ruffell / 10 years ago

It's such a tough market at the moment with the big boy market leaders producing very similar products. Most cases of today are aimed at the gamer in mind whereas some are aimed at the consumer with a bit too much money. There are the occasional products that we see that have the unique wow factor and Boogie Bug think they have it bang on the money with their latest offering.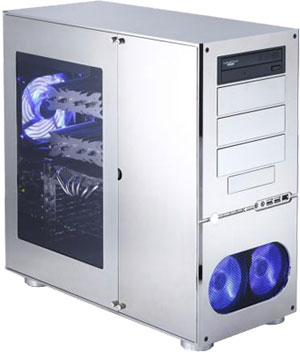 The Boogie Bug M is said to give function with style by letting the Boogie Bug Dub Style team give the Zalman Z-Machine GT1000 a slight makeover by customizing it's looks and features in a hope to appeal to the mass market.
To give you a bit more of a history of Boogie Bug, we have taken this from their website:
Since it was created in 2000, Boogie Bug (Be Bug for the experts!) has become famous thanks to the innovative and pioneer style he brought to the world of components and accessories dedicated to PC Tuning.

Pushing the limits, always testing and developing new, moderns, performing and alternative products…This is how, through the years, Boogie Bug managed to extend its concept and diversify around 4 ranges of products:

When gamers talk to gamers…

This is Boogie Bug's historical market! Ventilators, decorative grills, cables, neons, cases…Many innovations that won't let anyone indifferent, also because they are commercialised in packages that benefit from very feminine shapes and curves…

Boogie Bug takes the joystick…

Game is not only PC. That is why now amateurs and "addicts" of consoles can buy accessories that are representative of Boogie Bug's values, i.e. esthetical, ergonomic and original products.

There is a Boogie Bug for each of us…

The PC and Multimedia market constitutes a world of conquest and free expression for which Boogie Bug has designed a range of products more moderns, more pioneer, that suit to the lifestyle of each of us, that will attract people looking for functional products..

BOOGIE for ever…

Thanks to its comprehension and interpretation of the trend and its tendencies, Boogie Bug offers its own vision of the "new wave" of clothes and luggage "electro vintage".
Specifications
[HR][/HR]Drive bays
External: 4 x 5.25" & 1 x 3.5"
Internal 7 x 3.5"
Cooling system
2 x 92mm front LED fans
1 x 120mm rear LED fan
Front I/O Ports
2 x USB 2.0 Ports
1 x Firewire (1394) Port
1 x MIC & 1 x Headphone
7 x expansion slots
Power Supply: ATX form factor (not supplied)
Material: Aluminium 5.0mm
Color: Chromed steel
Motherboard compatibility: ATX & Micro ATX
More information
Weight: 12.5kg
Dimensions: 480x220x430mm