Buffalo 5810DN 8-Bay 32TB Preloaded NAS Review
---
---
---
Bohs Hansen / 3 years ago
Introduction
---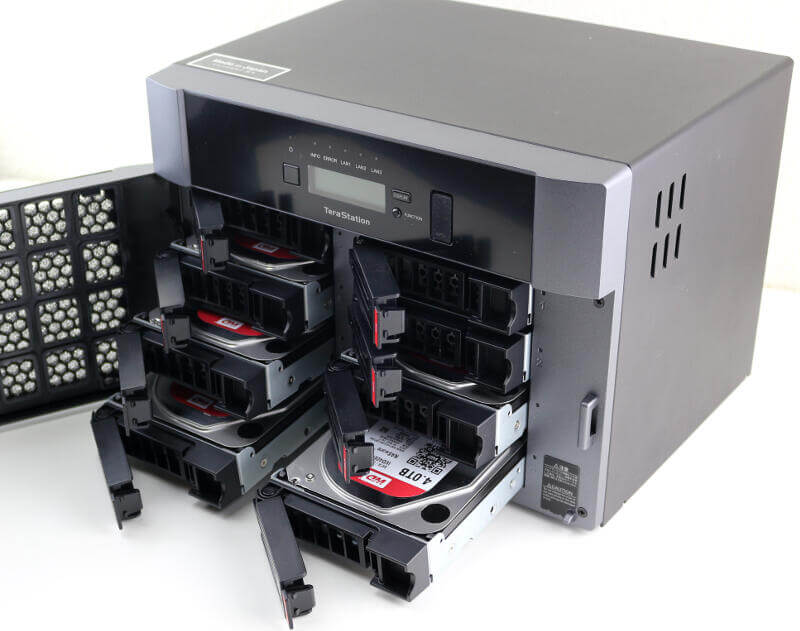 Today, I'm welcoming a new brand into our NAS review category: Buffalo. Buffalo has been on the market with storage solutions for a very long time, but this is the first of their NAS devices I have the pleasure to test and review. And what a start it is. The TeraStation 5810DN (product link) is quite the impressive device with 10GbE capabilities and a quad-core processor. It also comes pre-loaded with drives in various configurations, from 16TB to 64TB raw capacity.
Why Should I Get a Pre-Loaded NAS?
To some people, a NAS pre-loaded with drives is a good thing, to others, it's a bad thing. To me, it's neutral. There are ups and downs to both sides. Since this NAS comes with drives loaded, let's focus on the benefits of that.
The most obvious benefit is the one-stop shopping experience. You get everything you need in a single box and don't need to worry about compatibility and similar things. That fact also makes it very easy to set up as there is no hardware installation necessary. Just unpack it, connect it, and power it on. That's truly as easy as it can be.
Another advantage is the support. When you get everything from one place, there's also just one place to go for support. You don't need to worry about what part there's something wrong with, it's the same people you have to talk to.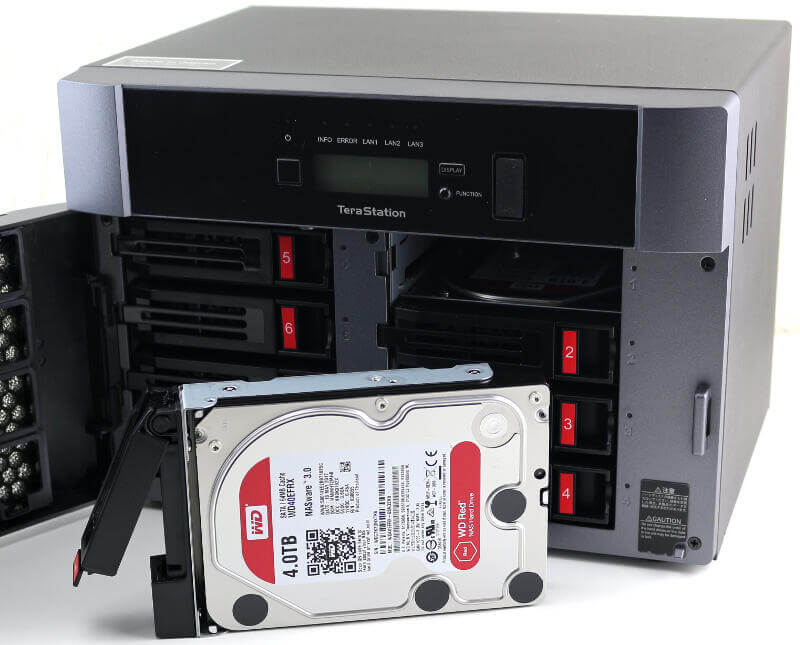 Speaking of when something goes wrong, what if a drive fails? That is one of the scenarios where you truly will enjoy the benefits of this setup. Buffalo offers a 3-year standard warranty on the unit with 24-hour HDD exchange service. By now, the benefits are clear. Especially for business users and office setups where you don't have dedicated technical personnel. Buyers will also have access to the technical support hotline.
What's inside the TeraStation 5810DN?
The heart of the TeraStation 5810DN is an Annapurna Labs AL314 quad-core processor with 1.7GHz. There's also 4GB DDR3 ECC memory.
Since this is a pre-loaded NAS, there are a bunch of drives inside too. You can get the TeraStation 5810DN fully loaded with 8 drives or half loaded with 4 drives. The choice of capacity includes 4TB and 8TB drives. With that, the math is easy. You get options of 16TB or 32TB with four drives and 32TB or 64TB with eight drives.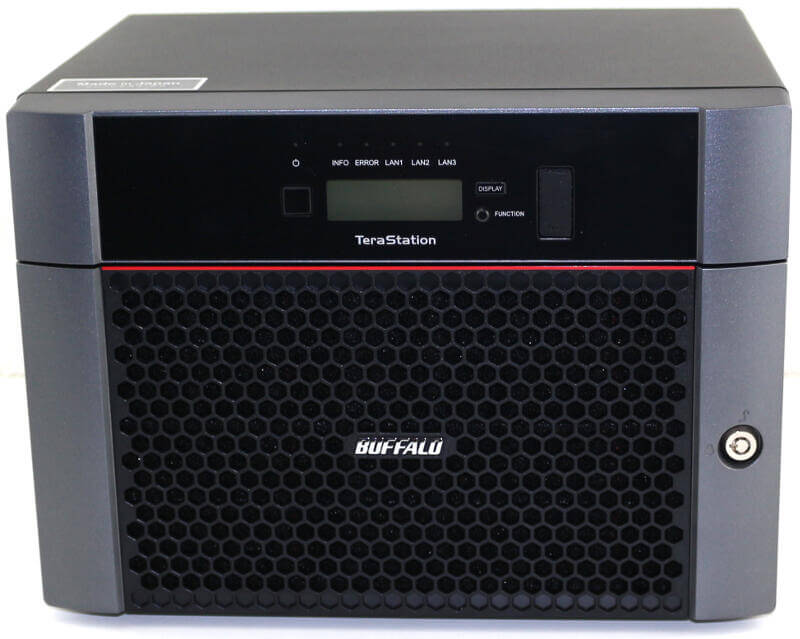 Connection Options
A NAS is no good without connection options, and the 5810DN surely has those. To start with, there is a dual Gigabit Ethernet setup for standard fail-over and load-balanced connections. But it doesn't stop there. Buffalo has made great strides for the 10GbE adaptation and the 5810DN is part of this wave. It has a single 10GbE port which will go great in a setup with the BS-MP2008 switch. I tested and reviewed the switch not long ago and you can check out the full review by clicking here.
External storage drives or an uninterruptable power supply (UPS) can easily be connected to the three USB 3.0 ports. The drive bays are easily accessible and the installed drives are hot-swappable.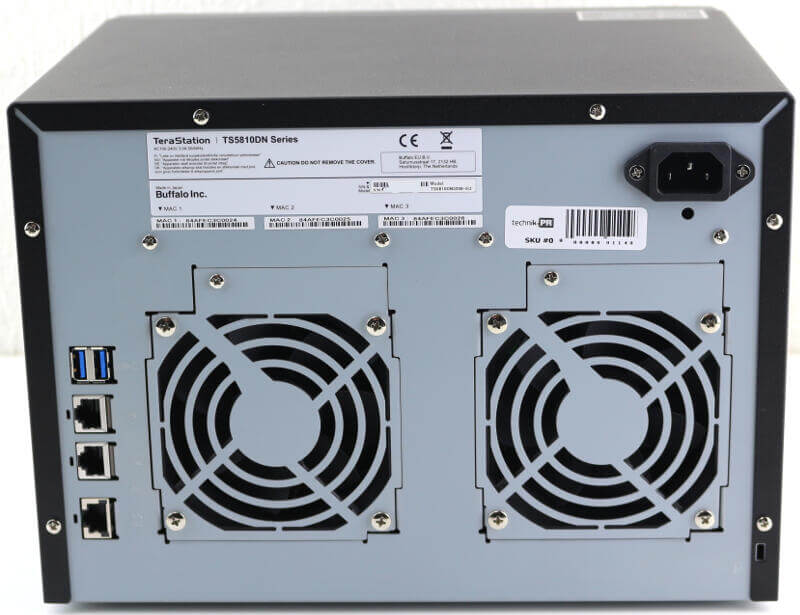 Drive Setup and Sharing
Cross-platform sharing is more or less a given these days and it is no different for Buffalo NAS'. Whether your client systems are Linux/Unix, MacOS, or Windows, you'll have easy access to your network shares. FTP and SFTP are also part of the package, but without additional settings options. Last but not least, you also get Rsync options.
You can configure the drives as RAID 0/1/5/6/10 and also use them in single drive mode. Additionally, iSCSI is available for direct storage pool sharing.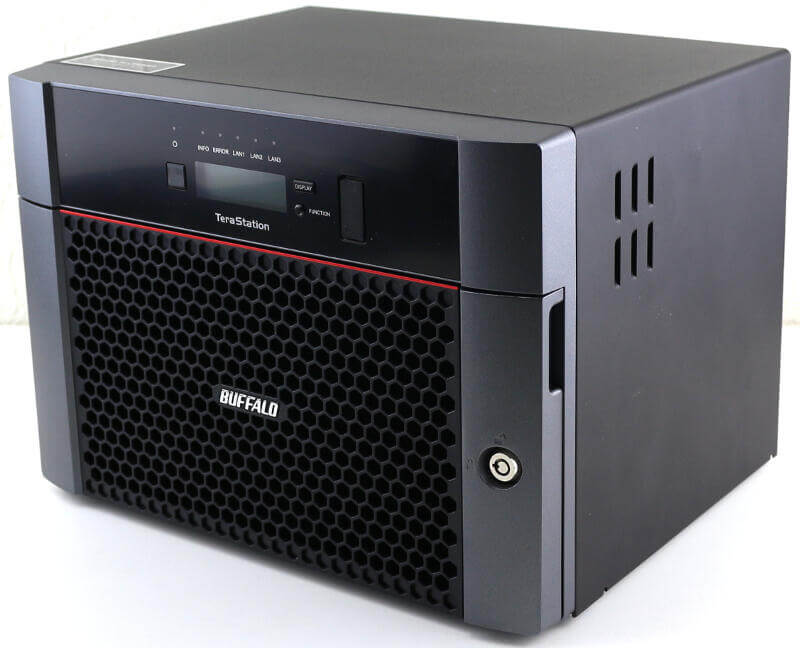 Backup and Replication
The TeraStation 5810DN comes with a full backup solution as well as real-time replication. Bundled with the NAS are 11 licenses of NovaBACKUP Buffalo Edition. NovaBACKUP provides a complete all-in-one data protection solution for small and medium businesses. It will work with Windows clients, server, and VM systems.
Replication is synchronising a folder on two separate TeraStations in almost real time. However, it's only one-directional and not bi-directional; from source to destination. It is possible to set-up the function in LAN as well as WAN. The WAN setup includes the remote connection using port forwarding and a VPN setup. For more information on this subject, you can check out the official Replication PDF by Buffalo.
Feature Highlights
Quad-core Processor and 4GB ECC DDR3 memory
8 Drive Bays, pre-loaded with up to 64TB
10GbE Port and dual 1GbE ports
3-year warranty with 24-hour drive exchange
NovaBACKUP with 11 licences included
USB 3.0 ports for drives or UPS
Package and Accessories
The TeraStation 5810DN from Buffalo is a business NAS and as such, there is no need for a fancy full-colour package. It comes in a simple brown box with a small label holding the important details.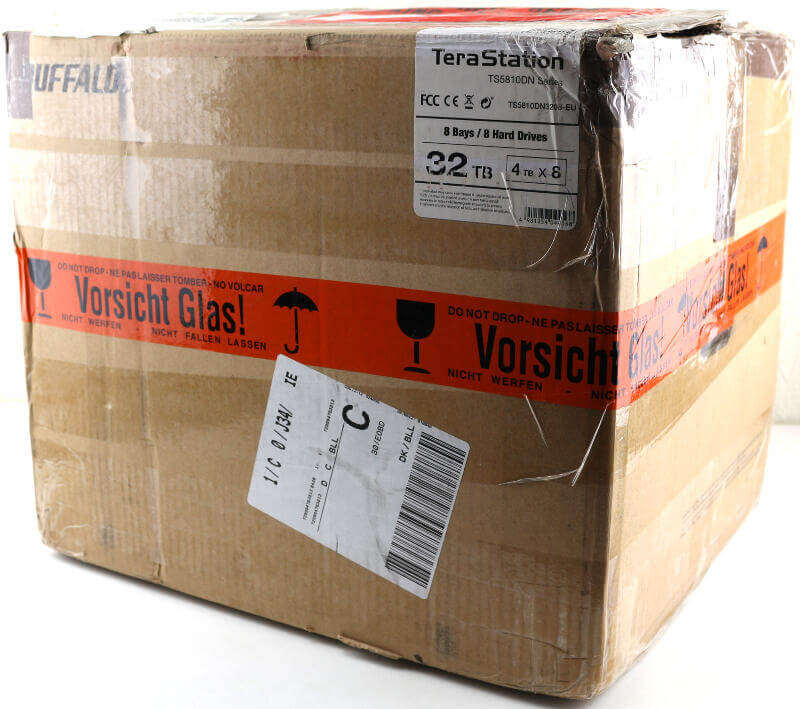 You do need to know what's inside and that you'll find that information on the attached label.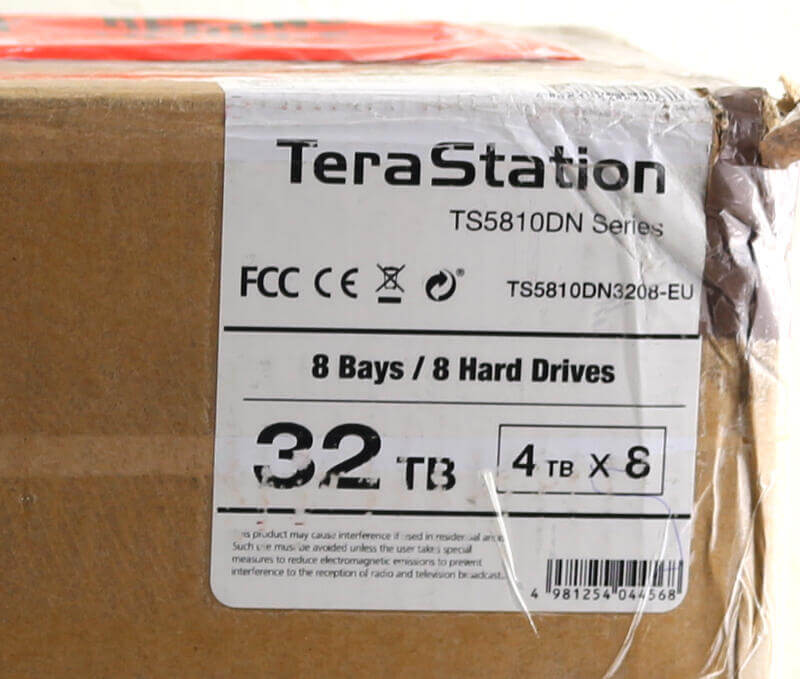 However, the important thing is what's inside the box. There is, of course, the device itself, but also an accessory bundle with everything you'll need. You get a power supply cable that fits the region where you purchased it. In my case, there is an EU/DE and a UK cable included.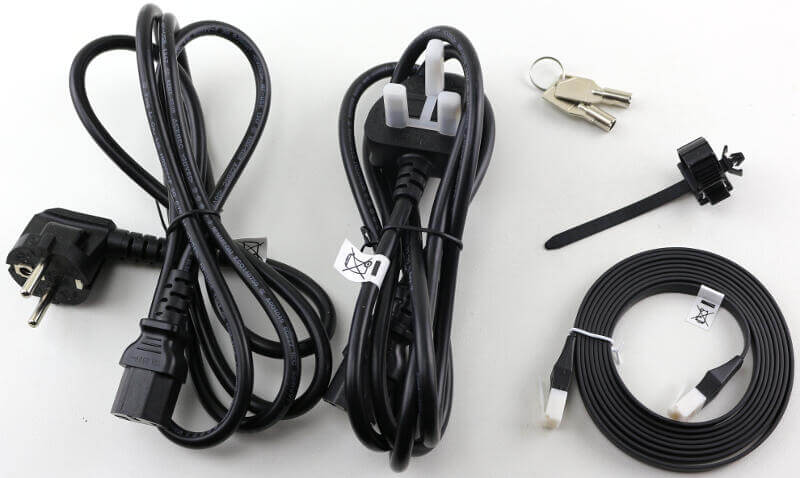 You also get a flat RJ45 cable which is 10GbE capable for the network connection. After all, a network attached storage device isn't much use without a network connection. There's also a cable security strip which can help prevent accidental removal of the power cord as well as two keys for the front-facing drive door.
You also get a couple of notes, such as the warranty guide and quick setup instructions. As a bonus, you also get some stickers to label the device – a useful thing when you run multiple devices.