Bugatti Conveys Real-Life Gran Turismo Car
---
---
---
Christopher Files / 8 years ago
This is fantastic, I mean it really is, oh right, article, Bugatti are synonymous with 1,200 horsepower supercars which even left Jeremy Clarkson speechless for a bit, until he attempted to insure it using a popular company. These cars are one of the most desirable for the rich and famous and command seven-figure price tags. But what happens if you cross a Bugatti with Gran Turismo?
Apparently this which is conveyed below, wow is the word here, the luxury car manufacturer unveiled a fantasy video game car at the Frankfurt Motor Show. The difference is this car is not made from pixels and polygons, but a real drivable version. The Bugatti Vision Gran Turismo is a model of car that appears in the popular Gran Turismo video game series. The real-life version is fully drivable but wasn't designed to comply with government safety regulations, but it does fully integrate with the latest racing regulations. Not really that helpful if you're caught speeding at 240 miles an hour on a country lane, not that you should anyway.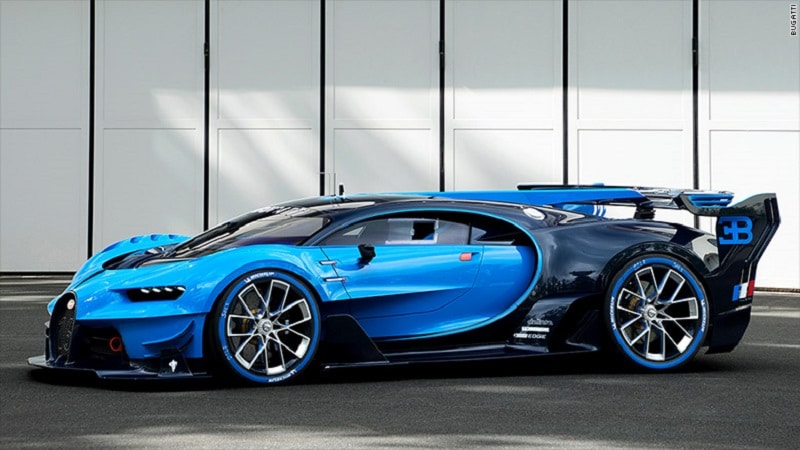 This concept is powered by a turbocharged 16-cylinder engine which is capable of reaching top speeds in excess of 250 miles an hour, it's a complex machine which Bugatti hope to offer a glimpse into the possibilities which exist within the new model which is currently being designed. Bugatti has so far sold 450 cars worldwide over the last decade, this does not sound like a respectable figure, but considering each supercar cost around the $1 million dollar mark, it's forgivable.
It's unlikely that I would be able to afford a car in my or the next 5 lifetimes, but it's still noteworthy to keep up to date with the latest developments in automotive technology, especially if they look this fantastic.
Thank you cnn money for providing us with this information.
image courtesy of i.ytimg