Buzz Aldrin Hosts Cycling Pathways to Mars VR Experience
---
---
---
Ron Perillo / 6 years ago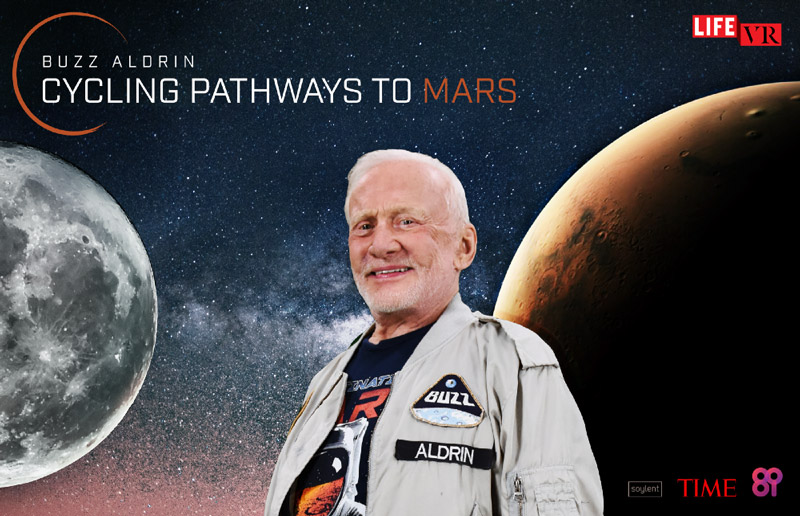 Buzz Aldrin was on the Apollo 11 mission which first set foot on the moon, but his latest project takes the 87-year old astronaut all the way to Mars in a virtual reality movie. The VR film titled Cycling Pathways to Mars has a short runtime of just 10 minutes, but it is more than enough time for Aldrin to explain his plans for how a manned trips to Mars could happen. Mr. Aldrin hopes that the film would help governments focus on a single plan to get to the red planet, adding that these space missions should be guided by the government and not by private companies.
Speaking on stage at South by Southwest (SXSW) in Austin, Texas recently, Aldrin stated that Elon Musk's efforts and investments in space travel is welcomed and although he acknowledges that Musk is a transportation expert, Aldrin thinks that the SpaceX CEO has not thoroughly thought out what would happen once people arrived on Mars.
Cycling Pathways to Mars is a project made by virtual reality firm 8i in partnership with Time, showing what it would be like on a Mars colony. Admittedly, it is not the most picturesque scene with its dry, red expanse but Mr. Aldrin believes that the initial settlers would have to endure the harsh conditions for the good of future interplanetary generations. Humanity after all is no stranger to adopting to harsh conditions of new lands with the European settlers of North America experiencing winter.
"They weren't scientists that came over on Mayflower, they were pilgrims, they were moving for different reasons, They toughed it out." stated Mr. Aldrin, referencing the first ship that landed settlers into the "New World" in 1620, establishing what would become the first colonies of America.
"I think we're going to have pioneers, but they're going to be very well prepared, and what troubles me is that they need to be motivated and they have to retain that motivation in a mind that changes. I think that's one of the biggest concerns. I don't think we should just go there and come back – we did that with Apollo."
Cycling Pathways to Mars is available for to view on the HTC Vive headset and will be coming soon to the Oculus Rift.