Idiotic PR Alert – Call of Duty Tweets Fake Terror Attack
---
---
---
Ashley Allen / 8 years ago
Update: Call of Duty have now changed their Twitter name back to @CallofDuty, which earlier read as Current Events Agg. The embedded tweets below now look more representative of the game.
In a fit of inspired viral marketing, which was not at all tacky and inappropriate, the official Call of Duty Twitter account scared the Hell out of unsuspecting followers by reporting a made-up terrorist attack on a densely-populated area in Singapore.
https://twitter.com/CallofDuty/status/648905858529759232
To aid the ruse, the verified Call of Duty account changed its name to the rather obfuscating 'Current Events Aggregate', posing as a genuine news outlet, which just happens to be a breach of Twitter's terms and conditions – a verified Twitter account is not permitted to change key information that might obscure the reason it was verified – for reasons of, y'know, fooling people into thinking that this was something other than a cheap promotional stunt.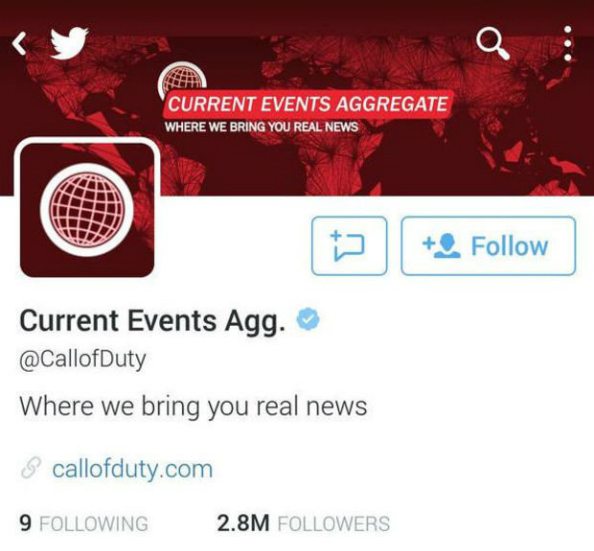 A series of tweets followed, painting a picture of death and destruction in the fictional Singapore bombsite:
https://twitter.com/CallofDuty/status/648943510268284928
https://twitter.com/CallofDuty/status/648925311623655425
https://twitter.com/CallofDuty/status/648913308238643200
https://twitter.com/CallofDuty/status/648944146644905988
The final tweet reads, "That was a glimpse into the future fiction of #BlackOps3," but might as well say, "Gotcha!". Even if people weren't fooled by it, using the imagery of tragic real world events, out of context, to push your factory-churned product is deplorable. Bombs, quarantine zones, and martial law, all to sell a few video games. Stay classy, Activision.