Chieftronic NOVA NF-1225RGB (120mm) Fan Review
---
---
---
Mike Sanders / 2 years ago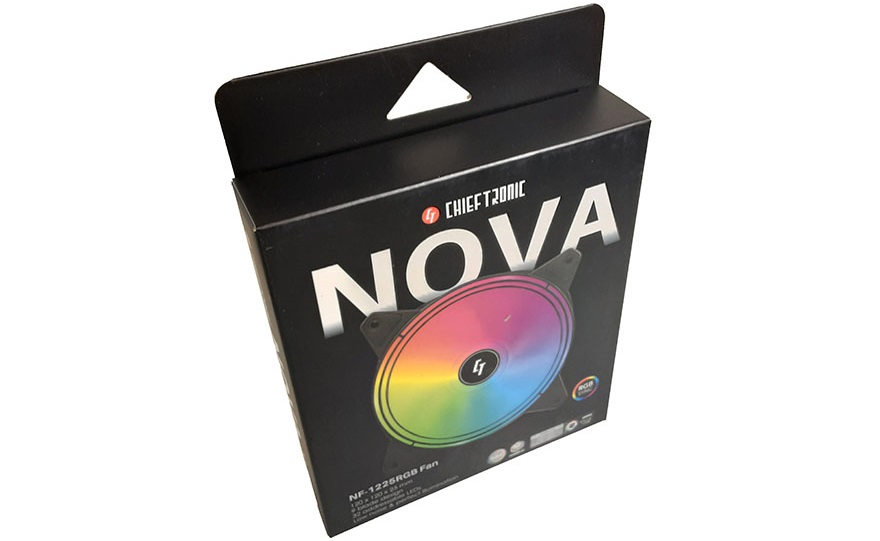 Exterior Packaging – Front
The front of the packaging presents itself excellent with Chieftronic giving you a nice, large, and clear view of the NOVA NF-1225RGB fan in all its ARGB glory. Other information includes some brief listings of the key product features as well as the motherboard sync compatibility.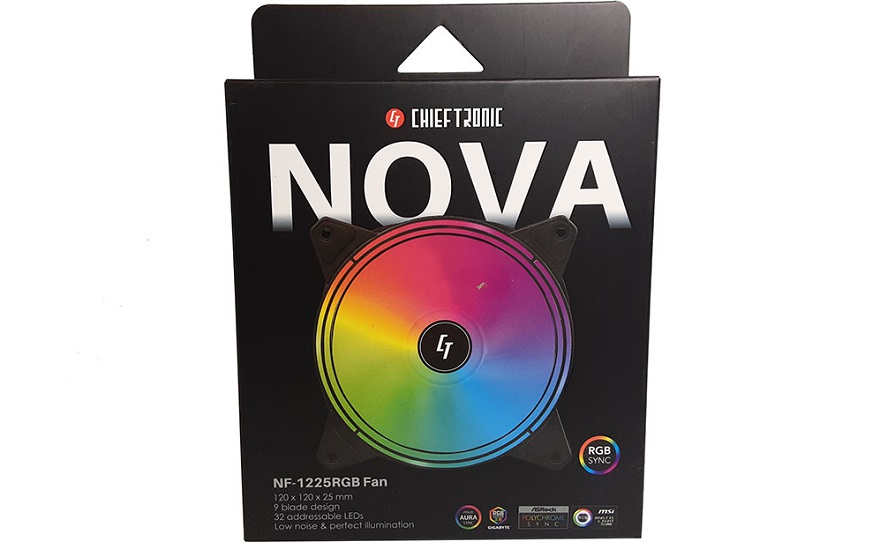 Exterior Packaging – Rear/Sides
The rear of the packaging simply lists all of the technical aspects regarding this fans design. This includes dimensions, airflow, noise output, and general design specifications. It is, perhaps, a little disappointing that no further information or images are given, but based on the rather limited space, at least what has been put here is useful.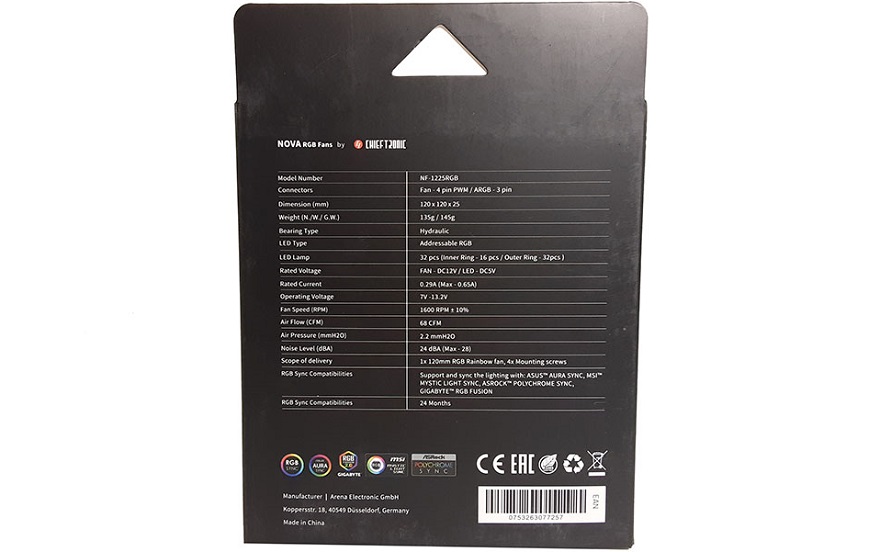 The Fans
Out of the box, the fan presents itself well with its sleek design and clear attention to presentation. You'll note that the circular fan section is prominent with the mounting sections (to attach this to your case or components) sitting proud on each 'corner'.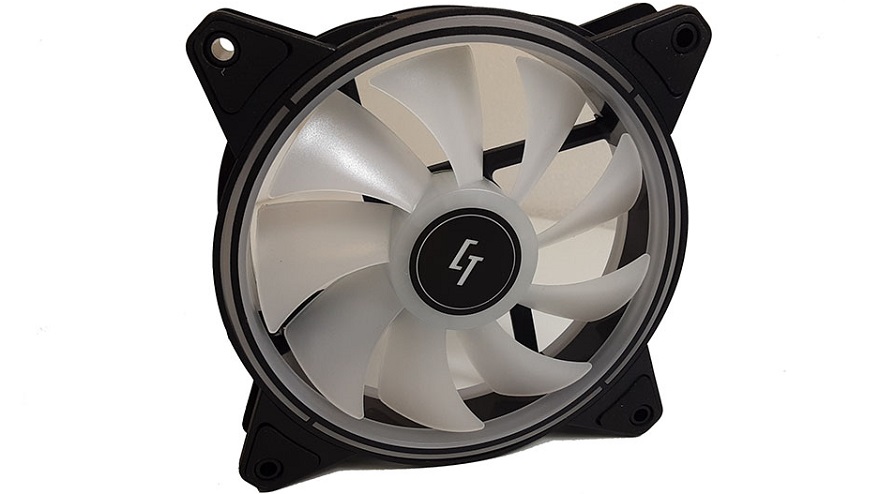 There is, however, a logic to this design. Put not going for a standard 'square' style, the Chieftronic NOVA NF-1225RGB has sections to the side which can add a new dimension to the ARGB lighting effects. There will, of course, be more on how that looks later in this review.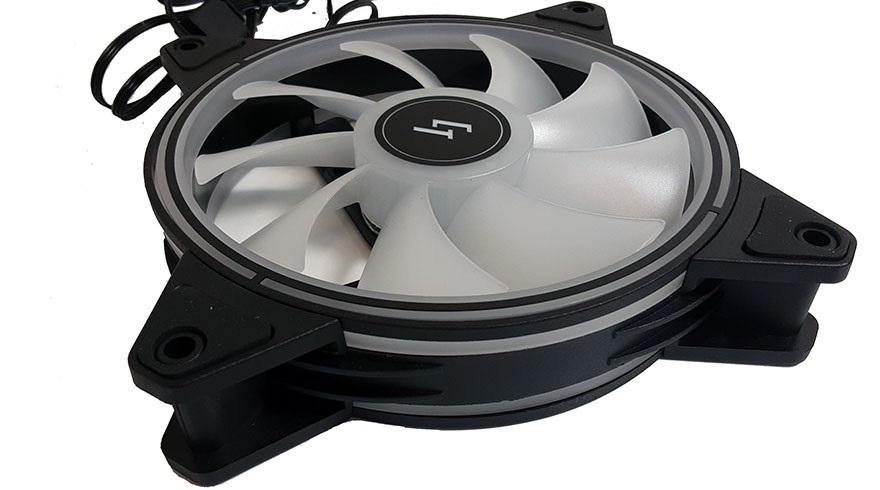 The underside of the fan shows very little in the way of structure which should help promote a good and strong airflow (you know, with less stuff being in the way of the fins. In addition, although this isn't unusual for fans, it is excellent to see that Chieftronic has found a means of mounting the cables (to ensure they're not visible) to the notable minimal frame.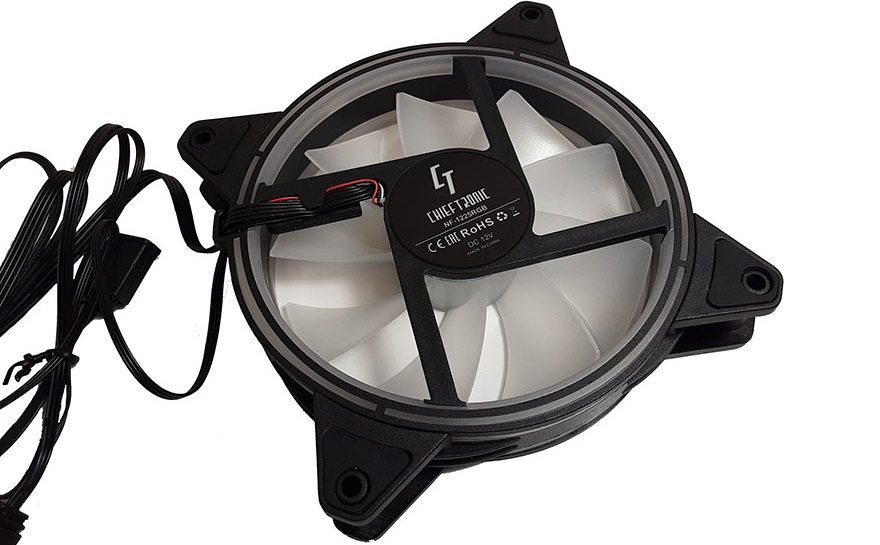 With cushioned pads to each mounting point, this should ensure that, all going well, noise output/vibrations are minimal. A factor that undoubtedly plays a factor in the notably low maximum 28Dba rating the NOVA NF-1225RGB is provided with.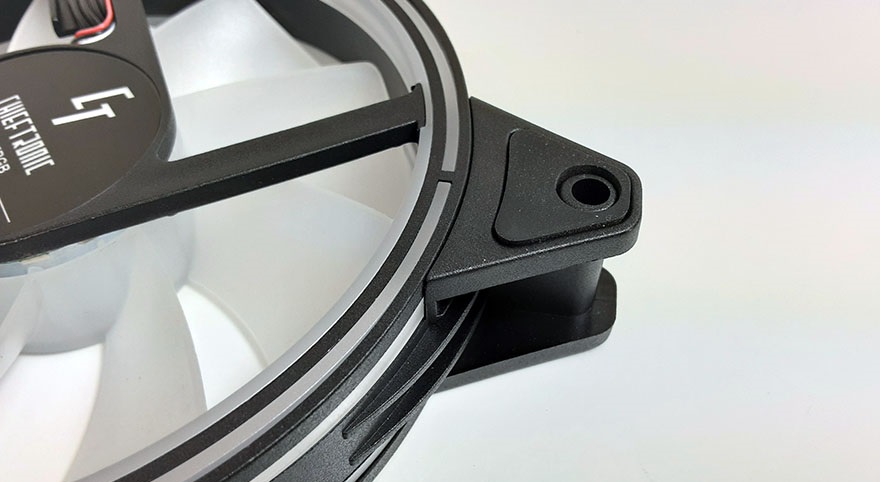 Accessories
In terms of accessories, sadly, this fan doesn't come with much beyond the screws required to attach this directly to your chassis. As such, if you are looking to utilize this as an AIO fan upgrade, you will need to retain your existing long-pins. Albeit, something that's probably a very good idea anyway!
Although we will go into greater detail about it later in the review, however, what we can say is that Chieftronic has provided the NOVA NF-1225RGB with 'daisy chain' ARGB lighting connectors meaning that getting multiple fans running in sync shouldn't prove to be any problem at all!