CJ Wilson Racing Launch a Virtual Racing Series
---
---
---
Alexander Neil / 7 years ago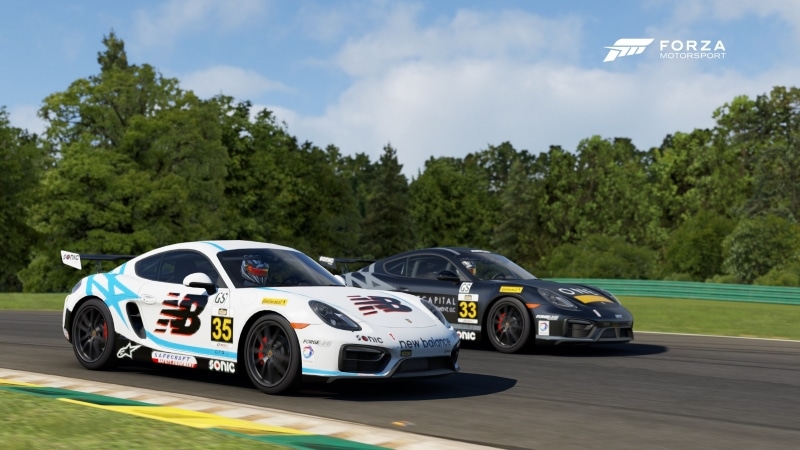 Virtual racing seems to be all the rage in the world of real racing lately, with Formula E already staging a virtual championship event in Forza 6. The popular Xbox racing game from Microsoft is now going to stage another virtual racing series, this time, courtesy of CJ Wilson Racing. The series, named the CJ Wilson Racing Cayman Cup is part of a collaboration between the up-and-coming racing team and big names such as Logitech and The Online Racing Association (TORA).
For this event, the team had their 2016 racing car, a Porsche Cayman GT4 created in-game in order to be used in the cup. Unfortunately, Forza 6 doesn't include a GT4, so the team worked with TORA's Matt Hunter in order to do their best to recreate the car. They made use of Forza's built in tuning mechanics in order to get performance that is as close to the real-world GT4's specifications as possible. From there, another team at TORA worked on creating a livery of CJ Wilson Racing's #35 car, which sports a light blue and white colour scheme which contrasts the team's other "Darth Cayman" which is a menacing black. Finally, cars were tested by team driver Danny Burkett, who tested both the real and virtual cars. Entrants to the series will be forced to use one of the custom Cayman GT4s, and while the upgrades will be identical, players are free to tune the cars as they see fit in order to suit their driving style and shave time off their laps.
The CJ Wilson Racing Cayman Cup is set to start on the 27th of April and will take place over 10 races, ending in late August. Entry to the series can be done on TORA's forums, where you can register alone or as part of a team of up to 3 drivers for a grand prize of a Logitech G920 as well as the opportunity to race head-to-head against real drivers on the virtual circuit.