Classic PC Collection Goes Up For Sale On Twitter
---
---
---
Mike Sanders / 3 years ago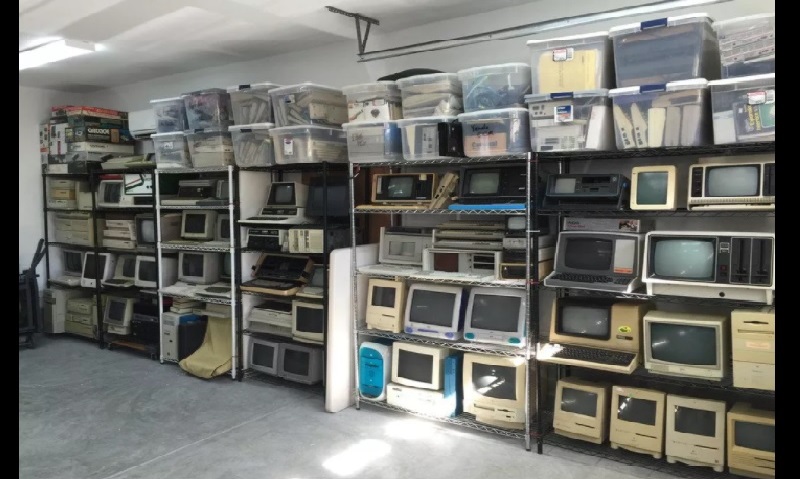 Classic PC Collection
As far as classic PC's are concerned, I'm not entirely sure what qualifies for that bracket. While an IBM-2 is clearly a classic PC, is an Amiga or Atari ST a classic PC?
Anyway, I digress. If you are going to collect something, it's generally beneficial if the thing you collect is of a reasonable size. Classic PC designs generally do not fall within that bracket. It's for such reasons that physical sideways desktop PC's (the ones you sat your monitor on) no longer exist.
One such person, has, however, been collecting them, but has decided to put his entire collection up for sale on Twitter.
What's in the collection?
The collection is a massive assortment of different PC's. Most are reported to be "Non-IBM PC Compatible Computers" and "IBM PC Original, Compatible, or Derivative Computers".
A quick look at the shelves should give you a clue of the age of some of these. Particularly due to the yellowing effect older plastics (such as the Original NES and SNES) were subject to.
Does anybody want to buy a computer collection I have been gathering since 1993? This is less than half of it. I am considering a move, and I'm not sure these can go with me to the new place. Would love to keep them all together somehow. Want to start a museum? pic.twitter.com/lG7b3PuDUg

— Benj Edwards (@benjedwards) February 26, 2018
Pitching the sale as an opportunity to start your own museum, he might have a point. In what has clearly been a passion for Benj Edwards, it seems that the time has come to shift some of it based on a potential house move.
In fairness, I wouldn't fancy lugging all of that to a new house either.
How much does he want?
He hasn't named a price, at least, not that I can find and as such I must assume that he's taking offers.
The photograph alone is reported to roughly be only half of the collection available and again, there doesn't appear to be a comprehensive list. That might just simply be due to the fact that he's never seen the point of conducting an inventory.
From a personal aspect, I would love to have a mooch through this collection and for fans of retro gaming, there is certainly going to be some systems there that would be an ideal solution to modern PC issues for old games.
What do you think? Would you like this collection? What was your first PC? – Let us know in the comments!
As some of you have noticed, this is a lifetime pursuit for me. I've dedicated my life's work to the preservation of tech history since I was a teenager, and I have continued that work as a journalist. This collection was my museum when there were none to be had;

— Benj Edwards (@benjedwards) February 28, 2018
Support eTeknix.com
By supporting eTeknix, you help us grow. And continue to bring you the latest news, reviews, and competitions. Follow us on Facebook and Twitter to keep up with the latest technology. Share your favourite articles, chat with the team and more. Also check out eTeknix YouTube, where you'll find our latest video reviews, event coverage and features in 4K!
Check out our Latest Video