Club 3D Announces SenseVision CSV-1460 Docking Station
---
---
---
Bohs Hansen / 4 years ago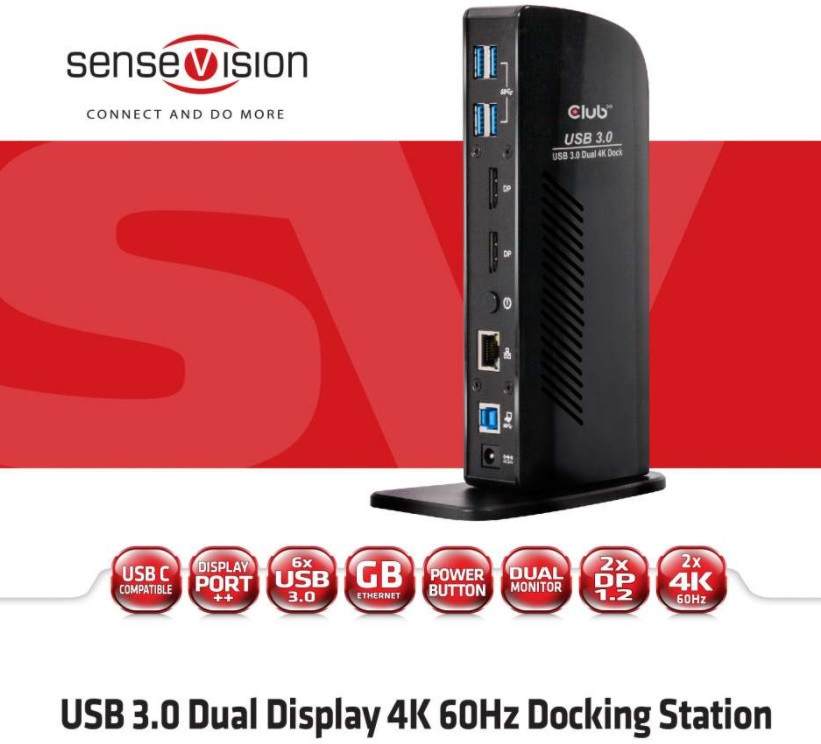 Club 3D's newest product is a USB 3.0 docking station called the CSV-1460. It is from the SenseVision series and it comes with newest technologies inside. With it, you have support for dual 4K 60Hz monitor connections as well as Gigabit Ethernet and plenty of USB 3.0 ports.
Dual Monitors with 4K 60Hz
We've had a look at quite a few universal docking stations here at eTeknix, from Club 3D and other companies. Those of them supporting 4K resolutions all had one problem, or rather limitation. The 30Hz limitation when using UHD resolutions wasn't desirable. The new DisplayLink 6950 SoC, which is used in this product, takes care of that.
The CSV-1460 universal docking station doesn't just support a single monitor with 4K 60Hz resolution, it supports two at the same time. That's impressive, especially when we consider that it connects through USB. The docking station has two DisplayPort connectors and the only requirement on your system is a free USB Type-A Gen.1 port.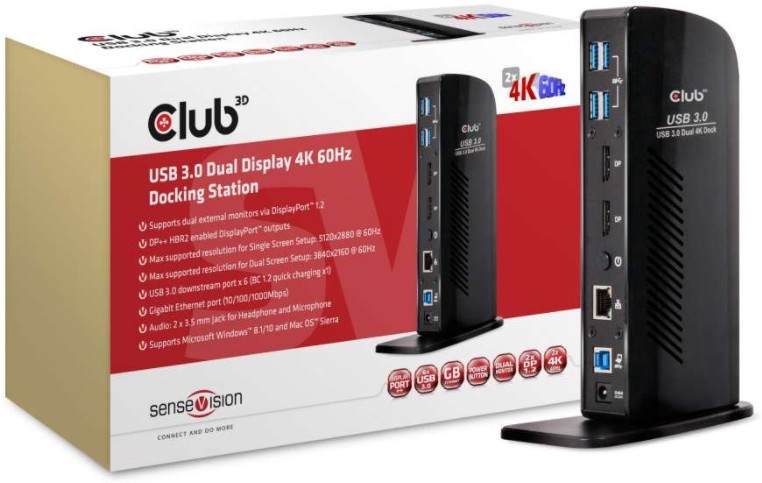 CSV-1460 Has Plenty of Connection Options
The SenseVision USB 3.0 Dual Display 4K 60Hz Docking Station is designed to satisfy all your connectivity demands. It provides no less than 6 USB 3.0 Ports, Headphone connection, Microphone connection, Gigabit Ethernet port, and 2 x DisplayPort outputs. It is fully USB-C compatible and a USB-C cable is also included in the box.
A Space Saving Design
The SenseVision USB 3.0 Dual Display Docking Station has a convenient design and detachable stand, allowing it to be placed on your desk in horizontal- or vertical position. A universal docking station has many benefits. It's usually a lot cheaper than laptop manufacturer's options and they work with any system. That doesn't just save on the initial investment, it keeps on going as you can use it with your next laptop too.
Features
Portable Universal USB 3.0 Dual Display 4K 60Hz Docking Station
Fully USB C compatible with USB C cable included in the box
DisplayLink DL-6950 chip inside
Supports dual External monitors via Displayport
Max supported resolution for Single Screen Setup: 5120×2880 @ 60Hz
Max supported resolution for Dual Screen Setup: 3840×2160 @ 60Hz
USB 3.0 downstream port x 6 (BC 1.2 quick charging x1)
Supports Gigabit Ethernet (10/ 100/ 1000Mbps)
Audio: 2 x 3.5 mm Jack for Headphone and Microphone
Pricing and Availability
Club 3D didn't reveal a price at this time, but we do know when it will become available. Units will start to ship in the middle of September and customers will be able to purchase them about a week later.