CM Storm Control RX Mouse Mat Review
---
---
---
Peter Donnell / 10 years ago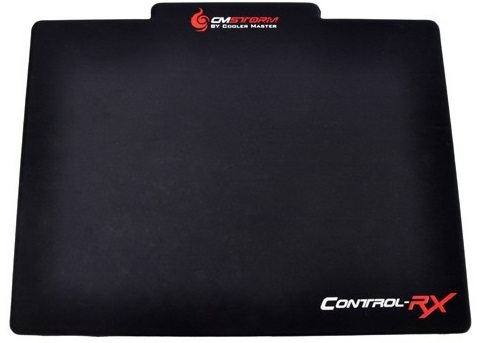 CM Storm are well known for making some fantastic gaming peripherals, especially their gaming mice which in my opinion offer impressive performance and designs that are highly competitive in an already busy sector of the market. eSports and pro gaming are bigger than ever and as as a result more consumers and general gamers are picking up the equipment they see their favourite pros use, which is why CM Storm like to get involved and make sure gamers get the right tools they need to both win and to enjoy their favourite game in comfort and style.
The surface we are looking at today is the CM Storm Control RX and while I hold that there isn't one mouse mat that is really better than the other given the subjective nature of what one person finds comfortable, or what surface works with a particular mouse and configuration can change wildly from person to person. Yet I have had good experience in using CM Storm surfaces in the past and they've always been of a high quality, so I'm hoping to see something similar here today.
The Control RX comes packaged in a large flat box, with plenty of design and colours on the packaging that are similar to those seen on other products in the CM Storm range. There is a small window to allow you to feel the surface of the mouse mat.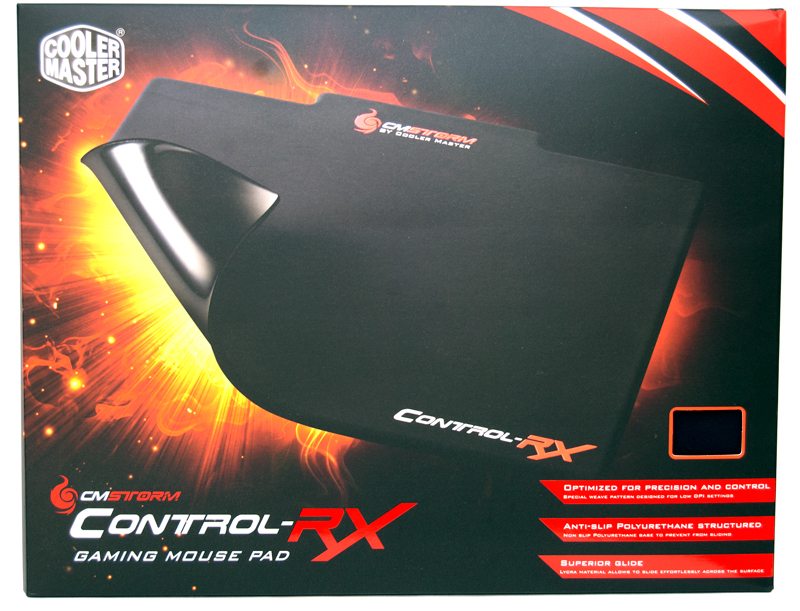 The back of the box features a small feature list broken down into multiple languages.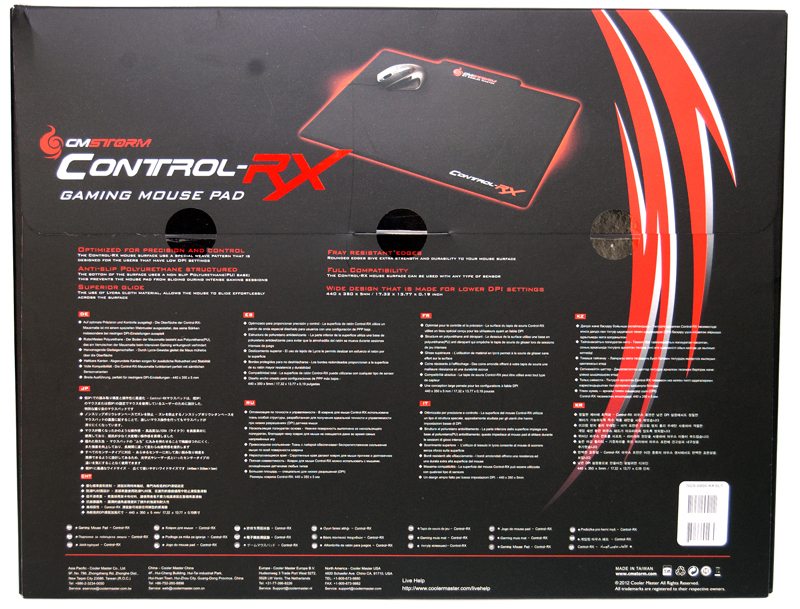 Out of the box we see that the Control RX features custom shape with the CM Storm logo on an extended section at the top of the surface and the Control RX logo in the bottom left. Overall measurements are 440 x 350 x 5mm and that means the surface is really thick and wide, much thicker that most surfaces on the market. The surface is finished with Lycra that gives it a fairly sensual texture, its silky smooth and tough at the same time and this should provide a great level of comfort in long gaming sessions, but also comes with the advantage of being water proof.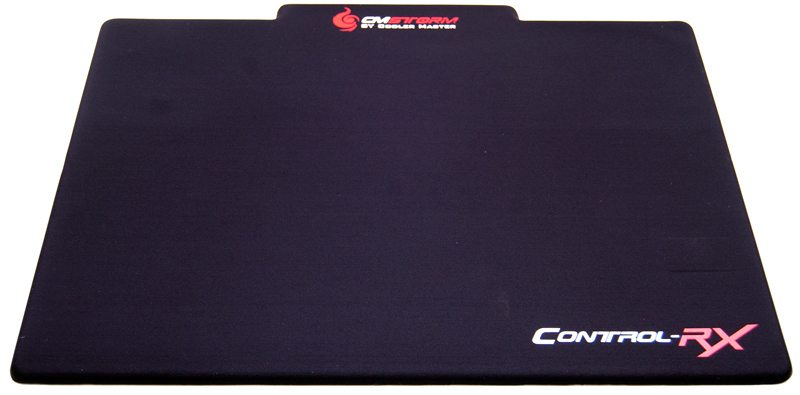 The thickness of the surface is for good reason too and it's also why this surface came boxed instead of rolled up, it's fairly rigid and while you can bend it, I'm certain you're not supposed to. The thickness gives it strength and weight that means it stays completely flat and there is no chance of it sliding away from you.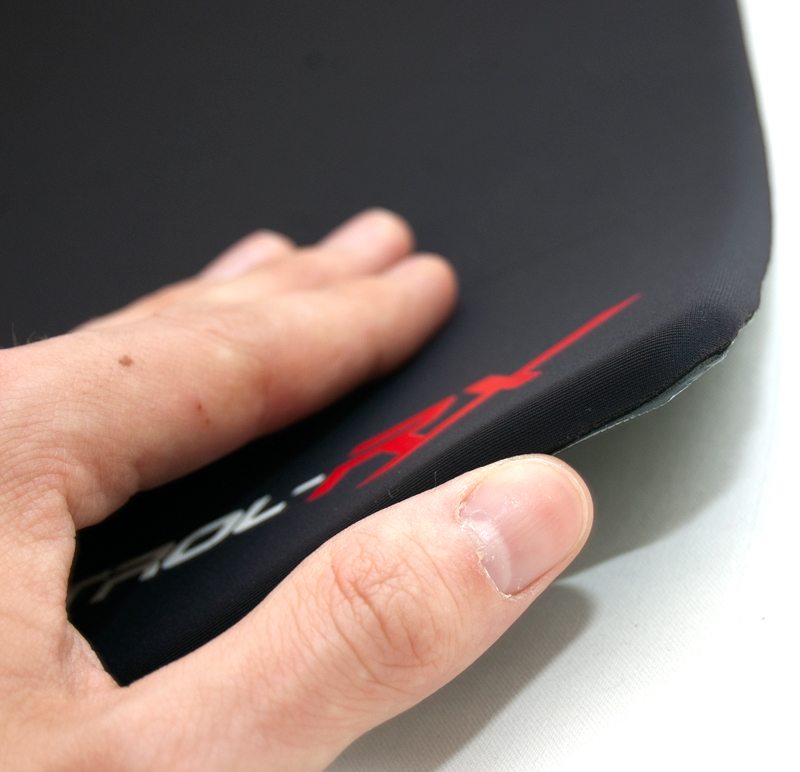 The grip isn't just thanks to the weight either and the underside is a super tactile polyurethane base that means the Control RT simply cannot be slid around your desk, if you want to move it you will have to lift it and re-seat it on your desk.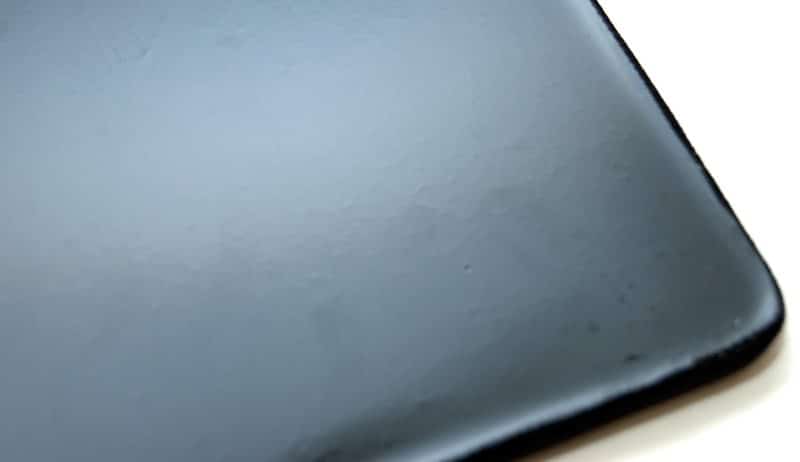 The silky smooth texture of the Lycra means that any mouse I tested on the surface was able to glide with ease, the pad it quite thick and the heavier the mouse you use is, the more control you will have, but lighter mice will glide better and provide you with more speed.
I couldn't find any issues at a wide range of DPI settings but the surface definitely feels better at lower DPI settings, this is partly due to the wide surface and it allows you to move quickly by having a wide travel distance, but keep the accuracy advantage that you get from lower DPI settings, something that will prove popular with fans of FPS gaming.
The only downside I can see to this surface is that while many gamers will love its blend of comfort and responsiveness, it's not designed to be moved around a lot so taking it to LAN gaming events could be impractical, although no impossible. If however you want something that will stay in one place, firmly planted and offer you something that feels luxurious and comfortable even after hours of use, then you really need to check out the Control RX, it's easily one of the best surfaces on the market, but of course that all depends on what you personally want from your gaming surface.