CMStorm Havoc Professional Gaming Mouse Review
---
---
---
Peter Donnell / 8 years ago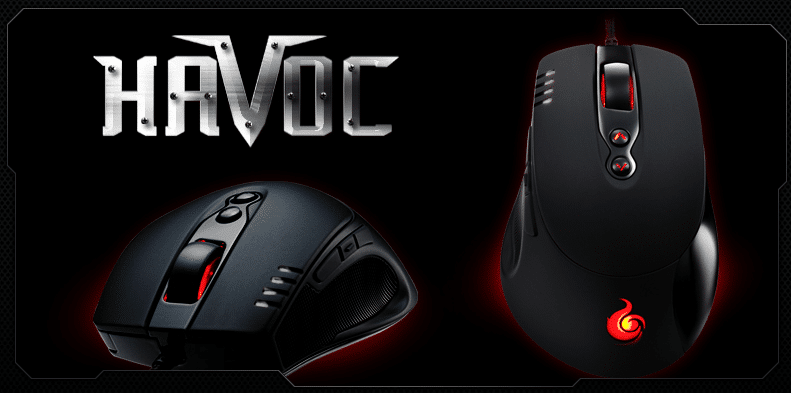 CM Storm is one of the hottest gaming brands on the market, branching off from the success laid out before them from Cooler Master, who themselves have created some great gaming focused products in the form of the power supplies and chassis designs. CM Storm however is focused on peripherals and at this time they make some of the coolest keyboards, mice and headsets available that have already proven them selves here at eTeknix and with consumers on both a general level and on the eSports scene.
Now we have a brand new high end gaming mouse in the form of the Havoc, which packs a fairly competent feature list that looks more than enough to take on the competition and if CM Storms previous products are anything to go by then were certainly in for a treat here today.
Gaming, pro-gaming, eSports, it doesn't matter what your level of participation is because at the end of the day your still going to be sitting at your computer to do it, but what does matter is the tools you choose for the job and having the right peripheral for the right job can make or break a gameplay experience, so lets move on a see just what the Havoc has to offer and see if it really does live up to the self imposed standards that are on the box  "professional Gaming Mouse".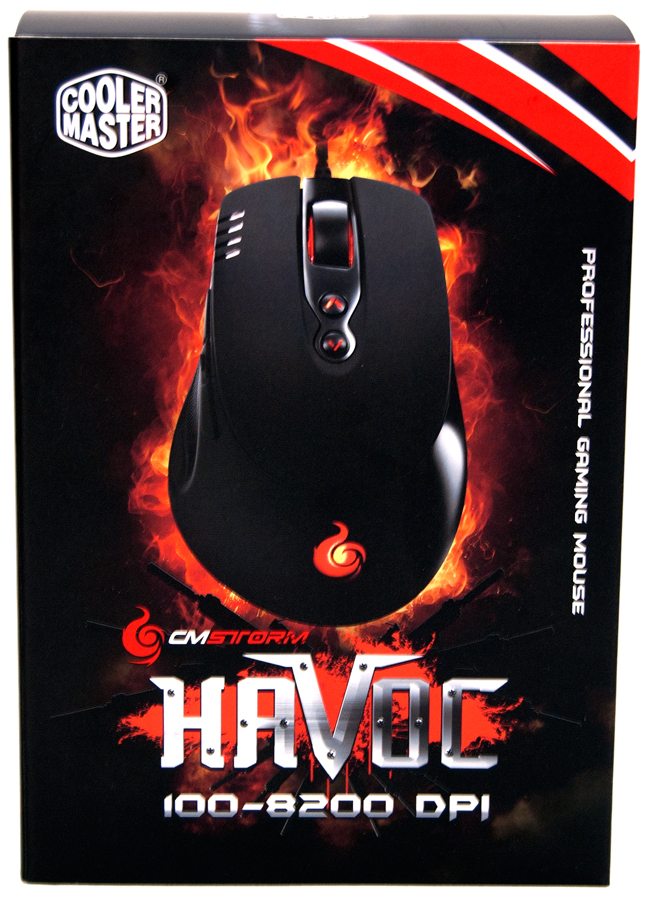 The back of the box features a nice clear run down of the mouse specifications, such as a high DPI laser sensor, Omron micro switches, programmable buttons, rubber grips, braided cable and macros.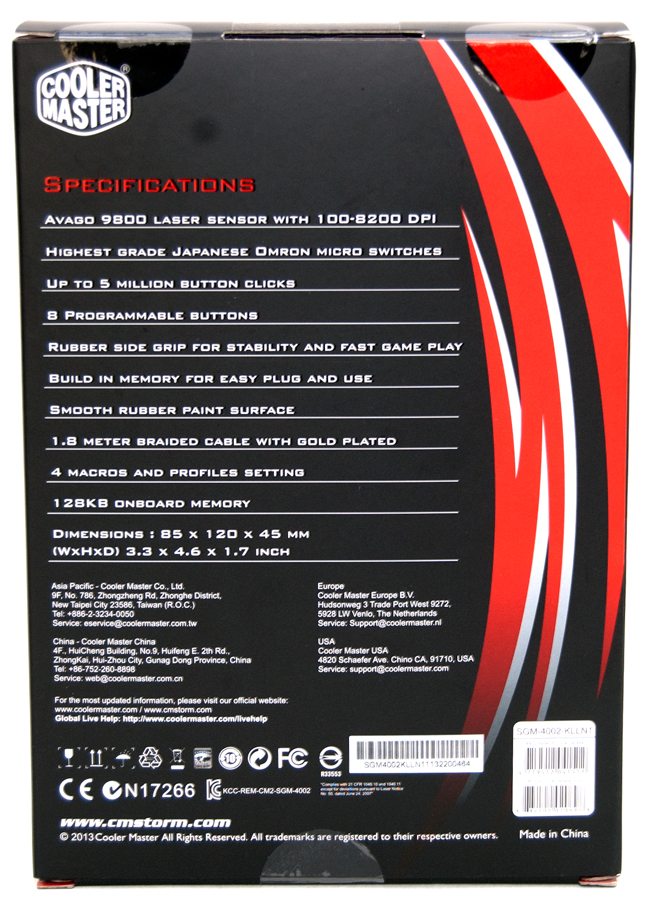 The box folds out at the front to give us a break down image of the mouse features as well as a clear window to see the mouse its self, so far it looks pretty good, so lets get it out of the box and take a closer look.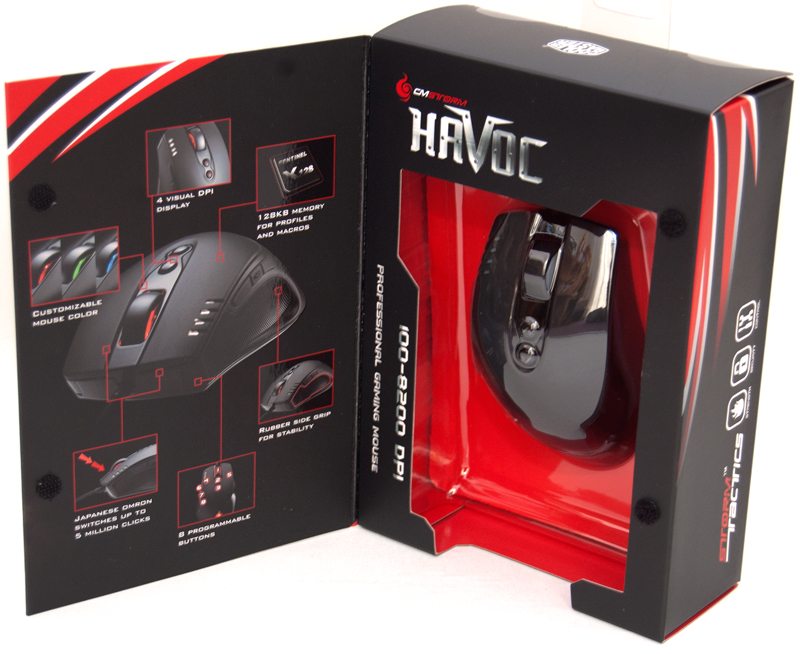 In the box we have a great looking mouse that is hard wired with a good quality braided cable and a gold plated USB connection.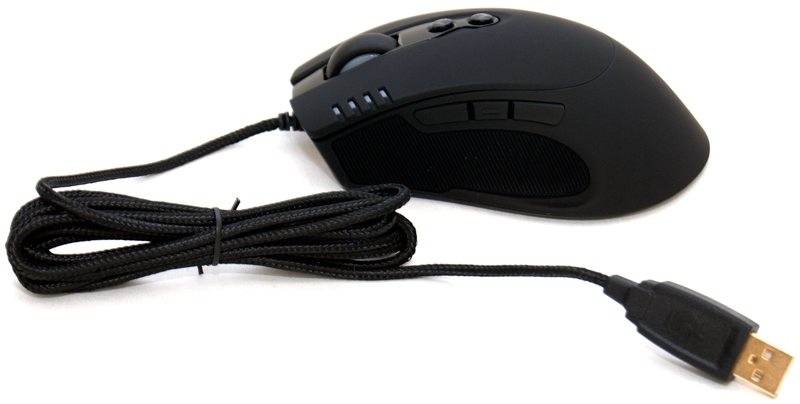 There is a warranty information leaflet and a simple instruction / owners booklet.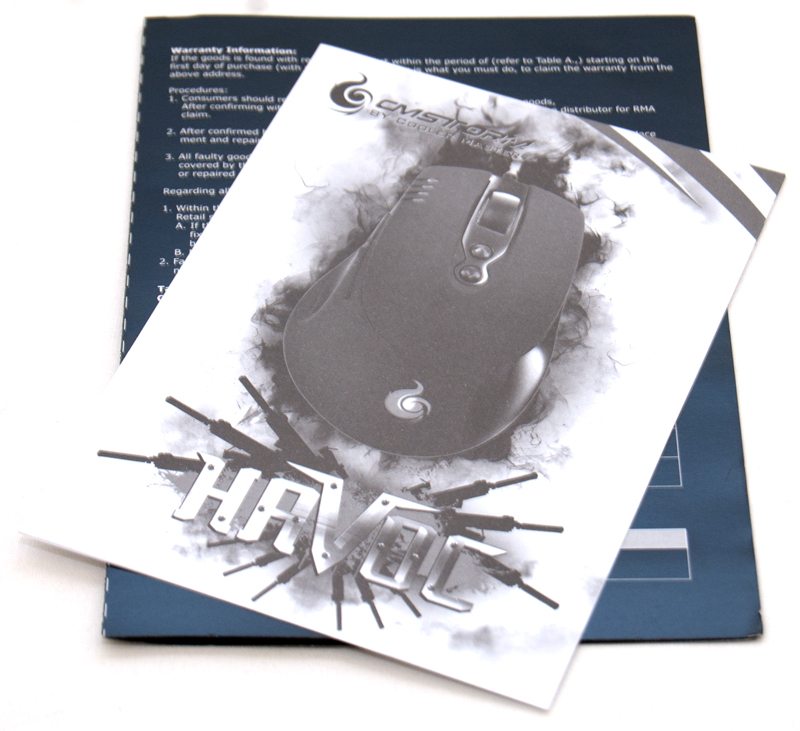 The mouse features a strong ergonomic shape that is backed up by some super grippy rubber textures on the left side that ensure the Havok should never slip away from your grip. There are three buttons on the left side, with a small notch on the centre button to allow your thumb to navigate easier without having to look which button is which.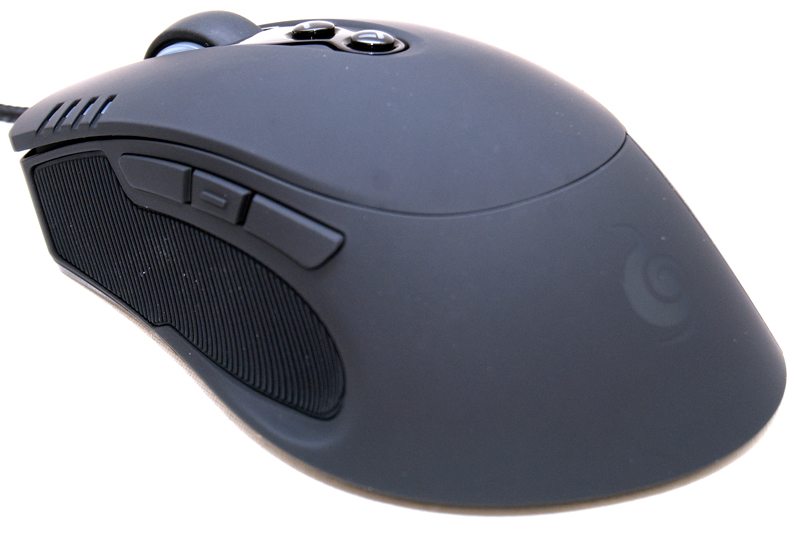 The front of the mouse slopes down heavily and this should promote a firm grip when gaming. Also, there are four LED indicator lights down the front left side of the mouse.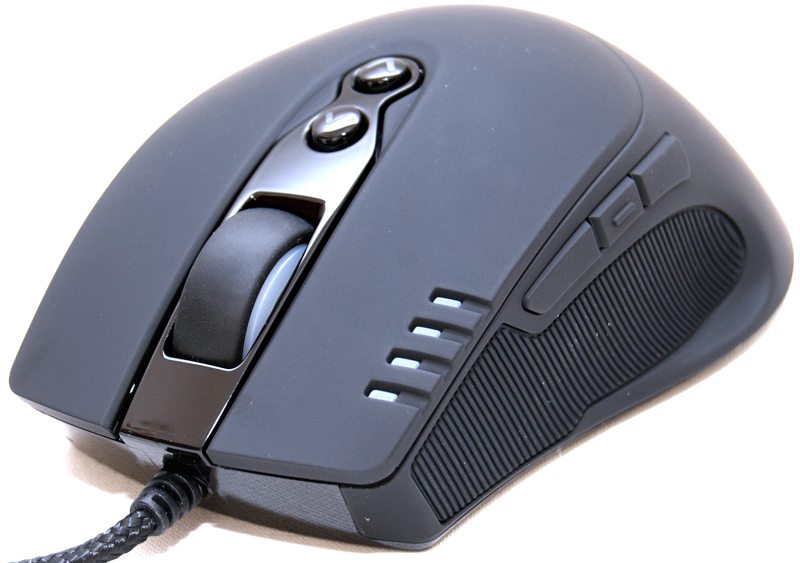 The right side of the mouse is clear and features a smoother surface to the rest of the mouse. The central section features two buttons behind the scroll wheel and the wheel its self features a slick looking rubber coating that actually provides quite a lot of grip thanks to the soft touch coating.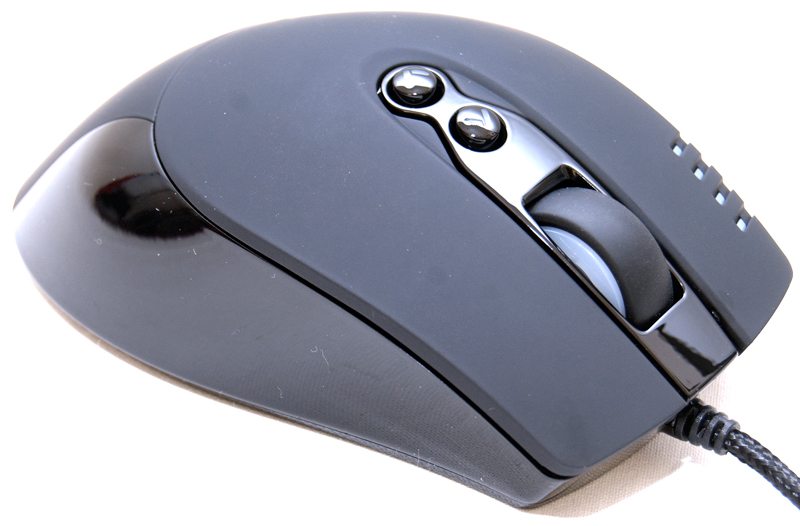 At the back you can see there is a small CM Storm logo that lights up when the USB cable is connected.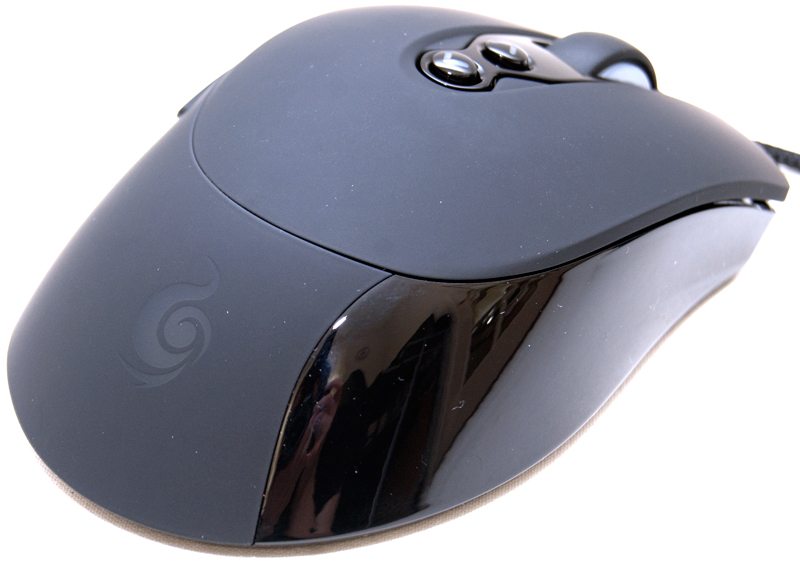 The mouse is designed for right handed ergonomics and there is a swollen left side to provide you with a thumb rest while the top right of the mouse is higher to help balance your hand and give better control.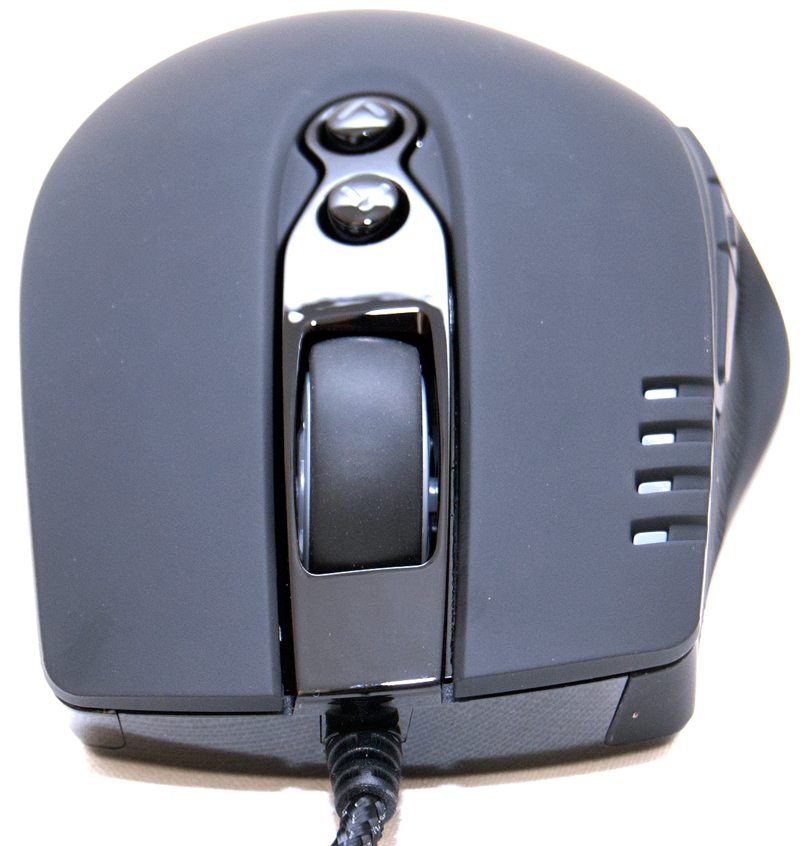 The underside of the mouse is really clean looking and is covered with three huge slipmats, easily the largest slipmats I've seen and this should provide a silky smooth glide on most any surface. There is a small laser sensor in the center of the chassis of the mouse and a small CM Storm logo, but little else in terms of features.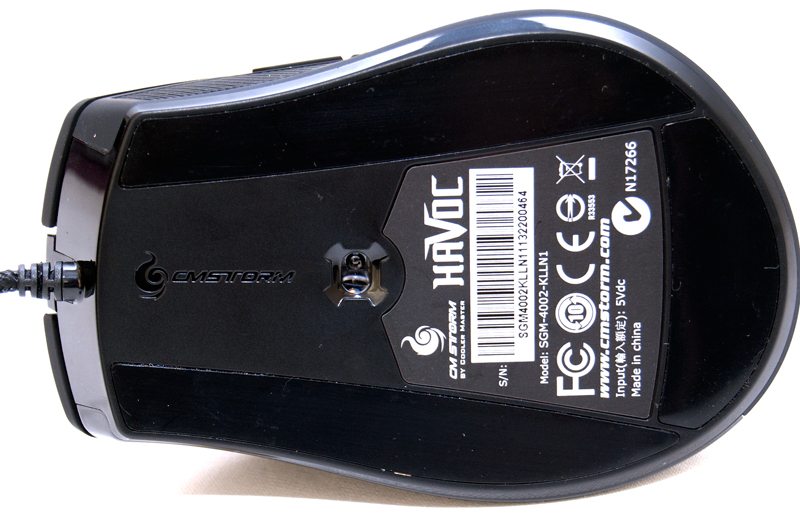 Once connected the mouse lights up with subtle red highlights on the top buttons, inner ring of the mouse wheel and the CM Storm logo.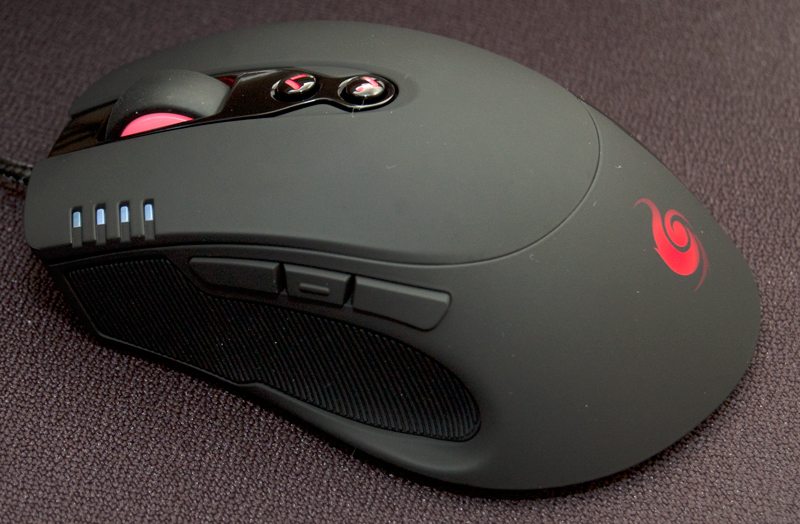 However the colour can be customised from the downloadable software which we'll take a look at next.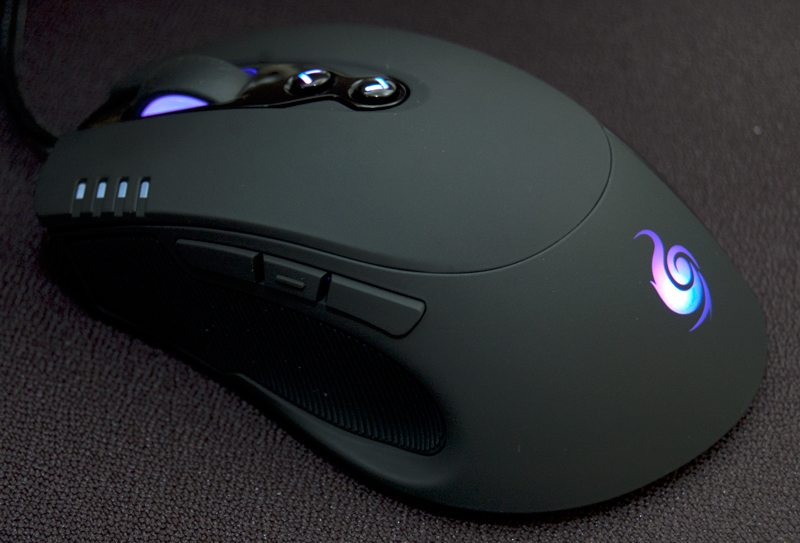 The software is really nicely designed and features a quick drop down menu system for customising your button layout over three profiles and with 8 customisable buttons you'll have no trouble finding a setup that suits your style.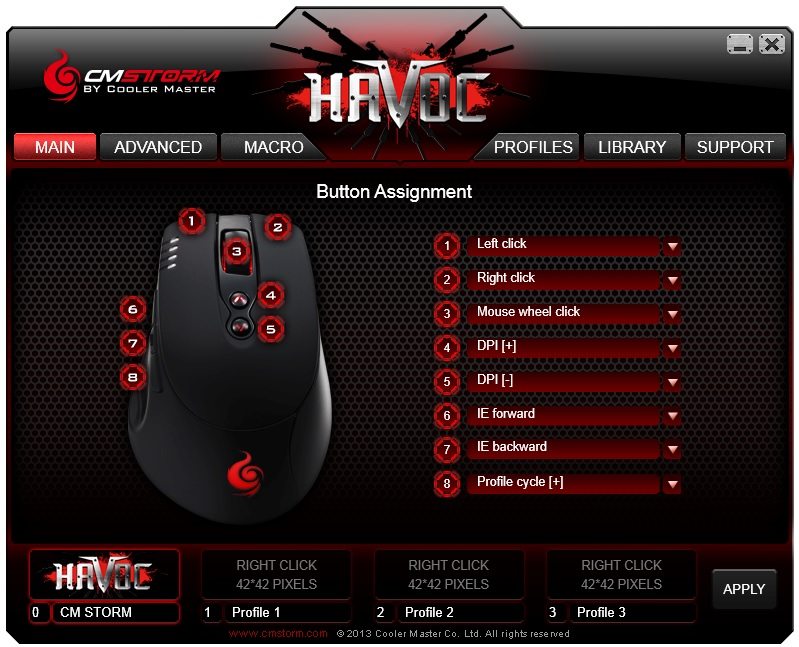 There are four pre-set DPI settings on the mouse, but these can be customised to your liking thanks o some sliders, with full X & Y configuration for each setting as well as polling rate, giving you some extremely impressive flexibility. Furthermore,you can customise the lighting effects and colours for your mouse, adjust the windows mouse sensitivity, buttons response time and enable or disable angle snapping.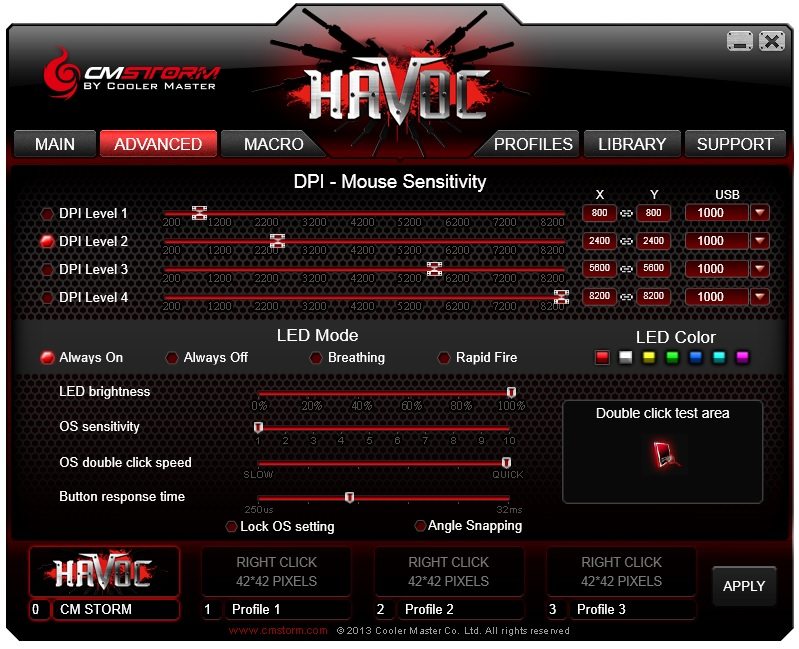 There is a nice record function for Macros but unfortunately no pre-set macros, it would be nice to see some already here for popular software, but it's hardly a deal breaker since you can just enter the ones you really want.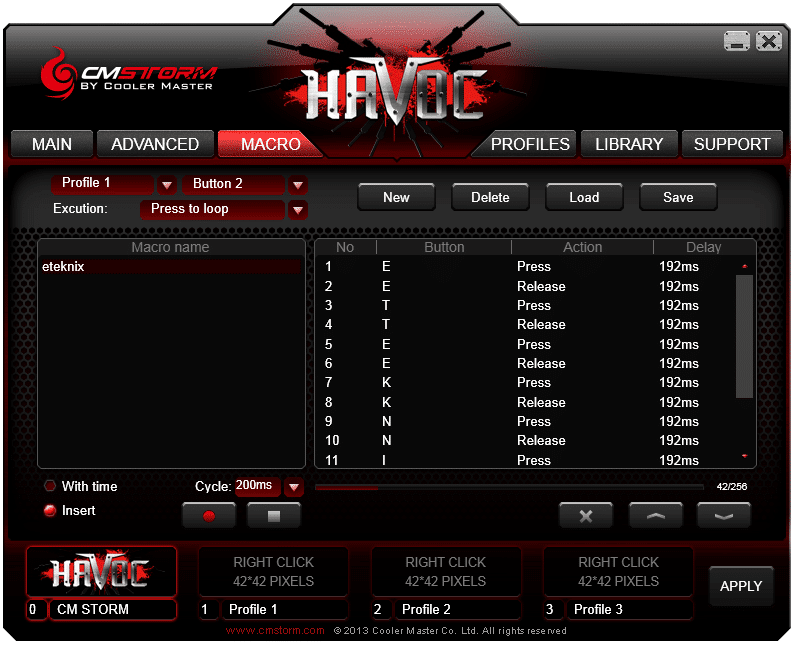 Performance
The Havok got off to an immediately good start by passing our acceleration tests with flying colours, at a wide range of DPI settings the sensor didn't fail to land on target when moving the mouse at low and high velocities, this is backed up by a low lift-off height of around 1mm although the ergonomics of the mouse don't lend them selves to a lift-off play style. There is no prediction or angle snapping either and while the effect can be enabled in the soft its still only gives you a slight line correction in our tests, personally I think this is a great thing as angle snapping is all but useless in a gaming environment, unless the game requires you to draw lots of very straight lines with your mouse of course.
As far as gaming performance goes, what can I say other that "wow", I already knew as soon as I had finished my tests on the sensor that this mouse was going to perform well in a gaming environment and put simply, it did. FPS gamers will adore the accurate sensor and the highly customisable DPI settings are perfect for games like Battlefield 3 that requires to you be dynamic.
The macro settings are great for MMO gamers too and it doesn't take long to key in your favourite combinations for casting, healing etc in League of Legends, DOTA2, WoW etc, even if I more often do end up just entering shortcuts for Photoshop more than I do games.
The ergonomics on this mouse feel fantastic and there is a strange balance between the grippy textures of the left side of the mouse and the smooth gloss panel on the right. the mouse is pretty heavy toward the back too but it feels balanced and gives you a lot of control, plus the glide on those huge slip mats is fantastic on soft and hard surfaces alike.
Final Thoughts
Overall I am really impressed with the Havok and while I expected it to be good in terms of performance and in style, especially given the previous CM Storm products I have owned and tested, I wasn't expecting it to be this good. For this price range, typically around the £50 area you can expect to find some seriously good gaming mice on the market, often with one flaw or another that makes them distinguisable from the higher end of the market of £70-100+  and I can't say this is true of the Havok.
While I will admit that many of its features are subjective, such as the design, which I think looks fantastic and the mixture of textures and finishes blend really well to create a unique and premium looking product, but this may not be to everyones liking. Also the ergonomics may not favour everyones hand shape and I personally have quite large hands, long fingers and I don't use a lift-off or claw style when gaming, favouring a palm rest possition and that seems well suited to the Havoks design.
Build quality is really nice and there are no noticable rattle, loose fittings or rough edges to be found on the mouse body, swithes dont acctidentally trigger when the mouse is knocked around and it doesn't feel like its going to wear down any time soon. It feels heavy too and I find that mice of this price range often feel hollow and plastic and while that may be to keep weight down, I can't help but feel that the Havok just "feels" more expensive than its price tag.
Gaming performance is faultless and when you combine that with the build quality, ergonomics, extensive feature set and design, then it is easy to see why I think the Havok is worthy of our eTeknix Editors Choice Award.
Pros
Great design
Robust build quality
Comprehensive software customisation
Accurate sensor
Cons
eTeknix says: "CM Storm have established a loyal fanbase by making some award winning gaming peripherals, the CM Storm Havok is another welcome edition to their range and one of the best gaming mice on the market not only within its price range, but even when compared to products that cost nearly twice as much."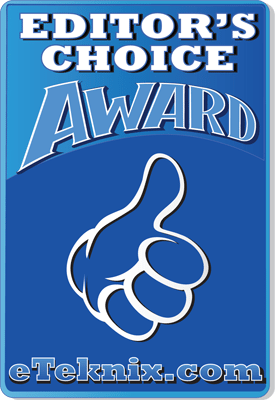 Thank you CM Storm for providing us with this sample.