CoD Modern Warfare 2 Remastered Possibly Leaked
---
---
---
Mike Sanders / 5 years ago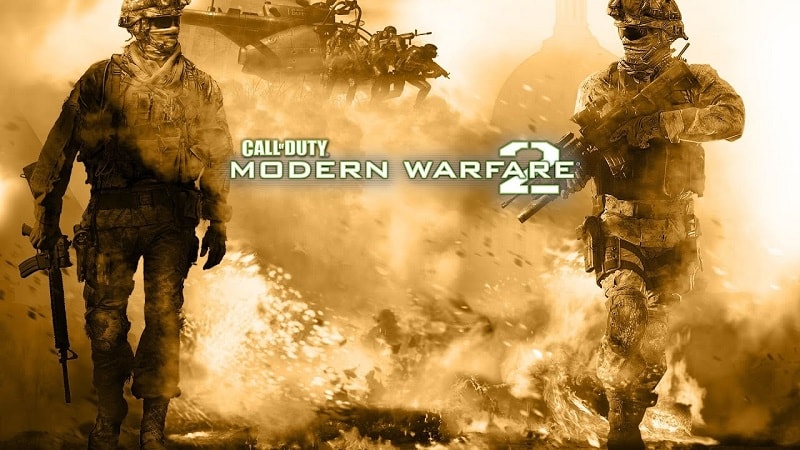 Cod Modern Warfare 2 Remastered
I have never been a massive fan of Call of Duty games, but I did make somewhat of an exception for Modern Warfare 2. As a balance between team play action and design, it was a rare example of a game that had an excellent single player and equally good multiplayer. It is perhaps one of the older FPS games I remember most fondly. Particularly for the double sawn-off shotgun hand-cannons. You could really annoy people with them.
Despite it being nearly 10 years old, many fans, such as myself still remember it fondly and therefore I am very excited to find that a potential leak for CoD Modern Warfare 2 Remastered has been leaked.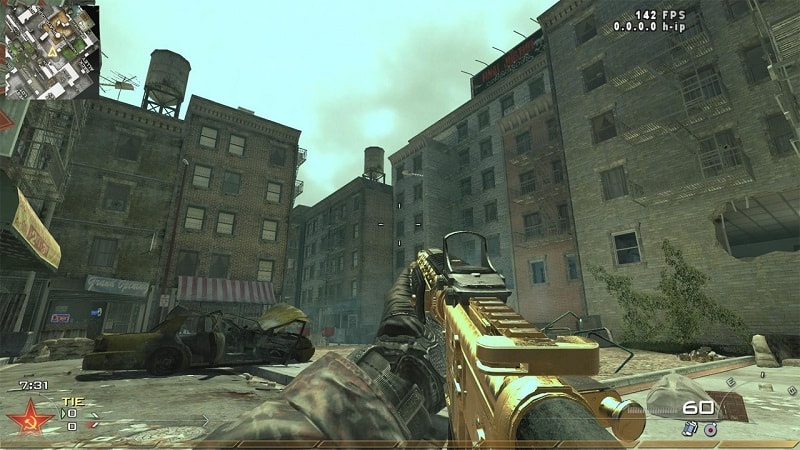 Amazon Leak
Admittedly, the leak is not a guarantee, but as can be seen in the image below, the Italian (if I got my languages correct) version of the Amazon website has listed CoD Modern Warfare 2 Remastered. This may be an accident and in fairness does not entirely make sense. For example, a 20 euro price would be nice, but I'd be very skeptical if it sold for that.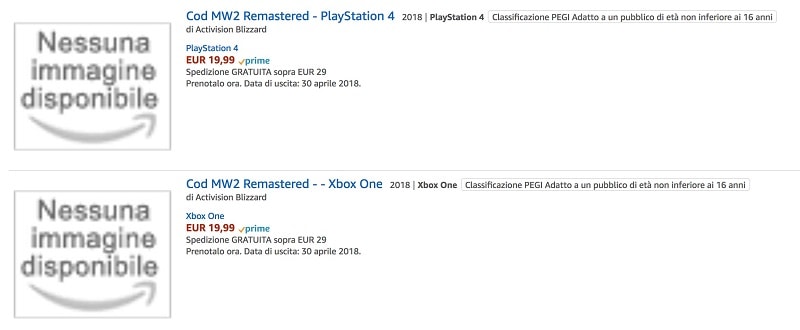 The release date
Another matter of some question is the release date. According to the Amazon listing, the game is being released on the 30th of April 2018. That is only around 6 weeks away. Not that such a date is impossible, but I can't help but feel that a little more lead time and promotion would have been thrown behind the remastering of one of the franchises most popular games.
Either way, the listing has now disappeared from their website.
Things they need to fix!
The original MW2, while excellent, was not without its problems. Particularly on PC. For example, the PC version used a host serving mechanic and we all know just how bad they can be (For Honor was a good (or bad) modern example). Additionally, the PC version was plagued with cheaters due to the bizarre decision to utilize Valve's VAC as an anti-cheat system. The latter was something I complained about at great length as being totally unsuitable for the game.
If they fix this though and update the graphics, I'm actually really looking forward to trying out MW2 again. Time to get the gaming buddies back on Ventrilo (if people still use that).
What do you think? Is this release genuine? What about the release date? – Let us know in the comments!
https://youtu.be/429l13dS6kQ
Support eTeknix.com
By supporting eTeknix, you help us grow. And continue to bring you the latest news, reviews, and competitions. Follow us on Facebook and Twitter to keep up with the latest technology. Share your favourite articles, chat with the team and more. Also check out eTeknix YouTube, where you'll find our latest video reviews, event coverage and features in 4K!
Check out our Latest Video