Codemasters Unveils New F1 2015 'Racing as Champions' Trailer
---
---
---
John Williamson / 7 years ago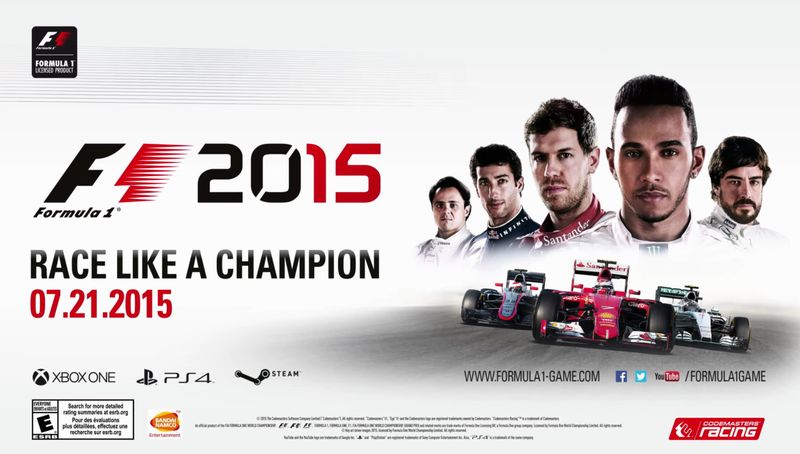 Codemasters released their first official F1 game back in 2009 on the Nintendo Wii and quickly transitioned to more powerful consoles. While their first cross-platform effort was a fairly enjoyable affair, the game was completely ruined by a pit stop bug. As you entered the pit lane, the AI would become ridiculously cautious and wait until the entire surrounding area was empty. This made it quite common to enter your pit box in a top tier position and exit in last.
Furthermore, the years haven't been kind to Codemasters and every sequel failed to live up to expectations. F1 2013 was probably the best example and included a huge array of classic content, although this was hidden behind a day one paywall. Since then, Codemasters have dropped all of the classic content and let fans down on a regular basis. In recent years, their efforts have been feeble and the studio argued this was due to the technical limitations of the Xbox 360 and PlayStation 4. As a result, people anxiously waited to play the first "next-gen" F1 game, and couldn't believe how shallow the final experience was. The game didn't include classic content, or even a safety car and suffered a whole host of AI bugs.
Some time after release, the publisher has now decided to reveal another trailer, which is a fairly peculiar move. The video shows Alex Lynn (Williams Racing Development Driver), Anthony Davidson (car handling consultant and broadcast presenter, former F1 driver and test driver), Pascal Wehrlein (Reserve Driver, Mercedes AMG Petronas) playing the game and describing its realism. As you might expect, these individuals cannot hold back their praise for F1 2015 and see it as wonderful, realistic simulator. I might sound a little bit cynical here, but as an F1 enthusiast with a full racing setup, these real life racers just come across as part of Codemasters marketing team.
The company has to wake up and realize F1 2015 is a pretty poor game, and possibly the worst so far. While the physics model isn't bad, it's far from being described as realistic and the whole game is completely devoid of content. It's disingenuous to have racing drivers talk about how wonderful the game is and instead of paying for a marketing scheme, Codemasters should be pouring that money in F1 2016's development. Over the years, Codemasters have promised a lot, and people are finally waking up to the current state of the F1 franchise. I honestly fear for their future and believe they could lose the F1 license pretty soon.