Compro TN4230 Outdoor PoE IP Camera Review
---
---
---
Chris Hadley / 10 years ago
Introduction
---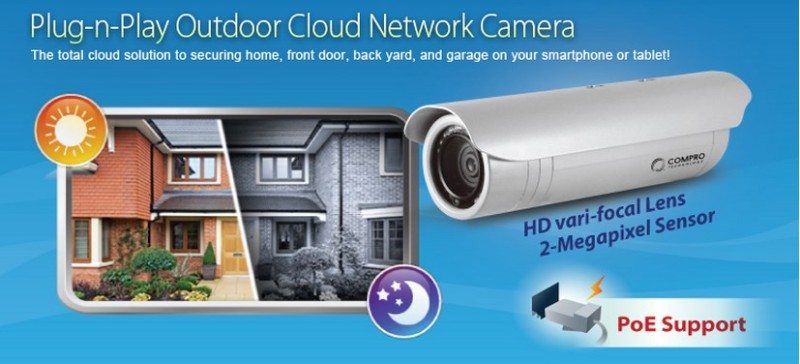 Security cameras that run over a standard IP network are becoming more of a common place in the home and in a commercial environment, partly due to their ease of setup and the seamless integration in to an existing backbone, but also the ease of scaling the system up to the levels that we find in our supermarkets [for example] where tens, if not hundreds of cameras are connected in to a single environment. The additional benefit of utilising IP cameras though is the ability to connect into the system from a remote location and use it as though you are on the site itself. This is not where the selling points end though; power delivery to the cameras is another factor that has to be taken into account and with so many cameras in some instances being required, or the position where they required not the convenient for the purpose of mains power, the capacity to power the cameras directly from the network switch and through a single cable with the data to the camera, makes the speed of installation and the ease of expansion much quicker and easier.
Over the cameras that we've looked at previously, the TN4230 that we have here today is capable of being powered via PoE (Power over Ethernet) and additionally it is IP66 rated, meaning that it is suitable for installation outside, where exposure to the elements will test its resistance against whatever the weather can throw at it – just as well I'm in the UK for this part of the review seeing as our weather patterns change on a near daily basis. Alongside the option to connect the camera through an Ethernet cable, the TN4230 does allow for analogue connections to be made through a BNC interface with a mic-in and audio-out supplied through two 3.5mm ports. A digital relay output and RS-485 terminal further add to the feature set, allowing the camera to be connected to an existing security system where required and a power terminal is on hand for situations where PoE is not available.
To compliment the various connectivity options, the TN4230 boasts a 1600 x 1200 UXGA 2MP sensor, which although not 1080p, is near enough HD quality and along side infra-red low-light operation we also find 4GB of on-board storage available through a microSD card, two-way audio and even a heater to keep the camera warm during cooler periods. At this point I'll note that whilst cooler operation is better for computer hardware, in an external environment, cooler temperatures bring moisture which is not the best companion inside an electrical device. Cloud access through Compro's C4Home mobile app and desktop management through the included ComproView software make light work of checking up to see if everything is as it should be with the capacity to send out alerts via email when pre-defined events occur; such as motion detection. All this for around £260 may seem expensive but as we are about to find out, a hands on look around the camera may justify the price point.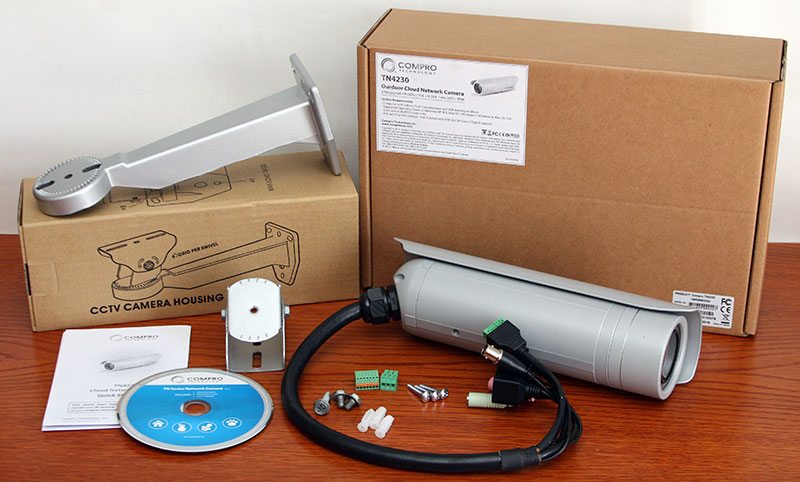 Inside the box alongside the camera, we don't get a whole lot as far as accessories go. Aside from a quick setup guide and a set of terminal headers for connecting the relay trigger, external power and RS-485 output, there's little more than the camera to be found. Alongside the camera, Compro have sent us their BM-100 wall mounting kit as we will obviously need to get this up and fitted for testing outdoors.