Computex: Gigabyte Show Off G1.Sniper A85X AMD FM2 Motherboard
---
---
---
Ryan Martin / 8 years ago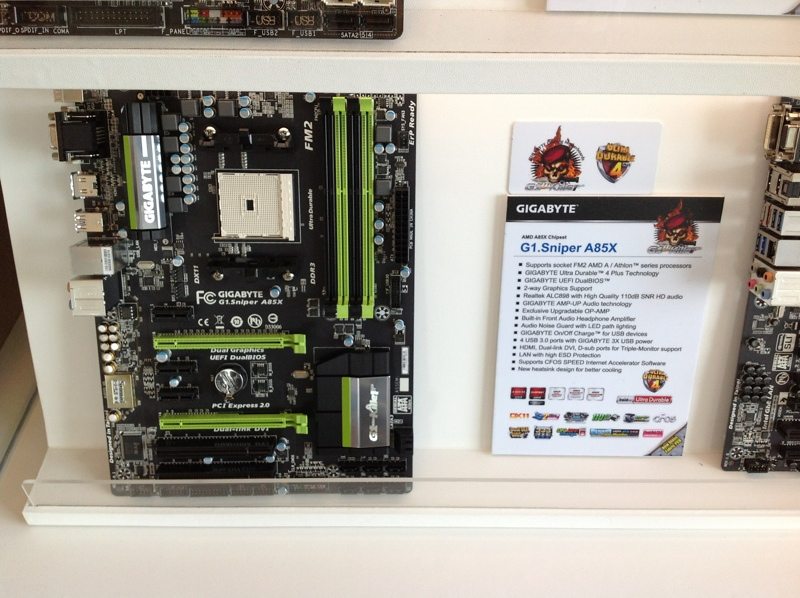 The G1.Sniper designation of motherboards from Gigabyte has traditionally been reserved for high end platforms like Ivy Bridge Z77 and Haswell Z87. Yet now Gigabyte are now expanding this line up to include AMD's FM2 socket and A85X chipset. Gigabyte's latest creation is the G1.Sniper A85X. This motherboard is designed to support second and third generation AMD APUs, that is Trinity and Richland. Most users of this motherboard will probably be opting for the A10 5800K or A10 6800K.
Gigabyte are using Ulta Durable 4 plus, not 5, with these motherboards and they have also implemented their UEFI Dual BIOS technology. This motherboard supports dual Nvidia or AMD graphics thanks to having two PCI Express lanes which probably operate at 8X/8X Gen 2 PCI express speeds when populated. The audio implementation is courtesy of Realtek ALC898 which has a 110dB sound to noise ratio and features an audio noise guard with LED path lighting. Gigabyte have also integrated their new "AMP-UP" audio technology into this motherboard which allows you to upgrade to "OP-AMPs" of your choice using Gigabyte's new sound toolkit.
Furthermore their are four USB 3.0 ports with Gigabyte "3X" USB power which allows you to turn fast charging on or off. Three monitors are supported and you can output these via the HDMI, Dual link DVI and VGA ports at the rear of the motherboard. The LAN implementation, probably Realtek, comes with Electro Static Discharge (ESD) protection and supports CFOS SPEED "internet acceleration software". Finally the whole design is capped off with a new heatsink for improved cooling.
Stay tuned to eTeknix for more Computex coverage in our Computex section.
Image courtesy of eTeknix at Computex 2013.