Computex: Noctua Developing 200mm, 90mm and 80mm A Series Fans
---
---
---
Ryan Martin / 10 years ago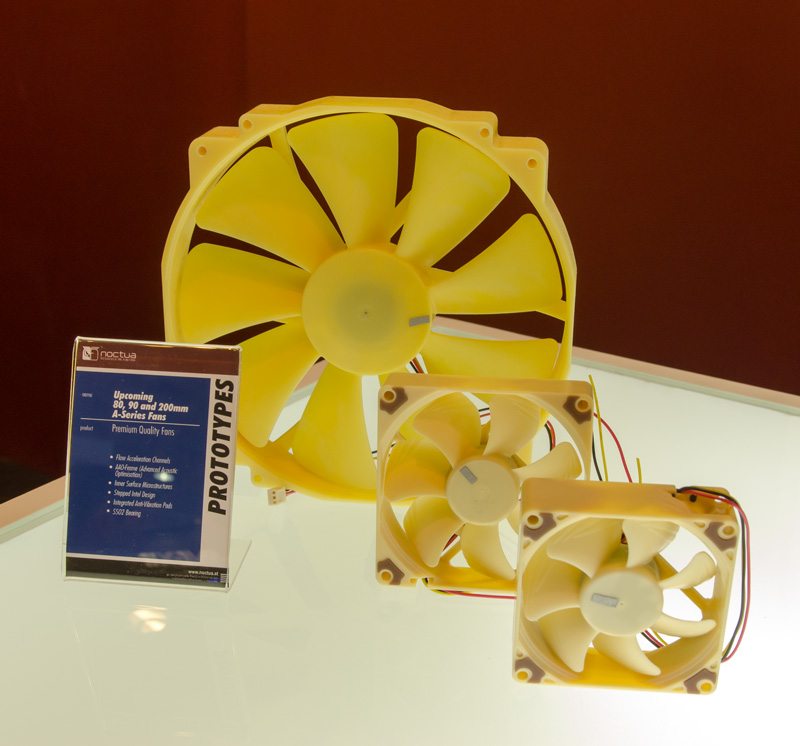 Noctua's A-Series fans are known for their excellent cooling performance and trademark Noctua acoustic performance and they include the NF-A15 PWM, NF-A14 PWM, NF-A14 FLX, NF-A14 ULN, NF-A9x14 PWM, NF-A6x25 FLX and the NF-A4x10 FLX. At Computex Noctua have revealed plans to extend the A-Series to three new sizes; 80mm, 90mm and 200mm.
All three fans feature the same key features of the Noctua A-Series such as the Flow Acceleration Channels, AAO-Frame, inner surface microstructures, stepped inlet design, integrated anti-vibration pads and the high quality SS02 fan motor bearing.
As far as I am aware the yellow "colour" is just because these are prototype designs that have yet to be finished so I am sure they will still come in the trademark Noctua brown and beige. Noctua didn't announce availability but hopefully they will be arriving by the end of the year.
Stay tuned to eTeknix for more Computex coverage in our Computex section.
Image(s) courtesy of Noctua