Computex: Noctua Show 92mm D-Type CPU Cooler
---
---
---
Ryan Martin / 10 years ago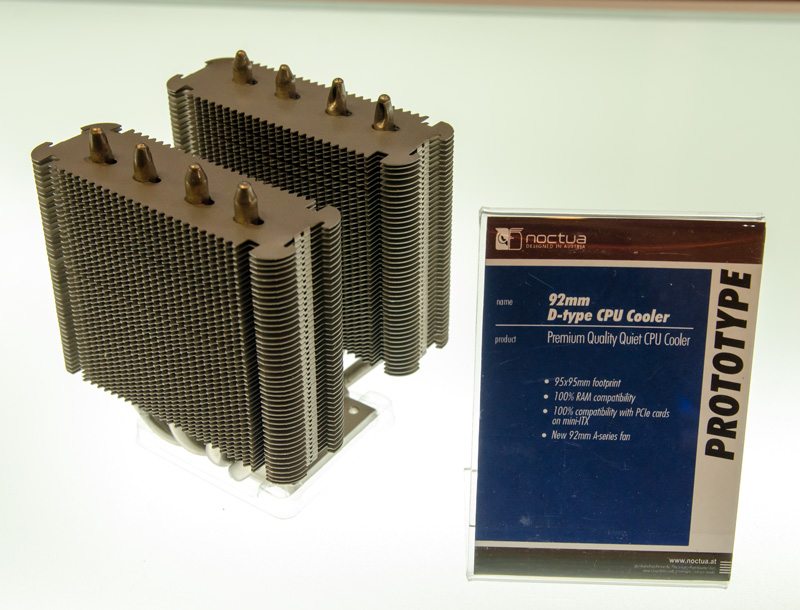 If there's one thing Noctua haven't really catered for yet, its high performance CPU coolers that are relatively small. Noctua make a lot of low profile CPU coolers (such as the NH-L9i, NH-L12 and so on) and then larger performance orientated CPU coolers (such as the NH-U12S, NH-U14S and so on) yet there is nothing in between, although both their low profile and high performance options do great for their respective sizes.
At Computex Noctua are showing us something that looks set to fill this gap, the 92mm D-type CPU cooler prototype. As the name clearly suggests it uses a 92mm/90mm fan for cooling and features a full mini-ITX compatible 95 by 95mm footprint. The heatsink design appears to be loosely based off the NH-D14 heatsink except smaller. On mini-ITX systems this CPU cooler will not intrude on PCI Express lanes or RAM slots. Currently the model is in prototype but I am hopeful we may see it by the end of the year.
Stay tuned to eTeknix for more Computex coverage in our Computex section.
Image(s) courtesy of Noctua