Cooler Master Hyper 212 EVO CPU Cooler Review
---
---
---
Luke Hill / 11 years ago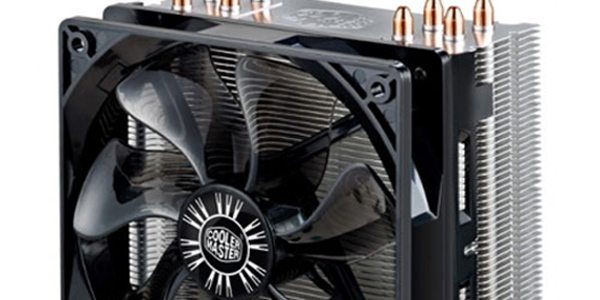 Since its release in 2009, Cooler Master's Hyper 212 Plus has gained a well-deserved 'legendary' status among a significant proportion of system builders. The concoction of enthusiast level performance and a ridiculously low price tag made the Hyper 212 Plus a legendary CPU cooler in every sense of the term. As times change though, so do prices. After a steady increase in price over the past few months, the Hyper 212 Plus has become a slightly less desirable product than it once was. Do you think that Cooler Master are happy with that? Oh no! To retain the price vs performance crown which the Hyper 212 Plus has held for so long, they have now introduced its successor, the Hyper 212 EVO.
The Hyper 212 EVO is very similar to its predecessor in terms of design. It utilizes 4 6mm copper heatpipes which converge to form a H.D.T (heatpipe direct touch) base. The heatpipes employ Cooler Master's patented Continuous Direct Contact (CDC) technology which they claim will "act as a virtual vapor chamber that dissipates a large amount of heat". Our testing will give you an idea as to whether their claims are true or not. An aluminium fin stack which is supposedly optimized to provide the perfect balance between high and low fan speeds will dissipate the heat carried through it by the CDC heatpipes. A 120mm PWM fan provides the Hyper 212 EVO's airflow and is capable of pushing 66 CFM of air at a speed range of 600-1600 RPM (600-2000 RPM for the non-European version). Cooler Master claim that their fan's "unique wave-shaped blade design" offers excellent airflow. Hopefully this claim is true as the Hyper 212 EVO is sacrificing 400 RPM of its fan speed in comparison to its predecessor.
Retailing for the low price of £23.98/€29,90/$35, the Hyper 212 EVO should appeal to budget conscious enthusiasts or overclockers, provided its performance is up to scratch. Support for all modern Intel sockets including LGA 2011 and all AMD sockets including FM1, Cooler Master have made sure that anybody can use their Hyper 212 EVO with minimal hassle. Can the Cooler Master Hyper 212 EVO live up to the high expectations its predecessor created?