Cooler Master Infinite Evo Notebook Cooler Review
---
---
---
Andy Ruffell / 10 years ago

Cooler Master have recently brought several Notebook Coolers to the market, including the NotePal LapAir that we recently reviewed. Today is the turn of the Infinite Evo Notebook Cooler, which could be classed as the big brother of the NotePal LapAir. It is at least more likely to be a serious contender in terms of cooling as they have thrown in some powerful fans as well as a superb looking airflow design.

While none of us desperately want a hot lap from using a Laptop, it is very hard for manufacturers to design laptops which have sufficient cooling to stop this from occurring. If they did concentrate on keeping the laptop cool, they would end up twice the size and/or create an almighty racket. Laptops have and will always have to compromise their cooling design due to size, weight and looks, so there is going to be a need for products like this for some time to come. Or, at least until tablets really do take over the world.

Cooler Master are certainly one of the most well-known computer component and accessory supplier and as such frequently appear on our site. They manufacture cases, CPU coolers, laptop coolers, peripherals, power supplies and lots of other products. They are also very well known for their leading gaming brand, CM Storm.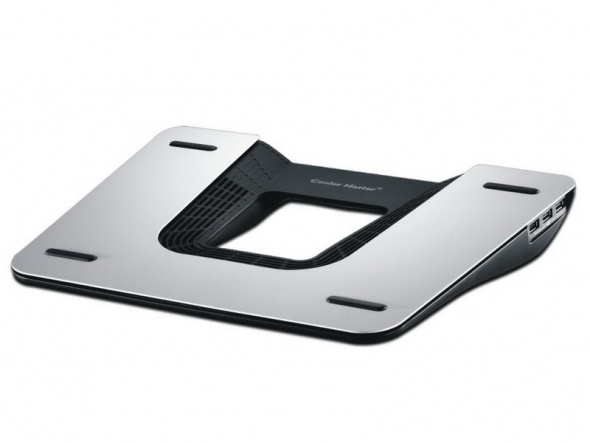 Specifications:
[TABLE=class: grid, width: 100%]
[TR]
[TD]Color[/TD]
[TD=bgcolor: #E4E4E4]Black[/TD]
[/TR]
[TR]
[TD]Material[/TD]
[TD=bgcolor: #FFFFFF]Aluminum, Plastics, Rubber[/TD]
[/TR]
[TR]
[TD]Weight[/TD]
[TD=bgcolor: #E4E4E4]1.2 kg[/TD]
[/TR]
[TR]
[TD]Dimension (W / H / D)[/TD]
[TD=bgcolor: #FFFFFF]410 x 310 x 17~61 mm[/TD]
[/TR]
[TR]
[TD]Fan Dimension (W / H / D)[/TD]
[TD=bgcolor: #E4E4E4]Two 80x80x21mm blower fans[/TD]
[/TR]
[TR]
[TD]Fan Speed[/TD]
[TD=bgcolor: #FFFFFF]750 ~ 1400 R.P.M.[/TD]
[/TR]
[TR]
[TD]Fan Speed Adjustment[/TD]
[TD=bgcolor: #E4E4E4]Stepless speed control wheel[/TD]
[/TR]
[TR]
[TD]Fan Airflow[/TD]
[TD=bgcolor: #FFFFFF]120 CFM (60 CFM each fan)[/TD]
[/TR]
[TR]
[TD]Fan Noise Level (dB-A)[/TD]
[TD=bgcolor: #E4E4E4]23 dBA (Max.)[/TD]
[/TR]
[TR]
[TD]Power[/TD]
[TD=bgcolor: #FFFFFF]USB 5V DC[/TD]
[/TR]
[TR]
[TD]USB Port[/TD]
[TD=bgcolor: #E4E4E4]USB 2.0/1.1 x3, Mini USB x1 (for power in)[/TD]
[/TR]
[TR]
[TD]Power consumption[/TD]
[TD=bgcolor: #FFFFFF]0.26A~0.45A, 1W[/TD]
[/TR]
[TR]
[TD]Compatibility[/TD]
[TD=bgcolor: #E4E4E4]Support all 17" and smaller laptops[/TD]
[/TR]
[/TABLE]