Cooler Master MasterGel Maker Nano Review
---
---
---
Peter Donnell / 6 years ago
Introduction
---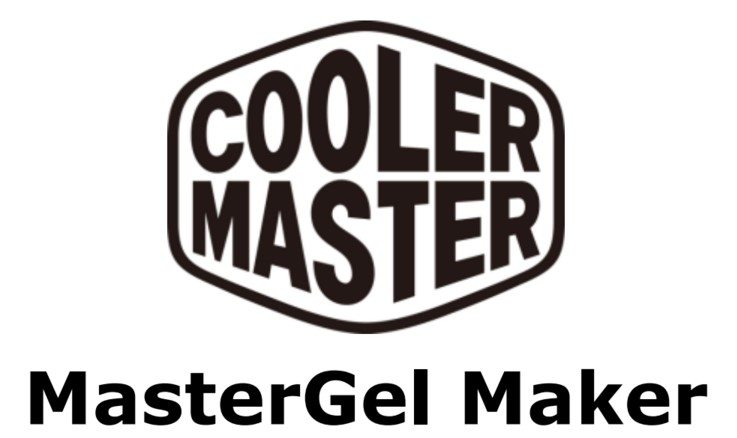 Cooler Master went quiet for quite some time over the last two years, leaving many in the industry to wonder what was going on. Of course, Cooler Master hadn't given up on the industry, they were working hard reinventing their entire product line, getting back to their roots and creating the "maker" series of products. We've already seen their incredible Master Case chassis, as well as their new gaming mouse, and there's a huge amount of other products on the way, from headsets, chassis, power supplies, coolers and more.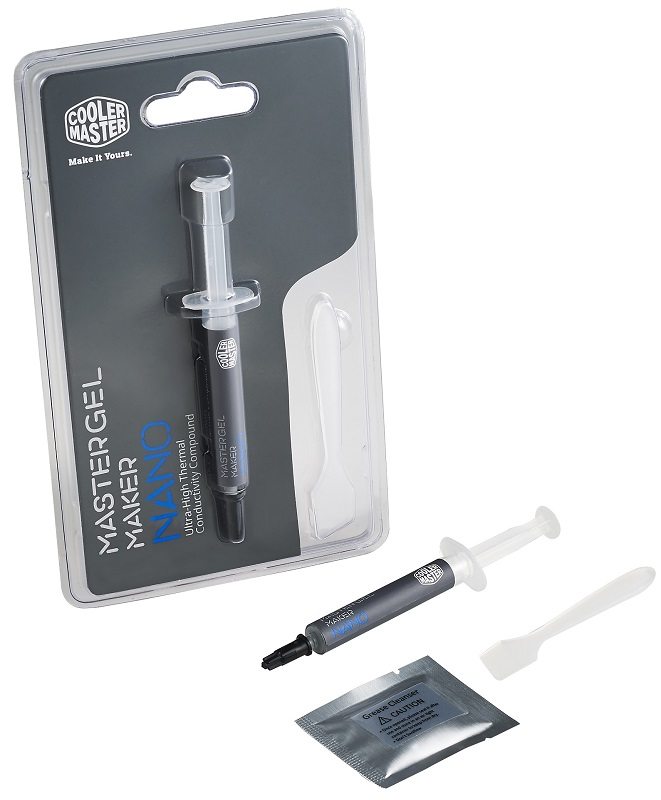 Today I'll be taking a look at something a little smaller, but still a very vital component in the building of literally every PC. The Cooler Master MasterGel Maker is the all-new thermal paste that looks set to take on the big boys in the high-performance cooling world and with the likes of Noctua, Gelid and a few others already dominating the market, CM has a hard battle to fight here.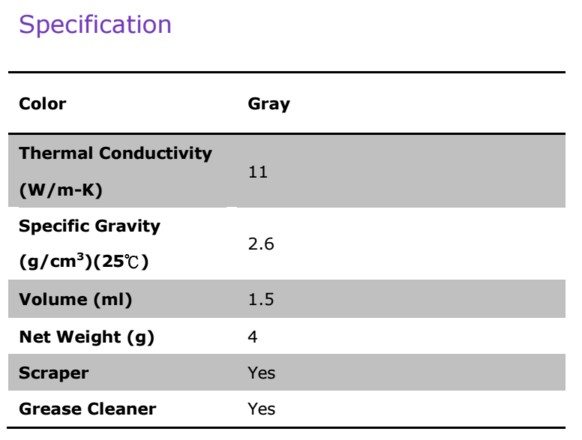 The MakerGen is certainly promising in terms of specifications, at least as exciting as a tube of paste can be, of course. Made with nano-diamond particles, the MasterGel Maker should offer great conductivity, but I guess we'll find that out in our testing.
"MasterGel Maker is developed for users needing the best thermal conductivity for high performance CPUs, GPUs or even chipsets. The non-curing and non-electrical conductive traits help avoid any short circuiting and provide protection and performance for long-term use. The non-abrasive added Nano Diamond particles allow the MasterGel Maker to be extremely lightweight and easy to spread or remove while avoiding auto-oxidation or erosion overtime."
Going against the MasterGel Maker today are some of the best-known thermal pastes on the market, including the current top-dogs Gelid GC Extreme, Noctua NT-H1 and the also relatively new but very impressive Thermal Grizzly Kryonaugt.
MasterGel Maker
Thermal Grizzly Kryonaugt
Akasa Pro-Grade 460
Noctua NT-H1
Gelid GC Extreme
Arctic Silver 5
EK Ectotherm
Artic MX-4
The MasterGel Maker Nano comes nicely packaged with an easy to use syringe, as well as a spreader for easy application.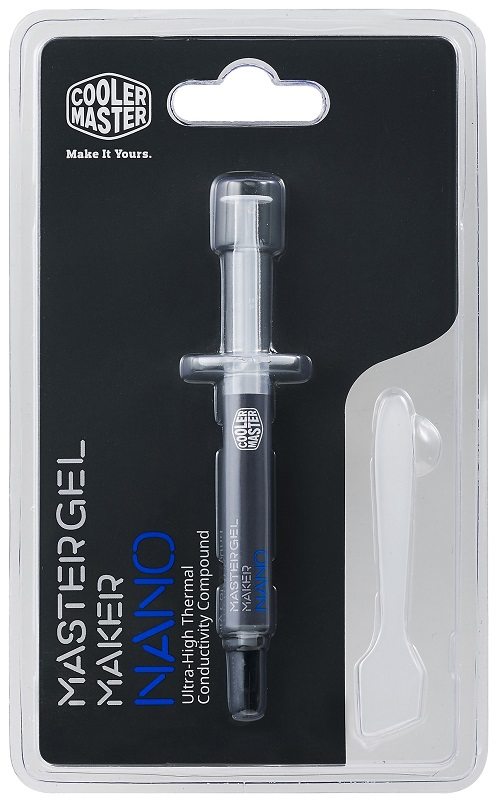 Even better, the paste comes with a grease cleaner, ensuring that you get a spotless CPU before applying new paste.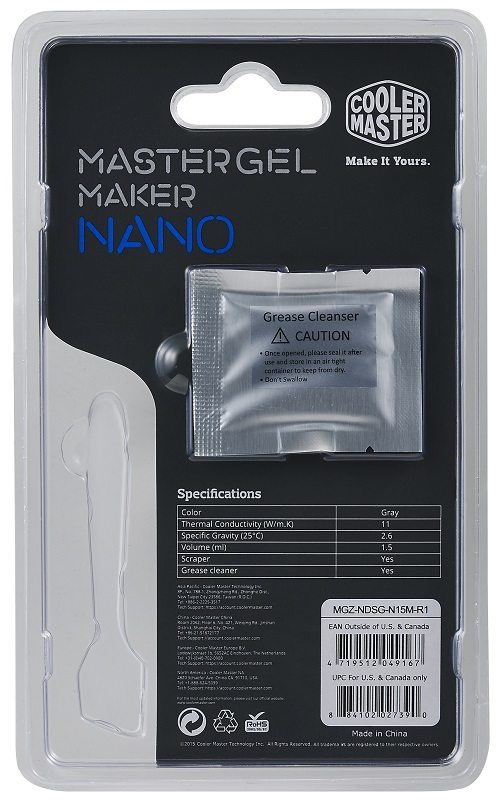 First, here's a quick QA from Cooler Master to tell you a little more about the MasterGel Maker.
Q: Do the nano-diamond particles leave scratches on the cooler base or CPU IHS?
A: No, the particles in the MasterGel Maker are too small to leave any scratches.
Q: Why do I need to clean the CPU before applying the MasterGel Maker?
A: When removing a CPU cooler, the old thermal grease is left over. It needs to be removed to improve thermal conductivity, which leads to lower temperatures.
Q: Do I need to use the plastic brush for spreading the grease?
A: No, but it is recommended. You can also press the CPU cooler on the grease and twist it a bit to make sure it spreads over the IHS.
Q: How many applications does one tube last when using the pea size method?
A: It is difficult to precisely determine the number of uses one tube can have. However, if the amount for each time is very close to 'pea size,' users should at least be able to apply the thermal grease over 10 times.
Q: How long can the thermal compound be used once opened, but sealed correctly after use?
A: Every circumstance is different depending on various factors, such as the environment. Usually the thermal grease can be preserved for two years without opening. We highly suggest users keep thermal grease in a dry and clean place, and avoid direct sunshine once opened.
———————–
Testing and Methodology
---
We always use the same test system and tests with CPU coolers that we compare against each other. The full specifications of our test system are as follows:
Hardware
ASUS P8Z77-V, LGA 1155 socket, Z77 chipset
Intel Core i5 3570K with Gelid GC Extreme under the IHS
16GB Kingston 1866Mhz DDR3
128GB Kingston HyperX SSD
Be Quiet! Straight Power 10 850w PSU
Cooler Master Test Bench v1.0
SilverStone Tundra Series TD03-Lite AIO Cooler
Software
In all these graphs we may have a few "reference" results of particular products that do not fit within that category for comparative purposes.
We'd like to say a big thank you to ASUS, be quiet, Crucial, Cooler Master and Intel for providing components that makes this testing possible.
Testing Methodology:
We always use Gelid GC Extreme thermal paste to make sure testing reveals the efficiency of the tested coolers not the efficiency of the bundled thermal paste. Of course, this review will use a wide range of thermal pastes for testing.
Prime 95 is run for 10 minutes and then the average maximum temperatures as recorded by CPUID HWMonitor are noted
The average temperature across the four cores is taken on our quad-core processor
Fans are mostly left to operate at default PWM profile speeds. If PWM functions are not supported then fixed fan speeds are used and sometimes a low noise adapter if appropriate/provided. If fixed fan speeds or low noise adapters are used it will be clearly pointed out either on the graphs or in the write-up.
All default result entries on graphs are for PWM performance unless otherwise specified. A variety of fan speed results are done for a particular product review and then removed from the graphs in future reviews of other products to avoid clutter. If you would like to see more fan speed results for a particular product please check its individual review.
For watercooling tests all pumps have been operated at 12 volts directly from the power supply
Delta temperatures are always used (Observed temperature minus ambient temperature) and we keep the ambient at 22 (+/- 1) degrees for all testing . Delta temperatures should correct for any marginal ambient differences between 21-23 degrees.
Acoustic measurements are taken 10cm horizontally away from the CPU cooler with the VGA fan disabled, hard drive in idle and power supply isolated. These are taken at desktop idle and Prime95 load.
The cooling performance tests are run at stock 3.4GHz (with Intel Turbo up to 3.8GHz) and overclocked 4.5GHz (1.35v) settings. Voltages are fixed to prevent inaccuracy between comparisons.
All other coolers in the graphs have been tested under identical settings so are fully comparable.
Each test is repeated 3 times with 3 remounts for consistency of results
There is approximately a 1 degree celsius margin of error in our temperature recording software CPUID HW Monitor
There is approximately a 1.5dBA margin of error with our Benetech GM1351 decibel meter
———————–
Performance
---
For this review, I've deployed the SilverStone Tundra Series TD03-Lite AIO CPU Cooler. If you would like to know more about this cooler and its performance, you can check out the full review here. It's a simple 120mm slim radiator, and I found it to be a stable cooler that can keep a good constant fan speed at load, giving us a good representation of cooling difference.
I've heard a lot of great things about MasterGel Maker from others in the industry, so I went into this testing with high expectations and I was certainly not disappointed. Maker Gel was almost 1 full degree cooler than our current leader at stock temperatures, just beating out Gelid GC Extreme. Of course, at stock clocks, any of these thermal pastes tested are doing a great job, but a 4c difference between Artic Silver 5 and Maker does not go unnoticed and could mean your cooler can operate with a lower fan RPM and less noise.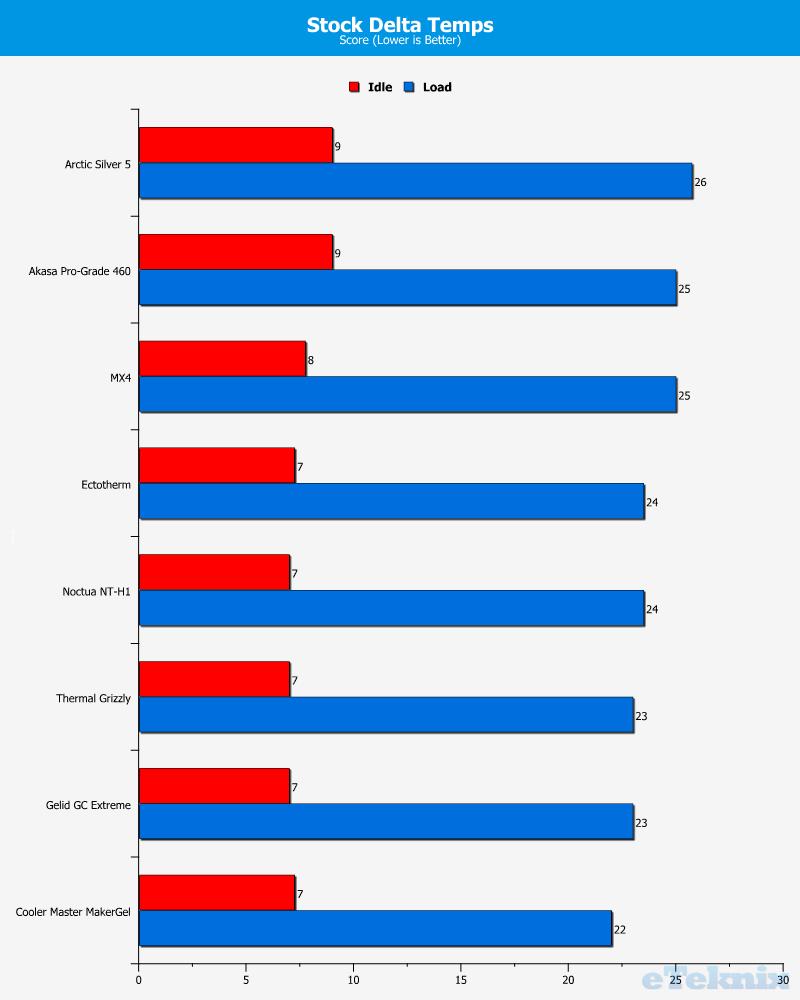 Now that we've got some serious heat on, the Maker is still giving us the coolest temperatures, now beating out Gelid by 2 degrees and 0.6c cooler than Grizzly. This is, of course, within a margin of error, but if it's not actually better, it's at least as good as the rest and that's something Cooler Master can be proud of. We're now a full 7c cooler than the Ectotherm paste and that's a huge difference, showing how picking the right paste can make or break your overclocking targets.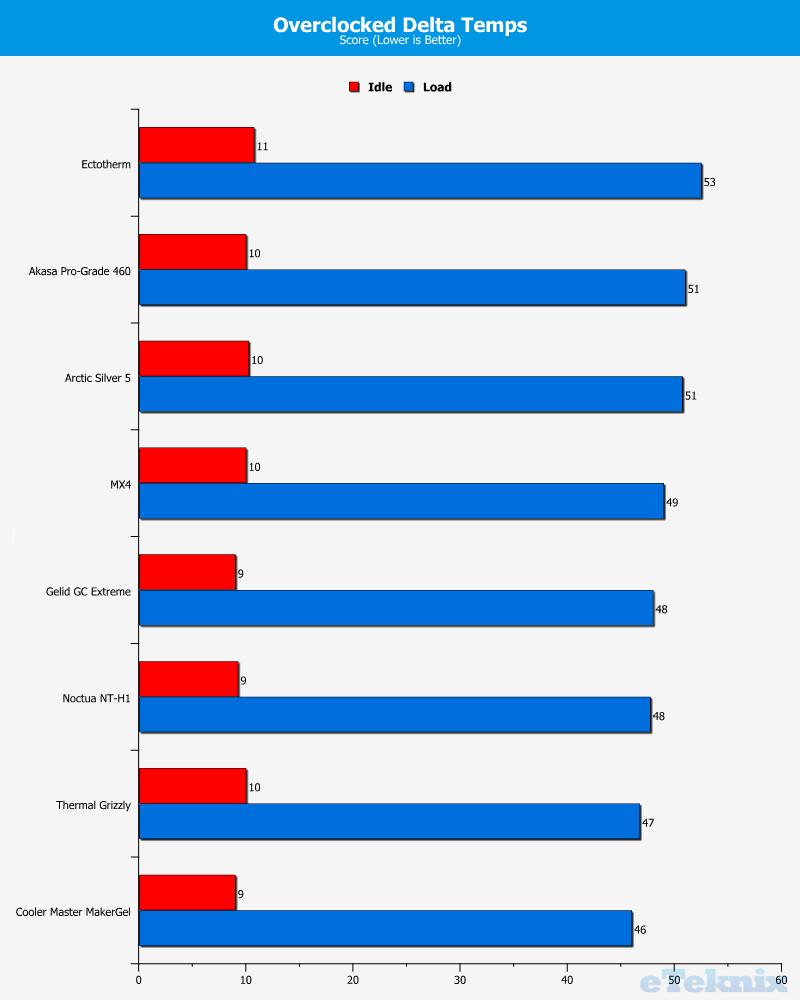 ———————–
Final Thoughts
---
Price
The new Cooler Master MakerGel Maker should start appearing at retailers in mid December, with prices expected to be £9.99 Inc VAT for a 4ml tube. This should be good for around ten applications and that makes the MakerGel Maker excellent value for money, especially given the premium grade performance we've seen today.
Overview
Cooler Master have been working hard this year to bring their brand back to their roots, but also bring their products to the top of the market, showing just how great they can truly be when they focus on what consumers really want. Customisation, modification and performance are to be found in all of their new products and the MakerGel Maker is a prime example of this. When you're building a high-end, high-performance and overclocked system, keeping your hardware cool is vital. Spending a little extra on a thermal paste that can help you achieve lower temperatures, higher and more stable overclocks and possibly even less noise from your fans, is certainly an attractive idea.
Picking any one of the high-end thermal pastes will certainly suit the needs of many. Gelid have a long history and their GC-Extreme has a well-proven history of being a great product. The MakerGel maker is quite new and still have a lot of independent testing ahead of it, but looking at the results we've seen here today, it looks like MakerGel is going to be a big hit with system builders and overclockers around the world. It's also competitively priced and that's something that is bound to tip in Cooler Master's favour, as some of the competing products can be almost twice as expensive.
Pros
Exceptional cooling performance
Competitive price
Easy to apply
Good amount vs cost (£9.99 for 4ml)
CPU cleaner included
Cons
"Cooler Master MasterGel Maker is the best thermal paste we've ever tested. If you're looking for a competitive alternative to the more established pastes on the market, this is certainly the way to go."