Cooler Master Masterkeys Pro S Keyboard Review
---
---
---
Peter Donnell / 7 years ago
A Closer Look
---
As you can see, it is a pretty straight-forward design, nothing too over the top, just a slim bezel chassis and a matte black finish. The keys have a UV coating on them, giving them a slightly glossy look and feel, but this also helps improve their overall durability and gives them a nice high-quality look and feel. The keyboard is immediately recognisable as Cooler Master to me too, as it feels incredibly strong and rigid, which is always a good sign.

The left Windows key has been replaced with a Cooler Master cap, still functions however you need it to, but it adds a nicely bit of subtle branding. There are some functions tucked away on the underside of the 1-4 number keys too, allowing you to use FN-Shift to toggle through the onboard (and customisable) profiles.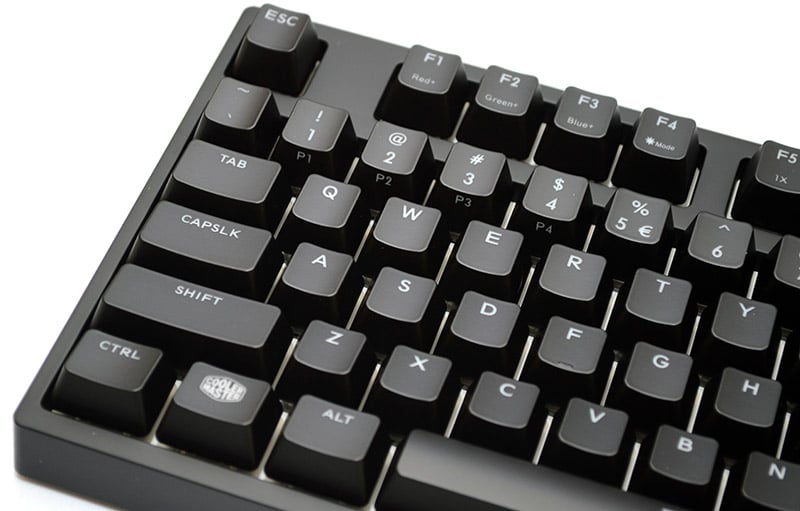 F1-F4 has built-in controls for the RGB lighting, allowing you quick access to some of the basic customisation features, although more are available through the downloadable software.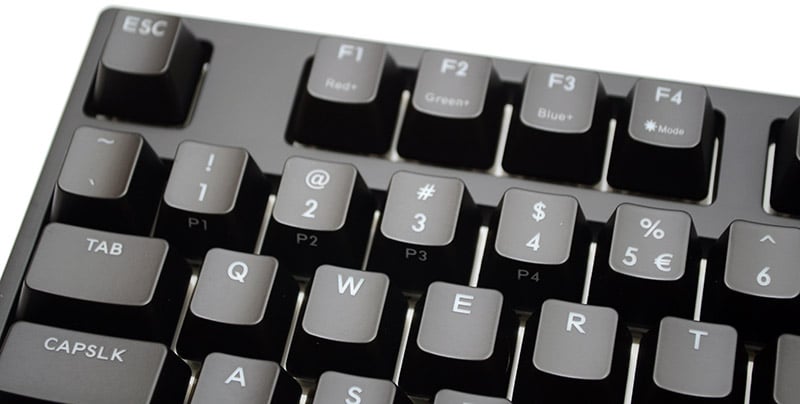 F5-F8 has the adjustable repeat rate settings.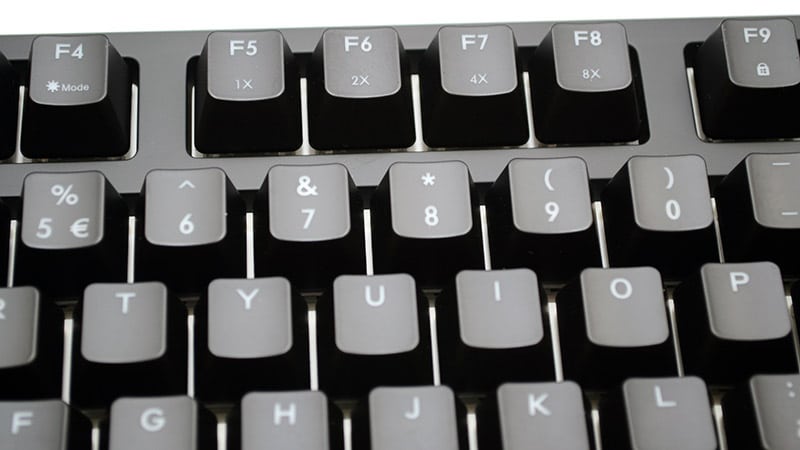 Things get pretty cool on F9-F12 too, with access to Windows key lock, always a nice feature to have for a gaming keyboard, LED recording to allow custom lighting macro editing on-the-fly, and keystroke macro recording and removal controls. This means that you can get everything you need configures quickly when you need it, without even having to quit out of your game. There's also Macro looping and repeat functions further along and a set of multimedia shortcuts below that, giving you even more cool features to play around with.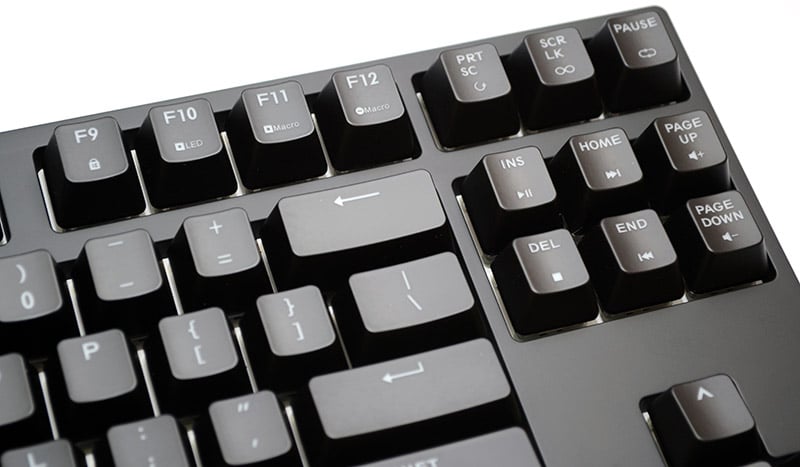 Overall, the build quality is second to none, really robust, and while there are no dedicated keys for macros or multimedia, Cooler Master have done a great job of packing in as many features as you'll ever need via FN-Shift functions.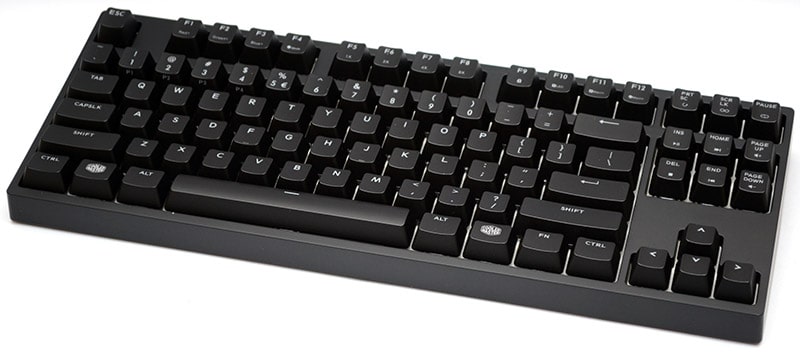 The keyboard is at a slight angle with a gentle curve from front to back, giving a good typing angle. While it is quite thick, the keys are nicely set into the chassis, so the action doesn't feel too high overall.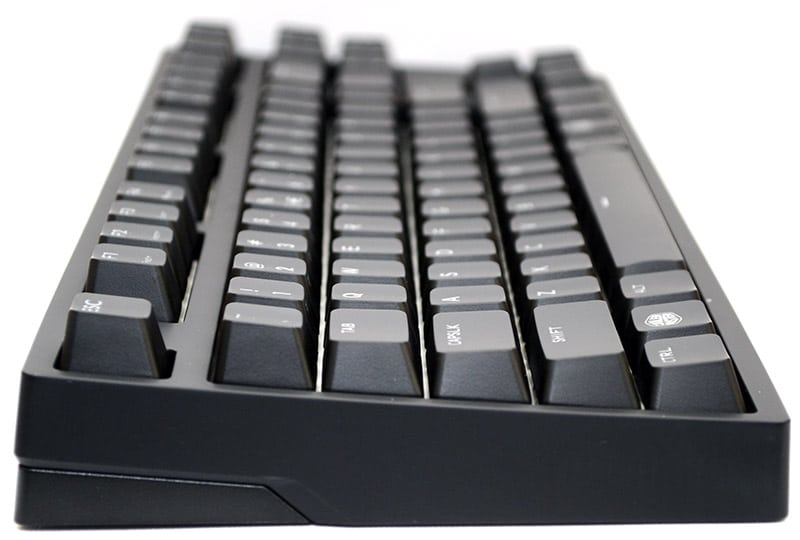 As I said before, the slim chassis is a nice bonus, and it'll help free up a lot of extra space on your desktop, especially since it's a TKL design.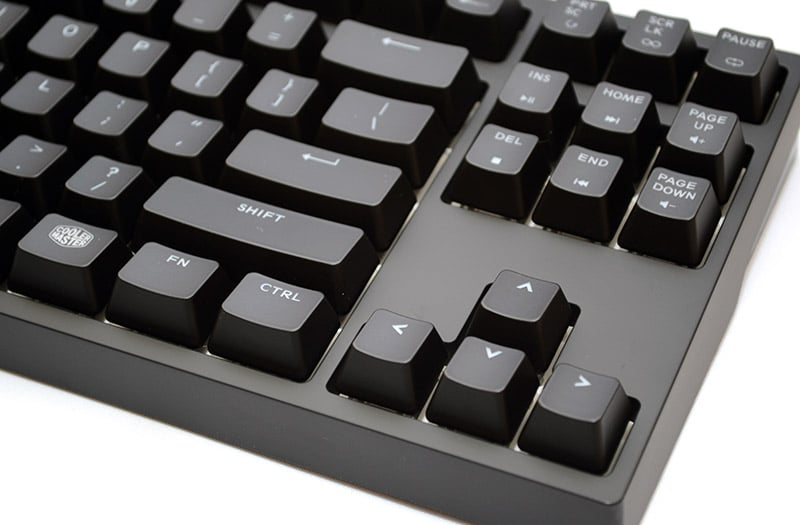 Behind the key caps, you'll notice a glossy white finish; this will help better reflect the RGB lighting, giving a cool under lighting effect.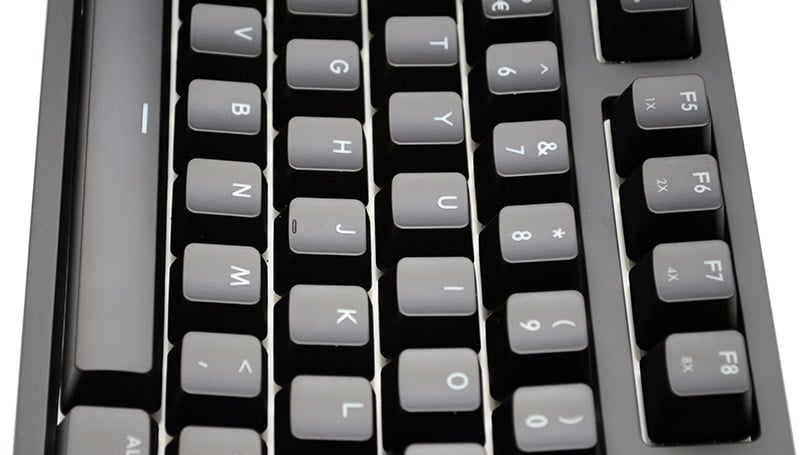 Around the back, the micro-USB cable hooks in easily enough and because it's a standard fitting, you can always swap it out for your own cable if needed.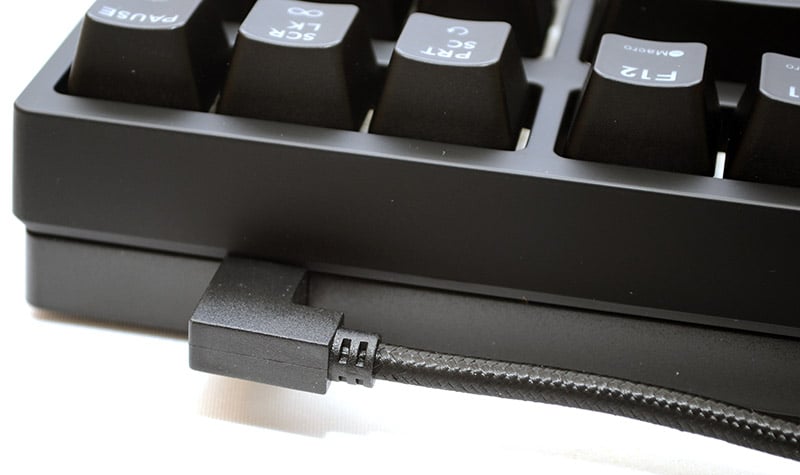 Using the handy tool provided in the box, we can take a quick look under those caps and see we've got some very nice Cherry MX RGB switches. It's worth noting that CM have mounted them just right, so the key caps don't bottom out on the chassis, and this helps greatly reduce the overall noise from the keys.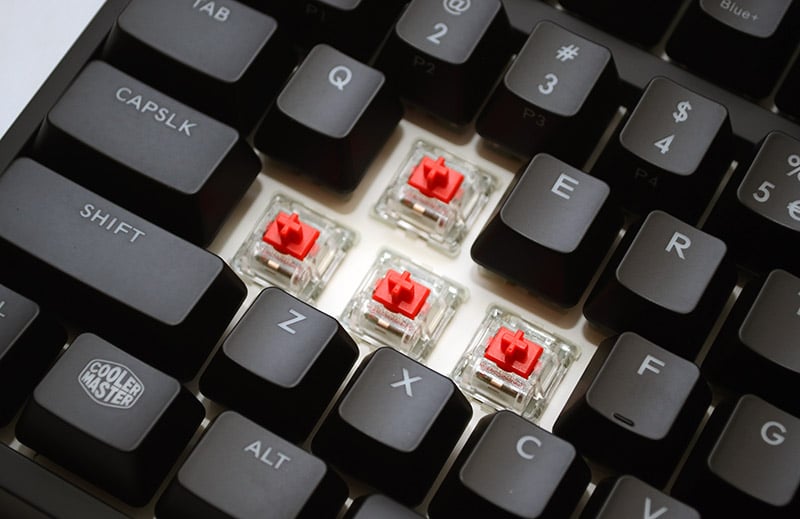 On the underside, four thick rubber grips help keep the keyboard firmly planted on your desk.

And finally, there are two durable kickstands, each with rubber feet to help maintain grip even when they're deployed.