Cooler Master Masterkeys Pro S Keyboard Review
---
---
---
Peter Donnell / 7 years ago
Performance
---
Setting up the keyboard couldn't be easier, it's plug and play ready and while you can customise the colours and a few settings from the software, it's barely required for the majority of tasks. Everything is built right into the keyboard, with shortcuts for all the major features being within easy reach and very easy to use. There's a lot of pre-made colour profiles built-in to the keyboards onboard memory, and they're all pretty fantastic, but if you wanted to customise them further, it's just a couple of key presses away.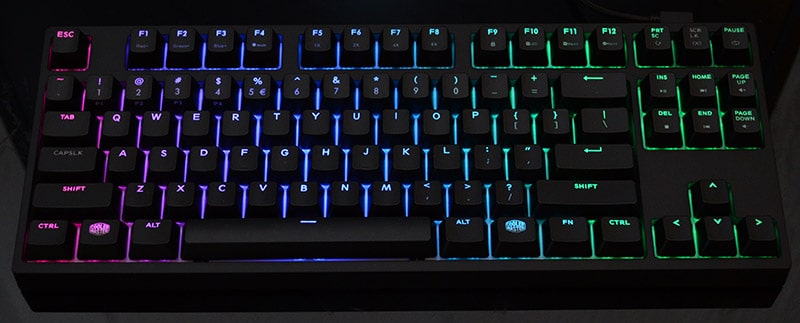 Hold the FN shift, and the colour setting keys light up at the top; a nice little touch I thought.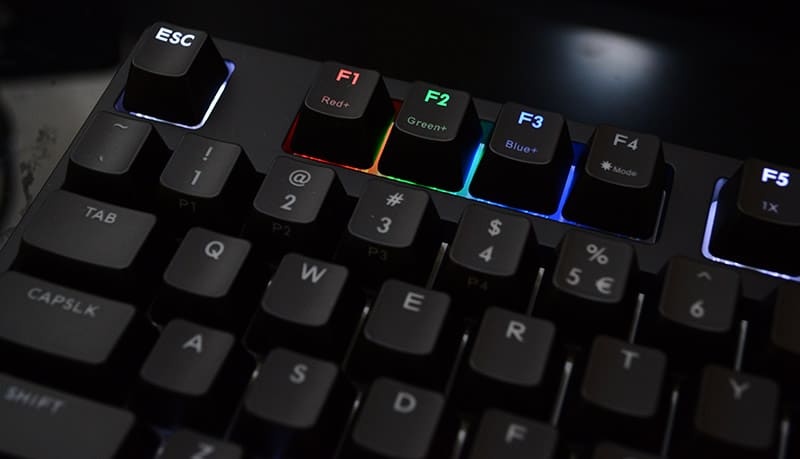 You can set per-key effects too, helping map out zones of important keys on a per-game basis.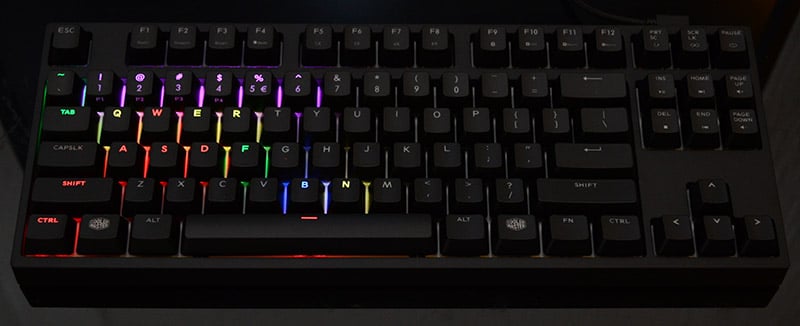 There's all kinds of crazy effects too, showing moving patterns throughout the keys.

This had to be my favourite, though, due to the fact I have a yellow PC case and a yellow motherboard, the slow-moving lightening effect just suited my desktop perfectly. Moving on from the bright, colourful and heavily customisable RGB LED lighting, as great as it is, let's talk about performance. To speed things along nicely, enjoy the rest of the images of the lighting at work as we pick through what's left.

As I said before, the board is kitted out with Cherry MX switches, so you know the premium quality performance you're going to get on every single key and you know it's going to last. What really makes a difference here, however, is the incredibly sturdy chassis of the keyboard. It has virtually no movement of vibration transfer through it, and the keys feel snappier and smoother because of it. The key caps don't bottom out hard at all either, and it's certainly on the quieter side of MX Red switched keyboards.


The fast and light keys are helped in no small part by the lovely UV coated keycaps. They feel great under your finger tips, lightweight, yet durable. Mashing away at the keyboard will be of no concern for its durability. In fact, it's true of virtually any CM mechanical keyboard that they're very durable.


The keys bounce back nice and quick, as you would expect from MX reds, and that makes them a blast for gaming. Firing off rapid keystrokes is a lot of fun here, and that's going to prove a big advantage for MOBA and FPS game types. The macro recording features help a great deal too, I'm not one for permanent macro settings for games, but being able to record them on the fly for a specific scenario is a huge help and something I'm grateful is included here.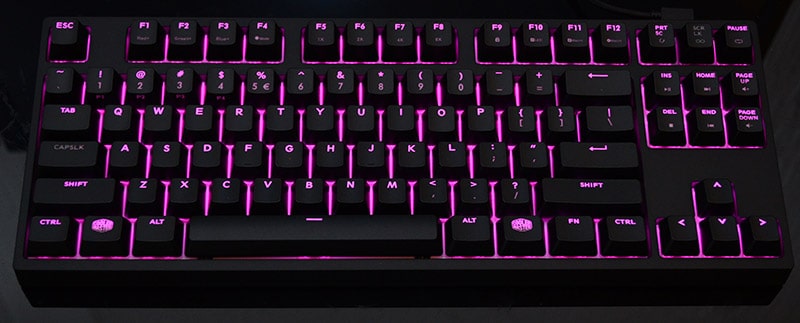 Every functions perfectly on this board and sure, more dedicated keys would be great, but they would come at a cost of that slick TKL design. Having so many features only an FN-shift away is no bad thing though; especially the multimedia shortcuts.