Cooler Master MH630 Gaming Headset Review
---
---
---
Peter Donnell / 4 years ago
A Closer Look & Performance
The new headset design looks pretty fantastic, it's got super clean flowing lines that give it quite a soft look. The back of the ear cups are oval-shaped and feature a lovely light purple trim around the edges. There's no garnish RGB in there or anything, just that clean chrome trim in the middle and the purple edge.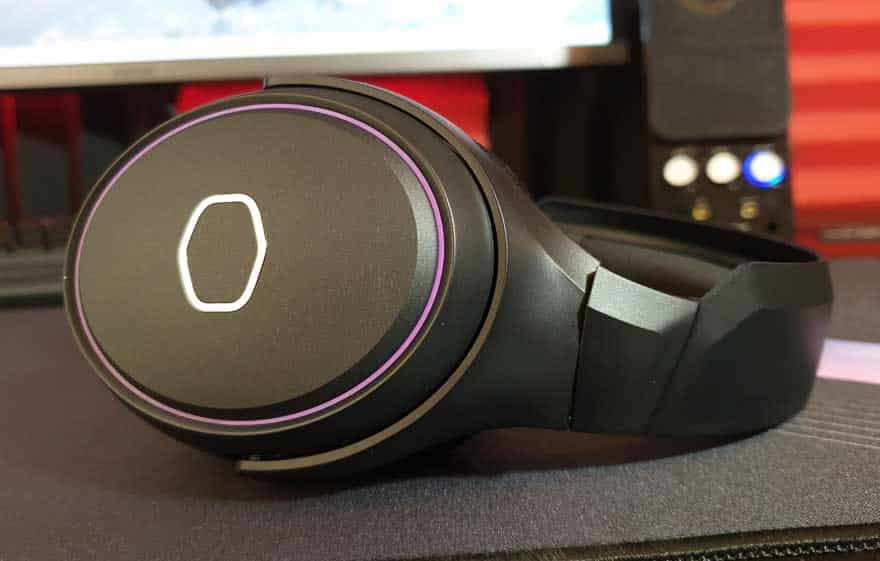 Less is more, and honestly, I really like this design. As you can see, it's closed up pretty tight here, which should help tighten up the bass response from the drivers and block a bit of ambient noise.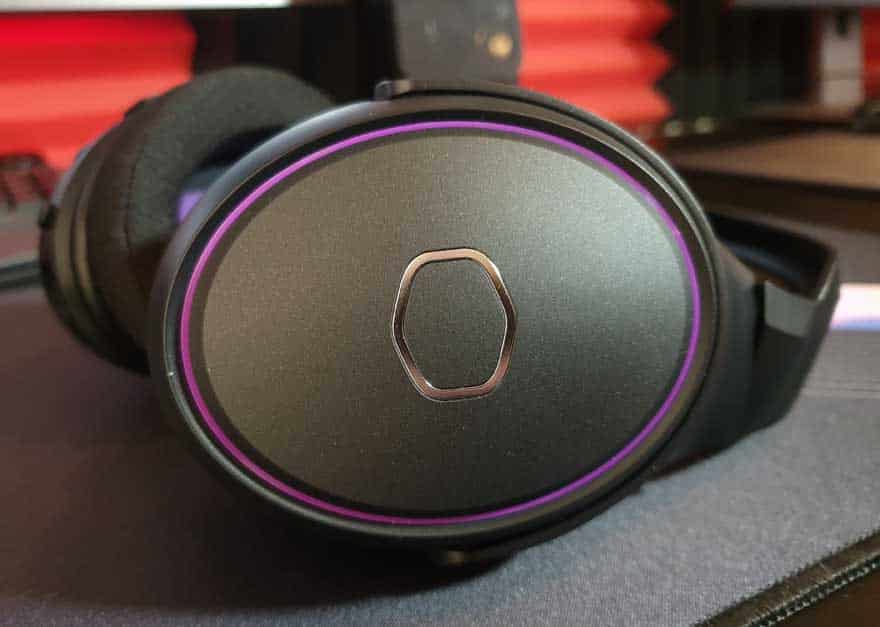 Premium Fit
I love that everything looks really well put together though, it flows from the back of the ear cup to the outer edge, and a really closer tolerance to the ear cup mounts too. It's little details like this that make it look and feel like a premium product.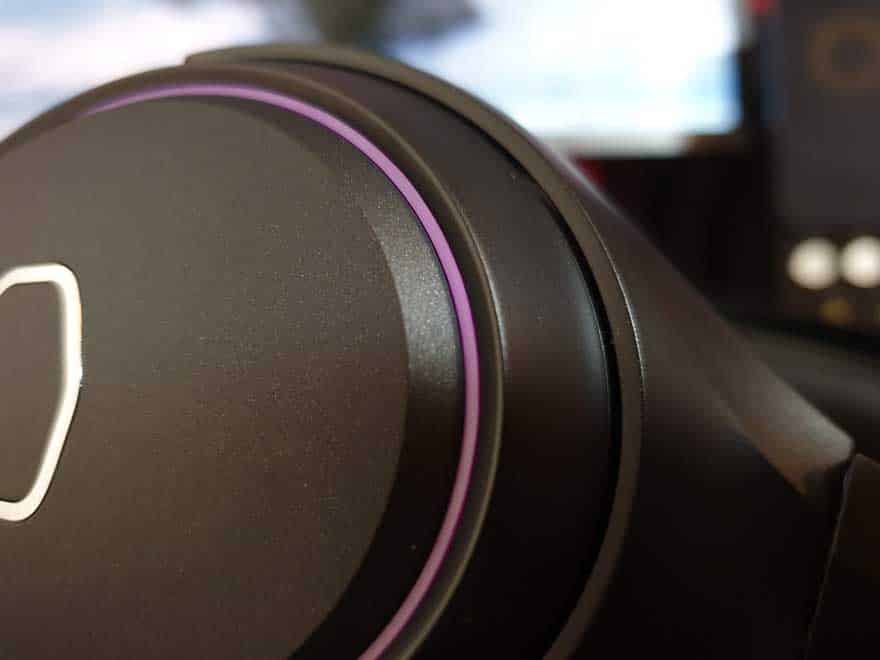 The headband is a super flexible plastic on the exterior, with a metal band on the interior. However, you can twist and pull the hell out of it and it'll snap back to true immediately. The whole thing is amazingly robust despite not being overly heavy.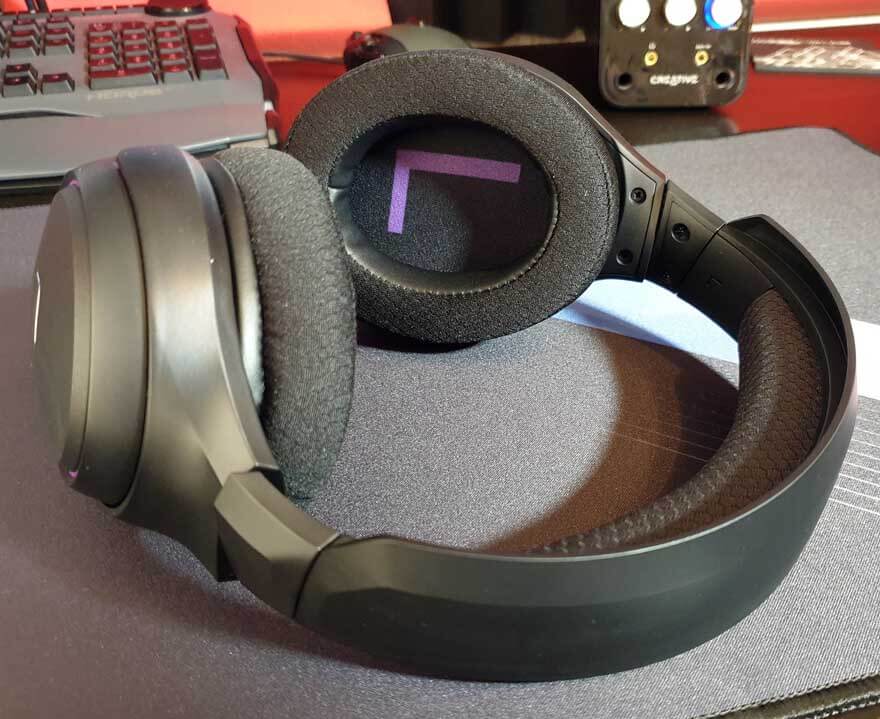 Twisty
The ergonomics are pretty great too, with ear cups that can be fully rotated inwards. While a little movement like this can help with the fit around your ears, folding them inward is much more comfortable when wearing the headset around your neck between games.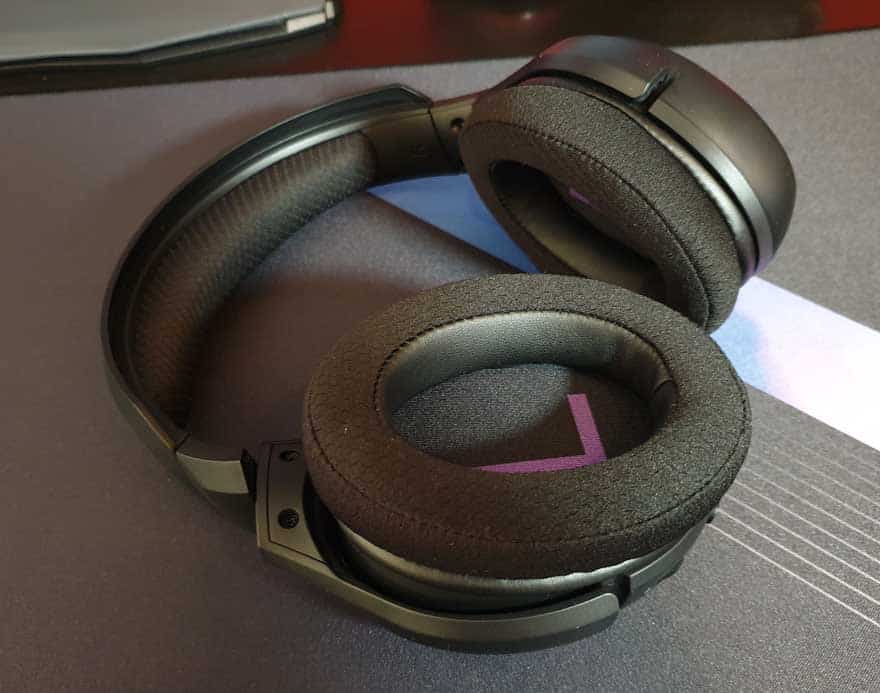 There's a huge amount of pivot too, ensuring a comfortable and balanced fit around your ears. It keeps the drivers fitting flush for all head sizes, and when you've got the headband on the minimum right through to the maximum length.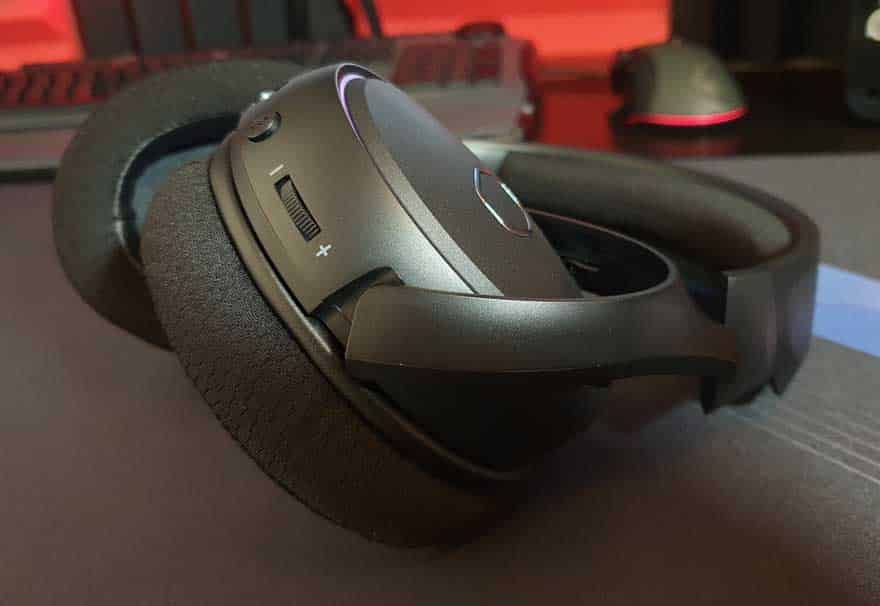 The headband has a metal reinforcement and soft inner layer. This allows it to be both firm and flexible at the same time, which is pretty neat.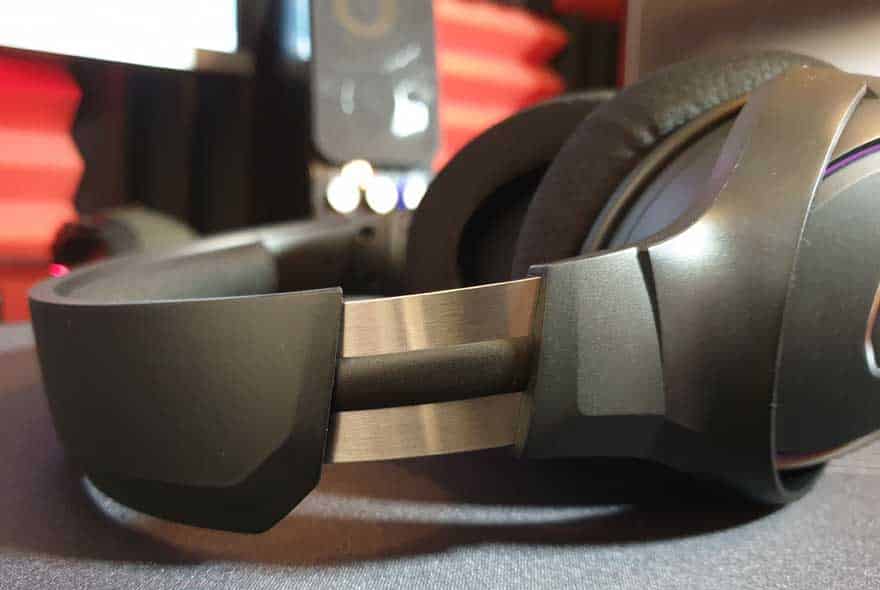 Control
The headset is wired, but you do still get some basic controls right on the ear cups too. There's a volume wheel, as well as a mechanical on/off switch for the microphone mute. The small port next to that is for the 3.5mm audio cable, and there's a rubber cap over the microphone mount too. It's not much, but really it's everything you'll need for this type of headset.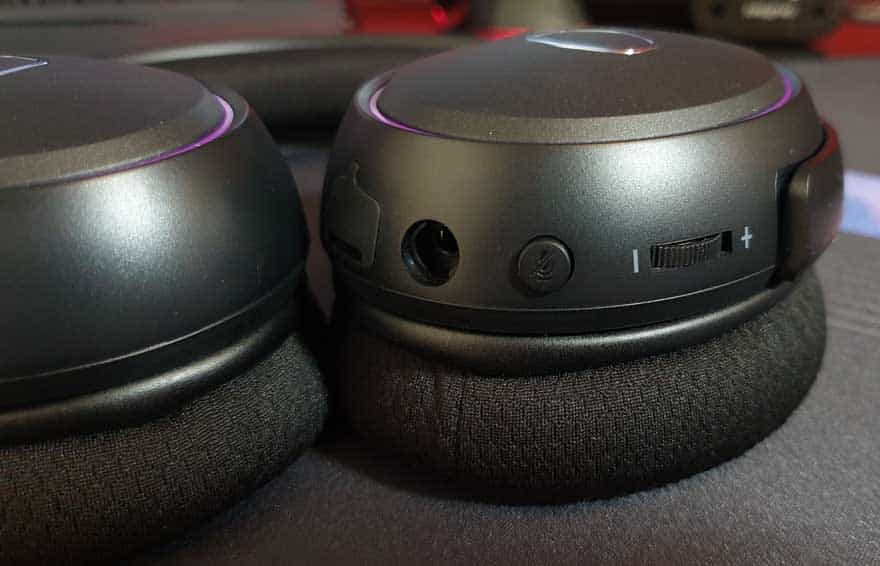 One of my favourite features of this headset, however, is the ear cup padding. There's a soft memory foam padding in the headband and the ear cups. Plus, there's a really soft and luxurious fabric coating. Now, it's not going to give you the noise isolation you'll get with leather, but it'll be breathable and a lot more comfortable overall.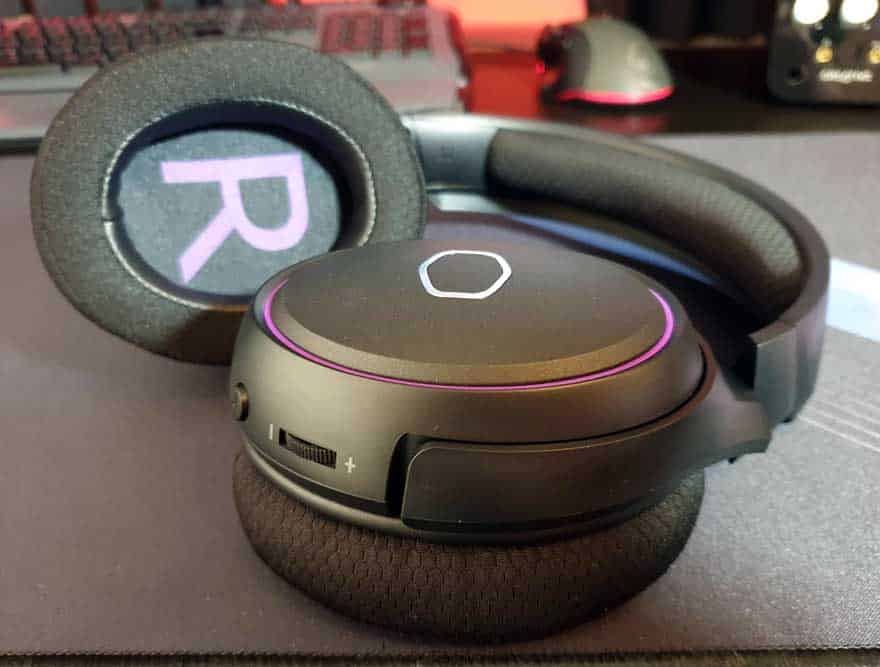 The fit and finish are as good as they come really. I'd even say they're as comfortable and well made as headsets that cost twice as much, if not more. Plus I like the giant L and R for the ear cups, some headsets have a tiny embossed letter and it can be a pain trying to find out their orientation.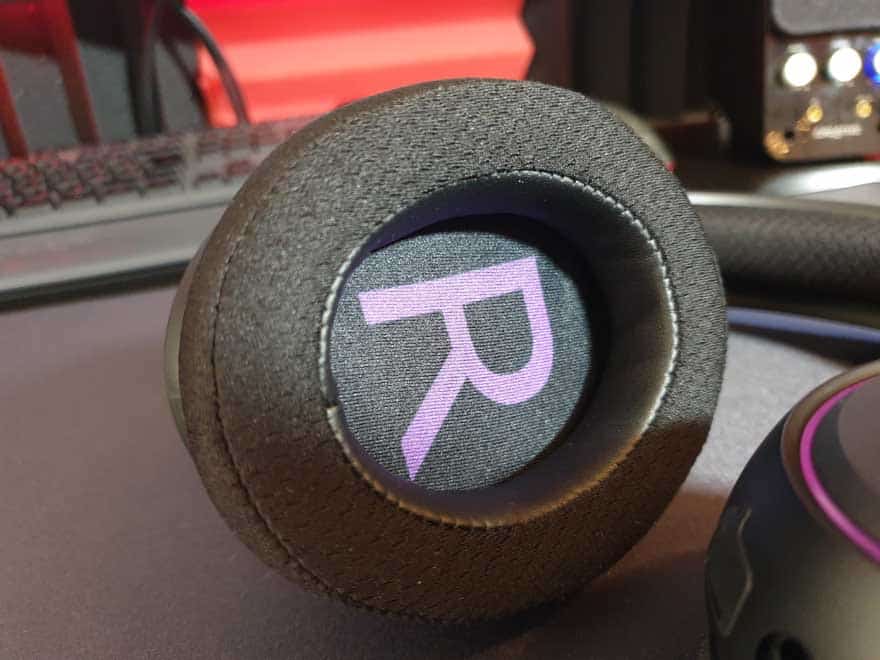 Powerful
The drivers in this headset are absolute beasts though. The headset looks clean and stylish, but it's secretly a bit of a monster. The maximum volume is really powerful, and when you crank it, you get quite a lot of bass too. I wouldn't recommend the maximum volume, but it's good to have that extra grunt when you're faced with a quieter than usual audio source.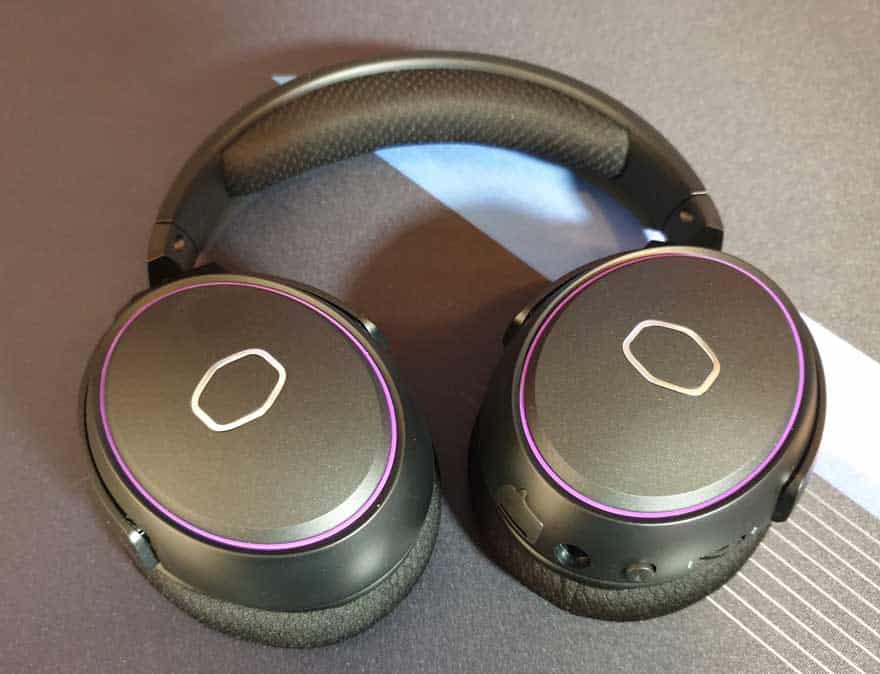 They're really clear too, and there's loads of detail in the mid-range that I wasn't expecting at this price range, it really gives guitar heavy music a full body sound. However, to really get the bass to exciting levels you do need to push the volume a little more, and these aren't very well isolated so you will be bothering other people in the room with the audio. If you don't care about that, then rock on!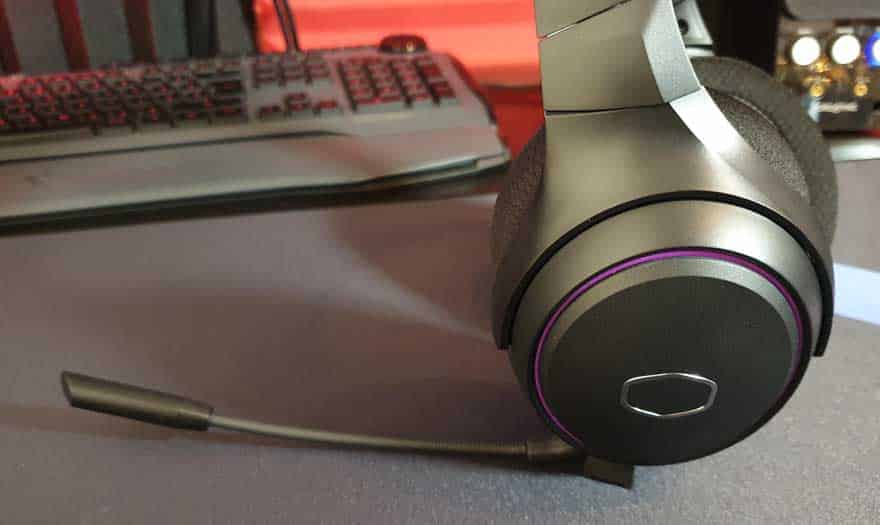 There's some real wow factor to the audio though, I love it. However, despite all that, they're subtle sounding and brilliantly detailed making for great voice chat, movie watching, music listening and most of all, great gaming.