Cooler Master MP860 RGB Dual-Sided Mouse Mat Review
---
---
---
Peter Donnell / 2 years ago
A Closer Look and Performance
---
The MP860 is a simple enough beast and comes hard-wired with a single black USB cable. Sure, it is plug and play friendly and will spit out plenty of colour once connected. However, if you wish to customise the colours, you'll need to download the software. If you have more Cooler Master RGB hardware, you can sync the lighting and effects too; definitely worth having a tinker there!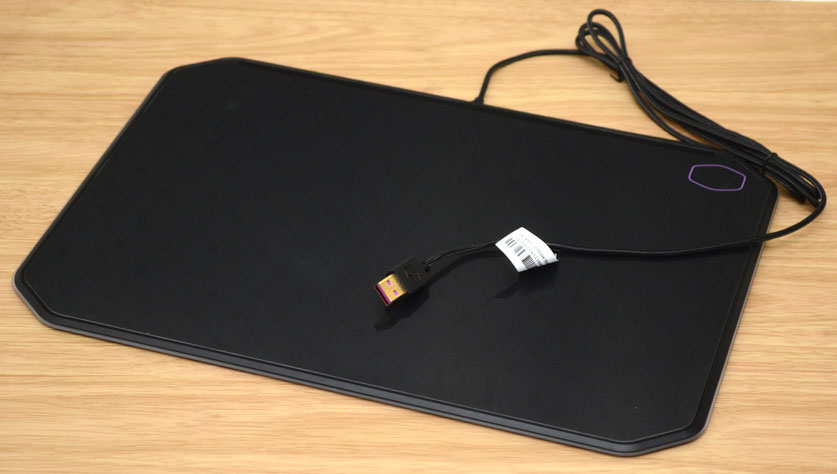 Just The Right Size
Measuring in at 360 x 260mm, the surface is a pretty good size, even for those who like to use lower DPI settings. However, it's not so big that you'll be pushing your keyboard to the side just to make room for it either. Because of the dual-sided design, it is a bit thicker than most, measuring 6mm deep at the front edge, but 10mm towards the rear. The perk of this is that it doesn't have a "bump" in the back where the cable joins, an issue that really bugs me with most RGB mouse mats.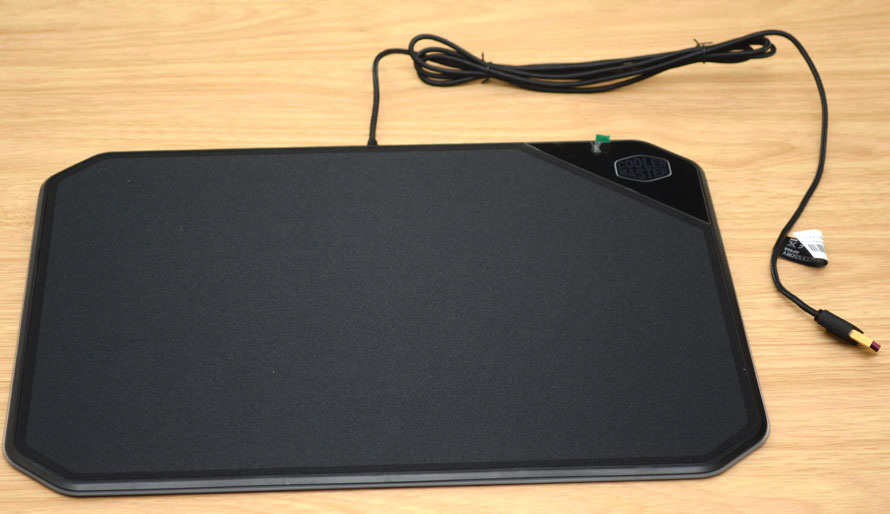 Aluminium Side
On one side, you have this lovely black aluminium, it has a light texture to it, but it's otherwise pretty smooth for the mouse. I love a hard gaming surface like this, as the mouse glides with ease. However, it can be a little too easy for some who like higher DPI and precision; of course, that's subjective.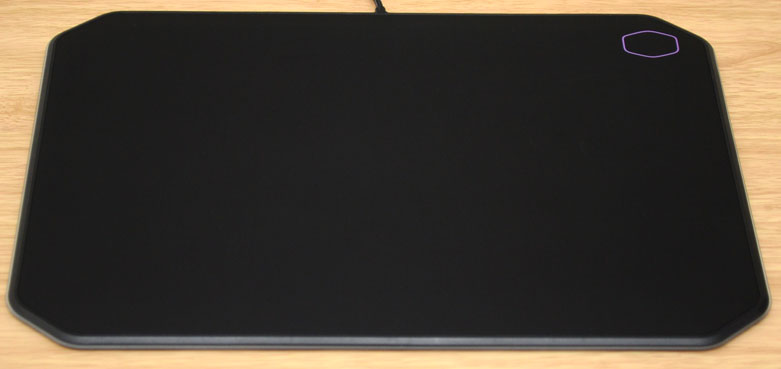 Unlike most gaming surfaces that have rolled edges and stitching, this one appears to be glued into the frame. There's a nice bezel though and its smoothed and angled so not to be uncomfortable under your wrist. Plus, the 45-degree angled corners look pretty great too, rather than just a having a big boring rectangle.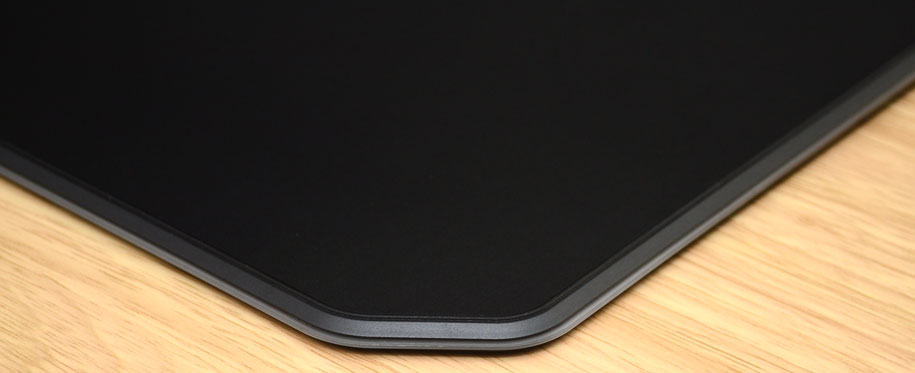 On the aluminium side, you get a small Cooler Master logo outline, it's a fixed colour and is simply stamped in there. However, I quite like it, it breaks up the design a little.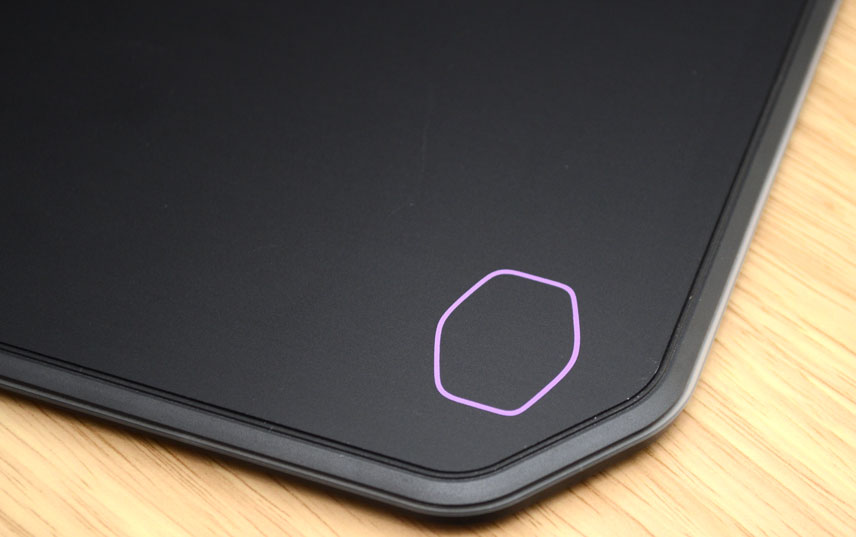 Around the rear, you'll find that the USB cable snugs in neatly, with no major obstructions that would impede your gaming mouse.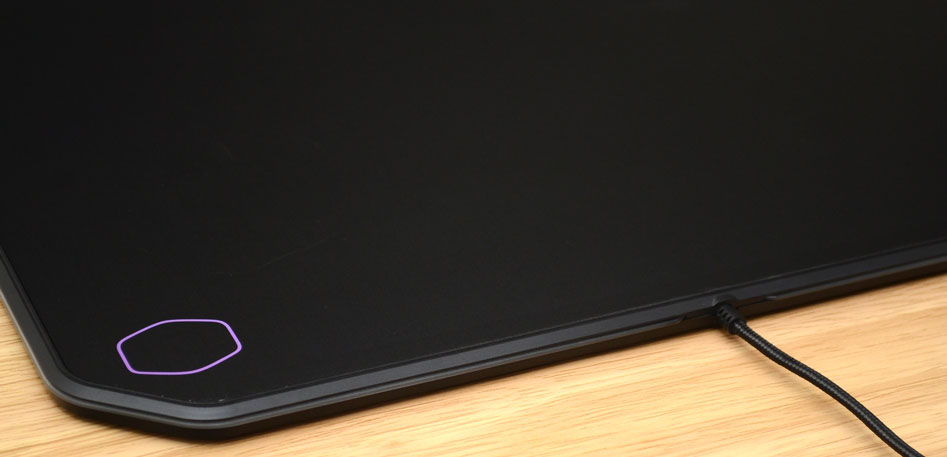 Softer Side
The other side is really nice too, with a soft padded cloth texture that's rather luxurious to touch. It still provides lots of glide for the mouse, as it is backed on a hard surface so isn't too "squishy" overall. However, it does provide more traction that will help with more accurate and fluid movement of the mouse. Again, which is best for what is subjective, but I must admit I love both of the options here.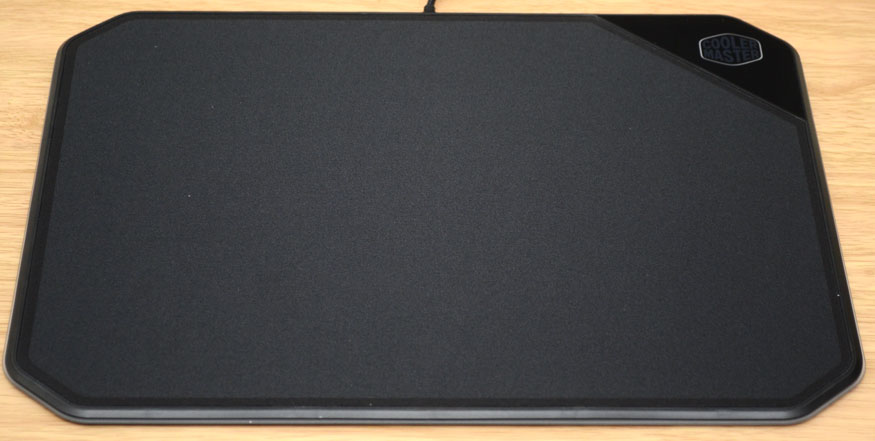 The weave of the cloth is very high quality, much better than you usually find on softer surfaces. Plus, with the bezel on the edge, the surface shouldn't splinter at the edge after extensive use.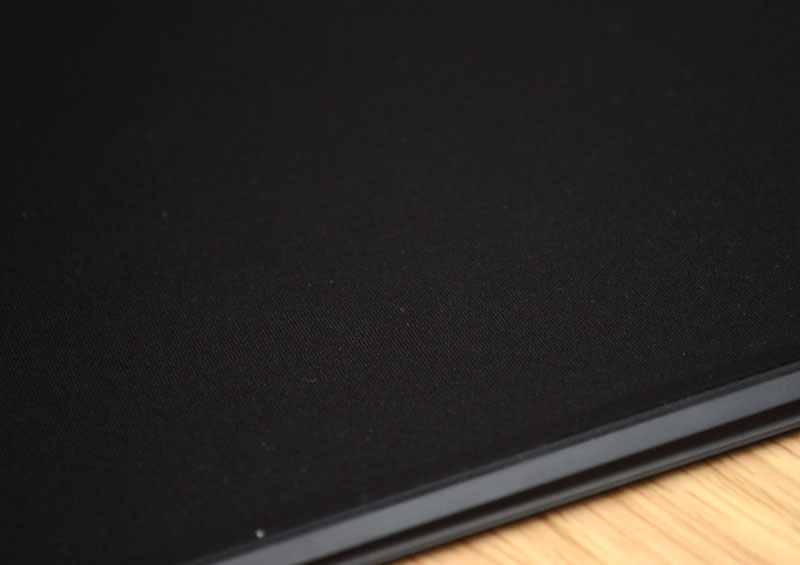 This side also has another party trick. Here you'll find the rear right corner is blocked out, with the Cooler Master logo in the middle. The logo is RGB and has a glossy black surround. Why? Most likely this is where they house the hardware to control everything; a little PCB has to go somewhere I suppose.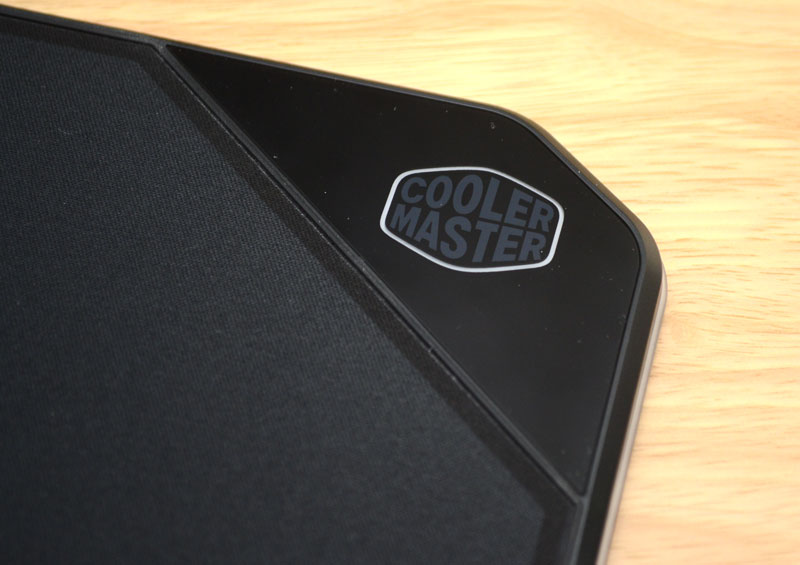 Performance
You don't have to have the RGB on if you don't want to; perhaps you like it off while you're working or when it's late. Even with the lights off, the MP860 looks pretty fantastic though. The MP310 mouse from Cooler Master makes a great pairing too, and on the cloth surface it glides and tracks beautifully too.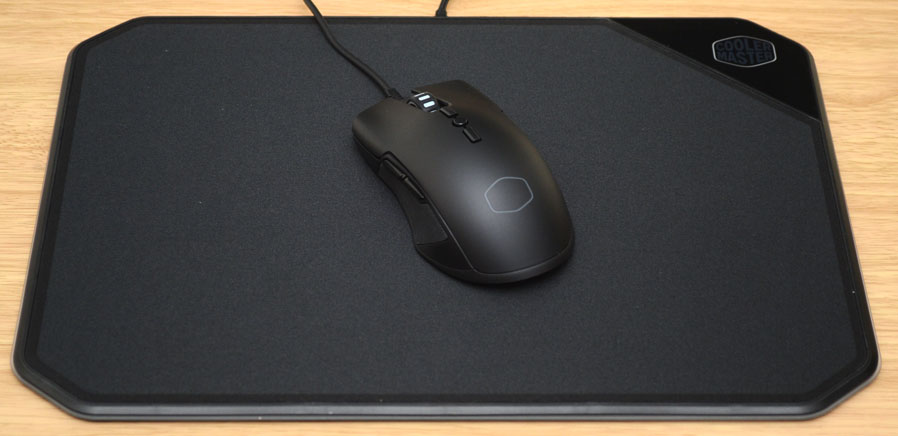 The aluminium side is a little more skittish, with reduced friction but still a quality surface to smooth sensor tracking. If you like to make twitchy and fast movements while gaming with a lower DPI level, this is fantastic for it. I prefer this side for gaming, but the softer side for my daily work. It has two sides, so may as well use both, right?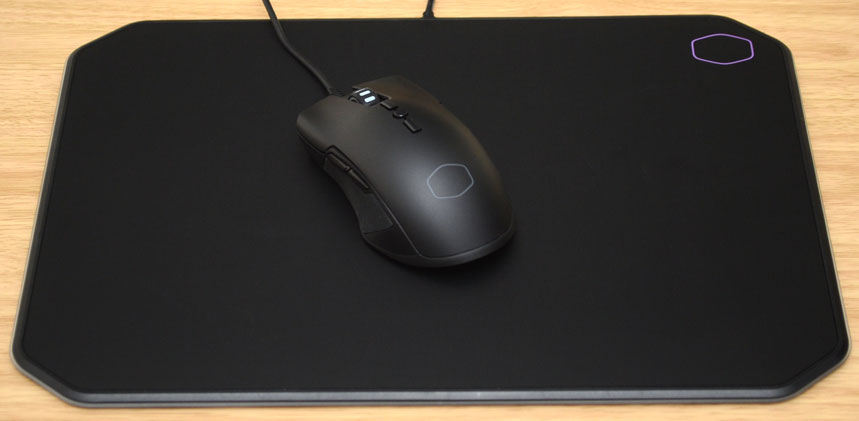 RGB
The edge lighting is just at the extreme of that bezel, which means it can be seen from above, not just from the absolute side of the mouse mat. This is great, as it makes it look more vibrant and like it's floating. It also means it can throw out more light, which gives a nice ambient glow to your desk also.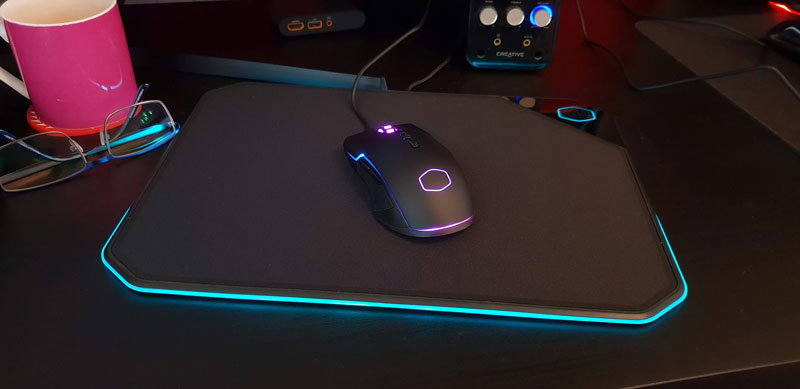 The lighting runs almost all the way around, with the only break in the effect being where the USB cable attaches. Otherwise, the light is all along the back, sides, and front edges. It's powered by 18 RGB LEDs too, meaning you can customise each and enjoy fantastic fade and transition effects; much like you can on Cooler Master keyboards and mice.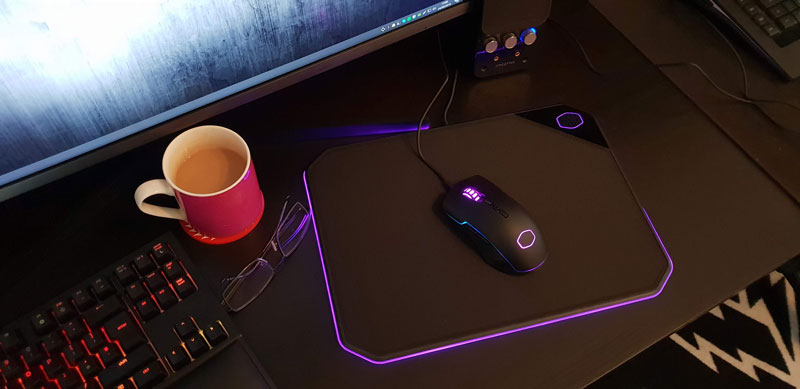 The colours are very rich and vibrant too. They're not overly bright either but have a good depth to the colours that gives them a warmer feel than most. Compared to the paper thin RGB strip on the Razer RGB gaming surface, this edge lighting is vastly bigger too, which is great.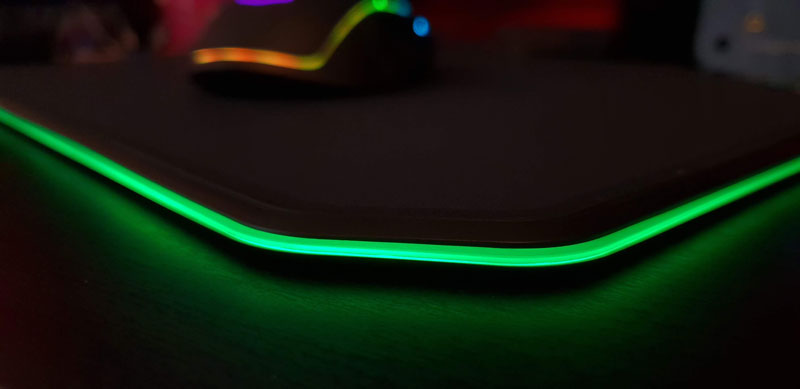 The RGB logo trim on the soft side is nice too. I would have liked the same on the other side. However, I'm sure there's good reason for that in regards to performance and manufacturing. Either way, I'd rather have this on one side than not have it on either.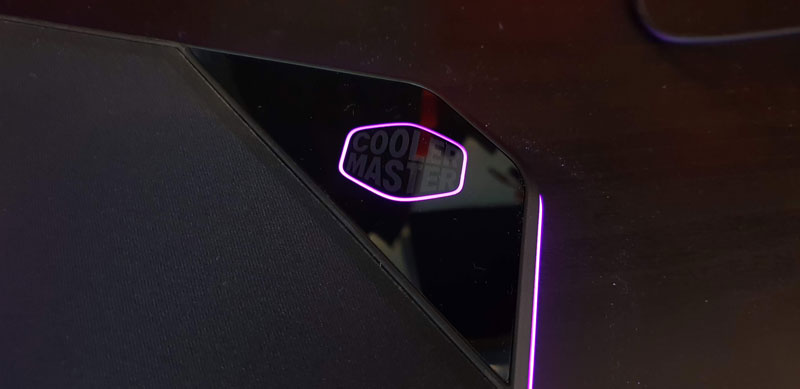 The aluminium surface has a diffused reflection quality too. As you can see, it picks up the ambient light from our gaming mouse.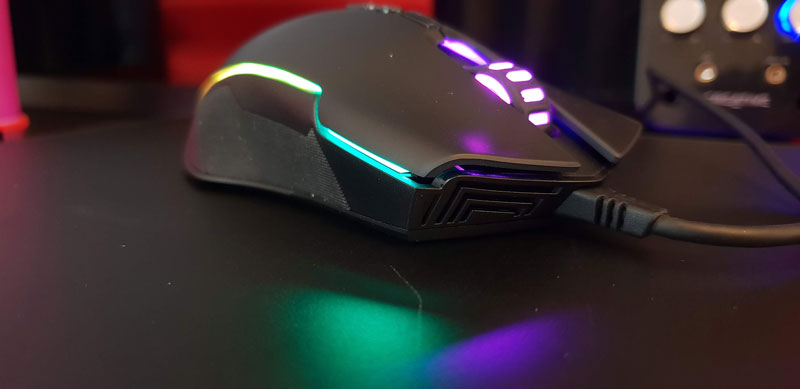 Overall, for those wanting to add more RGB and lighting to their desktop, this is hard to beat. Other brands have their own solutions, but the MP860 has some of the most colourful lighting and dual surfaces that push it ahead of the competition.