Cooler Master Reveal Flagship MasterWatt Maker MIJ PSU for £899
---
---
---
Peter Donnell / 6 years ago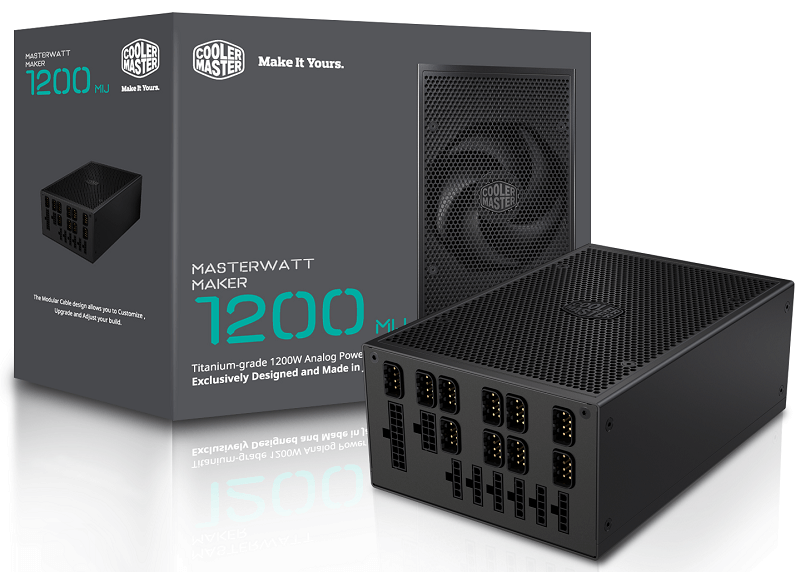 One ring to rule them all, and in the darkness bind them… no wait, power supply, one power supply to rule them all! The latest effort from the team at Cooler Master takes power delivery to the next level, delivering uncompromising quality, features, performance and a price that you would expect from a master crafted product using German and Japanese made components; this is not your typical mass-produced PSU!
"Sometimes good is just not good enough and with the MasterWatt Maker 1200 MIJ, Cooler Master has spent over 165,000 hours with 40 Murata engineers to create what might very well be the last power supply you'll ever buy.

The MIJ part of the MasterWatt Maker 1200 MIJ name stands for 'Made in Japan', but it wasn't just made there, it was also designed in co-operation Murata, which is a well-known local electronics and components manufacturer, providing parts to clients active in the fields of robotics, communications, automotive, data center, security and space exploration.

It all started out as a research project that was looking at the future of power supply design for the next decade, but it also ended up looking at the past to see how the very best analogue power supplies were designed. These cues, combined with our pursuit of beauty and perfection culminated into the MasterWatt Maker 1200 MIJ.

When it comes to most electronics these days, they're either made in China or Taiwan, with a few exceptions that are usually manufactured either in Korea or Japan. 80 percent of the components used in this power supply are made in Japan. More than 20 pieces of them have even been custom designed by Murata for this PSU, because the common parts available on the supply chain market simply weren't cutting it."
It's almost like they set out to build the ultimate track day car of PSUs, with high-end custom components, and throwing caution to the wind when it came to the price. While this may seem crazy right now, it's pushing the boundaries like this that moves the whole market forward, and you may see the features and performance of this unit filtering down to more consumer-friendly models in a few more years, or maybe a few more again.
"So the MasterWatt Maker 1200 MIJ was built using the highest quality components available, to the standards of some of the most stringent electronics engineers in Japan. Some parts of the PSU use a design where two components were implemented instead of one, to help lower the generated heat and to increase the components' lifespan. Many of these components are rated to work at temperatures of up to 150 °C. Furthermore, this PSU uses a Murata-made planar transformer which is superior to standard transformers due to its longer lifespan. The MasterWatt Maker 1200 MIJ also features several custom designed power conversion circuits and a new circuit board layout that you won't find in any other power supplies on the market today. Part of the reason for this was to allow for the power supply to operate in a fanless mode at up to 50 percent load. A side benefit was that fewer heatsinks had to be used, while temperatures are still being maintained at a lower level than competing products with heatsinks.

After finally passing Murata's extremely stringent quality tests, the object of our collaboration reached an efficiency level that surpassed 80+ Titanium. The MIJ runs so efficiently, it's current so smooth and stable, its temperatures are so low, that we needed new standards to measure them.

This is a one of a kind product using a wide range of custom designed components that have never been seen in a consumer level power supply in order to deliver a power supply that will appeal to the most fastidious of users."
Product Features
Designed, made in Japan by Murata Manufacturing Co., Ltd.
Titanium 80+ efficiency
Fanless up to 600w (50% load)
Unique transformer design
80% Japanese components
10-year transferable warranty
Fully modular cabling
Pricing & Availability
The MasterWatt Maker 1200 MIJ will is expected to be available at local retailers in the UK right now for a suggested retail price of £899.99/US$999.
TL;DR – The world's greatest consumer PSU is £900 and it's freaking epic!