Cooler Master Turbine Master Mach 0.8 Fan Review
---
---
---
Andy Ruffell / 11 years ago

With the recent releases of peripherals from Coolermaster, the product I have in front of me today goes back to the company's roots – cooling. The Coolermaster Turbine Master 0.8 is a fan that boasts silence, great cooling and ultra-reliability. Fans are very basic devices that are often overlooked, many OEM fans make a lot of noise but in terms of cooling, they are left wanting. The last thing an enthusiasts needs is a noisy system which runs hot.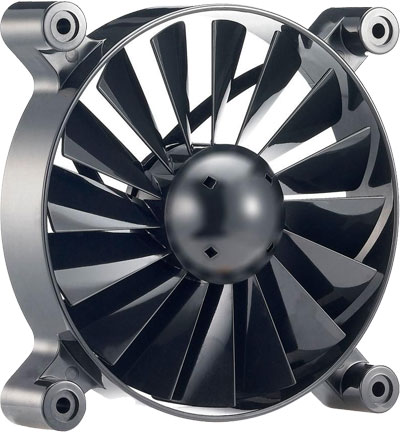 Getting the right fans on your case is as important a decision as buying the case itself. Make the wrong choice and you will struggle keeping temperatures down but the trade-off is often noise, something which Coolermaster hope to eliminate with their new fan range. The one I have my hands on today is the Mach 0.8 which runs with a rotational speed of 800rpm. The other two are the Mach 1.2 and Mach 1,8, no prizes for guessing the rotational speed of those!
Coolermaster often feature here on http://www.eteknix.com/ due to the number of products that they make. They specialise in cases and cooling, but also make peripherals and Power Supply Units. They've been around as long as I've been buying PC parts and have created some lovely pieces of work in the past.
Taken from the Cooler Master website:
The unbreakable rule has now been broken. Cooler Master's Turbine Master is the company's latest 120mm high air flow fan that refutes the standard of "high air flow fan = loud". Modeled after a strong turbine engine, the Turbine Master produces a strong air flow from an ingenious16-blade design and generates unsurpassed airflow combined with a circular semi-frameless design to maximize coverage and reduce noise. The Barometric Ball Bearing (BBB) can be easily removed to provide effortless cleaning and quick maintenance.
Features
[HR][/HR]
The innovative Barometric Ball Bearing technology provides longer life span while remaining lower noise level
Removable blades for quick and easy cleaning
Outstanding 16-blade design covers maximum area to generate striking airflow, even under low speed operation
High airflow design gives excellent chassis ventilation
One-of-a-kind turbine shape inspired by a powerful turbine engine
Specifications
[HR][/HR]