Cooler Master V8 CPU Cooler Review
---
---
---
Andy Ruffell / 12 years ago

Cooler Master are a brand that we are very familiar with at eTeknix and have always been a company that we have focussed on to see what they come up with in the future. Whilst the future is bright, we can't but help look back at the past at a slightly older product, though even as it's not the newest swanky thing on the market, it still holds its own by offering an amazing cooling product at a low price, especially when compared to its rivals.

We can only be talking about the much talked about Cooler Master V8, which gets its name and styling from the famous engine, without all the noise that a V8 engine is famous for. It incorporates a large heatsink design with a fan sandwiched between it and is suitable for the latest and greatest CPU sockets on the market. For complete control over the CPU cooler an included PWM fan control gives complete silence when needed and extreme cooling if that's your bag.

Based on the awards this cooler has obtained, it seems to live up to all of the hype above but how do we get on with it after we've looked at the likes of the Noctua NH-C14 mammoth cooler. Will we be let down or pleasantly surprised?

Start your engines!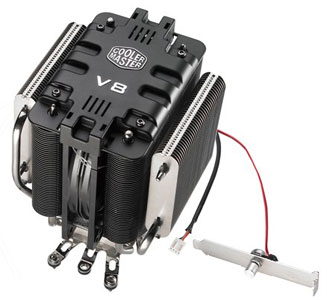 Specifications
[TABLE=class: grid, width: 100%]
[TR]
[TD]CPU Socket[/TD]
[TD]Intel Socket:*
LGA1366 / LGA1156 / LGA1155 / LGA775 *
AMD Socket:
AM3 / AM2+ / AM2[/TD]
[/TR]
[TR]
[TD]CPU Support[/TD]
[TD]Intel:
Core™ i7 Extreme / Core™ i7 / Core™ i5 / Core™ i3 / Core™2 Extreme / Core™2 Quad / Core™2 Duo / Pentium / Celeron
AMD:
Phenom™ II X4 / Phenom™ II X3 / Phenom™ II X2 / Phenom™ X4 / Phenom™ X3 / Athlon™ II X4 / Athlon™ II X3 / Athlon™ II X2 / Athlon™ X2 / Athlon™ / Sempron™[/TD]
[/TR]
[TR]
[TD]Dimensions[/TD]
[TD]120 x 128 x 161.1mm[/TD]
[/TR]
[TR]
[TD]Weight[/TD]
[TD]865g[/TD]
[/TR]
[TR]
[TD]Heat Sink Dimensions[/TD]
[TD]120 x 120 x 158mm[/TD]
[/TR]
[TR]
[TD]Heat Sink Material[/TD]
[TD]Copper Base / Aluminum Fins / 8 Heat Pipes[/TD]
[/TR]
[TR]
[TD]Heat Pipes Dimensions[/TD]
[TD]ø6mm[/TD]
[/TR]
[TR]
[TD]Fan Dimension (W / H / D)[/TD]
[TD]120 x 120 x 25mm[/TD]
[/TR]
[TR]
[TD]Fan Speed[/TD]
[TD]800 – 1800RPM[/TD]
[/TR]
[TR]
[TD]Fan Airflow[/TD]
[TD]69.69CFM[/TD]
[/TR]
[TR]
[TD]Air pressure (mmH2O)[/TD]
[TD]2.94mm H2O[/TD]
[/TR]
[TR]
[TD]Bearing Type[/TD]
[TD]Rifle Bearing[/TD]
[/TR]
[TR]
[TD]Fan Life Expectancy[/TD]
[TD]40,000hrs[/TD]
[/TR]
[TR]
[TD]Fan Noise Level (dB-A)[/TD]
[TD]17 – 21 dBA[/TD]
[/TR]
[TR]
[TD]Fan Speed Adjustment[/TD]
[TD]Install on PCI Slot[/TD]
[/TR]
[TR]
[TD]Connector[/TD]
[TD]4-pin[/TD]
[/TR]
[TR]
[TD]Fan Control[/TD]
[TD]PWM + VR Controller[/TD]
[/TR]
[TR]
[TD]Rated Voltage[/TD]
[TD]12V[/TD]
[/TR]
[TR]
[TD]Start Voltage[/TD]
[TD]7V[/TD]
[/TR]
[TR]
[TD]Operating Voltage[/TD]
[TD]10.38V – 13.2V[/TD]
[/TR]
[TR]
[TD]Rated Current[/TD]
[TD]0.12A[/TD]
[/TR]
[TR]
[TD]Input Power[/TD]
[TD]1.44W[/TD]
[/TR]
[TR]
[TD]Note[/TD]
[TD]* Supplied accessories may differ by country or area. Please check with your local distributor for further details.[/TD]
[/TR]
[/TABLE]