Cooler Master's All-Copper MasterLiquid Maker 240 Arriving 2018
---
---
---
Ron Perillo / 3 years ago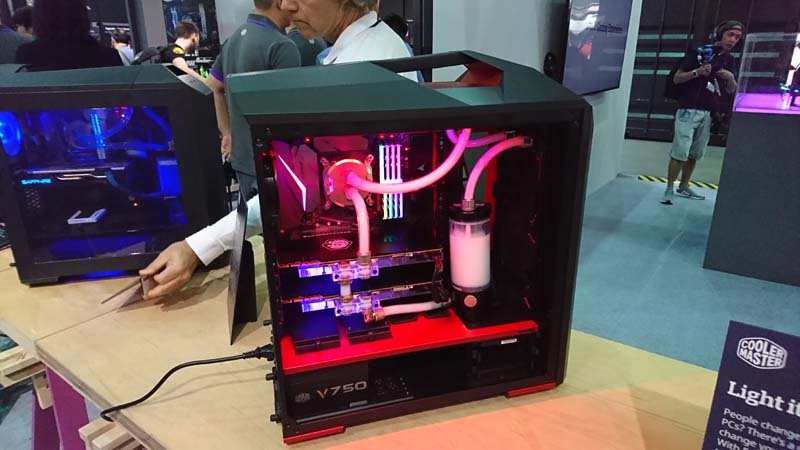 Cooler Master has been working on their MasterLiquid Maker 240 liquid cooling kit for a while. They even had several systems on display at Computex 2017 sporting the custom cooler. However, according to PCGames-Hardware, these will not hit the market until February 2018. That is a long time but it most likely is because of all the testing. Much of it is necessary to ensure the product is working properly before it hits the market. Unlike other coolers, this kit is a DIY (do-it-yourself) kit. That means there will be so many variations, which means there are many things that can go wrong as well. So it is actually a good thing that Cooler Master is taking their time before rushing it to market.
The MasterLiquid Maker 240 DIY kit will include 1.2 meters of hose and coolant, however users would have to put it together themselves. What sets it apart from other mainstream manufacturers offering custom cooling is the use of copper. Not just on the block, but on the fittings and radiator as well. Mixing metals is not a good idea with custom loops, so it makes sense to have an all copper setup. The downside is that it costs a lot more than an aluminium loop.
Pricing Information
Since Cooler Master opted to use all copper, unlike other manufacturers who use aluminium to produce cheap parts. Expect the pricing to be on par with other premium cooling solutions. In fact, the current target price is $399, but the street price could still change closer to the launch date. That price is actually pretty decent considering you get a 200ml pump-reservoir and a pair of RGB LED fans as well.