Coolermaster HAF Stacker 935, 315R & 315F Review
---
---
---
Peter Donnell / 9 years ago
Introduction
---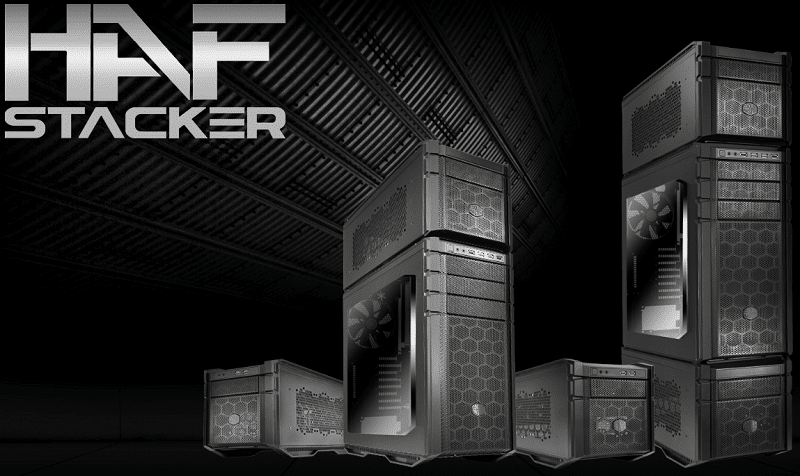 When it comes to big chassis, we have products like the 900D, Xigamtek Elysium, Antec Nineteen Hundred and more, but they're all little runts compared to what we have in the eTeknix office today. The Coolermaster HAF Stacker may not be the biggest chassis we've ever seen, but with just a simple screw driver it has the potential to be as big, bold and over the top as you like! A blend of full tower and mini-ITX chassis products that are modular beyond all belief, allowing you to bolt them together, link up cables, components, cooling and more between them to create one or more systems work together like never before.
The HAF Stacker is a beast, it is obviously a big case and with the epic size comes an equally epic price tag. The HAF 935 is a 2-in-1 boxed product, coming with the full tower and one of the mini-ITX modules (915F), this will set you back around £160. In addition to this you can buy the mini-ITX modules separate. We have the HAF 915F at our disposal today today which is an extra £68, but can also be bought for the same price in HAF 915R format, the difference being that the F has a front mounted PSU, the R is mounted in the back and we'll explain why later. So in the eTeknix office we have the HAF 935 + 915R, that's one full tower and two mini-ITX modules. Total retail price for this will be £228, which obviously puts the HAF Stacker out of the reach of your average consumer, but if it wasn't immediately apparent that this is ultra-high-end enthusiast grade hardware, then you've clearly never heard of the HAF Stacker before.
The modular nature of the chassis products I have at my disposal means I can build a system that's nearly 5ft tall, containing 3 motherboards, 3 power supplies, in fact it can simply fit three full systems! Or of course you can build one colossal, Godzilla crushing mega-rig, like none that have gone before it. Of course doing such a thing would require a gargantuan amount of components and of course a LOT of money to do something like this justice, I would love to do it, but this isn't a build-log, this is a chassis review (sorry). I will however do as much as I can with this chassis and what we really want to look at is the build quality, feature set and really get in there and take a look at just how crazy you have to be to even attempt a build in a chassis of this size.
As you can see from the specification list below, there isn't really much of anything that the HAF Stackers cannot do, component compatibility is as high as it gets and big radiators, huge racks of storage, dual socket motherboard, multiple motherboards, large PSU's, super sized GPU's and lots of them, it doesn't matter what you want to put in here, it will fit.

Big products come in big boxes, the box features the same design we've come to expect from the top Cooler Master ranges and has a nice image of the HAF Stacker chassis on each side of the box.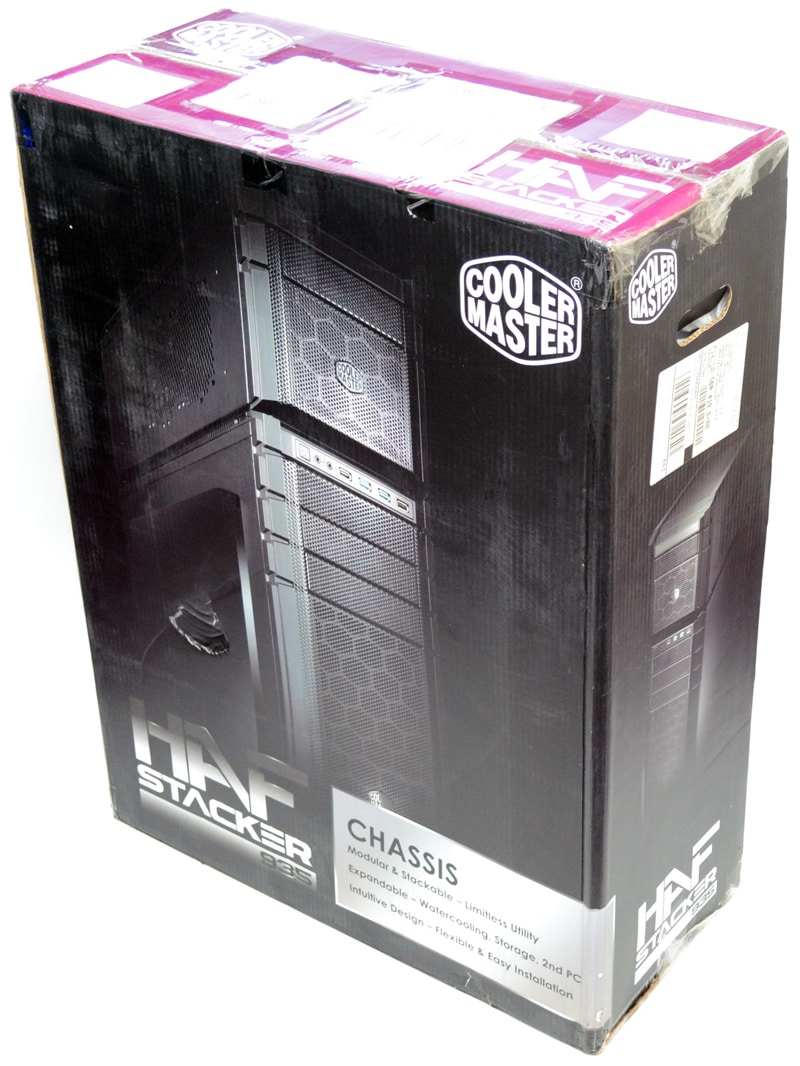 Around the back we have a diagram that details many of the major features such as the dust filters, fan mounts, hard drive support etc.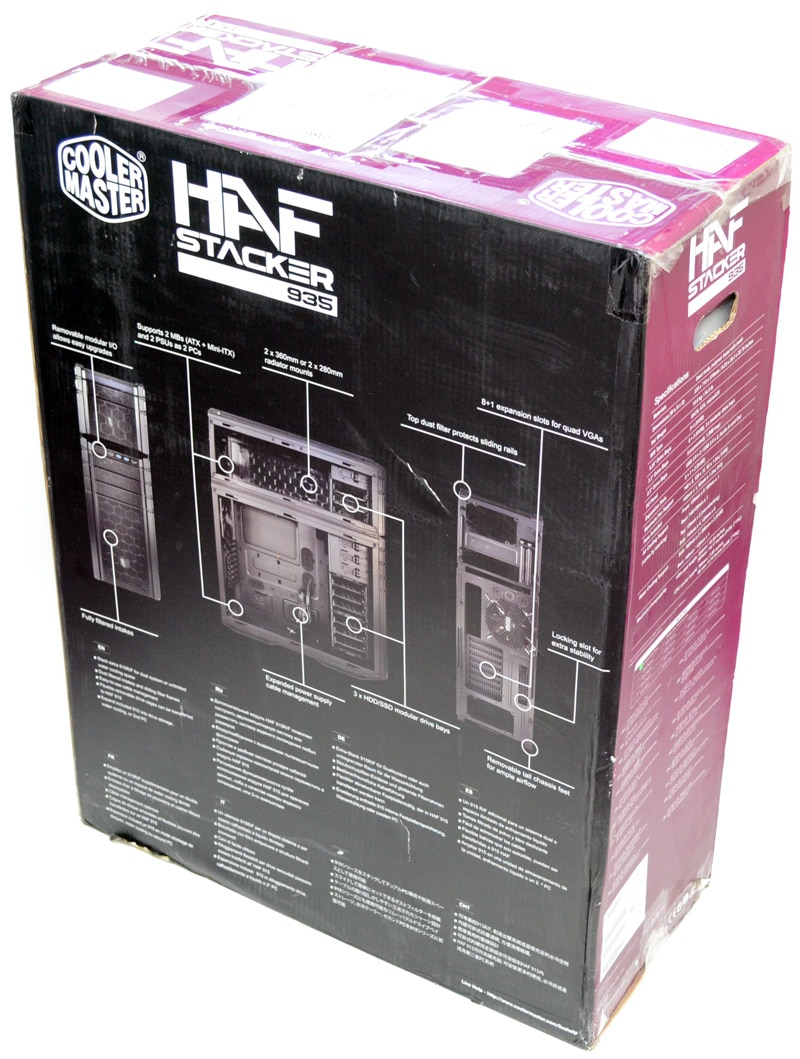 A much smaller package for the HAF 915, although this is certainly the longest mini-ITX chassis I've ever seen!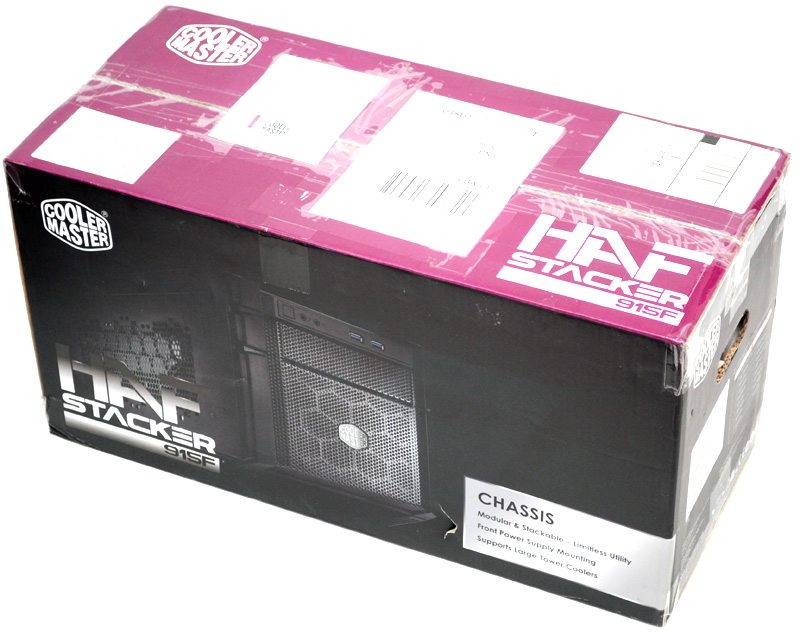 Again more specifications around the back, but lets skip right to it and take a closer look at what's in the box.