Corsair Carbide Quiet 600Q Chassis Review
---
---
---
Peter Donnell / 8 years ago
Introduction
---
Corsair may have been a little quiet in terms of chassis releases recently, but it's because they've been busy cooking up something big! Their new chassis, the Corsair Carbide 600Q is designed for high-end systems and comes packed full of features that are sure to put a smile on any system builders face. With a focus on compatibility for high-end components, which are often quite large, without making a compromise on style or acoustic performance; we're eager to take a closer look at what the latest from Corsair has to offer.
There are two models available for the new 600 chassis, a windowed model, and a quiet model. We have the quiet model at our disposal today, which comes with solid side panels that are lined with noise dampening materials. It's certainly nice to have a choice between showing off your rig and that extra bit of silence, which one is best suited for your build is really a personal choice. For the most part, however, the quiet version is all but the same, with the exception of the right side panel.
Equipped with an inverted ATX layout, a great solution to allow direct airflow across you hardware, especially your graphics cards. There's a good range of fan mounts for both 120mm and 140mm spacings, as well as a three-speed integrated fan controller, allowing you to further tune the systems cooling performance and acoustics. Of course, you'll also find plenty of room for water cooling hardware, a good amount of storage drives, an ATX motherboard, long graphics cards and more!
Two 140mm fans come pre-installed, but you'll also find a most welcome bonus fan for those who feel their system needs that extra bit of airflow.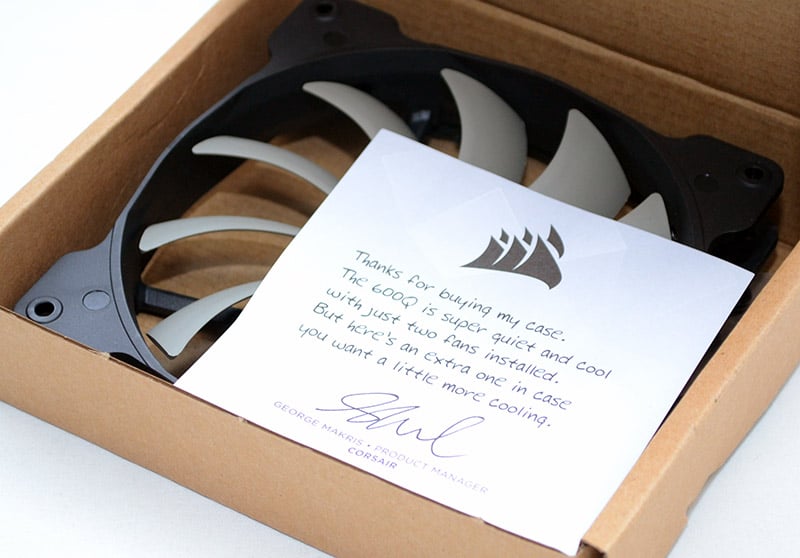 Down the left side, you'll find little to see, as the chassis has a fairly minimalist and monolithic design. Blank panels or not, the finish is quite nice and the stealthy black paint job gives off a nice premium quality vibe.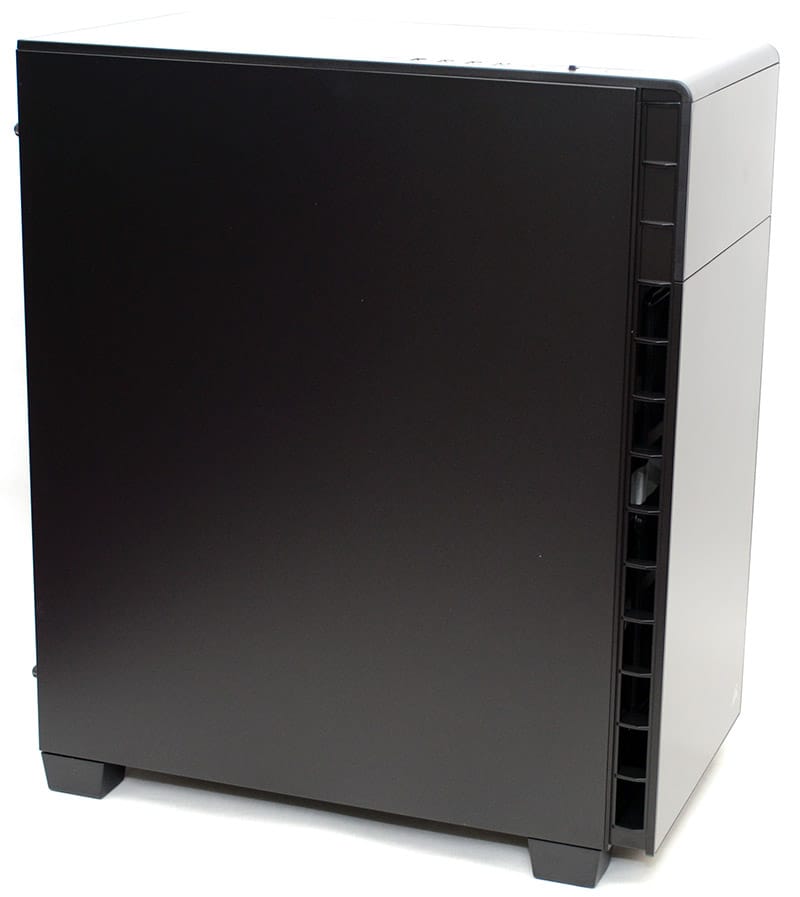 Another sturdy panel on the right side. Both left and right side panels are held in place by a pair of easy access thumb screws. Down the sides of the front panel, you'll notice some rather large openings, which allow airflow to the front mounted fans; don't worry, there is an air filter in there too.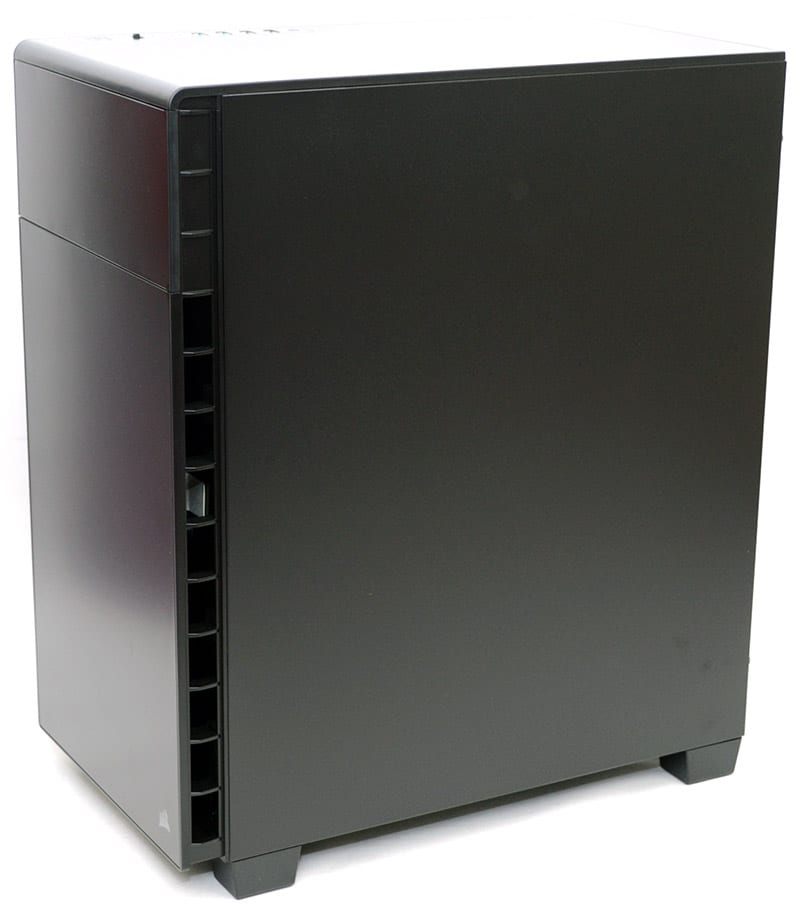 The front panel shows you just how wide this chassis is; it almost looks wide enough to be a dual-chamber design! There's a door at the top half of the chassis, hiding the 5.25″ drive bays and keeping it looking nice and sleek.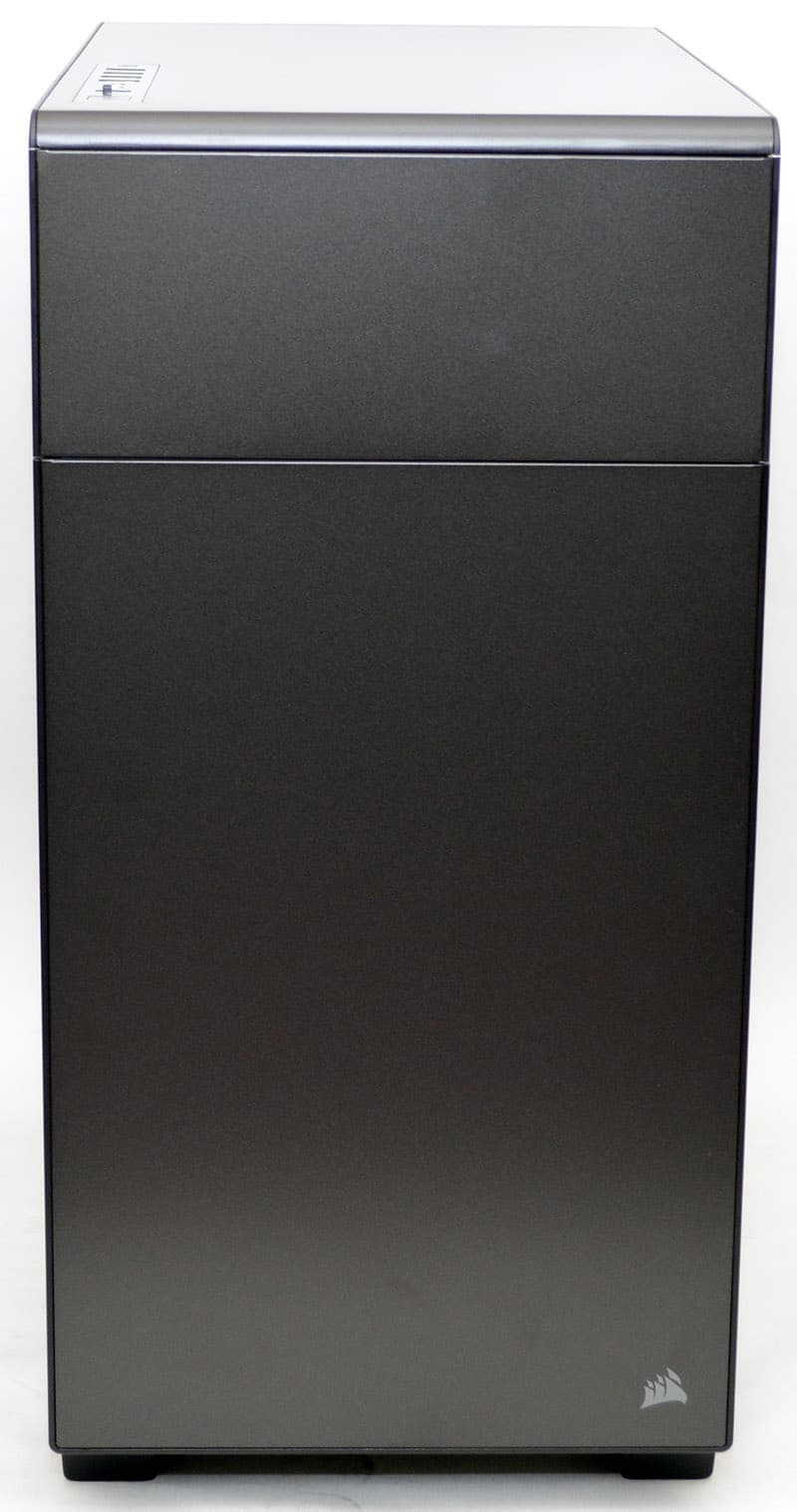 There's little detail on the front, but the panels are very nicely finished, with a stealthy and almost metallic look to them, as well as a tiny Corsair logo in the corner being the only on-show branding for the whole chassis.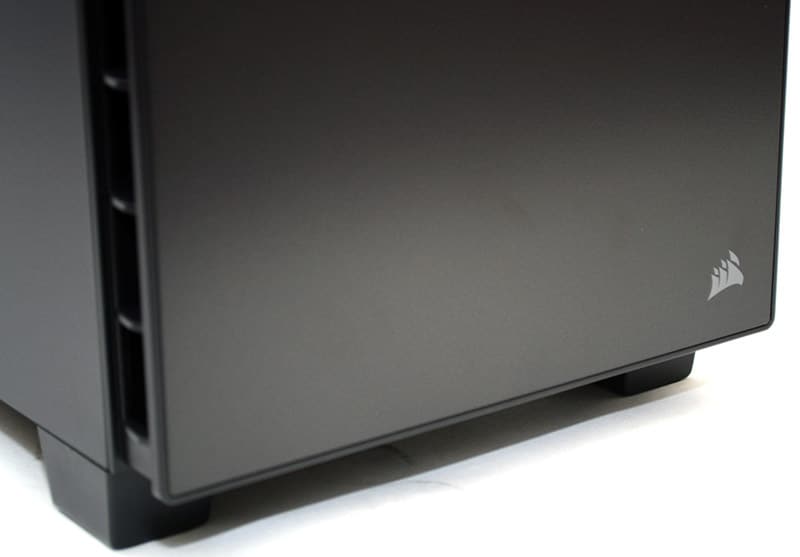 Behind the front panel door, you'll find a nice layer of sound dampening material, which continues down the entire front panel, but can also be found on both side panels of the quiet model. There are 5.25″ drive bay covers here, perfect for optical drives, card readers and more.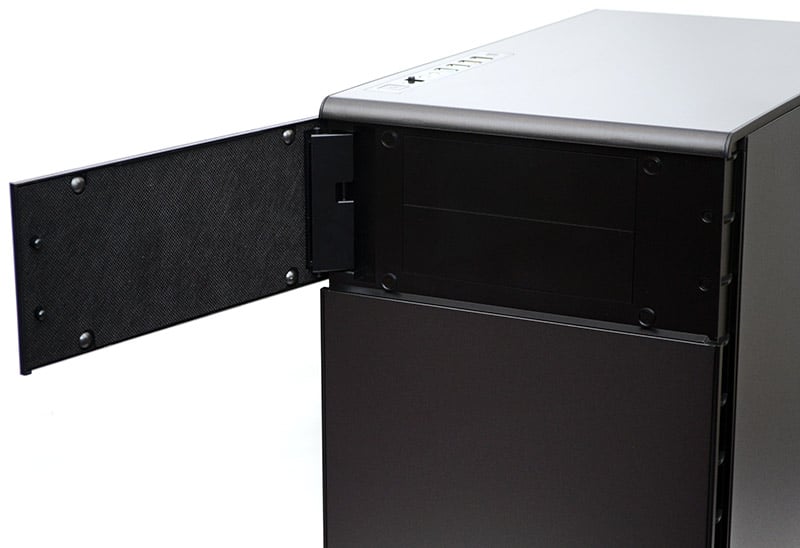 Around the back we have an even clearer view of just how wide this chassis is, and it's the first indication we've had of the inverted design, with the PSU mounted at the top and the motherboard flipped around and at the bottom.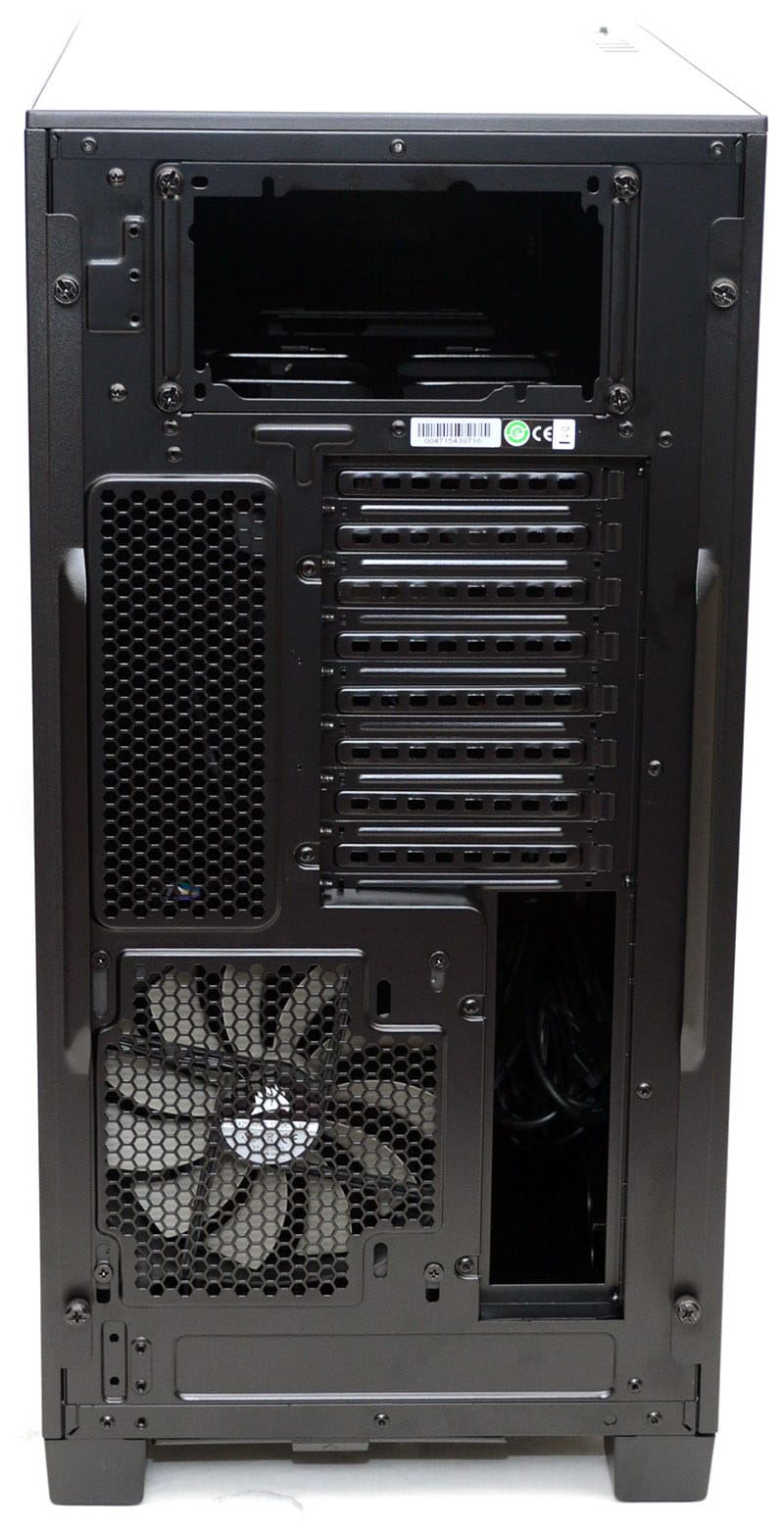 There's a removable bracket at the back to aid with mounting your PSU, although in most cases it can also be loaded through the side panel.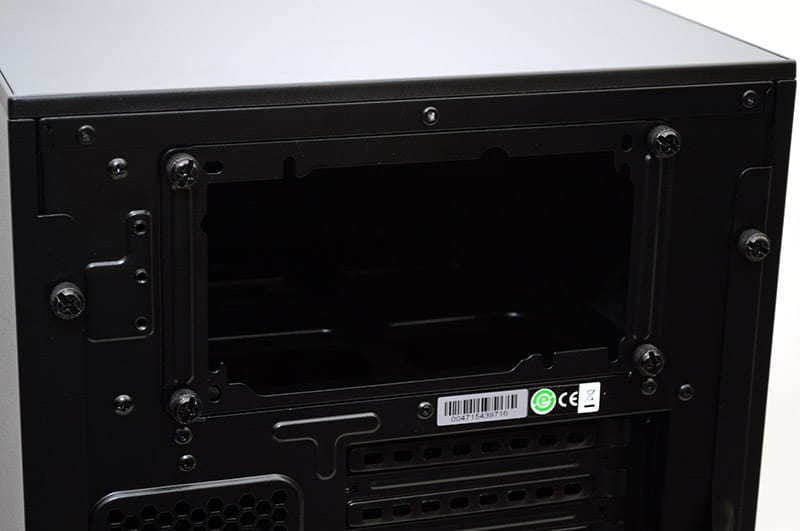 A pre-installed 140mm fan at the base, although there are optional mounts for a 120mm fan if you need them.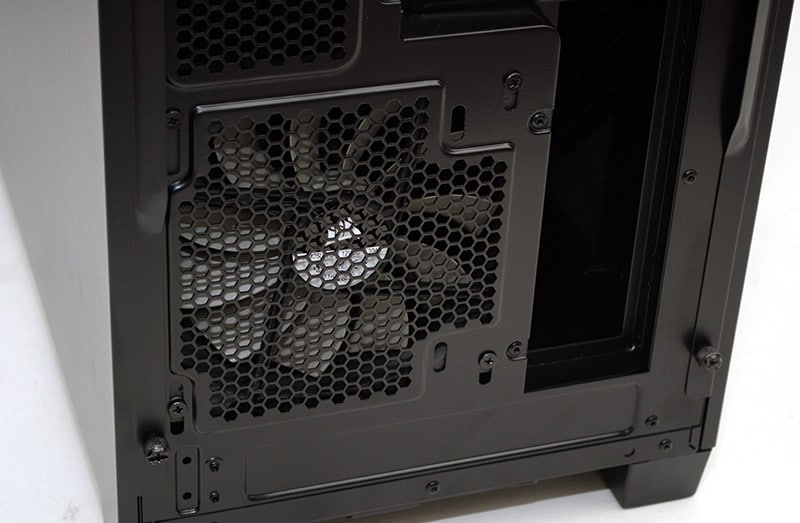 The top panel is just as bold as the rest of the chassis, with the exception of the small I/O panel running down the left side.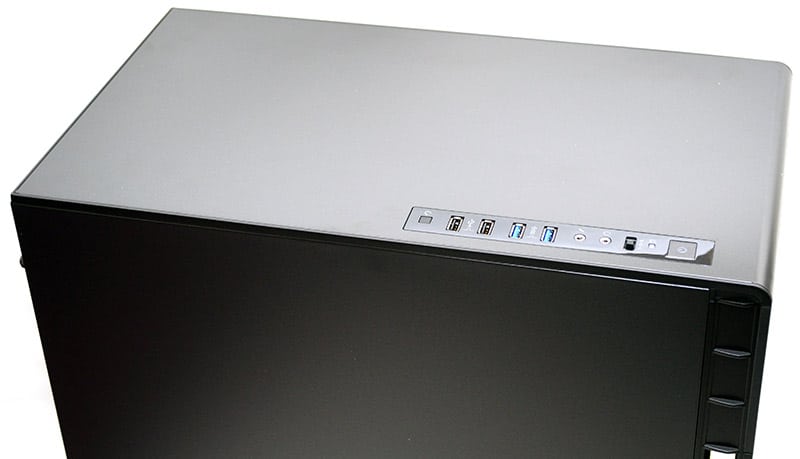 All the usual functions are here and self-explanatory, as well as a small mechanical switch for the three-speed fan controller.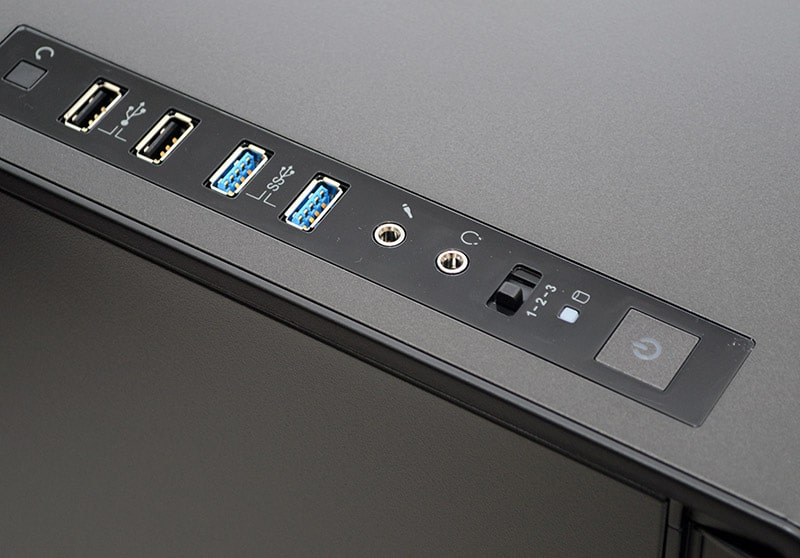 The tall and wide chassis is given extra stability from four thick and rather durable feet, each featuring a thick rubber grip base.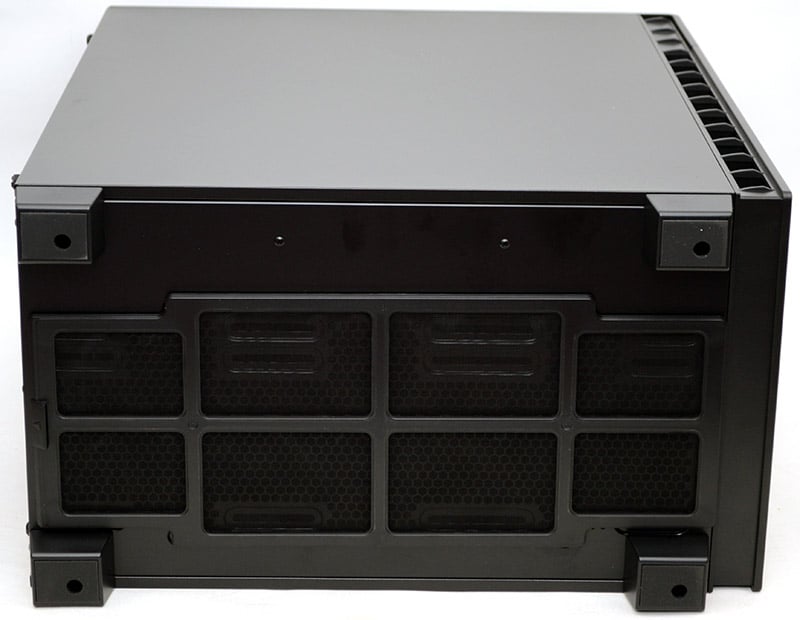 Those large feet provide the 600Q with excellent ground clearance, giving airflow the bottom fan/radiator mounts, which come fitted with a full-length magnetic dust filter.