Corsair H100i and H80i announced
---
---
---
Laurence Howe / 8 years ago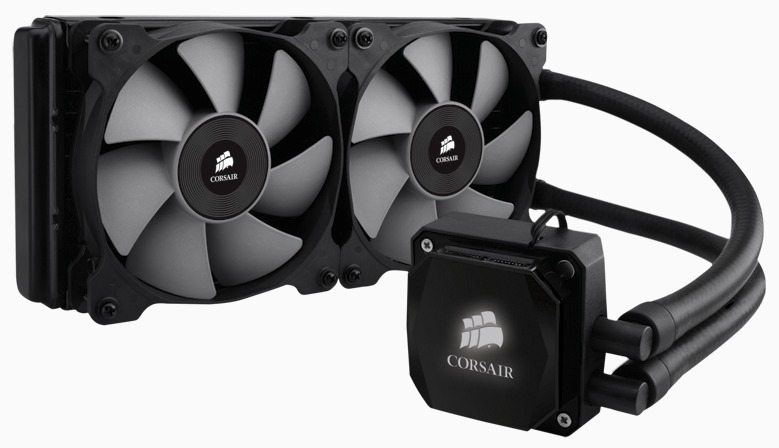 Corsair has announced the Hydro Series H100i and H80i liquid CPU coolers, a ground-up re-design of the the H100 and H80. The new H100i and H80i models have been enhanced to deliver improved cooling, quieter operation, simpler installation, and Corsair Link digital control.
Both the H100i and H80i use new SP120L High Performance fans based on Corsair's static pressure optimized Air Series SP120 fans. The SP120L utilizes wide-body, low-pitch fan blades designed for outstanding static pressure at a lower noise level, and a motor that has been specially tuned for high torque, ensuring consistently high performance when used in high resistance environments such as on a liquid cooling radiator. With the new SP120L fans, noise levels have been reduced significantly.
To improve cooling performance over previous generations, the Hydro Series H100i and H80i coolers use new, more efficient copper cold plates, improved manifolds, optimized fan designs, and larger diameter tubing for increased coolant flow. Corsair's new flagship liquid CPU cooler, the Hydro Series H100i, utilizes a 240 mm radiator for increased surface area and cooling capacity. The Hydro Series H80i uses a double-thick 120 mm radiator and two fans in a 'push-pull' arrangement and is compatible with most enthusiast cases with a 120 mm rear exhaust fan.
"Class-leading performance, and reliable, quiet CPU cooling have made the Hydro Series the most popular and award-winning liquid CPU coolers in the world," said Thi La, Senior VP & GM of Memory and Enthusiast Component Products at Corsair. "The new H100i and H80i coolers demonstrate Corsair's commitment to providing our customers with the latest and best technology, including unparalleled configuration and monitoring, while improving ease-of-use and compatibility."
Source: Pcper