Corsair H60 120mm AIO Liquid CPU Cooler Review
---
---
---
Mike Sanders / 5 years ago
---

Corsair H60 AIO Liquid Cooler
Corsair is one of the best-known brands when it comes to PC parts and peripherals. From keyboards to coolers there's very little they don't have a hand in. While their Hydro series has been around for quite some time, Corsair has steadily over the years been releasing new products in the line finding improvements as and where they can.
When it comes to AIO coolers though, consumers can have a hard time. Often less-expensive (or let's call a spade a spade here, cheap) AIO coolers can be as loud as air coolers. In addition, the performance figures are often no better if worse. The only real selling point they have is that they generally tend to look tidier in system builds and can take up (depending on your radiator size) a lot less room.

At this point, you might be wondering why I'm getting into all this. Well, I actually own an earlier model in this Corsair range, specifically the H55. As such, when I heard I was going to be reviewing the H60 I was very interested in seeing how it performed. Without going into specific details, I was a little disappointed with the H55. Admittedly at the time, I was running an AMD 8350 (which is a notoriously warm processor), but even so, it struggled to keep a reasonable temperature without sounding like it was attempting to take-off.
With Corsair now launching the H60, I was therefore very keen to get this on our testing system to see what improvements have been made. Put simply, this is a chance for Corsair to win me back on-side with their single-radiator coolers.
Features
Supports Intel Socket 1150, 1151, 1155, 1156, 1366, 2011, 2011-3, 2066 and AMD Socket AM2, AM3, AM4, FM1, FM2
Experience lower CPU temperatures with a 120mm high-density slim-radiator for maximum cooling surface area and performance.
Dynamically adjust fan speed with a 120mm Corsair SP Series PWM fan.
White led-lit pump head adds a touch of brilliance to any system build.
Specifications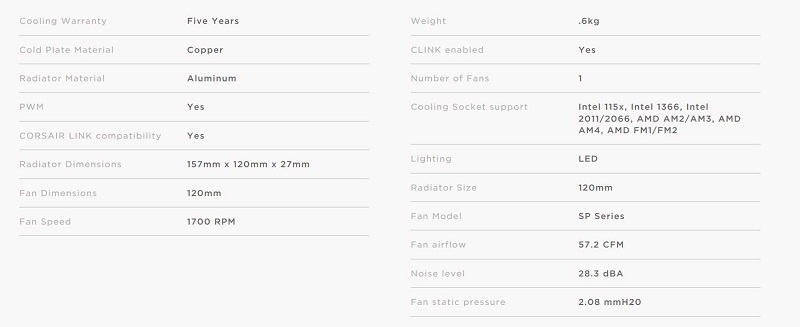 For in-depth specifications, please visit the official Corsair product page here.
What Corsair has to say
"The Hydro Series H60 is an all-in-one liquid CPU cooler with a 120mm radiator built for low-noise liquid CPU cooling and bold styling with a white LED-lit pump head." – Corsair
Packaging and Accessories
In a colour scheme that has become synonymous with Corsair, the packaging is presented as black with yellow highlights. The front of the box makes a nice clear display of the radiator with the fan mounted and in addition, they have also cleverly made sure that the block is on display which just happens to also carry the Corsair logo.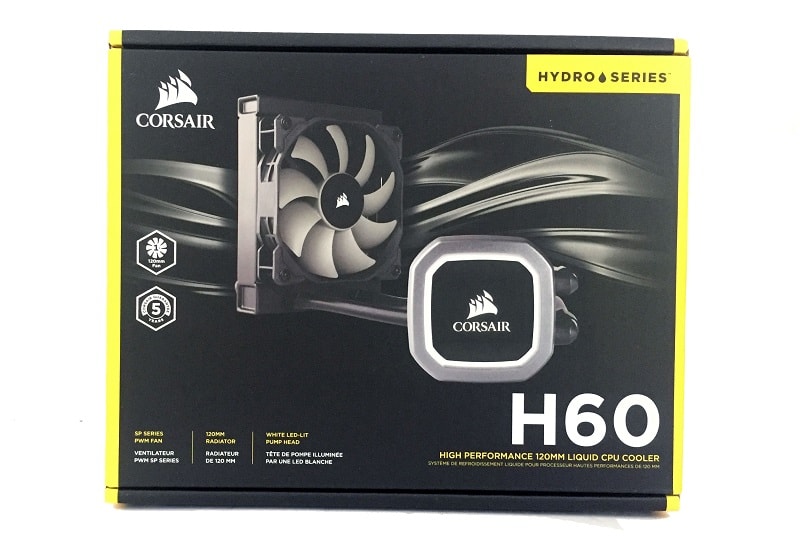 The front and sides are reasonably free from too much information which is nice as it allows you to have a look at the cooler so you can at least decide on an aesthetic level what you think. It is somewhat benign, but the front of the box does show the pump-block lit. Some might mistake that for a design choice to highlight the logo on the picture, but it is genuinely how it looks when turned on.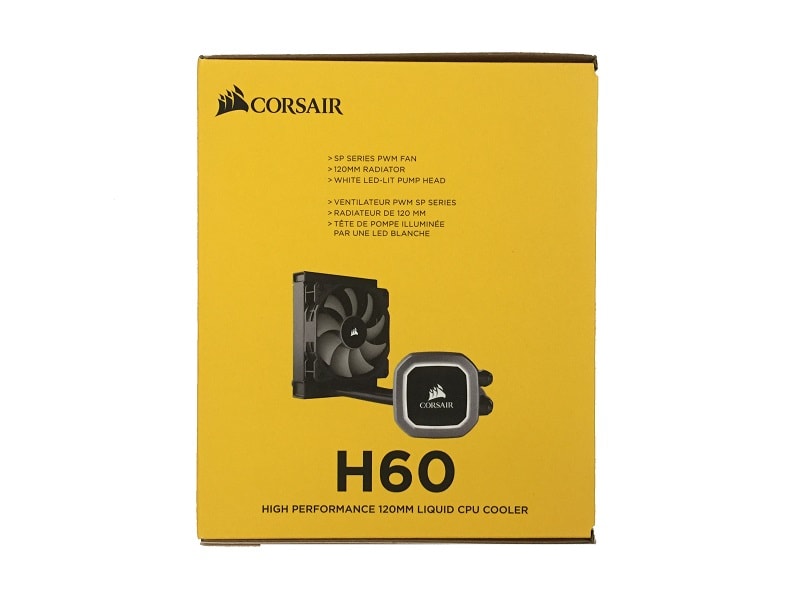 The back and underside of the box, in contrast to the rest, is absolutely flooded with information. This is in no small part to the several languages they have attempted to include. You are, however, given all the information you could want to know and despite it looking rather intimidating, it is actually fairly easy reading. The information includes; fan specification, product dimensions, socket support, anticipated noise levels and other minor details.
Inside the box!
This isn't a particularly large cooler and as such the boxing is quite straightforward. Inside you will find the radiator and block (as you would expect from an AIO product), the Corsair 120mm fan, a manual and the socket and fixtures. It is a little disappointing that the latter are all kept in the same bag rather than separated and, with no disrespect to Corsair, the packaging inside is a little on the cheap side. The only way I can describe the interior packaging is that it's made from the same material they use for egg cartons. Which might actually have some logical sense to it after all.