Corsair HX1500i Platinum Power Supply Review
---
---
---
Mike Sanders / 3 months ago
A Closer Look
Out of the box, the Corsair HX1500i is certainly an imposing beast. While 1500 watts is a hell of a lot of power, this certainly has the stature and weight to back it up. In terms of initial impressions though, it's actually more than a little pleasing to the eye. Yes, despite effectively being a big black brick, Corsair has added more than a few aesthetic touches to make this interesting, and, dare I say, appealing!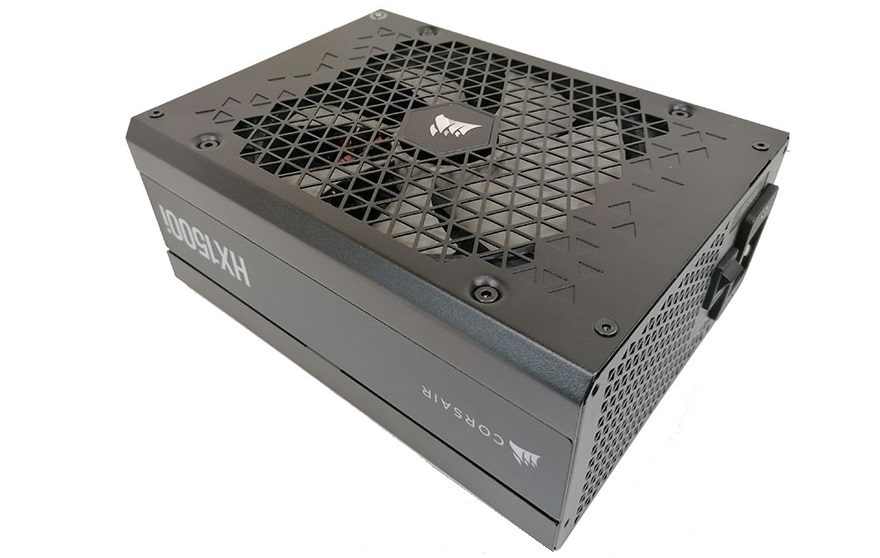 In terms of aesthetics, the main action happens on top of the PSU in the fan area. Offering an attractive pattern embossed into the metal and a nice large open vented section for the airflow, for as minimalist as it is, it's genuinely quite attractive to look at. – While there is, of course, branding to the side (which is unfortunately in stickers and not embossed) it pulls together nicely to create a professional but appealing visual style.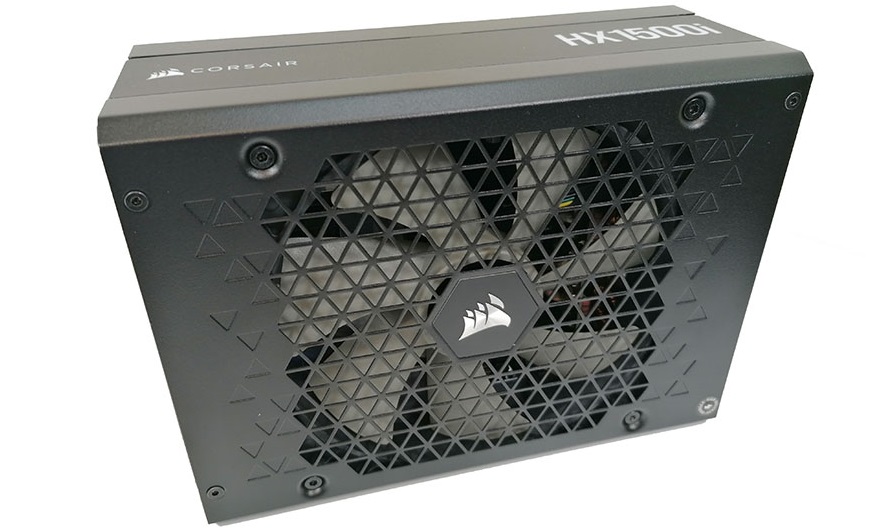 The first impression you take from the cable port bank is that this is absolutely crammed full of power connection options. Outside of some absolutely insane ultra-high-end PSU models, I don't think I've ever seen one that offered this many connections before. Put simply, you're not going to have any problems here successfully connecting all of your components!
Despite being so busy, however, cable insertion and removal is surprisingly quite easy thanks to each of the ports being as well spaced out as they possibly can be.
You'll also note a USB-C port. Through this (connecting a supplied USB header) you can modify the fan operational speed/curve through Corsair's i-Cue software. A handy little feature, but one that probably only the enthusiast user will really want to poke around with.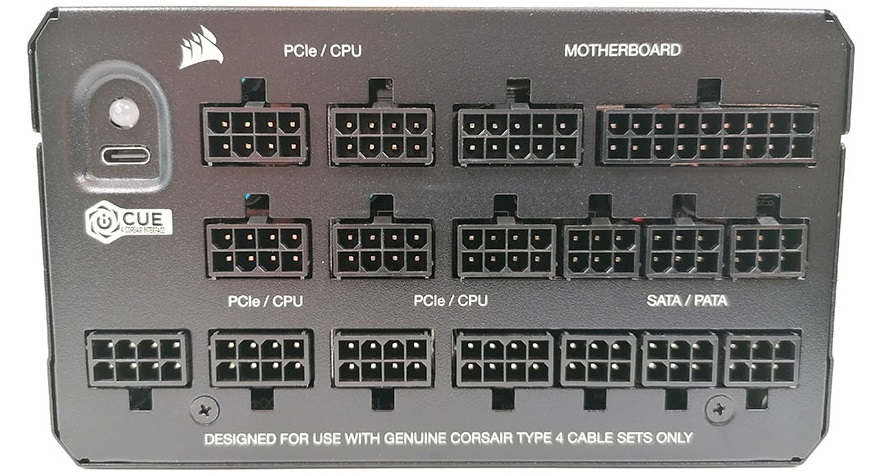 The exhaust panel to the Corsair HX1500i offers plenty of ventilation which should, all going well, help promote the built-in passive aspects of this PSUs cooling operation. – Nope, no 'ZERO RPM' functionality here with Corsair taking the (in my opinion far more sensible option) of just letting the pre-set configuration handle cooling while offering additional support (if needed) via their i-CUE software.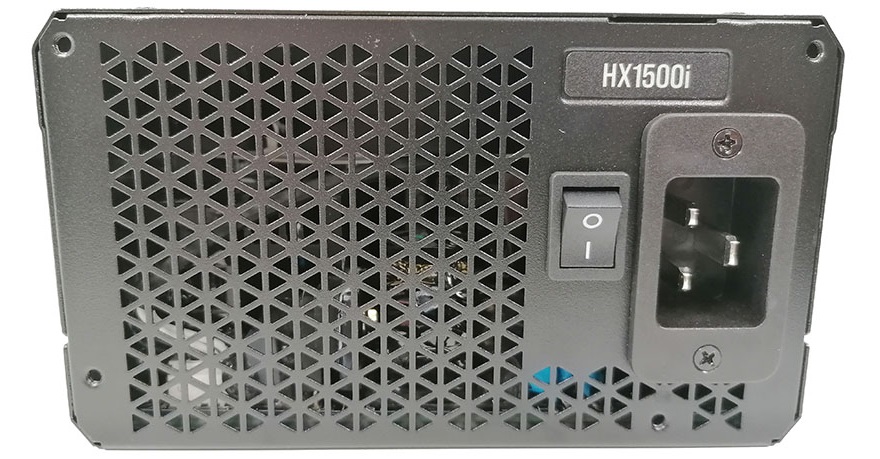 As you might expect, the technical data and specifications are listed at the bottom of the PSU. Coming in a sticker that takes up just half of the overall height of the PSU, however, this isn't overly imposing so, for as legally required as this info is to be on the power supply, it's done in a smart way to make it as subtle and unobtrusive as possible.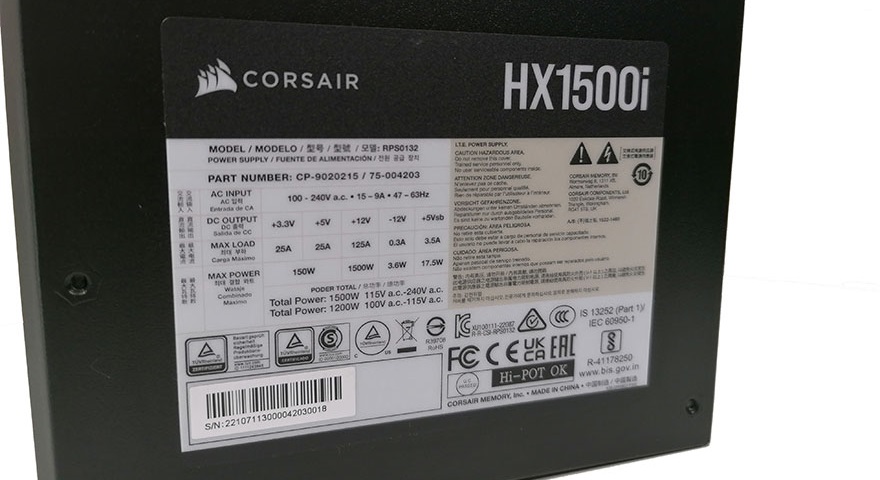 For as chunky as the Corsair HX1500i is, I'm impressed that they found a way to still make this (somehow) visually appealing. On the outside, this looks excellent and certainly seems to suggest that this has plenty to offer in terms of performance (which we will, of course, be checking out later in this review).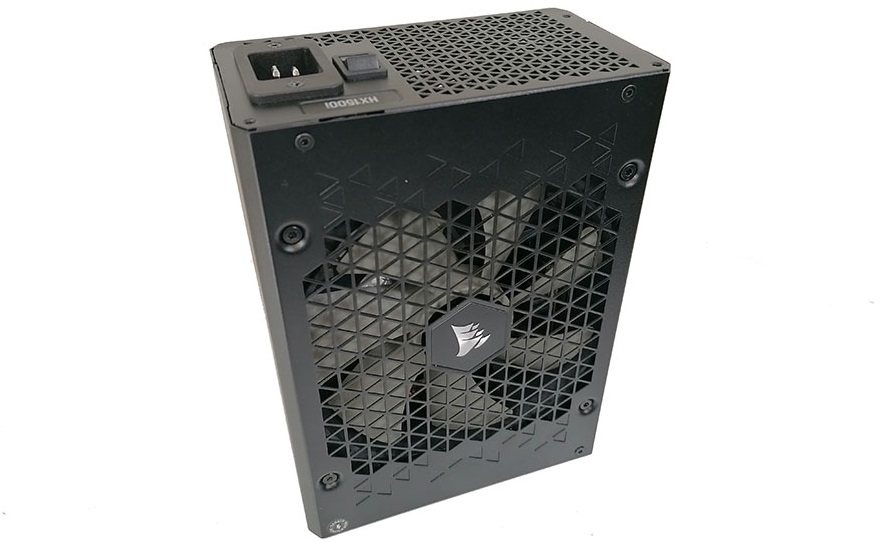 Cabling
As noted earlier, it's admittedly a little disappointing that you're not provided with a canvas bag to keep the cables you don't need in. On the plus side though, the interior card packaging has an allocated space for this meaning that, while you have the inconvenience of the space the entire box will take up, you at least have somewhere to put the spares.
In regards to the cables themselves, each is clearly labelled to denote its use, and, in terms of length, they're more than generous to ensure that even those of you with particularly big cases shouldn't have any excuses for sloppy management. – While the protective covering isn't the thickest we have ever encountered, it should still be more than adequate while clearly offering you the perk of having good levels of flexibility.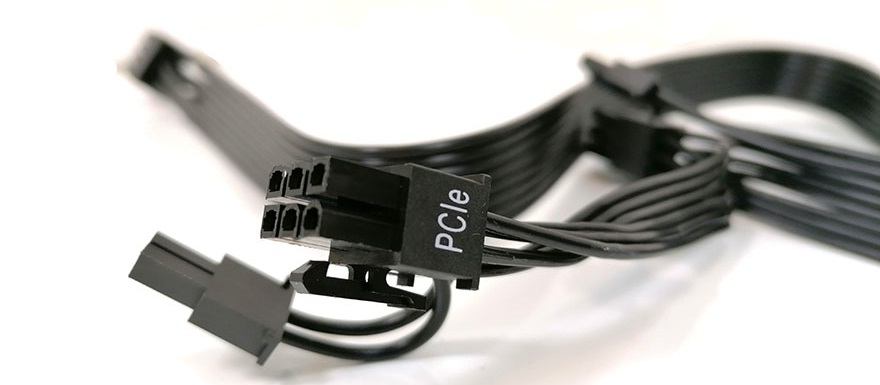 Internals – A Look Inside!
After opening up the Corsair HX1500i, the initial impressions are excellent with a clean and tidy design. Yes, this is a big power supply, but it provides a lot of power and seeing this coordinated so sleekly inside is impressive.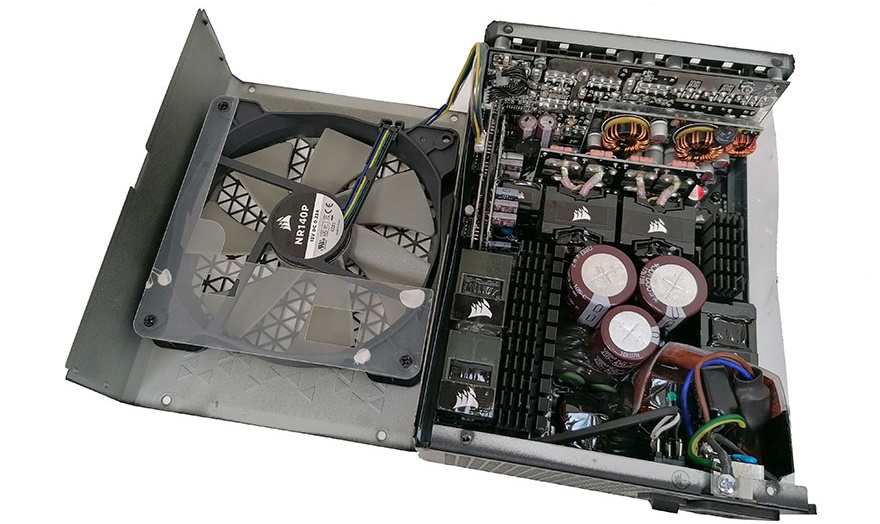 The fan is a Corsair designed 140mm NR140P. While I don't think I've encountered this particular model before, it is always reassuring to see a manufacturer actually produce their own cooling solutions for power supply models. Yes, it might seem an incidental factor, but it often means that the fan has been designed, or at least configured, to run as optimally as possible with the PSUs cooling requirements.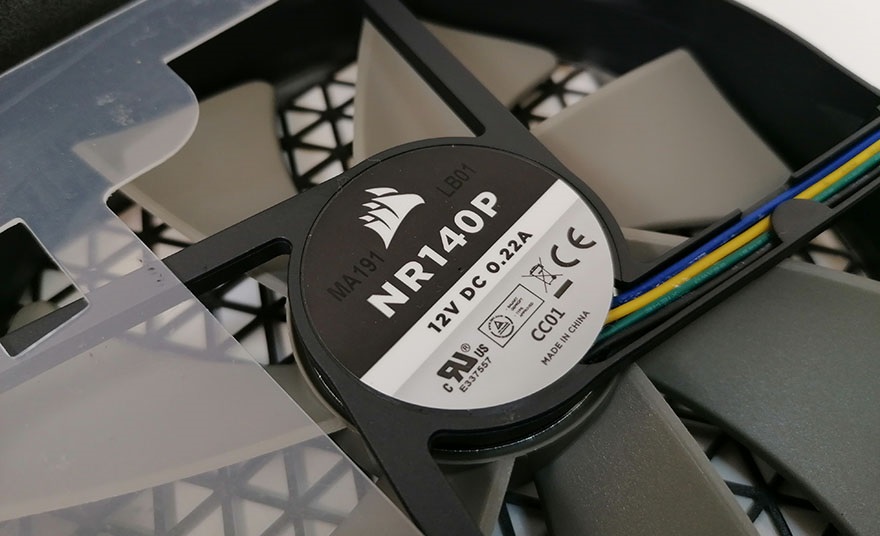 As noted above, the PCB area, while clearly quite busy, still presents itself cleanly. While there are clearly a lot of components (including 3 main capacitors), everything just looks to be both well-spaced and generally well organised. With the 3 capacitors and 2 heatsink banks also sitting plum under the fan (with the logo on the outer case, by design or luck, covering the capacitors from an obvious external view) this should help promote excellent cooling performance in the most important areas.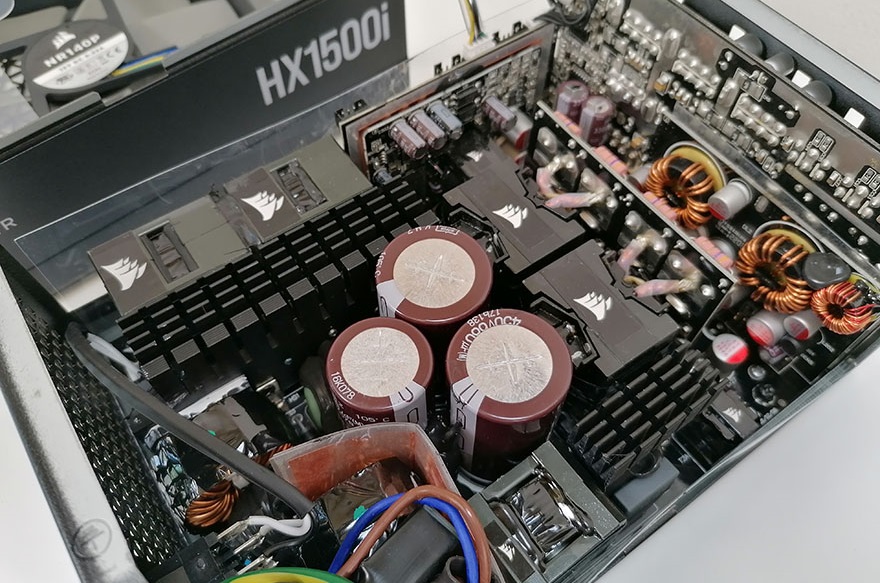 While the PCB is, on the whole, amazingly tidy, there is a small section to the main power input that's a little untidy. Truthfully, it looks like there was a fair bit left to fix here while having the overall problem of running out of real estate space. – Despite this one small aspect, however, the rest of the design and layout is more than a little impressive.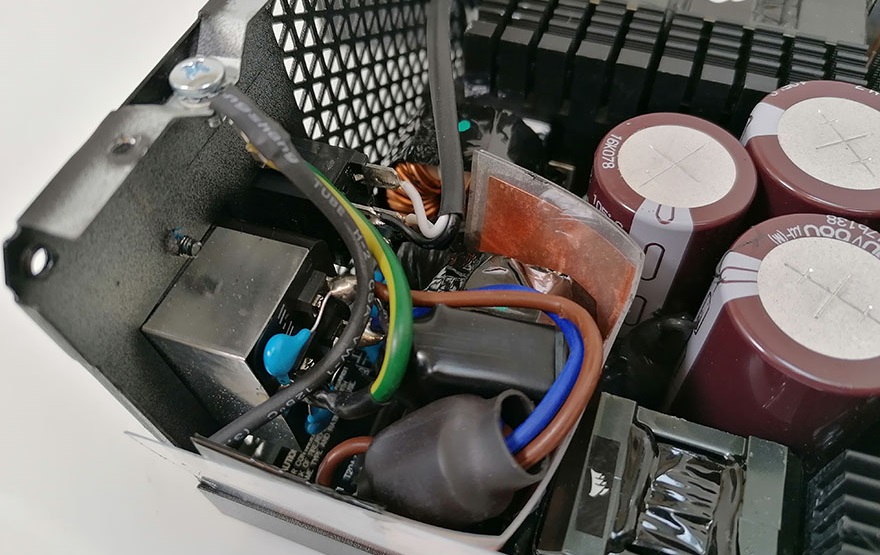 In terms of the capacitors, we can confirm that these are all 100% Japanese coming from the highly-reputable manufacturer 'Nippon Chemi-Con'. Rated to 105C, this is exactly what you want to see inside any quality PSU design and is a pretty solid indicator that, all going well, we're going to shortly see some very impressive test results!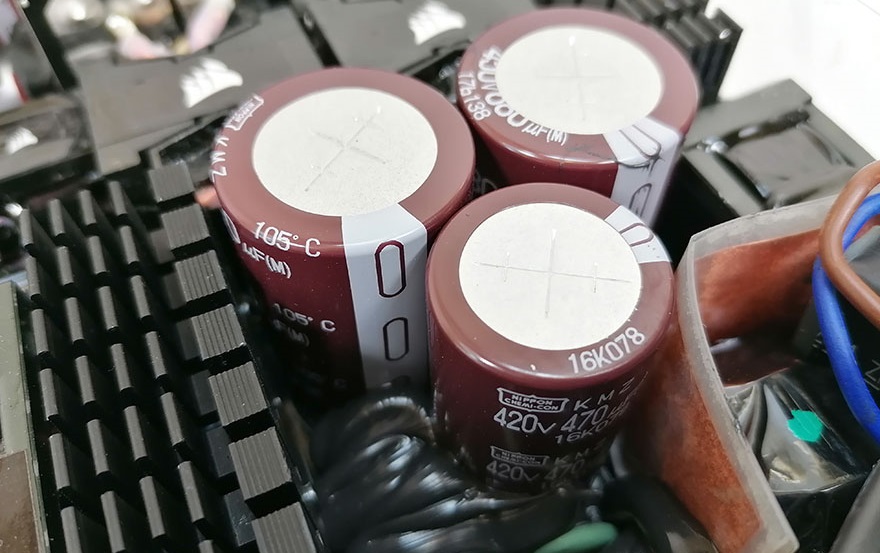 Overall Thoughts!
Both inside and out, the Corsair HX1500i looks like an exceptionally impressive power supply. With 1500 watts of power output, it's clearly designed with more of the high-end or enthusiast level of user in mind. If this is the case, however, then it's clearly set the bar rather high in terms of what kind of performance it should provide.
So, I guess it's time we got this hooked up to our test bench to see what it can do!