Corsair HX750i Fully Modular Platinum Power Supply Review
---
---
---
Peter Donnell / 8 years ago
A Closer Look – Exterior
---
Power Supply Unit
First impressions of the HX750i are very promising, as it feels like a very durable unit, has a good weight to it and even the exterior paint work looks and feels premium. Of course, I'm not overly fussed with how my PSU "feels", but in terms of aesthetics, this one should blend in with most system builds quite nicely. There's a large fan intake on the top, with a stylish metal grille and lines on the chassis to match the grille design, giving it a nice flowing and uniform appearance.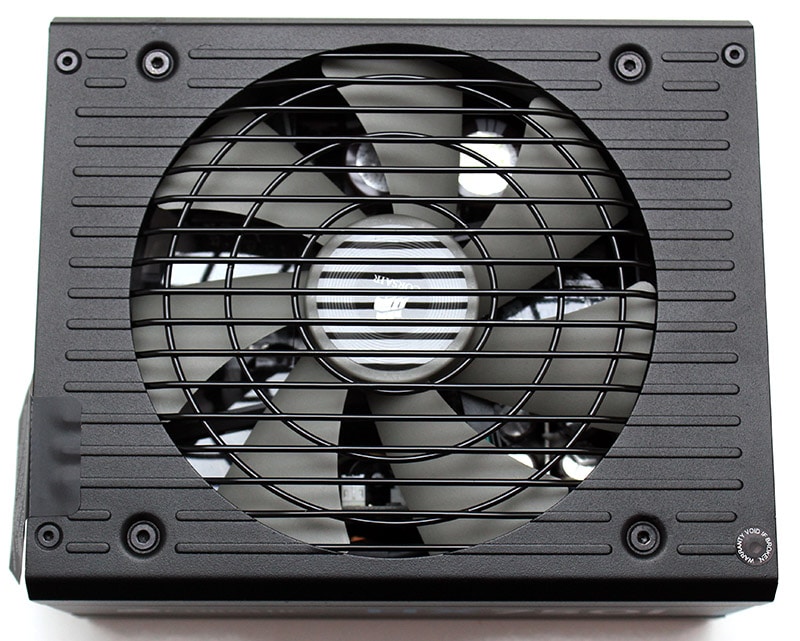 Down the side, nothing overly interesting, just a big sticker with the branding on it.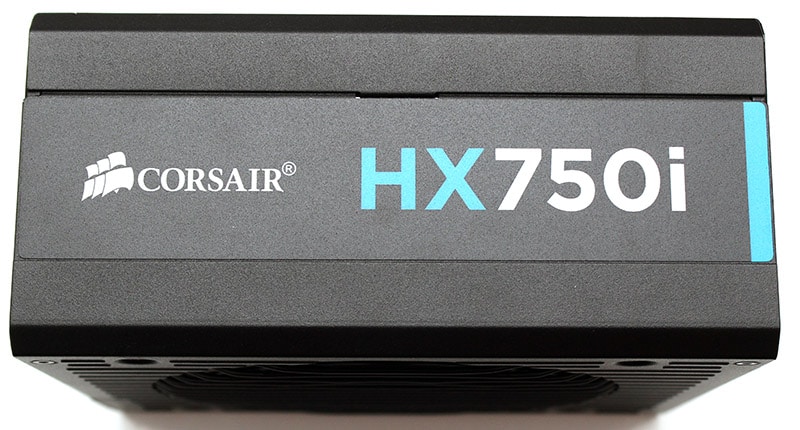 There's a large sticker on the base showing the PSUs ratings. As you can see, we've got a powerful 62.5A +12v rail, perfect for those who need to power high-end hardware. It's also QC passed, that's usually a good start, right?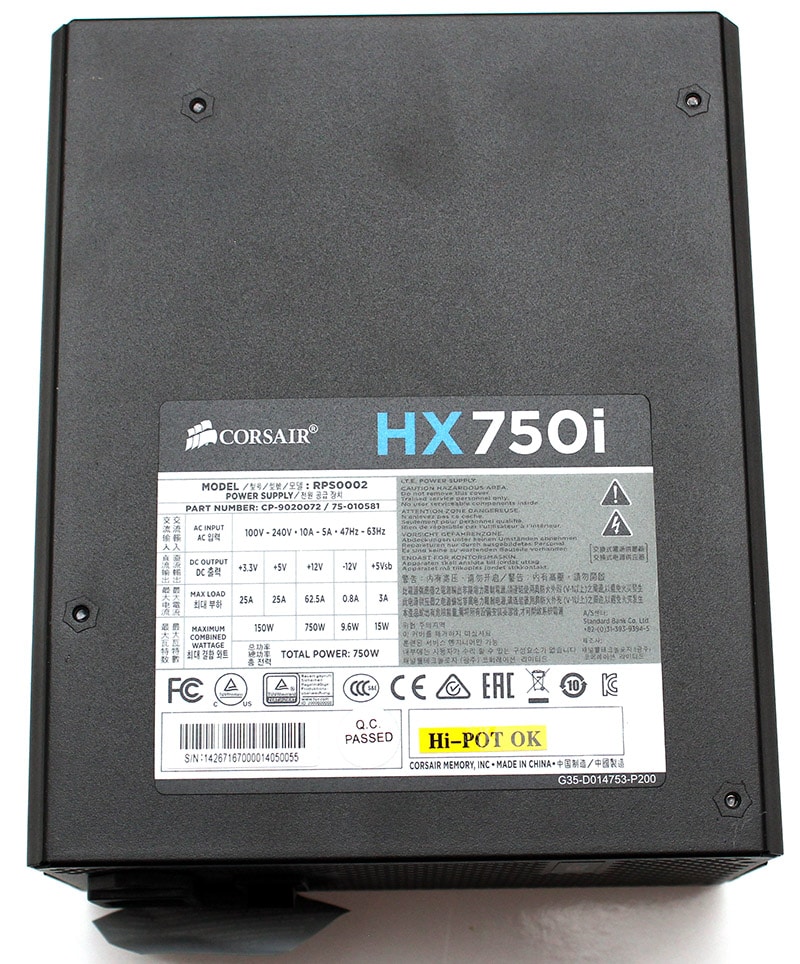 Lots of interesting things going on here! There's Corsair Link on the left, with either the proprietary cable or MicroUSB cable available for this. Honestly, most consumers aren't going to need or want this, but enthusiasts who want to take absolute control over fan profiles and rail voltages will welcome it with open arms. The PSU features a hybrid fan mode, allowing it to run at zero-RPM at low loads, this could mean your fan rarely spins, so if you're worried it has broken, you can press the fan test button to check it. There are five 8-pin connectors, five 6-pin and a split 24-pin ATX connector.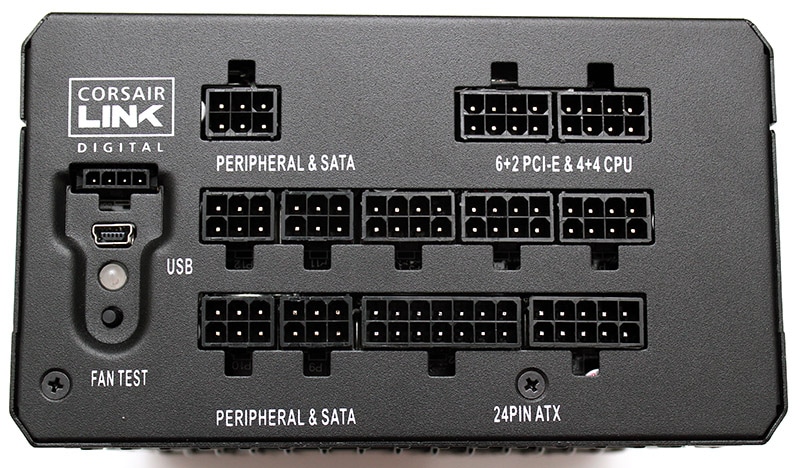 Loads of ventilation around the back, which will no doubt help with the passive fan mode. There's also a sticker here advising you that the fan not spinning may be part of the normal operation of the unit.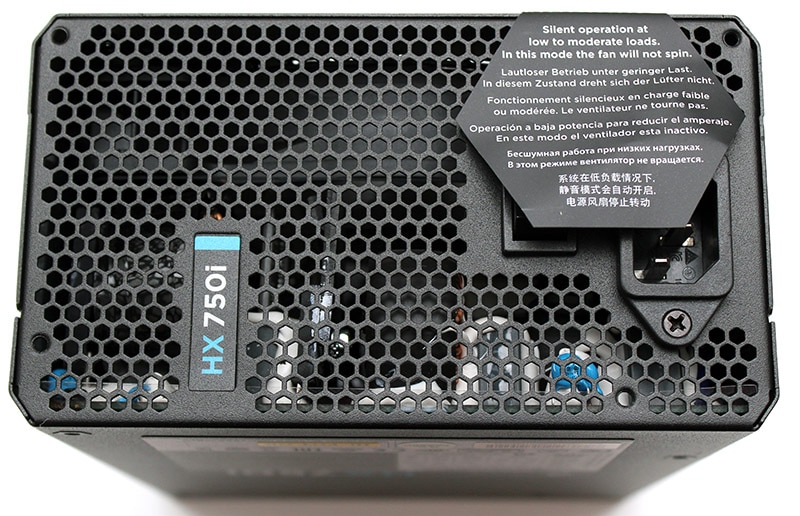 Cabling
All of the included cables are of a very high quality, with black cables and black connectors, giving them a sleek and uniform appearance. Even the 24-pin is flat, which is a bit of a rare thing and this will help greatly with cable routing/management.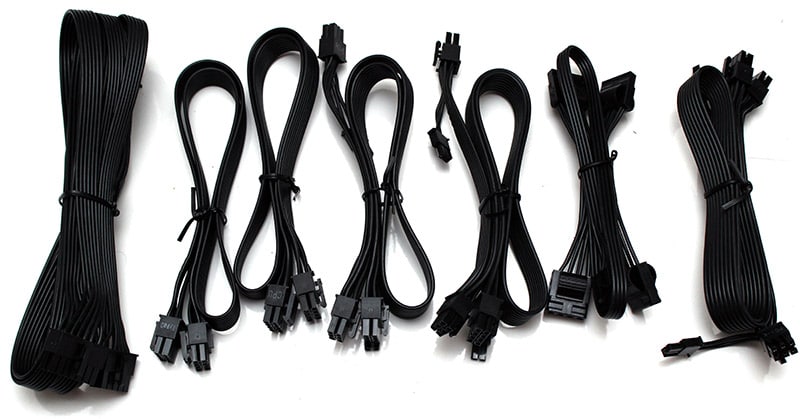 There's even a couple of Molex to floppy adaptors, rather than have them directly on one of the longer cables, which should help keep things neat and tidy for those who don't need the floppy adaptors.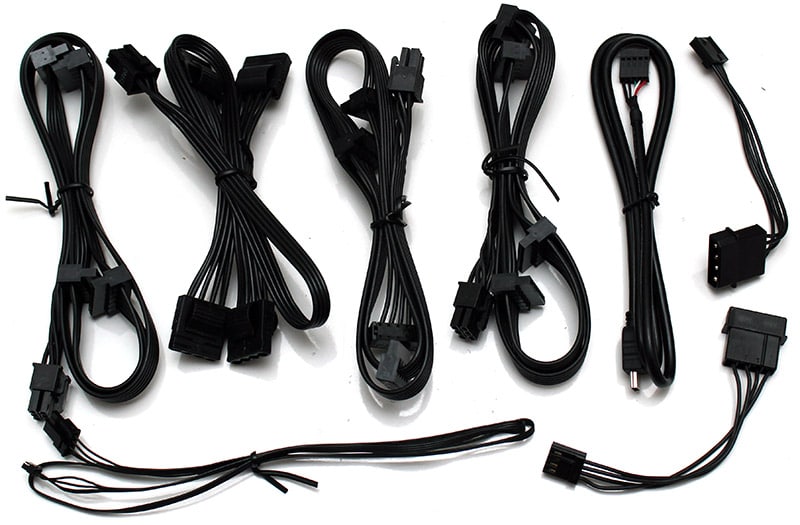 The interior of this PSU has a lot going on, but you can see a lot of care has gone into this CWT manufactured unit, as it's very neat and tidy in here. There's a good amount of space between all major components too, which should help greatly with both the passive cooling and fan assisted cooling of the unit.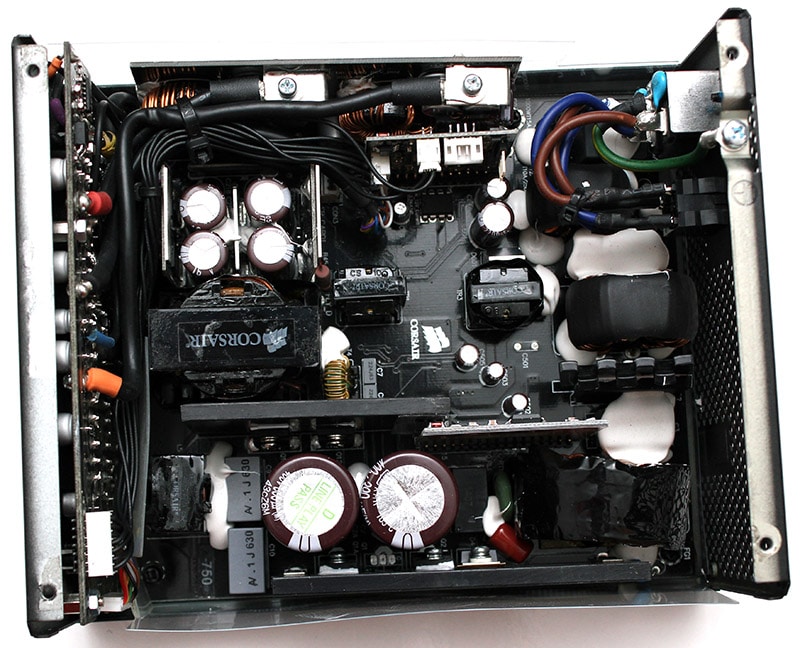 There are two main bulk capacitors, each rated for 400V, 390uF and 105c. It's worth mentioning now, all the capacitors in this unit are high-quality Japanese capacitors, so performance and reliability should be very good overall.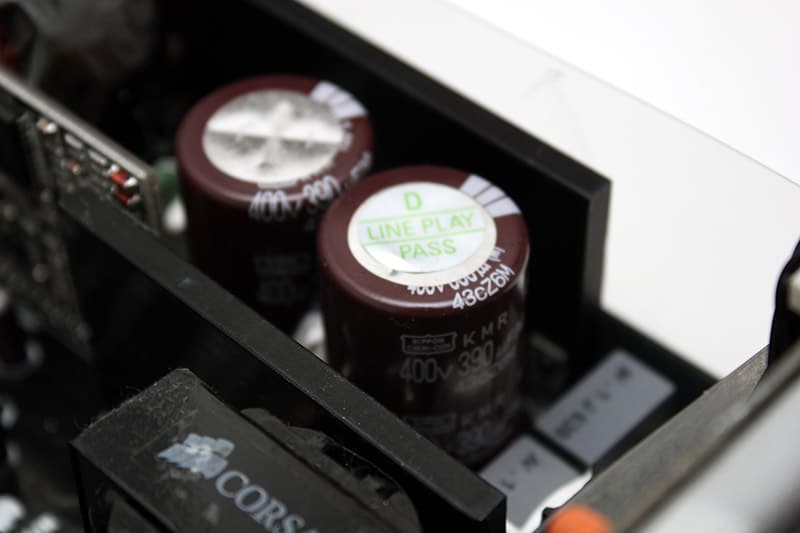 Taken a closer look at any part of this PSU, it quickly becomes apparent that the soldering is superb. I've seen a lot of high-end units that look a little untidy on the PCBs and various connections, but that's simply not the case here. As can be seen on the PCB below, which features the PWM and PFC management hardware.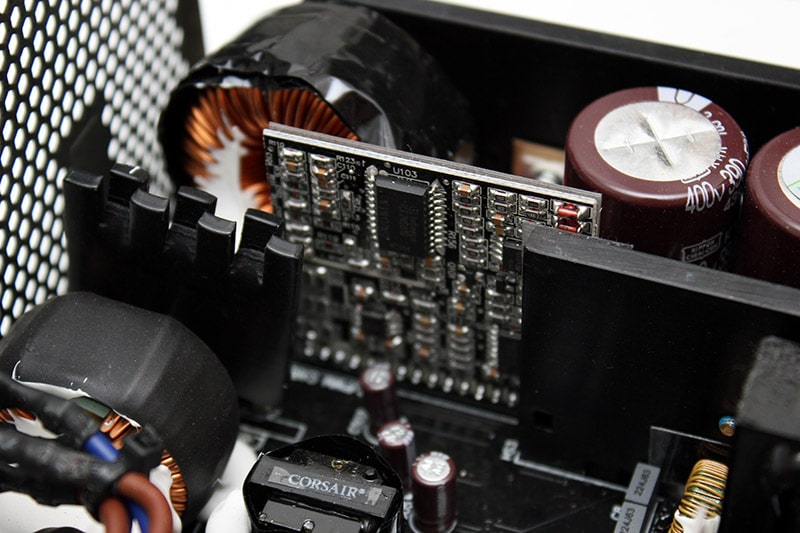 This is the Corsair Link PCB, which features a small processor and a few cable headers that run to the connectors at the back of the unit, as well as one for the fan which we have disconnected.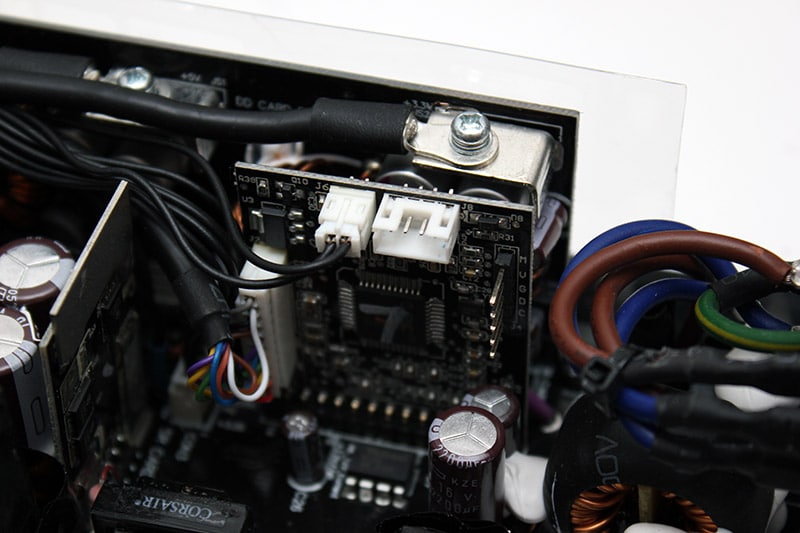 The rear output PCB looks neat and tidy, with thick and shielded cables running to the output connectors.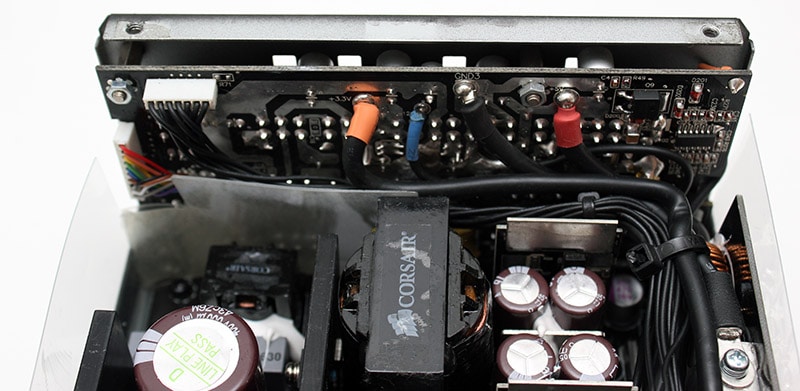 A few extra caps down the front for voltage regulation and power for some of the power voltage rails.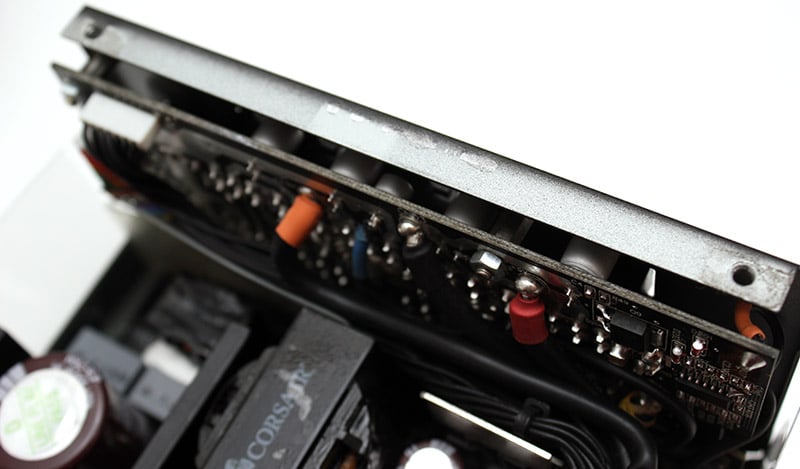 The EM line filtering and AC input at the rear of the unit.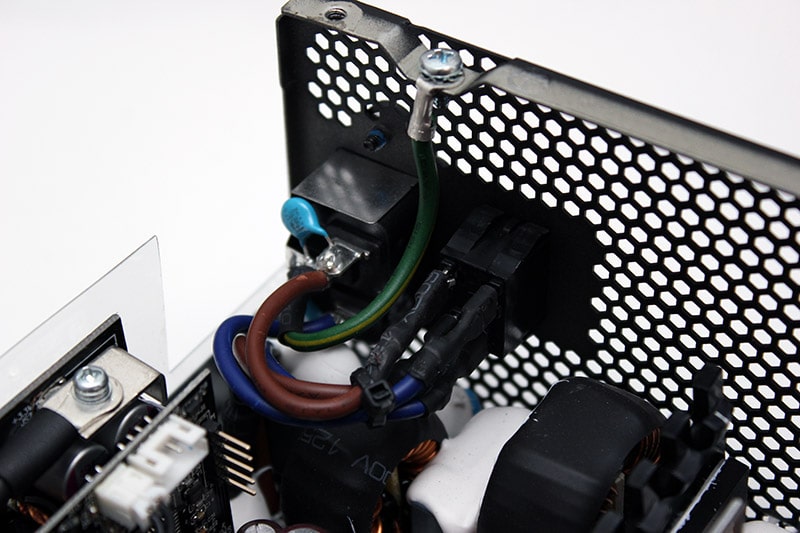 The fan is a Corsair NR135P, which features a fluid dynamic bearing and PWM header, so it should be nice and quiet, even at higher RPM.