Corsair Hydro Series H80 Liquid CPU Cooler Review
---
---
---
Luke Hill / 12 years ago

2008 was the year. Corsair were one of the first brands to release an all-in-one liquid CPU cooler, the Corsair H50. The H50's success was huge, firmly cementing it's place in the enthusiast and mainstream cooling market for years to come. 2 years on and much has changed. Competing brands such as Noctua and Thermalright have released their gargantuan dual tower heatsinks with the primary goal of becoming the CPU cooling king! Antec have also released all-in-one liquid CPU cooler offering in the popular KÜHLER H₂O 620 & 920. Corsair haven't just sat back and watched the competition catch up though! Oh no! They have been working hard to release more all-in-one liquid CPU coolers which can once again boost Corsair back to the top of the pack. Today we will be reviewing the eagerly anticipated and highly discussed Corsair H80 liquid CPU cooler.

The H80 is Corsair's newest and highest end 120mm all-in-one liquid CPU cooler. The "Double-thick" 38mm radiator is tailored to fit perfectly with the dual 120mm fans capable of 2600RPM and 92CFM. Offering a static pressure of 1.6-7.7mm H2O, the all black fans are perfect for shooting air directly through the thick radiator and dense fin array. Corsair offer an amazing 5 year warranty with the H80 thanks to the fact that the "high-quality" FEP tubing ensures minimal coolant evaporation. When using the Corsair link commander, Corsair's all new "Link digital" is available on the H80 allowing you to control multiple cooler operations and settings such as coolant temperature, pump speed and fan speed as well as allowing you the option to customise your performance profiles. The "advanced" cooling block drawing heat away from the processor also guarantees that all of the benefits of the radiator and fans aren't wasted.

On paper and in person, the H80 looks amazing. Can Corsair's latest offering live up to the massive hype surrounding it?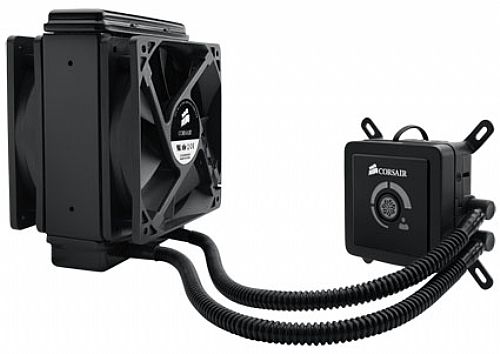 Features:

Advanced cooling block
Double thick (38mm) radiator
Push-pull fans
Push button fan settings
Less strain and clutter on the motherboard
Corsair "Link digital" support
5 year warranty
Specifications:
[TABLE=class: grid]
[TR]
[TD]Radiator dimensions[/TD]
[TD]120mm x 152mm x 38mm[/TD]
[/TR]
[TR]
[TD]Fan dimensions[/TD]
[TD]120mm x 120mm x 25mm (x2)[/TD]
[/TR]
[TR]
[TD]Fan speed[/TD]
[TD]1300-2600 RPM[/TD]
[/TR]
[TR]
[TD]Fan airflow[/TD]
[TD]46-92 CFM[/TD]
[/TR]
[TR]
[TD]Fan noise level[/TD]
[TD]22-39 dbA[/TD]
[/TR]
[TR]
[TD]Fan static pressure[/TD]
[TD]1.6-7.7mm H2O[/TD]
[/TR]
[TR]
[TD]CPU compatibility[/TD]
[TD]AM2/AM3/775/1155/1156/1366/2011[/TD]
[/TR]
[/TABLE]