CORSAIR Launches iCUE Murals Lighting
---
---
---
James Cusworth / 1 month ago
Corsair, one of the world's leading companies producing components for gamers, creators, and PC builders, has introduced its new iCUE Murals Lighting today. A brand new and groundbreaking software for the CORSAIR iCUE that creates a fantastically mesmerizing lighting effect. This new feature enables you to use images/videos as a colourful template to produce imaginative and immersive lightscapes. With Murals, your desktop and room can come alive with this new custom RGB.
What is iCUE Murals?
Murals Lighting is an interactive tool that lets you quickly create custom RGB lighting effects in iCUE like never before. You can upload any image, GIF, or video to Mural and then place your RGB device over it on-screen to create astonishing visuals across your whole gaming/work setup. The Platform is Intuitive, simple to use, and extremely fun to watch as your whole area bursts to life with new effects.
What can you do with iCUE Murals?
Nearly any moving image file format works with Murals, so you can choose your favourite images or videos. Murals can even let you match your on-screen game or media in real-time, you can do anything from Pac-Man pixel art running across your keyboard to animations and audio visualizers vibrating through your PC. Murals really can really let your creativity run wild.
Murals will also let you have the ability to extend your light show beyond your desktop thanks to a partnership with smart lighting ecosystems like Philips Hue and Nanoleaf, you can control your wall with lighting panels, smart light bulbs and much more with iCUE.
What Corsair Had to Say
"We're thrilled to introduce iCUE Murals, a revolutionary leap in full-system interactive lighting control and personalization," from The President and CEO of CORSAIR. "Our team has had a lot of fun with this software, and we have already seen some amazing room lighting setups from our community using Murals in beta. We can't wait to see what both newcomers and experienced users can do with Murals to create their unique lightscape."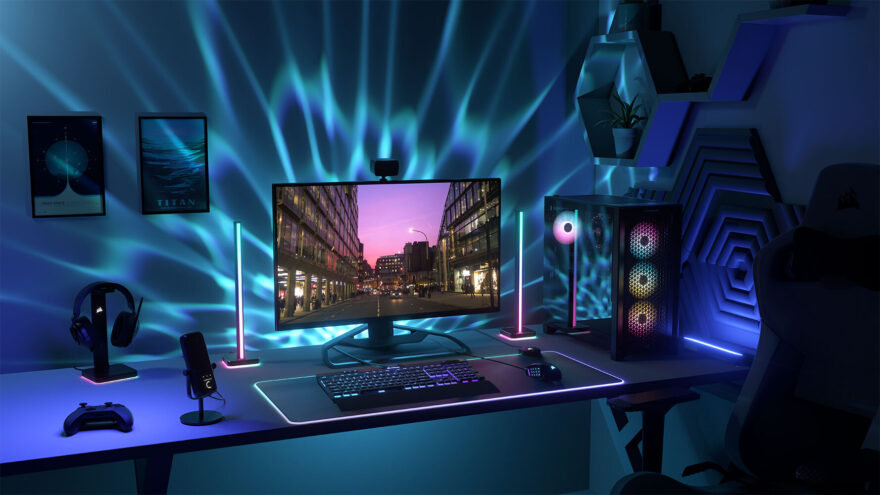 With new limits to your lighting customizations, what will you do with your RGB palette?