Corsair M55 RGB Pro Ambidextrous Gaming Mouse Review
---
---
---
Peter Donnell / 2 years ago
A Closer Look & Performance
The M55 is easily identifiable as a Corsair mouse, or at least it is to me, as I've seen more than a few. It's quite a light mouse, clocking in at just 86g, which is much lighter than it looks. The mouse isn't too big either, and Corsair themselves call it "mid-sized". This means it should be suitable for just about all hand shapes and sizes, even if I do prefer a slightly larger model myself, it's still a good size.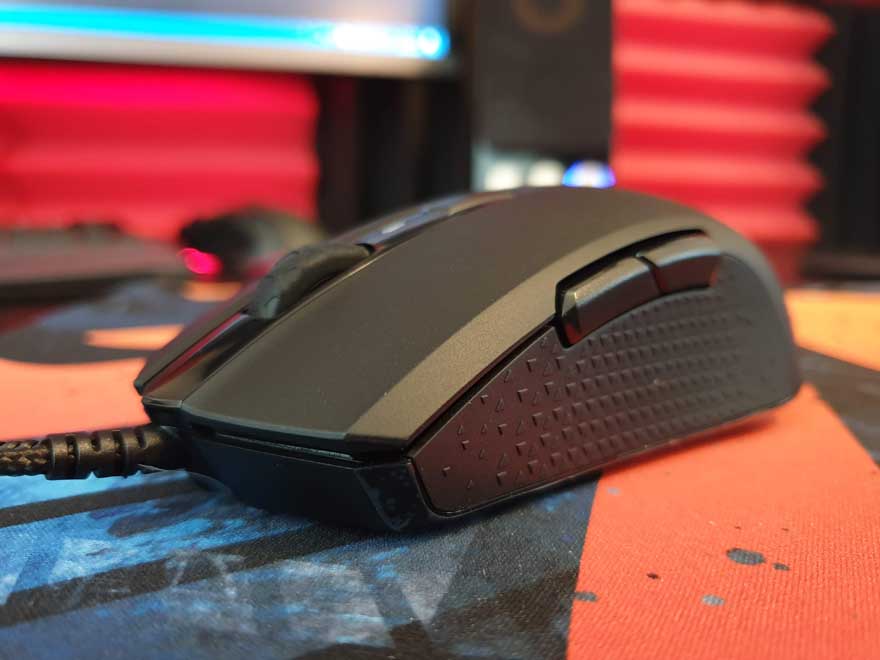 Get a Grip!
Down the left side, you'll find a massive section of soft rubber grip. It's slightly curved here too, so you can really dig your thumb in to get a firm grip. The grip is improved further thanks to a triangle texture pattern that fades out towards the edges. Again, it's the little details that really make this look and feel like a premium product; such as the way the line down the side matches the high-point of the two side buttons. The design just sweeps and flows really nicely.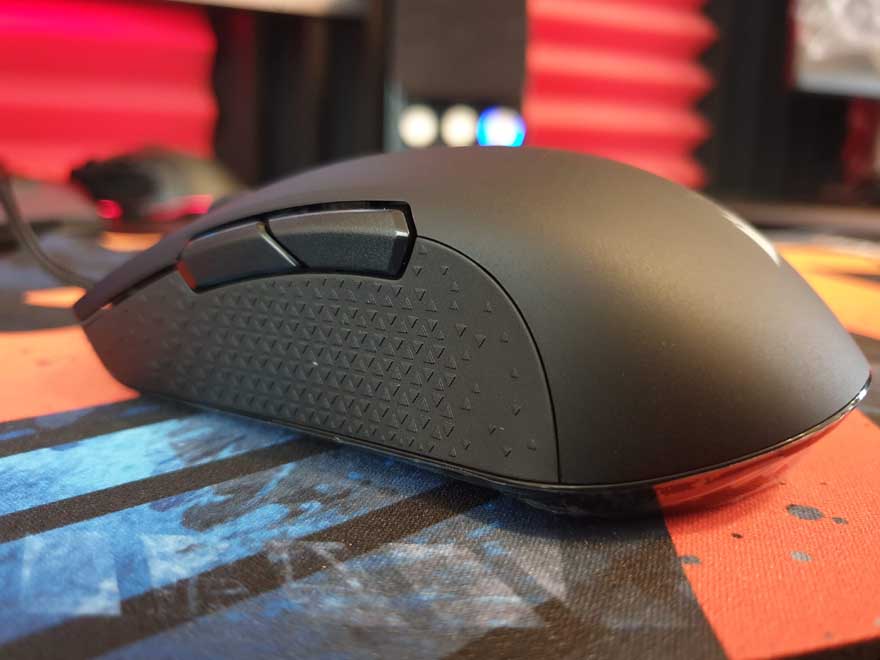 Left, Right, Left Again
Obviously, this mouse is ambidextrous, so you'll find the exact same design on the right-hand side. More rubber grip, and two more of those stylishly integrated side buttons. One thing I do appreciate is that while you can push the side buttons "in" as normal. You can also slide your thumb up to click them. They're designed in such a way that you can easily use them with a push or a slide, thanks to their angled design. Of course, you don't have to use the mouse ambidextrously, you can use the other side as extra macro buttons if you so desire.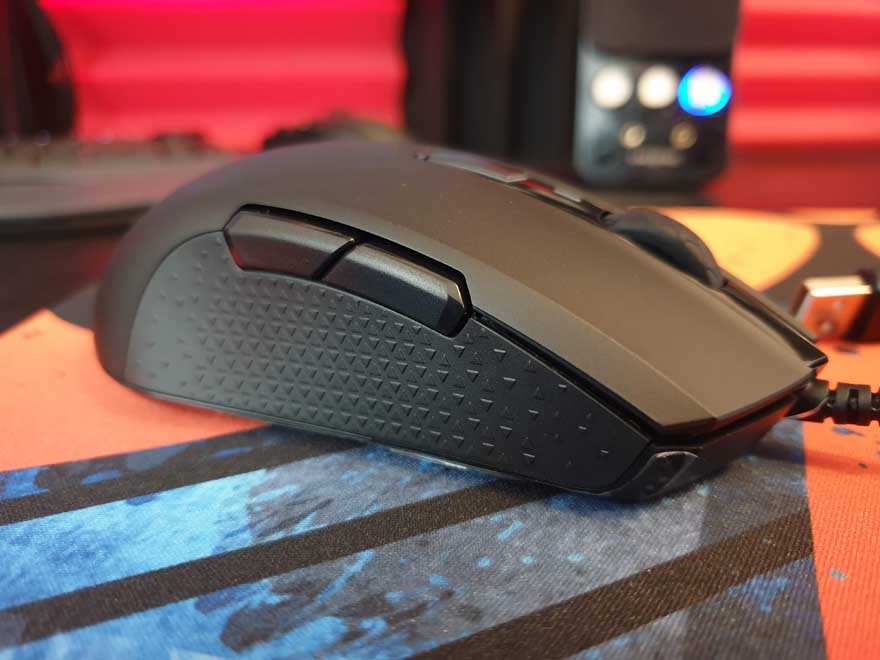 Symmetry
The whole mouse is symmetrical, which I guess makes sense as you want it to feel the same in both the left and right hands. Now, I do tend to use a right-handed mouse, but I can use my left in a pinch. That being said, the mouse feels just as comfortable in my right hand as most right-hand only mice. It's nicely shaped, and it has a good contour to it to sit into the palm of your left or your right hand.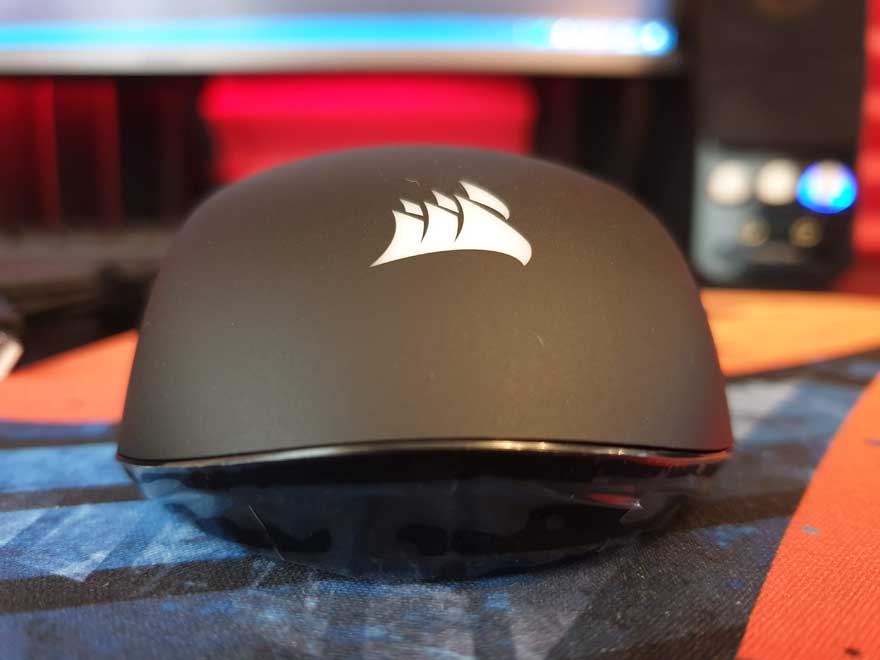 Aesthetics
Corsair has kept the branding quite simple on this mouse, and believe it or not, they've even been pretty restrained with the RGB. There's a simple "Corsair" ship logo on the back of the mouse, which is fully RGB lit. Of course, you can customise this in the downloadable iCUE software if you so desire. Other than that, there's a tiny LED indicator behind the mouse wheel, which can be customised too, but by default, it changes colour to show DPI levels and profiles.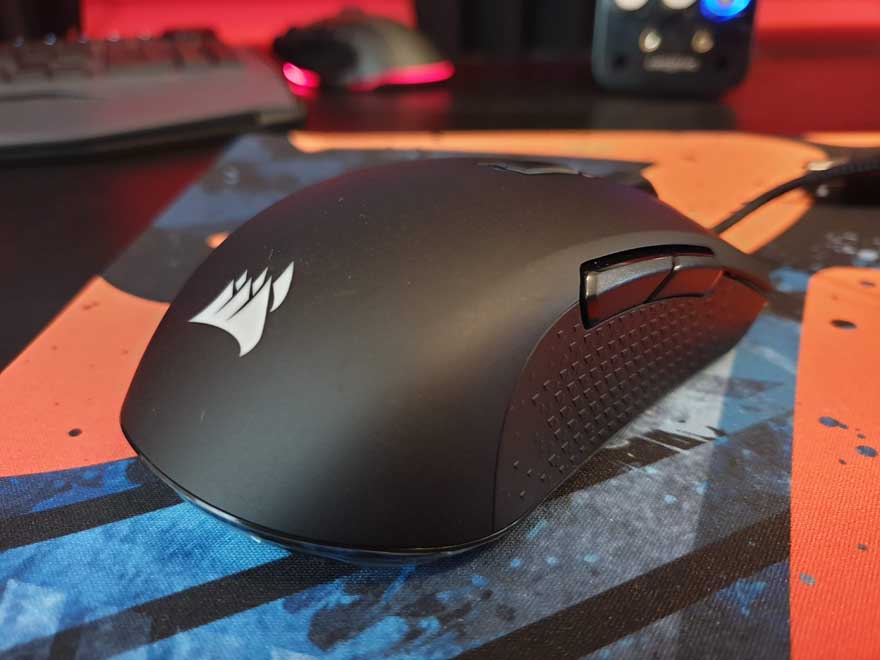 Omron
Corsair hasn't skimped on the hardware either, fitting the M55 RGB Pro with Omron switches which are rated for around 10 Million Clicks. I don't know how much you click, but I doubt you'll wear those out any time soon. They're nice switches too, with a nice tactile feedback and audible "click" without being too heavy or noisy. Despite being made from the same top panel, the LMB and RMB don't feel like they have any feedback to each other too. Overall, I really like how it feels in my hand, and that's obviously a good thing.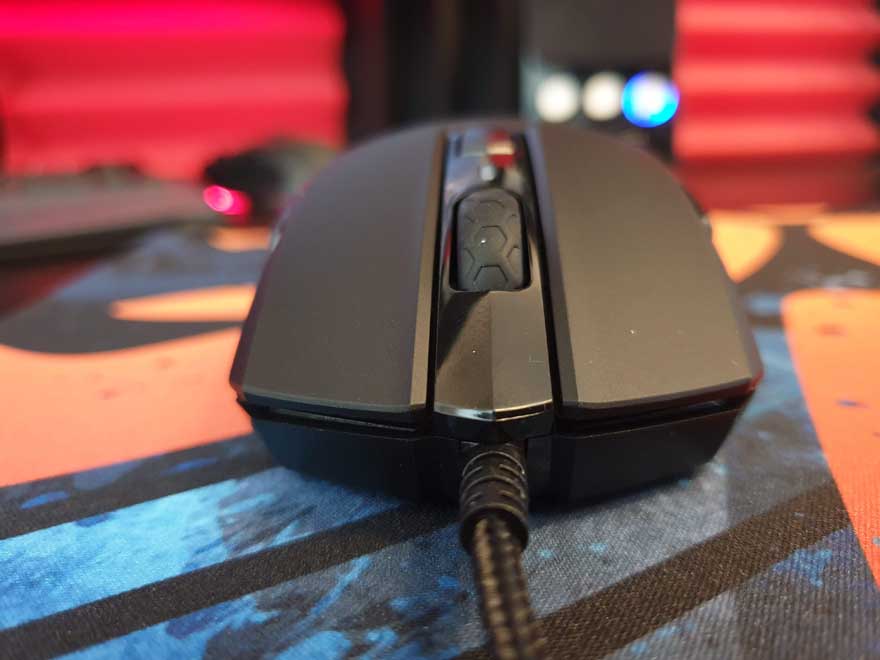 Scrolling
Tucked into the mid-section of the mouse, you'll find a large scroll wheel. Albeit, it is large, but you can only see the upper edge of the soft rubber grip. It looks a little too recessed at first, but I found it very easy to control. It still has a nice and light tactile click to it, giving you an extra switch too. Behind it, there's a DPI/Profile toggle button. However, keep in mind, you could reprogram this button if you don't want it as a DPI toggle.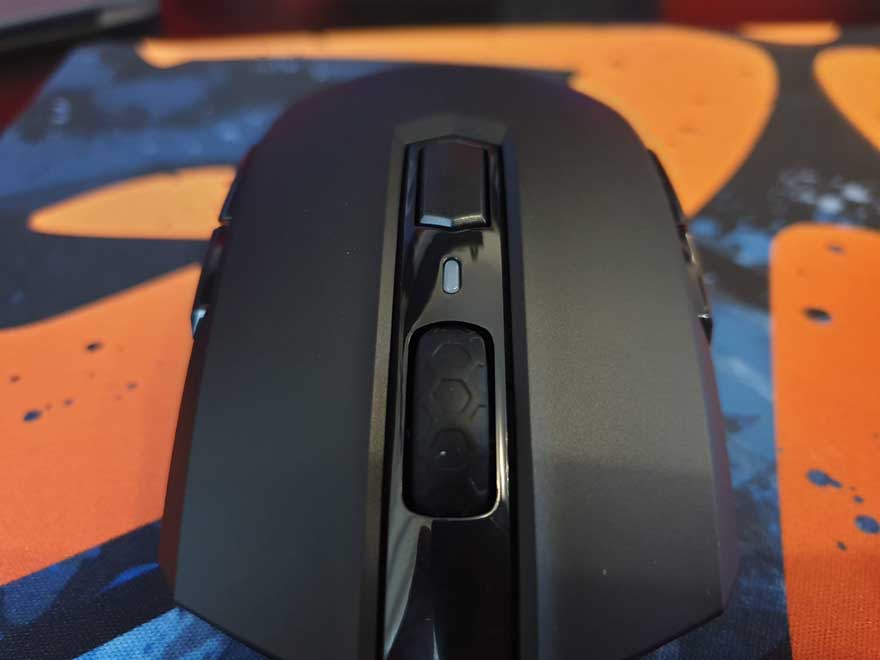 Game Time
The M55 really is the sum of its parts. The superb ergonomics, the lightweight design, the PixArt designed sensor, the Omron switches, and a bit of Corsair style on top. When it comes to gaming it feels light, fast, nimble and very easy to use. For me, I would like a slightly larger mouse, but I do have slightly longer fingers and wider hands than most, so that's just me. Regardless though, it's still comfortable for me to work and game with.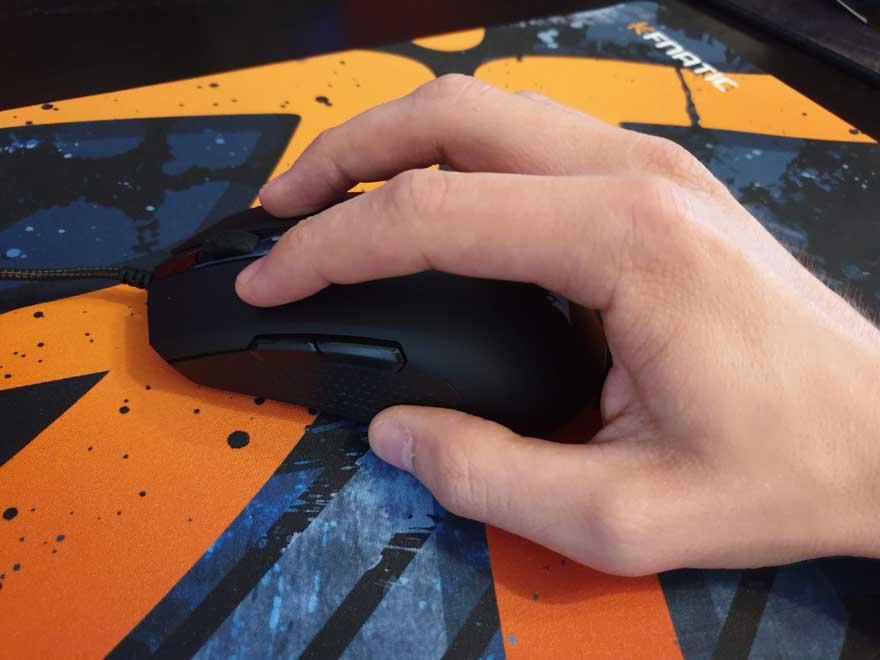 Extra Control
The ergonomics really do feel comfortable in either hand, and I wouldn't be put off if you're not ambidextrous. The extra side buttons double up at extra macro buttons anyway, so even in right hand only usage, they're a welcome addition for gaming. Plus, the long mouse buttons and stubby back means you can use a claw or hybrid grip type easily enough.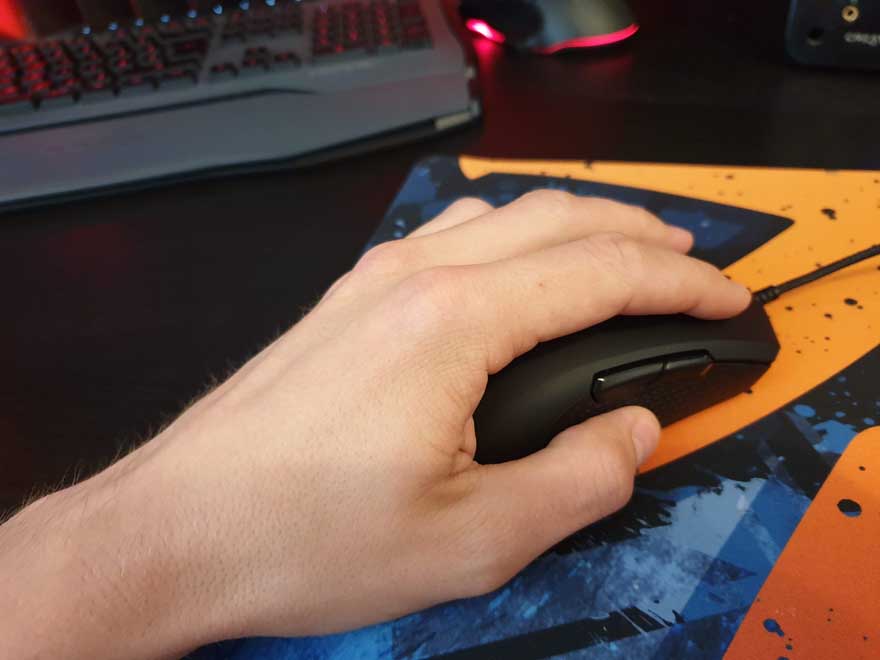 The PixArt sensor is superb, although I must admit, bad sensors are few and far between these days. You can drop it right down to 200 DPI if you need extreme precision, and 100 DPI steps up to a whopping 12400 should you need to. Admittedly, anything above 6000 feels stupidly fast even on a 4K monitor. However, for quick turning in vehicles during FPS gaming, or quick map tracking during MOBA, those high DPI levels do come in pretty darn handy.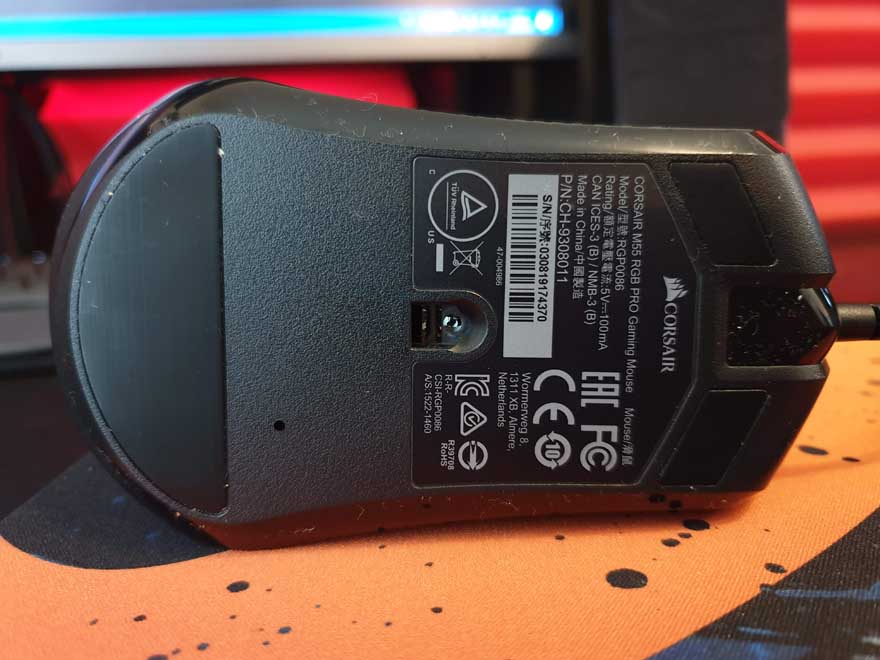 Eight fully programmable buttons are nice. Albeit, that's a bit of a stretch as really you have six to tinker with short of changing what the LMB and RMB do, and really, who does that? Still, the addition of a few extra macros is great and if you set up a few profiles, you can have shortcuts for gaming and Photoshop at your fingertips when you need them. Plus if you don't like using the software, you can hold the side buttons down to switch between left/right modes.
RGB Gallery