Corsair M65 RGB Ultra Gaming Mouse Review
---
---
---
Peter Donnell / 2 years ago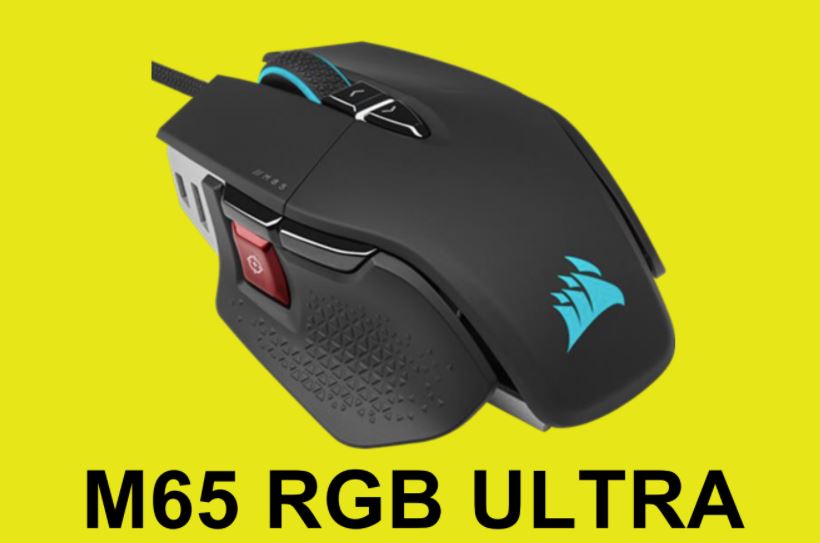 The Corsair M65 has been around since the beginning of time, or at least, it makes more comeback tours than Mötley Crüe! There was the Corsair M65 RGB Elite Gaming Mouse three years ago, Corsair Gaming M65 Pro RGB Optical Mouse five years ago, Corsair Gaming M65 RGB Laser Gaming Mouse seven years ago, and the Corsair Vengeance M65 FPS Laser Gaming Mouse nine years ago, and the original Corsair M60 that started it all a full decade ago. Trust me, that's not all of them, they're just the reviews I can remember writing! However, it's clear this mouse has a lot of fans, and Corsair keeps making it better each time. One thing is for certain, the features and specifications have come a long way in the last ten years and the M65 RGB Ultra is a long way from it's much more humble beginnings.
Corsair M65 RGB Ultra
One of the most significant updates has to be the new Corsair Marksman sensor. It can deliver a class-leading 26,000 DPI at up to 50G acceleration, making it one of the most powerful sensors on the market today. It was developed with PixArt to ensure its high performance and accuracy, and can even be adjusted from 100 DPI all the way to the maximum 26,000 in 1 DPI increments. Combined with 8000Hz polling, and this mouse promises to be pretty swift. Beyond that, you get the latest Omron Optical Switches with the Corsair Quickstrike design, the aluminium frame, that legendary sniper button, weight tuning and much more. Really, this mouse seems to have a little bit for every gamer!
What does stick out, however, is the Sensor Fusion Control system that allows for gestures by tilting the mouse… that's certainly something I've not seen before.
Features
Iconic Aluminum Frame: The M65 RGB ULTRA's anodized aluminum frame makes for lasting durability with a familiar shape.
CORSAIR MARKSMAN 26,000 DPI Optical Sensor: With an astonishing native 26,000 DPI and 650 inches per seconds (IPS) tracking at up to 50G acceleration, the MARKSMAN sensor captures your every mouse movement, customizable in single DPI steps.
Optical OMRON Switches: Left and right-click switches deliver hyper-fast and precise responses, while standing up to years of rigorous use.
CORSAIR AXON Hyper-Processing Technology: Registers and transmits your movements and clicks up to 8x faster than conventional gaming mice thanks to a native 8,000Hz polling rate.
Sensor Fusion Control: Combines a six-axis gyro and accelerometer to enable ultra-low lift-off distance for more accurate tracking when repositioning your mouse, and is programmable with tilt gestures so you can map your abilities to simple mouse movements.
Tunable Weight System: Adjust the M65 RGB ULTRA's center of gravity and weight from 97g-115g using up to six included weights.
CORSAIR QUICKSTRIKE Buttons: A spring-loaded design delivers zero gap between the primary mouse buttons and their switches, so your clicks, shots, and spells are faster than ever.
Lightweight Paracord Cable: Reduces drag, enabling faster, tighter, and more precise mouse movements.
Eight Programmable Buttons: Create your ideal gaming setup with button remaps, custom macros, and more.
100% PTFE Glide Pads: Mouse feet built from ultra-low-friction PTFE pads offer the smoothest glide and quickest movements, easily replaceable if they get worn down on your journey to the top.
Dynamic RGB Backlighting: Customize lighting across two zones to add a personal touch to your mouse's aesthetics.
Unite Your Setup: Powerful CORSAIR iCUE software enables vivid dynamic RGB lighting control, macro programming, and full-system lighting synchronization with all compatible iCUE devices throughout your setup.
Onboard Profile Storage: Take your lighting profiles, macros, and DPI settings on the go.
What Corsair Had to Say
"The CORSAIR M65 RGB ULTRA Tunable Gaming Mouse boasts a durable aluminium frame and pinpoint accuracy powered by a 26,000 DPI MARKSMAN optical sensor and optical OMRON switches. Sensor fusion technology enables ultra-low lift-off detection, while CORSAIR AXON Hyper-Processing Technology transmits those actions up to 8x faster than other gaming mice. With a customizable weight between 97g and 115g, a lightweight paracord cable, and CORSAIR QUICKSTRIKE buttons, all your movements and actions register with the utmost speed. Gyro-assisted mouse tilt gestures provide for mapping in-game actions as well as productivity enhancements. take control with iCUE software to program the M65 RGB ULTRA's eight buttons, customize its dynamic RGB backlighting, and save your profiles to onboard storage to take on the go. Pick up the M65 RGB ULTRA to make all your clicks count." – Corsair